Golfers have ridiculous expectations
Golf is supposed to be fun.
Even for the highest level professionals, it is still supposed to be fun.
The biggest enemy of a golfer and his scorecard is not the wrong equipment, horrible swing flaws, slow play or even your kids jumping off the top turnbuckle of the couch and doing a cannonball into your lap (Yes, this happens to me on a daily basis. The game is called "beat up daddy" and my 3- and 4-year-olds love it more than ice cream).
The biggest enemy of the golfer is being ridiculous in his or her expectations. That leads to course management problems that ruin the enjoyment of the game. It's ok for golfers to have long-term expectations that are as high as they want, but short-term expectations, as in the very next shot, need to be more mundane at every level.
I have a good friend who is a 5 handicap. Smart guy — he went to an Ivy League law school. I once added up his cumulative expectations for every shot and he literally would have shot in the 50s had he lived up to his ridiculous standards.
He's not alone. Golfers have a warped perception of what level of golf shots produce what scores. All you have to do is check out the PGA Tour stats.
It is safe to say that the average 0 to 15 handicap golfer is worse than the worst player on the Tour by a margin so wide it cannot be measured. The best average approach shot from the fairway to the green is 32 feet, 3 inches. Yes, you read that correctly. As I write this article, the guy on Tour who averages the closest to the pin from the fairway (shots from rough not included) is more than 32 feet. The worst on the Tour is 43 feet, 6 inches.
That means the average approach shot to the green on the Tour is between 31 and 47 feet. Why then do I hear the constant moans and groans when shots are not stoned dead?
The devil's advocate would say, "Well, Monte, there are a lot of long approaches to the green, as there are 500-yard par 4s and pros go for the green from as long as 300 yards and those numbers are factored in."
Fine. The best guy on Tour averages over 16 feet from the hole from 125 to 150 yards, a very common yardage for golfers playing the middle tees on par 4s and a yardage most experienced golfers expect to hit close. Again, using the premise that the average golfer is significantly worse than the worst Tour player, the bottom guy averages over 36 feet from the hole from 125 to 150.
So let's look at this realistically. If the worst guy on the Tour is 36-plus feet from the hole, the run of the mill scratch golfer should be more than satisfied with that distance. And the 5 to 15 handicap should be doing cartwheels. But we all know that's not the case.
I play with 15-handicaps who are ready to drive their cart into the nearest lake if they so much as hit the ball outside 30 feet on a shot of that length. Exaggeration? Maybe, but not much. Remember, these are stats from the fairway, not the rough, trees or someone's patio.
Let's work in even further. From the fairway, there are only 35 players who are currently averaging under 10 feet from the hole on shots of 50 to 75 yards, and many average over 30 feet. It's a small sample size at this point on the season, but it is still telling.
These stats tell us one thing: We mere mortals should be happy just to hit the ball on the green, which leads me to the next faux pas I see. A solid single digit has a 100-yard shot to a tucked right pin and is taking dead aim. He shoves it 15 feet and short sides himself.
"If I can't hit the green from 100 yards, I might as well quit," I've heard many say.
If I had a nickel for every time I heard that.
My response is he just hit a great shot and has a 15-foot putt from the fringe, or simple chip that is very make-able. The response is still being incredulous about missing the green because it is a blackmark on the stat sheet. So I do this. I drop five balls and offer them $20 to hit all five balls on the green anywhere. The result is often all five balls on the green between 10 and 50 feet with an average around 40. Basically, not much worse than the average shot of a low-end Tour player.
I am definitely not saying you should be this conservative, but be aware of what a good shot actually is. If you are a good player with a good short game, know that shots that miss the green but are still close to the hole are often more damaging to your stats than your score.
YARDAGES
Even with the advent of Flightscope, Trackman and laser range finders, I am still appalled at the horrendous lack of knowledge golfers have about how far they hit the ball. Play any golf course in the world and you will see two things.
Greenside bunkers short of the green that look as if they were the front of a WWI battle.
Nearly untouched bunkers behind the green that only receive traffic from the people who hit it in the front bunkers and decide that picking the ball clean is the best way to hit a sand shot.
Let me give you some advice. The distance you hit an iron is not how far you hit one downhill, downwind, at altitude, when you leaned on one orhit the best shot of your life (and after it landed a coyote picked it up and ran another 50 yards). Seeing as how I have played with many golfers who played 18 consecutive holes without hitting a ball that didn't land short of the green, this is again not much hyperbole.
"OK, Monte, we get the point, we need to take the average distance we hit our clubs, give it a rest."
Well, I won't give it a rest because that is wrong too. It is not the average distance you hit a club, but the distance you hit the ball most often. That sounds like the same thing, but I have found though years of harassing poor, unsuspecting amateurs that the "most often" shot is usually five and sometimes as much as 10 yards shorter than the best shot. But the fear of going over the green chides people into being short all day long. Using the most often approach can result in five or more saved shots from not being short, which is a lot better for your score than the one bogey you might make from the career shot that sails over the green.
I like what the great Jackie Burke said to one of his students when he was pondering a club choice. He asked the unsuspecting young star what he could hit over the green. The student responded, "5-iron."
Burke then responded, "Well then, wouldn't that make this a 6?"
There are so many ways to improve your scores if you just use some common sense. The Ivy League lawyer I spoke of earlier, well that kind of on-course behavior runs in the family. His father would attempt flop shots (which he was horrible at) from a place where Phil Mickelson would be hard pressed to get the ball within 30 feet. The results were predictable. He would advance the ball 6 feet in front of him from getting too cute, then the second shot would end up 30 feet, which is where it would have ended up with a normal chip, bump and run 7-iron, foot wedge, topped driver or one of Phil's gravity defying parachute flops.
The answer to this question is the answer to most every other shot in golf. What shot would have the best cumulative results if you hit it 10 times? It might not be the way Tiger plays it, the way Johnny Miller says is the best way to play it or the way your club champion plays it, but if it's the way you can do it well most times, it's the right shot even if your friends laugh at you for putting from 20 yards off the green with a sprinkler in your line.
Now that I have segued to putting, more strokes are lost on putting by people trying to make too many putts. You read the putt, you line up, hit it the right speed and it will go in or it won't. You have no control over anything but proper speed outside of 3 to 4 feet. Don't believe me? The best putters on Tour only make two out of five putts from 10 to 15 feet, and many only make one out of five or worse.
My question is: Why are we trying so hard to make long putts? Why do we hit them so hard or and try to steer them on line?
Unless you are a masochist and want to provide hours of entertainment for your friends, dollars for their bankroll and keep the producers of Prozac in business, the next time you play golf try this:
1.  Hit whatever club (using your normal yardages) will end up 5 yards short of the back edge of the green.
2.  Try to hit the ball where your predominate miss won't miss the green, no mater where the pin is.
3.  Try and hit every putt outside of 5 feet the correct speed and don't worry about whether it goes in or not.
4.  Be ambivalent about the results of individual shots.
I guarantee your next 20 rounds will lower your handicap.
Your Reaction?
LIKE

170

LEGIT

20

WOW

8

LOL

2

IDHT

0

FLOP

1

OB

0

SHANK

0
To Mr. Whan: Make Walker Cup Trophy Club a one-and-done
I'll be brief: the United States Golf Association should make the $500 Trophy Club ticket a one-and-done for the Walker Cup. Using the COVID-19 pandemic as a lead-in to its limited-spectator policy, the May 2021 edition will eliminate free access to the event. In lieu of the open-arms policy of every other playing of this team competition, the USGA has announced that only those with $500 to spare will pass through the gates of Seminole Golf Club, in Juno Beach, Florida.
I attended the 2009 playing at Merion, and the 2013 matches at National Golf Links of America. I wanted to be at Los Angeles Country Club in 2019, but the odds were not in my favor. Even though I was granted press credentials for both 2009 and 2013, I was gratified to see hundreds, if not thousands, of my fellow golf aficionados in attendance. These were lasses and lads without connections, without memberships, without any other means of access than the largesse of the governing body of golf in this country.
In 2025, the Walker Cup will return to our country, and will be held at storied Cypress Point Club, in Carmel, California. You see the trend here? These are the most historic (and most private) clubs in America. Access to the common man is unavailable, except for events like the Walker and Curtis Cups.
Mr. Whan, you and your association have pledged to expand the game of golf, to welcome people of all shapes, sizes, ethnicities, ages, and identities. Here is one small but important opportunity to put your mouth where your money isn't. The USGA makes a lot of money at its annual Open championship. Leave the other kids alone, especially the amateur events. Free and easy access ensures that the game outlives us all, just as our foremothers and forefathers envisioned.
Your Reaction?
LIKE

24

LEGIT

5

WOW

0

LOL

1

IDHT

1

FLOP

0

OB

1

SHANK

3
When Bryson lit up the Masters as an amateur (Masters 2016 WITB)
When a young amateur named Bryson DeChambeau turned up at Augusta National Golf Club in 2016, there was a magnetism of curiosity attached to the 22-year-old.
After all, this was not your typical amateur golfer. 
He donned a Ben Hogan style cap, was known to test his golf balls in epsom salts to check whether their centre of gravity was off and played a unique set of clubs with every iron and wedge cut to the same length as his favoured 7 iron.
In a world with so much conformity, unusualness becomes a force of its own.
That was certainly the case with Bryson at the 2016 Masters, who even had notable names for his 37.5-inch wedges and irons, which were otherwise only distinguishable from their differing lofts.
60-degree wedge – 'King' after Arnold Palmer's 1960 Masters win
55-degree wedge – 'Mr. Ward' after the Masters Low-Am 1995 winner
50-degree wedge – 'Jimmy' after the 1950 Masters champ Jimmy Demaret
46-degree wedge – 'Keiser' after the 1946 Masters winner Herman Keiser
9 iron (42 degrees) – 'Jackie' after Jackie Robinson's famous number 42 (same loft)
8 iron (38 degrees) – '8 ball'
7 iron (34 degrees) – 'Tin Cup' in honor of the film: 3+4=7
6 iron – 'Juniper' after the 6th hole at Augusta
5 iron – 'Azalea' after his favorite par 5 (13th hole)
3 iron – 'Gamma', which is the third letter in the Greek alphabet
DeChambeau took the trip down Magnolia Lane having, just a year previously, become only the fifth man in history to win the US Amateur Championship and the NCAA Division 1 Championship in the same year.
He had joined Jack Nicklaus, Phil Mickelson, Tiger Woods, and Ryan Moore in doing so.
Inspired by Homer Kelly's 'The Golfing Machine', DeChambeau also revealed on the week of the Masters in 2016 that he had a fascination with Bobby Jones. Jones, who had famously won the Grand Slam in 1930 and had, like Bryson, altered many of his clubs so that they were also the same length.
When DeChambeau spoke about Jones and his achievements in his pre-Masters press conference, the 22-year-old suggested the possibility of doing something special.
For the opening two rounds of the event, DeChambeau was grouped with defending champion Jordan Spieth and Paul Casey – and something special was certainly abound.
While Spieth stormed into the lead with a round of 66, DeChambeau held his own against the course, opening with a level par 72, which would keep him within sight of the lead. But it was in round two where Bryson showed not just his talent but how, even as an amateur, little could faze him.
On Friday, having flown the opening green at one, DeChambeau faced a delicate chip back down the green. He poured it into the back of the cup, and a magical day was underway.
A bogey at the third followed as the scoring became increasingly difficult in the windy conditions, but as his competitors stuttered, Bryson became inspired.
Using his one plane swing, the 22-year-old birdied the seventh before spinning a wedge back to a few feet on the ninth to move to 2-under par for the event.
He would give that birdie back on 10, but despite the poor weather conditions, he would tame Amen corner, beginning with an approach to 9-feet on 11 (which he later admitted to pulling) – a hole which saw just six birdies on that Friday.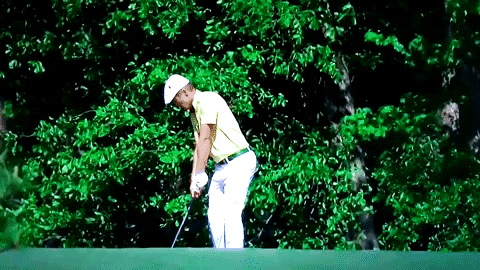 At the 12th, DeChambeau fared even better, knocking his tee shot to 2-feet. He was one off the lead.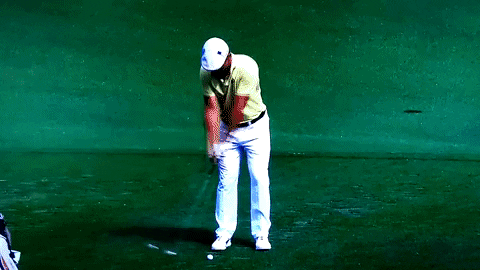 He stayed within one of the lead after 35 holes before it all came unstuck on the 18th hole. DeChambeau pulled his tee-shot on the last and found an unplayable lie off the tee – he ended up making a triple bogey 7.
It was a sour finish that left him T8 on the leaderboard, four strokes back.
Speaking on the drive on 18, and the subsequent one which followed, DeChambeau said
"No, I hit two pulled drives. I don't like the left-to-right wind on that hole and ultimately with this closed gap, I thought seeing those flags out there on 1 right where the leaderboard is blowing to the right,

I thought it was going to move it right, and subconsciously I came a little bit over the top and had a closed clubface. It was only two degrees closed. That's what does it."
A third round 77 took DeChambeau out of contention, but the youngster showed his metal on Sunday, hitting back with a round of level par thanks to a birdie on the 72nd hole.
The T21 finish gave Bryson the low-amateur award that year as well as the best finish from an amateur at Augusta since Ryan Moore finished 15th back in 2005.
The 22-year-old was as candid back then as he is today and revealed following the tournament that he had "messed up" his preparation for the event by practicing too much earlier in the week.
"Again, going back to preparation, the only thing I would change is how I spent my time resting, Monday, Tuesday, Wednesday. Unfortunately messed up and, you know what, I'm 22, I'm still young and learning how to manage my time. That's the one thing that I think I'd change.
Ultimately my body took a toll this week and my hip. Really haven't talked about it too much, but my hip gave out the second round, on 15, and ultimately led me to pull those two shots. I wouldn't say that's the full reason, but at the same time, it did affect me. It was unfortunate, but again, it's a learning experience."
It was the week Bryson introduced himself on the world stage and showed the massive amount of potential and determination he possessed, which would ultimately see him become a major champion.
In the next few days DeChambeau will return to Augusta National and will of course draw more attention than any other player in the field.
His introduction was one of intrigue and potential, but when he takes the trip down Magnolia Lane next week, the focus will be on whether Bryson can block out the noise, pressure and expectancy, and fulfil his destiny of becoming a Masters champion.
As a 22-year-old Bryson said after his first Masters experience:
"I think people talk about how every five years, you change as a human being, and that is absolutely true.  I mean, I've totally changed and what I would tell younger Bryson is, be patient and keep learning every day. Those are the two things that I would tell him."
You probably don't need reminding. It's been 5 years since Bryson first stole the show at Augusta National.
Bryson DeChambeau 2016 Masters WITB
Driver: Cobra King F6+ Pro (7 degrees)
Shaft: Oban Kiyoshi Tour Limited 70X
Length: 45 inches (tipped 2.5 inches)
Weight Setting: Sliding weight removed
3 wood: Cobra King F6 (14.2 degrees actual loft)
Shaft: Oban Kiyoshi Tour Limited 70X
Length: 43 inches (tipped 2 inches)
Lie Angle: 61.5 degrees
Utility: Cobra King Utility (18.5D)
Shaft: Project X HZRDUS Black Hybrid 6.5X (105 grams)
Irons: Cobra Fly-Z+ (3, 5), Edel Forged Prototype (6-9)
Shafts: KBS C-Taper Lite 115X
Length, Lie: 37.5 inches, 73 degrees
Head weight: 280 grams
Lofts: 20 (3), 25 (4), 30 (5), 34 (6), 38 (7), 42 (8), 46 (9)
Wedges: Cobra King (46, 50, 55 and 60 degrees)
Shafts: KBS Hi-Rev 135X
Length, Lie: 37.5 inches, 73 degrees
Head weight: 280 grams

Putter: Edel "The Brick" prototype
Grip: SuperStroke Slim 3.0 (Blue/White)
Ball: Bridgestone B330-S
Your Reaction?
LIKE

41

LEGIT

2

WOW

3

LOL

3

IDHT

1

FLOP

1

OB

1

SHANK

6
Club Junkie: Wilson Staff wedge and Bushnell Wingman review
It's a short one this week, but I'm reviewing the new-er Wilson Staff Model wedge and the Bushnell Wingman GPS and speaker. The Staff Model is a solid forged wedge that offers good feel, spin, and turf interaction for a slightly lower price. The Bushnell Wingman is a golf GPS and a bluetooth speaker in one. It has a TON of golf stuff built into it, but can also be used off the course to listen to your favorite tracks!
Your Reaction?
LIKE

12

LEGIT

4

WOW

2

LOL

3

IDHT

1

FLOP

3

OB

1

SHANK

8