A history of Tiger Woods' swing coaches
From remarkable highs to frustrating lows, amicable splits to bitter breakups and tell-all books to going it alone, Tiger Woods' swing coach history has been as colourful as it can get. 
Here we'll take a look at the swing coaches Tiger has worked with throughout his years as a pro, looking at the achievements the partnerships attained while also noting where Tiger was with his game during each collaboration.
Butch Harmon (1996-August 2002)
Major wins/win percentage: 8/33%
PGA Tour wins/win percentage: 34/26.8%
WGC wins/win percentage: 5/50%
The most successful period of Tiger's career was with Butch where he won over half of his major titles. What caused the split? Harmon's extroverted character combined with Tiger's opinion that the swing coach had taken his game as far as he could are believed to be the reasons behind the breakup.
Tiger Woods (September 2002-February 2004)
Major wins/win percentage: 0/0%
PGA Tour wins/win percentage: 6/26%
WGC wins/win percentage: 2/66%
A brief spell where Tiger supposedly went his 'own way' while still talking to Butch occasionally on the phone and rumour has it receiving feedback from friend Mark O'Meara. It was the first year Tiger went without a major win since 1998, but he still won plenty of times in this period – including two WGC titles.
Hank Haney (March 2004-May 2010)
Major wins/win percentage: 6/26%
PGA Tour wins/win percentage : 31/33.3%
WGC wins/win percentage: 9/27.7%
The successful partnership of Tiger and Haney (highest win % of any Tiger coach at regular tour events) came to a messy and drawn-out end following the former's infamous sex scandal at the back end of 2009. The two continued to work together into 2010 before news broke at the Players Championship of their split.
Haney would then release the controversial memoir of the years that the two worked together entitled: 'The Big Miss', further souring their relationship.
Sean Foley (August 2010-August 2014)
Major wins/win percentage: 0/0%
PGA Tour wins/win percentage: 8/14.5%
WGC wins/win percentage: 2/16.6%
Woods and Foley began working together at the 2010 PGA Championship, with Foley handed the task of rebuilding the Woods swing and getting him back to his best. Woods' first win under Foley's tutelage came in 2012 in a year he won three times. Tiger then dominated in 2013 winning five times while returning to World Number 1.
The two amicably split in 2014, with Woods, who began suffering back issues, saying at the time "I think that physically, I just wasn't able to do some of the things that we wanted to do in the golf swing."
Chris Como (September 2014-December 2017)
Major wins/win percentage: 0/0%
PGA Tour wins/win percentage: 0/0%
WGC wins/win percentage: No appearances
Biomechanics student Chris Como was unable to make much happen with what was a severely injured Tiger during their partnership. Woods played in just four major championships during this period, missing the major events in 2016 and 2017 entirely.
Following their split, Woods said: "No one's had a spinal fusion at that level and been able to hit the ball as hard as I do. No one understands that. So I have to rely on my own feels and play around with what my body can and cannot do."
Tiger Woods (January 2018-Present)
Major wins/win percentage: 1/10%
PGA Tour wins/win percentage: 3/7.9%
WGC wins/win percentage: 0/0 %
After four back surgeries, Tiger has taken full ownership of his game since 2018 finding a swing that produced arguably the greatest comeback in sport. In 2019 Woods won the Masters for his first major in 12 years, and he has won a total of three times in this period.
Your Reaction?
LIKE

17

LEGIT

5

WOW

0

LOL

0

IDHT

0

FLOP

0

OB

0

SHANK

0
#TigerTuesdays: How Sherwood CC served up two of Tiger Woods' most crushing defeats
Tiger Woods returns to action this week at the Zozo Championship at a course very familiar to the 15-time major champion: Sherwood Country Club just outside Thousand Oaks, California.
From 2000-2013, Woods hosted the World Challenge at Sherwood, a period in which Tiger hoisted the trophy at the event five times. However, on two occasions, Woods suffered two of the biggest shocks of his career at this event, and here we'll take a look at how both unfolded and the impact they had on the 82-time winner on the PGA Tour.
2010 World Challenge
A year on from the sex scandal that rocked Woods' life, the Californian returned to Sherwood CC without a win in 2010. But things looked rosy once again for Tiger, who took a four-shot lead over Graeme McDowell into the final round of the 2010 Hero World Challenge.
By the fourth hole, that lead was down to one as a nervous Woods stumbled out of the blocks, missing three putts from 6 feet in his first four holes, while McDowell birdied three of his first five holes.
The drama escalated on the back nine, when Woods, after seemingly having wrestled back the initiative, blinked. On the par five 13th hole, Woods held a one-stroke lead, before imploding to card a double bogey, to McDowell's birdie, which left him trailing by two.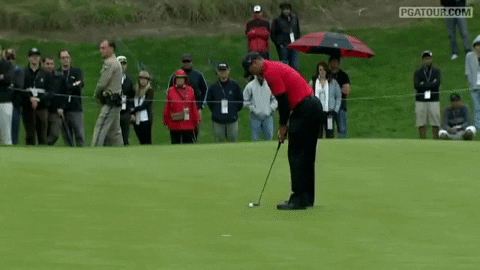 The Irishman dropped a shot at the 14th but kept a one-shot lead until the 17th hole, before pulling an eight iron into the hay forcing him to take an unplayable. Improvising, and from a very tricky spot off the green, McDowell would get the ball up and down for a brilliant bogey, while Woods saw his birdie putt slip by.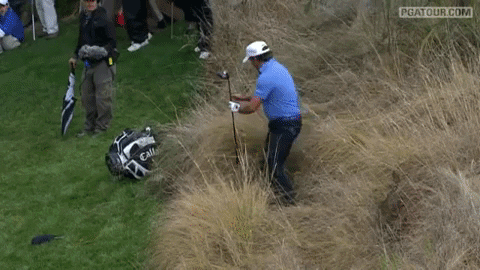 It wasn't the two or even three shot swing Woods wanted, but it was all square heading to the last.
On 18, both men found the fairway before McDowell pulled his approach to 30-feet, which left the door open for Tiger. He did what he always seems to do in the most significant moments, stuffing his iron shot in tight.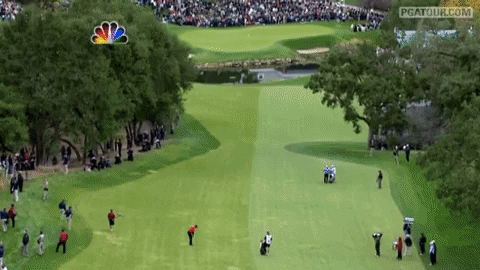 Understandably, both Woods and his loyal fans thought he had landed the killer blow.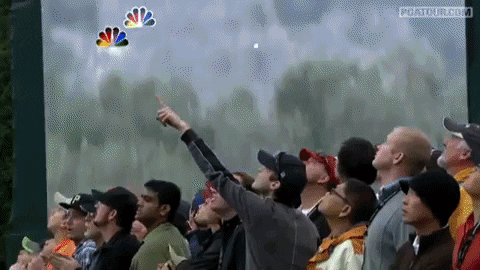 It looked like another fairytale finish for Woods and his first win in over 12 months, but the fresh decade appeared to bring unfamiliar misfortune for the 15-time major champ, and McDowell heaped on the misery on the 18th green.
Stunned but still battling, Woods would hole his three-footer before hitting his approach in the playoff to 10 feet after seeing McDowell pull his approach once again.
The adage that lightning doesn't strike twice was exposed on this occasion, as McDowell pulled off the unthinkable once again.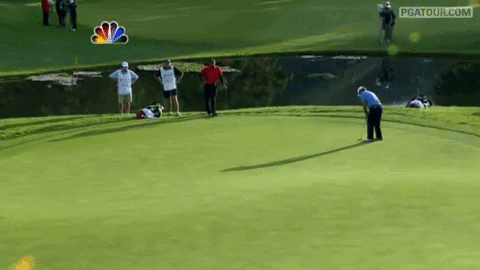 With the event on the line, Woods couldn't respond, barely missing his birdie putt to end a miserable afternoon for the American.
The tournament marked the first and only time Woods has ever coughed up a four-stroke lead beginning a final round, and McDowell's words afterwards demonstrated how his immense aura was beginning to weaken.
"He used to appear invincible. Of course, he's made himself appear more human in the last 12 months."
Woods went on to win the 2011 edition of the event, and win three times in 2012. Had he overcome McDowell at Sherwood and regained that winning feeling in 2010 could those wins have occurred a year earlier?
2013 World Challenge
In 2013, things were different for Woods – he was back on top of the world rankings and had won 5 times that year.
Woods entered the final round at Sherwood CC with a two-stroke lead over Zach Johnson looking to end the year on a high. By the 10th hole, Woods was four clear, a familiar position for him at the Californian course.
Tiger's steady and conservative approach in these positions had served him well throughout his career, but what he wasn't banking on in this position was Johnson catching fire, who birdied three of the next six holes to bring him within one of the lead heading to 17.
On the 17th, Zach went flag-hunting to the back pin location, and it paid off to ensure a dramatic and tense finish.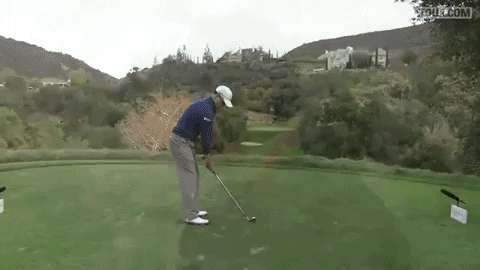 The 18th hole would once again play center stage, and once again, it provided an unthinkable finish. 
Woods would play his approach shot first, and it wasn't a good one, pushing it into the front bunker. Advantage Johnson, but not for long, who inexplicably pushed his even further and into the water.
It looked to be an almost certain Woods victory at this point, but memories of 2010 would come flooding back for Tiger, who stood in the fairway as Zach struck his 'miracle' wedge approach for his fourth.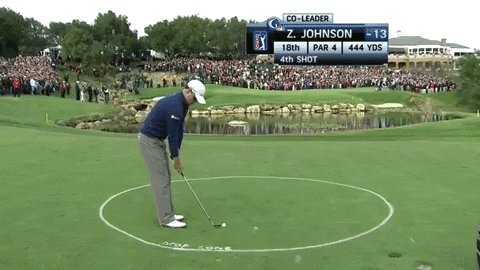 Despite the stunning outcome, Woods smiled it off, composed himself and hit a great shot of his own to save par and extend the contest.
However, when Tiger once again found the bunker on the first extra hole and Johnson made his par, Woods' famous clutch gene deserted him over a 5-foot putt to extend.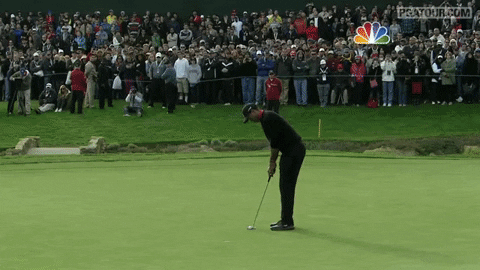 The 2013 edition of the event would be the last time Woods would play in the final group in the fourth round of a tournament until he did so again at the 2018 Tour Championship.
Woods returns to Sherwood CC for the first time this week since 2013 to defend his Zozo Championship. With five wins and five runner-up finishes, incredible highs and equally crushing lows, it's fair to say this is a course that Tiger has a more complex relationship with than most others.
Your Reaction?
LIKE

13

LEGIT

3

WOW

1

LOL

0

IDHT

0

FLOP

0

OB

0

SHANK

0
#TigerTuesdays: Tiger Woods' 5 greatest major putts
Tiger Woods' career has been full of clutch, tournament defining strokes on the greens that have helped him reach 15 major titles.
But what are the best putts of Tiger's career thus far at the major championships? Well, that is, of course, a highly subjective subject, but here I've detailed five remarkable putts – all of which helped Woods add another major to his impressive tally.
5. 2019 Masters: Final Round – 9th Hole
Including a lag putt in a list of Tiger's greatest ever major putts may not be for everyone. Still, the level of difficulty, creative mind and nerve to execute what was a crucial putt may make this the greatest lag putt of all time.
Trailing Molinari by a stroke at the time, Woods faced an immensely difficult 70-foot putt on the ninth hole on Sunday at last year's Masters. The touch shown by Woods was extraordinary and allowed him to keep momentum after making back-to-back birdies.
It may not have grabbed the headlines, but it was perhaps the most crucial shot of a final round that allowed Woods to win his first major in 12 years.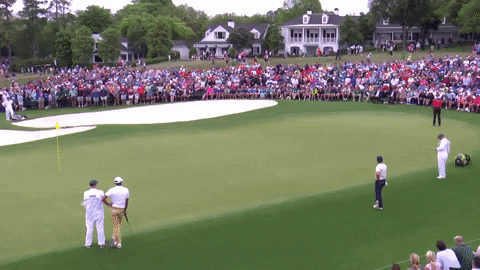 4. 2005 Masters: Final Round – Playoff Hole
Woods' playoff putt at the 2005 Masters defined how mentally unbreakable Tiger was in his prime.
Having just blown a two-stroke lead with two to play against Chris DiMarco, (including a missed 8-footer on the 18th in regulation), Woods faced 18-feet down the slope for the win in the first extra hole. Showing zero negative thoughts about what had just happened, Woods stepped up and buried the putt right in the center at pace to end his major 'drought'.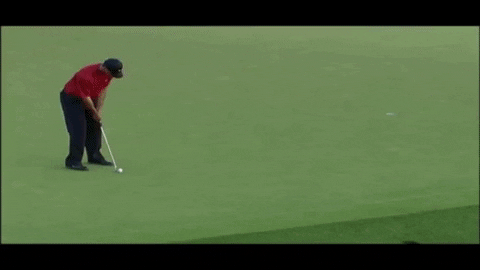 3. 2008 U.S. Open: Third Round – 13th Hole
Tiger's long eagle putt at the 13th at Torrey Pines on Saturday in 2008 may well be one of the most overlooked putts in the history of the sport. Trailing by 5, Woods stepped up to the par-five knowing he had to make something happen, and so did Johnny Miller who stated at the time: 
"This eagle, if he could somehow get it. I think would change the whole championship. I really do."
Facing 65-feet from the back of the green to a frightening front pin position, Woods curled in the putt and let loose with an epic double fist pump celebration.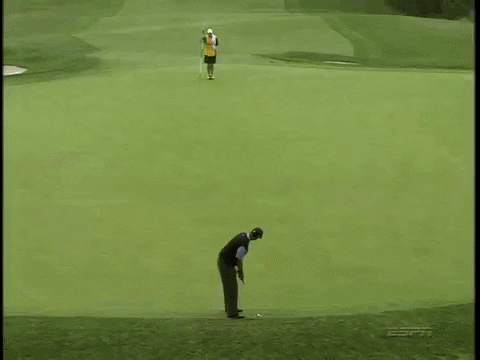 For Woods, it was the catalyst for the most electrifying of back nines, and one of the primary reasons Woods went on to win his 14th major title with a torn ACL.
2. 2000 PGA Championship – Final Round 18th Hole
The putt that kept the 'Tiger Slam' alive. A slick 7-footer with a nasty amount of break, knowing that if he missed it was all over.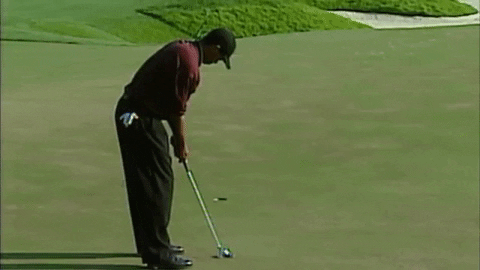 According to Woods himself, when asked what the best putt of his career was, this is the one he chose:
"Considering the circumstance, the pressure, the putt that was so, so, so fast, and the break, that was the one. Dead center.

And it was the circumstance, the pressure, how well Bob and I played. It was a hell of a shootout and it came in a major. We were matching each other with birdies in a major. That putt on 18, everything on the line, gave me a chance to win. Yeah, that was the one."
1. 2008 U.S. Open – Final Round 18th hole
Despite Woods' opinion, it is the final putt on the 18th green from the 2008 U.S. Open that may never be topped. Effectively playing on one leg, Tiger had to make a 12-foot putt on the final hole to keep his hopes alive for major number 14, and what followed was the greatest pressure putt the game has ever seen.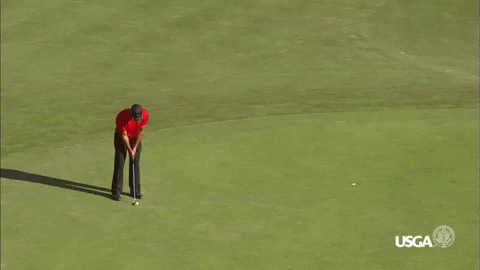 Speaking on the putt, Woods would say
"I changed my stroke on that one a little bit because it was going to be so bouncy. I hit up on it a little bit to try and get the ball rolling earlier. Growing up on poa annua, that's what I've always really done. I hit it more with my hands and I made sure I released it a lot. 

And I did, and I got the ball rolling and it was bouncing all over the place. The stroke felt good. And then the ball took forever to break because it was bouncing most of the time."
So, WRXers, which putts would you include in your top 5?
Your Reaction?
LIKE

10

LEGIT

3

WOW

0

LOL

0

IDHT

0

FLOP

0

OB

0

SHANK

0
Tiger Woods is in the worst form of his career in this area of his game
Tiger Woods' frustrating 2020 continued as the 15-time major champion's struggles in Chicago last week ensured that he would miss out on the Tour's finale.
Much of Woods' irritation with his game also looks to be in an area that has consistently been a massive strength throughout his career – on the greens.
Tiger has competed in 24 rounds thus far in 2020 and has racked up some unwanted records in that period.
After Woods gained +0.2 strokes on the greens at the Farmers back in January, the 44-year-old then went to the Genesis and produced his worst putting performance since Strokes Gained statistics began in 2004. Woods lost 8 strokes with the flat-stick that week, and post-lockdown, he hasn't fared much better.
In the four events since Riviera, Woods has lost strokes on the greens all four times. That five consecutive tournament run of losing strokes on the greens is also a record for Tiger, who never had before lost strokes at as many successive events where strokes gained are recorded.
Even during 2014 where a clearly injured Woods was heavily restricted in his ability to practice his putting (and his game around the greens was non-existent), he wasn't putting as poorly with the flat-stick as he has this year.
Woods will defend his Masters title in November where a field of 92 players will tee it up. Where does Woods' putting in 2020 rank him in that field on the greens? 85th.
Not even Woods' stellar iron game, where he has gained strokes at each event this year, can mask the issues that Tiger needs to solve with two major championships right around the corner.
The 82-time champion on the PGA Tour played with a new putter at the PGA Championship (his best-putting performance since January). He did so because the longer shaft on the Scotty prototype allowed him to practice more pain-free.
If an inability to practice on the greens is causing Woods' putting woes, then is it just a matter of time before Tiger retires his trusty long-time Scotty?
Your Reaction?
LIKE

21

LEGIT

6

WOW

5

LOL

5

IDHT

0

FLOP

3

OB

0

SHANK

6