Callaway R&D Director on the XR irons, 360 Face Cup
Scott Manwaring, Callaway's director of R&D for irons, hybrids and wedges, has been with the company for nearly two decades, and he's worked in club design since the mid-2000s. He's seen a lot in his time at the Carlsbad-based company, which under the direction of CEO Chip Brewer, is putting product front-and-center, according to the R&D specialist.
The company's latest product to stand front and center: Callaway's XR and XR Pro irons with Callaway's Face Cup 360 technology.
Manwaring, who graduated from Brigham Young University with a degree in mechanical engineering, said he was incredibly proud of the new XR and XR Pro irons, which were the focus of our conversation.
Note: Topics in bold with Manwaring's replies beneath
Callaway's primary focus, how it influences product
The broad umbrella changed with Chip coming here. He said, "Be proud of the product that you're creating." Before, it was a lot more nuanced and complicated.
Chip is driven on the product front. Callaway spends more than $30 million per year in R&D, so that philosophy comes from Chip himself: Be proud of it. Drive every last detail, do it as quickly as possible.
That has to drive its way into every category. With the X Hot fairway wood, we took it all the way to the finish line. The next year, we said, "Let's get the hybrids." This was the first year that that mantra really hit irons. I obviously had a lot going on, and we're trying to change a lot of products, but you can only turn a boat so fast; this is the first year we said, "Let's really drive it home in irons."
Developing the XR Irons
On the Apex iron, where your COGs are a lot higher, it's easier to fix that one. When you get down to the $799 category, you have to think a lot harder about every nickel you spend and why you spend it to give the consumer the best value and also make a product you're proud of. That just takes a little more time and effort.
Just to give you a perspective of what a pain in the a** this iron was to make: We did eight prototyping iterations with the suppliers alone — You know, get the part back, test it, change it. That is at least five or six more than we would normally do. That doesn't even count internally. We did about four or five…using our own machines.
Addressing concerns about hot spots
We were aware of the complaint. From our position, a common complaint is just an opportunity to do something completely different and completely out of the box.
You have this opportunity with Chip coming on board and saying, "Do something different…do something that you're proud of. Do something that's harder."
You have this great opportunity to break the problem up and really dig into every detail…and think in different ways to tackle all those items.
An overview of Cup 360 technology
Talking about the 360 cup face: By separating an iron into two pieces, you inherently increase the complexity and the cost. And when you weld two similar materials, it's kind of counter-intuitive. But we needed to cast the face independently because we needed control of every…point on the back of the face.
We needed to control the thickness at every location to avoid changes in thickness that create hotspots.
You're seeing a lot of companies take the easier solution and not keep the CG in the optimal spot, because they know they need to control face. And you see them taking the simple solution and not worrying about the thickness.
You're still using the same FEA tools and all the stuff you've used in the past, but when you do things like this…when you're trying to get the distance, plus maintain consistency, your material properties become way more critical. So all your analysis tools start to struggle. You pick up failure modes that are somewhat unexpected.
I think one aspect that's kind of lost on everybody here is when we did the face cups on the fairway woods and the hybrids, you had this eggshell principle going on where it was a closed-back system…it was naturally stronger and thicker.
On a cavity back iron, when you open up the back of that iron, you're now on a way more flexible system. Dealing with your durability requirements and your strength requirements is a lot more complicated. And when you overlay the cost…you've got a real problem.
The face cup, it's just as critical as the body. When you separate the face cup…it allows you to minimize your hotspots, especially when you cast it, because then you don't have any machining marks, you're not dealing with forging or some of the inherent problems that come there with draft analysis and some of the complexity there…and the cost.
The COR testing becomes obvious. You put that cup face on there and your COR gains across the face are just incredible. So the face cup is critical, but then you've got to move to the body. The second you…pull the mass away from the face…your center of gravity just climbs immediately…and then you've washed out all the gains. So, step two is finding a body design that when all that energy is transferred off the face, it doesn't die.
The XR Pro
On the Pro, we wanted to not offend PGA Tour players with the thicker top line. Getting that just right—where it still has the durability and still has the ball speed and still has the COR numbers we were interested in, and it still has the CG and can carry the load—it was a challenge.
Your thickness on that top line: As you get that face to transfer energy more efficiently to the ball and ultimately also to the body…it becomes a trampoline. And if you wanted the metal rims around the trampoline to be thinner, the person jumping on it is still transferring the same load, and if you start thinning those rims down too much, they just give out.
So, the Pro iron is an incredible club…some better players hit the Pro farther than they do the standard [XR]. When I was looking at the COR data, I originally thought it was just the offset and they were able to swing at it more aggressively. But…we did a damn good job…it's incredibly efficient for its face area.
A walkthrough of Callaway's 2015 irons
With Big Bertha, it's just "how can we help you?" We're doing everything we can to help you enjoy the round of golf. We're going to help you get the ball to fly far. You're going to have a lot of hybrids in your bag.
With the XR, we intentionally designed stuff in there to help the average golfer that we knew the better player would snub their nose at. But with the XR Pro, Chip said: "You're not allowed to skimp on the technology."
In creating the XR Pro, we took everything we learned from the XR—because we did that first—and applied those lessons to the XR Pro in a shape that we knew wouldn't offend, and it ended up doing really, really well.
The XR is for the center-of-the-green player. The player who isn't going to work the ball, who just wants to check the yardage and hit it. But in order to help that player along, it requires a certain offset, a certain top line thickness, a sole width to help with turf interaction, a little more MOI. The XR is for that weekend guy that's out there quite a bit.
The XR Pro…was really going after someone who really likes his Apex irons but would like a little more control. We kind of kept the offset; we narrowed the top line back down. We brought the sole width back down…and this is a guy we see wanting to be a pin-seeker, wanting to really go after it…he's going to be disappointed if he didn't pull the shot off. So the MOI is a little lower, the top line is a little thinner. The Pro is for someone who I think is truly passionate about their game.
Your Reaction?
LIKE

111

LEGIT

10

WOW

9

LOL

4

IDHT

6

FLOP

10

OB

7

SHANK

14
The Gear Dive: TrackMan's Lance Vinson Part 2
In this episode of the Gear Dive, Johnny goes even deeper into the TrackMan data with Tour Rep Lance Vinson. It's a ridiculous nerd out covering what the future holds, who is the most efficient player on tour, who hits it the best and a million other things.
Check out the full podcast on SoundCloud below, or click here to listen on iTunes or here to listen on Spotify.
Want more GolfWRX Radio? Check out our other shows (and the full archives for this show) below. 
Your Reaction?
LIKE

0

LEGIT

0

WOW

0

LOL

0

IDHT

0

FLOP

0

OB

0

SHANK

0
Mondays Off: How is the new PGA schedule looking? Gross golf bag cleaning story!
The new PGA schedule is out and how will so much major golf look in the fall. What golf gear would you buy with your stimulus check if you could blow it all on golf? Knudson has a gross story about cleaning out a golf bag.
Check out the full podcast on SoundCloud below, or click here to listen on iTunes or here to listen on Spotify.
Want more GolfWRX Radio? Check out our other shows (and the full archives for this show) below. 
Your Reaction?
LIKE

0

LEGIT

0

WOW

0

LOL

0

IDHT

0

FLOP

0

OB

0

SHANK

1
Tiger at the Masters: The 3 that got away
This time last year, Tiger Woods earned his fifth green jacket at the 2019 Masters, breaking a 14-year drought at Augusta National and completing a storybook career comeback (see Tiger Woods' 2019 Masters WITB here).
Between his 2005 and 2019 victories, Woods gave himself several chances to reclaim the green jacket, but for one reason or another, the championship continuously eluded the 15-time major winner.
Looking back on that drought, three years in particular stick out in my mind where Woods (being the ruthless closer that he is) could, and maybe should, have capitalized on massive opportunities.
2007 Masters
A unique tournament broke out at the 2007 Masters with chilly and windy conditions meaning we would see an over-par score winning the event for the first time in a generation.
Unusually however was the fact that Tiger Woods had got himself into a fantastic position heading into the final day's play—one stroke back of the lead and in the final group.
By the first hole on Sunday, Woods had a share of the lead. A couple of holes later, and he was the sole leader. But instead of the game's greatest ever closer doing what he does best, we saw the first small chink in Tiger's major armor.
Unable to keep up with the improved scoring on Sunday, Woods finished the championship two strokes behind Zach Johnson. It was the first time Woods lost a major in which he held the lead at some point in the final round.
Summing up after the round why things hadn't turned out the way the entire golf world expected, Woods said
"Looking back over the week I basically blew this tournament with two rounds where I had bogey, bogey finishes. That's 4-over in two holes. The last two holes, you just can't afford to do that and win major championships."
2011 Masters
In one of the most exciting final rounds in Masters history, an electric front-nine charge from Woods coupled with a Rory McIlroy collapse saw the then 35-year-old tied for the lead heading into the back nine.
After back-to-back pars on the challenging 10th and 11th holes, Woods found the green on the 12th before it all slipped away. A disastrous three-putt was followed by a deflating five on the par-5 13th and an agonizing near-miss for birdie on 14.
In typical defiant fashion, Woods then flushed a long iron on the par-5 15th to give him five feet for eagle and what would have been the outright lead. But he couldn't find the cup.
Directly following his round, a visibly miffed Woods said
"I should have shot an easy 3- or 4-under on the back nine and I only posted even. But I'm right there in the thick of it and a bunch of guys have a chance. We'll see what happens."
What happened was eventual champion Charl Schwartzel did what Woods said he should have done—shooting 4 under on the back to win his first major.
2013 Masters
Luck, or lack of, is a contentious topic when it comes to sports fans, but at the 2013 Masters, Woods' shocking fate played out as if those on Mount Olympus were orchestrating the tournament.
Woods entered the 2013 Masters as the World Number One, brimming with confidence having won three out of his first five tournaments to start the year.
By Friday afternoon, Woods had cruised into a share of the lead, before crisply striking a wedge on the par-5 15th as he hunted for another birdie.
In a cruel twist of fate, Woods' ball struck the pin and ricocheted back into the water. "Royally cheated!" shouted on-course announcer David Feherty. Nobody could argue otherwise.
A subsequent "bad drop" turned a probable birdie into a triple-bogey placing Woods behind the proverbial 8-ball for the rest of the tournament. The game's ultimate closer should have been in the lead with two rounds to play on a front-runner's paradise of a course; instead, he was in chase-mode. (From 1991-2012, 19 of the 22 winners came from the final group).
Woods tried to rally over the weekend, but if he didn't think the 2013 Masters was ill-fated for himself by Friday evening, then he would have been excused to do so on the eighth hole on Saturday.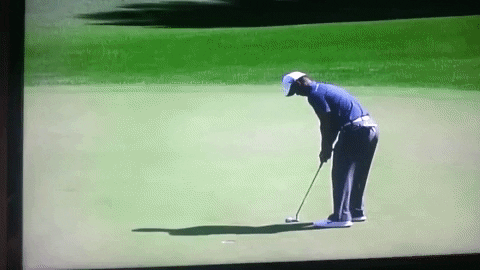 Had Woods' golf ball missed the pin at 15 on that hot and humid Spring afternoon in 2013, then he not only wins, but he likely wins going away.
Your Reaction?
LIKE

30

LEGIT

1

WOW

2

LOL

0

IDHT

0

FLOP

1

OB

0

SHANK

1