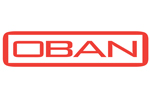 Tiger Woods used one of their shafts for 2 rounds during the Quail Hollow Championship in Charlotte.  Padraig Harrington, John Rollins, Alex Cejka, Jim Furyk, Eric Axley, Rich Beam, Marco Dawson, Mark Brooks, Robert Gamez, Marc Leishman, Tad Ridings, and JJ Henry also used the brand.  Several others on the Nationwide gave them a try and they had over 23 players gaming them at another event.  If you haven't guessed, the company is Oban.  
Oban was started in June of 2007 by Ralph Reichert and Victor Afable.  Previously with Graphite Design International as VP of Sales and Marketing, Afable teamed up with one of his closest friends from his college days to launch the company.  The initiation into the golfing world happened at the 2008 PGA Merchandise Show in Orlando.  The goal was to stand out from the other manufacturers and the two set out to create a boutique shaft brand that stands for excellence and high performance in composite shafts. 
Oban is a worldwide brand and is targeted to the audience of golfers looking for the best in feel and performance.  The company states that they target the golf consumer that understands the importance of custom club fitting and how this can help optimize clubs and better scores.  
The shafts are manufactured using the sheet roll process.  Oban uses their own proprietary designs and specifies which prepreg manufacturer is used in each of their shaft lines among other details.  Being able to work with 3 of the top prepreg suppliers allows them to utilize a wider assortment of materials.  When making a great golf shaft, they believe in 3 important principals; high modulus materials, advanced proprietary designs, and a consistent manufacturing process.    
The Tour Prototype, formerly known as the Mach 4, is manufactured in Japan.  The Tour Prototype V430 model uses an advanced design featuring three distinct layers that is highlighted by a 4 axis honeycomb weave which results in a greater transference of energy to the golf ball.  A custom engineered mandrel serves as the base for an inner circumference of ultra premium high modulus graphite fabricated with four axis weave graphite. The shaft is over-wrapped with a custom blend of additional graphite plys to create structural hoop strength and stability throughout the force of the golf swing.  
Both the Tour player and the Average player can use Oban shafts.  There are three distinct families of shafts with performance characteristics to match almost any player.  For example, the Devotion 45 gram shaft is a ideal for someone with less swing speed that needs to launch the ball higher.  The Tour Prototype 75 X is geared for the player looking for a high performance shaft with less spin and lower launch.  The shafts range from 45 grams all the way up to 90 grams.  
There are approximately 80 to 100 locations throughout the world that consumers can find to be custom fitted with an Oban shaft.  The company only sells through authorized custom club fitters and the management team has made it a point to personally visit and qualify almost every Oban Dealer in the world.  They are not available through catalogs or online purchases.  As the company grows, Oban shafts vows to be more and more readily available. 
The best way to locate an Oban Dealer close to you it to go to the company website and click on the Dealer Locator button at the bottom of the homepage:  www.obanshafts.com.  You can call also 866-607-0284.  Just about all Dealers have demos available for testing.  Also, the shafts are now available as upgrades with Titleist, Cobra Golf, and TaylorMade Golf,  Ping Golf will be offering Oban as an upgrade in the Fall. 
Your Reaction?
LIKE

0

LEGIT

0

WOW

0

LOL

0

IDHT

0

FLOP

0

OB

0

SHANK

0
Equipment is accurate as of the 2018 WGC Dell Match Play (3/20/2018).
Driver: Titleist 917D2 (10.5 Degrees)
Shaft: Project X HZRDUS 65 6.5
3 Wood: Titleist 917F2 (13.5 Degrees)
Shaft: Aldila Tour 80 Tour X
7 Wood: Titleist 915F (21 Degrees)
Shaft: Aldila Rogue 125 MSI 80 Tour X
Irons: Titleist 716 Ap2 (4-PW)
Shaft: True Temper Dynamic Gold AMT S400 Tour Issue
Wedges: Titleist Vokey SM7 (52-12F), Titleist Vokey Design (56), Titleist Vokey 2017 Prototype (60)
Shaft: True Temper DG Spinner
Putter: Scotty Cameron Circle T T5S
Grip: SuperStroke PistolGTR Tour
Golf Ball: Titleist Pro V1x
Related:
Discussion: See what GolfWRX members are saying about Dufner's clubs. 
Your Reaction?
LIKE

10

LEGIT

0

WOW

0

LOL

0

IDHT

0

FLOP

1

OB

0

SHANK

0
Equipment is accurate as of the 2018 Arnold Palmer Invitational (3/13/18).
Driver: TaylorMade M2 2016 (9.5 degrees)
Shaft: TPT Golf
3 Wood: TaylorMade Areo Burner (12 degrees)
Shaft: Fujikura Motore Speeder VC 8.2 Tour Spec X
3 Wood: TaylorMade M2 2016 HL (16.5 degrees)
Shaft: Fujikura Motore Speeder VC 8.2 Tour Spec X
3 Wood: Tour Edge Exotics CBX T3 (16.5 degrees)
Shaft: Fujikura Pro 2.0 Tour Spec 7S
Irons: Mizuno MP-4 (3-PW)
Shafts: Nippon N.S. Pro Prototype
Wedges: Wilson Staff FG Tour PMP (54-11, 59-10)
Shafts: Nippon N.S. Pro Modus 3
Putter: Bloodline R1-J
Grip: Bloodline Grip
WITB Notes: We spotted Vijay testing a few different fairway woods at the 2018 Arnold Palmer, and we'll update this post when we confirm his decisions.
Related:
Discussion: See what GolfWRX members are saying about Singh's clubs. 
Your Reaction?
LIKE

16

LEGIT

2

WOW

0

LOL

0

IDHT

1

FLOP

0

OB

0

SHANK

4
Lydia Ko explains why her PXG 58-degree wedge is so different
During the PXG 0311 Gen2 iron launch at Scottsdale National Golf Club, I caught up with 20-year-old Lydia Ko — who once became the youngest ever to reach a world No. 1 ranking at 17 years old — to discuss what's currently in her bag. She discusses switching into the new Gen2 irons, what she likes about them, and also what's so different about her 58-degree wedge. Joining us was PXG engineer Mike Nicolette who works with Ko on fitting and building her wedges.
Enjoy my interview with Ko and Nicolette above, and click here to hear more from Nicolette.
Your Reaction?
LIKE

50

LEGIT

4

WOW

3

LOL

3

IDHT

2

FLOP

6

OB

3

SHANK

55