Rory McIlroy responds to rumors linking Jon Rahm with LIV Golf
Late last week, Jon Rahm pulled out of his previous commitment to join TGL.
I am sad to confirm that I will not be participating in the first TGL season. While I still think it's a great opportunity, right now it would require a level of commitment that I can't offer. Best of luck to everyone envolved and may the best team win!

— Jon Rahm Rodriguez (@JonRahmpga) November 2, 2023
Of course, this led many golf begins to ramp up speculation (once again) that this may mean he's heading to LIV Golf to join or co-captain with his good friend and fellow Spaniard, Sergio Garcia, on the Fireballs.
TGL issued a statement on Rahm's departure.
TGL on Rahm: "Jon is one of the most talented players in the game and we will miss him during the inaugural TGL season.We understand that players have to balance a lot of different facets of their professional and personal lives and respect Jon's choice and wish him well"

— Bob Harig (@BobHarig) November 2, 2023
During his introductory press conference on Monday for Boston Common Golf, Rory McIlroy was asked about Rahm and whether or not his sudden departure from TGL was a sign he may be jumping to LIV.
"I spoke to Jon a couple of days ago and would be very, very surprised if that were to happen [move to LIV Golf]. I am pretty confident Jon is a PGA Tour player."
More from the 19th Hole
Your Reaction?
LIKE

24

LEGIT

2

WOW

3

LOL

5

IDHT

0

FLOP

4

OB

1

SHANK

8
Report: Major champ set to join Brooks Koepka's Smash GC LIV Golf team
After finishing outside of the top-24 in the LIV Golf standings (40th) last season, Graeme McDowell has not been resigned by his former LIV Golf team, Cleeks GC.
However, McDowell received some good news after losing his guaranteed spot and has been signed by Smash GC which is captained by Brooks Koepka.
According to James Corrigan of The Telegraph, McDowell, an insider told him "Could not believe his luck".
"Obviously, all was not rosy on the Cleeks and with G-Mac and Kaymer. He thought he was out of LIV and would have to be participating on the Asian Tour next year. Playing alongside Koepka – probably the best player on LIV – is a massive result for him."
G-Mac is the second player to depart from Martin Kaymer's Cleeks GC, as Austrian Bernd Wiesberger also failed to finish inside the top-24 on the standings and is now returning to the DP World Tour to play once again.
Although McDowell is a former major champion, he's currently well past his prime. LIV Golf fans will be anticipating some bigger signings in the coming month or two if they want to make a splash this off-season.
More from the 19th Hole
Your Reaction?
LIKE

0

LEGIT

0

WOW

0

LOL

0

IDHT

0

FLOP

0

OB

0

SHANK

0
'He's lied maliciously about me' – Alan Shipnuck hits back at Phil Mickelson and brings receipts
The ongoing feud between Phil Mickelson and the author of the book "Phil: The Rip-Roaring (and Unauthorized!) Biography of Golf's Most Colorful Superstar", Alan Shipnuck, continued on Monday.
Previously, Shipnuck shared on X that shared that he'd been told Phil Mickelson was telling people that Rahm to LIV was a "done deal".
Phil retorted by slamming Shipnuck, calling the author "the worst liar and a pathetic human".
Mickelson also responded directly in a (now deleted) tweet.
Here is Phil Mickelson's (now deleted) response to Alan Shipnuck. pic.twitter.com/CT3nCVeDX8

— Matt Vincenzi (@MattVincenziPGA) November 26, 2023
This week, Shipnuck fired back at Phil, and he brought receipts.
.@PhilMickelson wants me to reveal confidential sources. I don't do that. I do try to be fair to anybody I write about. 

When I was working on the Mickelson biography "Phil," he called me because he wanted me to know what was really happening behind the scenes with LIV Golf and… pic.twitter.com/OzT9F8ZFtB

— Alan Shipnuck (@AlanShipnuck) November 27, 2023
"When I was working on the Mickelson biography "Phil," he called me because he wanted me to know what was really happening behind the scenes with LIV Golf and the PGA Tour. During that call Phil famously said, "They're scary motherfuckers to get involved with. We know they killed [Jamal] Khashoggi and have a horrible record on human rights. They execute people over there for being gay. Knowing all of this, why would I even consider it?"
During that riff he cited a specific gay person he is close with to help make his point. It didn't feel right in the moment but he just kept talking and I let it go. I subsequently sent Phil a fact-checking email about the most sensitive material in the book (screenshots below). I wanted to give Phil a chance to reconsider his comment about this person's sexuality. Throughout the entire process of writing the book, I tried to be transparent and fair to Mickelson; it's clear from my fact-checking email that I am using his comments about the Saudis in my book. Phil never responded to my email but his lawyer Pat Swan did and we spoke by phone on Jan. 1, 2022. (While putting the book together I had conversations with two other lawyers employed by Mickelson.) Swan said Phil appreciated my sensitivity and would like me to remove the comment about the person's sexuality, which I was happy to do. Neither Mickelson or Swan ever raised any concerns about me using the other contents of my phone call with Phil in the book.
After his comments were published in an excerpt on http://FirePitCollective.com, creating an intense controversy, Mickelson claimed our conversation had been off-the-record. I had previously asked him three times face-to-face to sit for interviews; we both knew this phone call was for the book and everything he told me was going in its pages. He never asked to go off-the-record. If he had, I would have pushed back hard because this was my one chance to interview him for the book. In October '22, Mickelson made another confounding statement: "So I will reiterate, I never did an interview with Alan Shipnuck."
Phil can say whatever he wants but that doesn't make it true. He has lied maliciously about me and I think his current comments should be seen through that lens."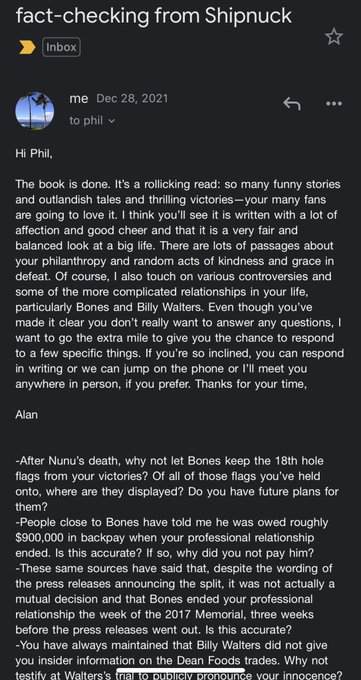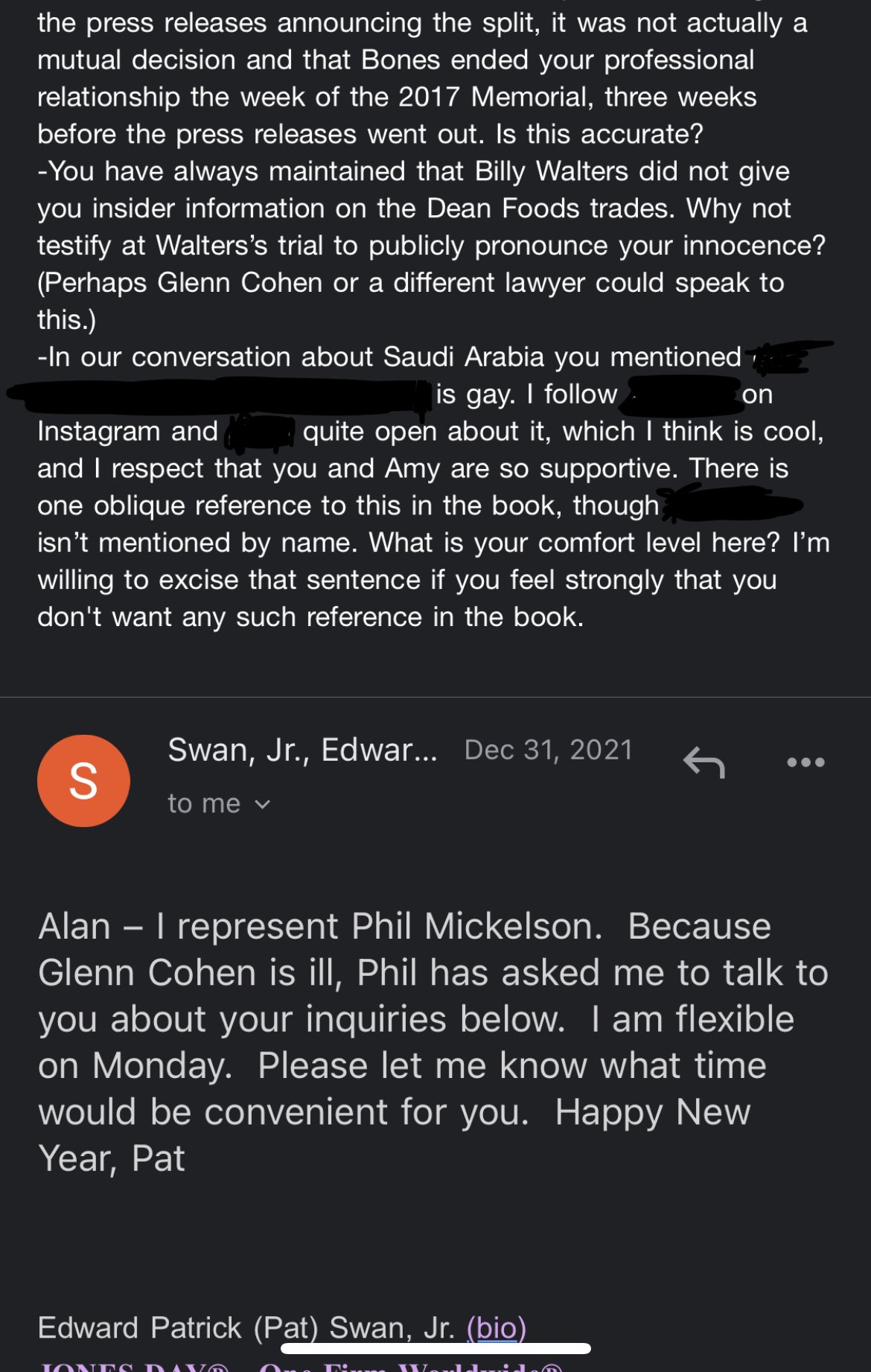 One clarification: In my email to Phil, where I say, "Even though you've made it clear you don't really want to answer any questions" – that was a reference to our phone call, which he began by saying, "Just so you know, I don't want to answer a million questions about my life, I…

— Alan Shipnuck (@AlanShipnuck) November 27, 2023
More from the 19th Hole
Your Reaction?
LIKE

0

LEGIT

0

WOW

0

LOL

0

IDHT

0

FLOP

0

OB

0

SHANK

0
Asian Tour event alerts players they will need to pay and arrange own travel to hit range balls
This week's Asian Tour event will have the professionals feeling like the amateurs while attempting to warm up for their rounds.
A memo was sent to the players and shared by "Monday Q Info" on X said that if they wanted to use an outdoor range to warm up, the pro's would have to use the public driving range nearby at their own cost and must arrange their own transportation.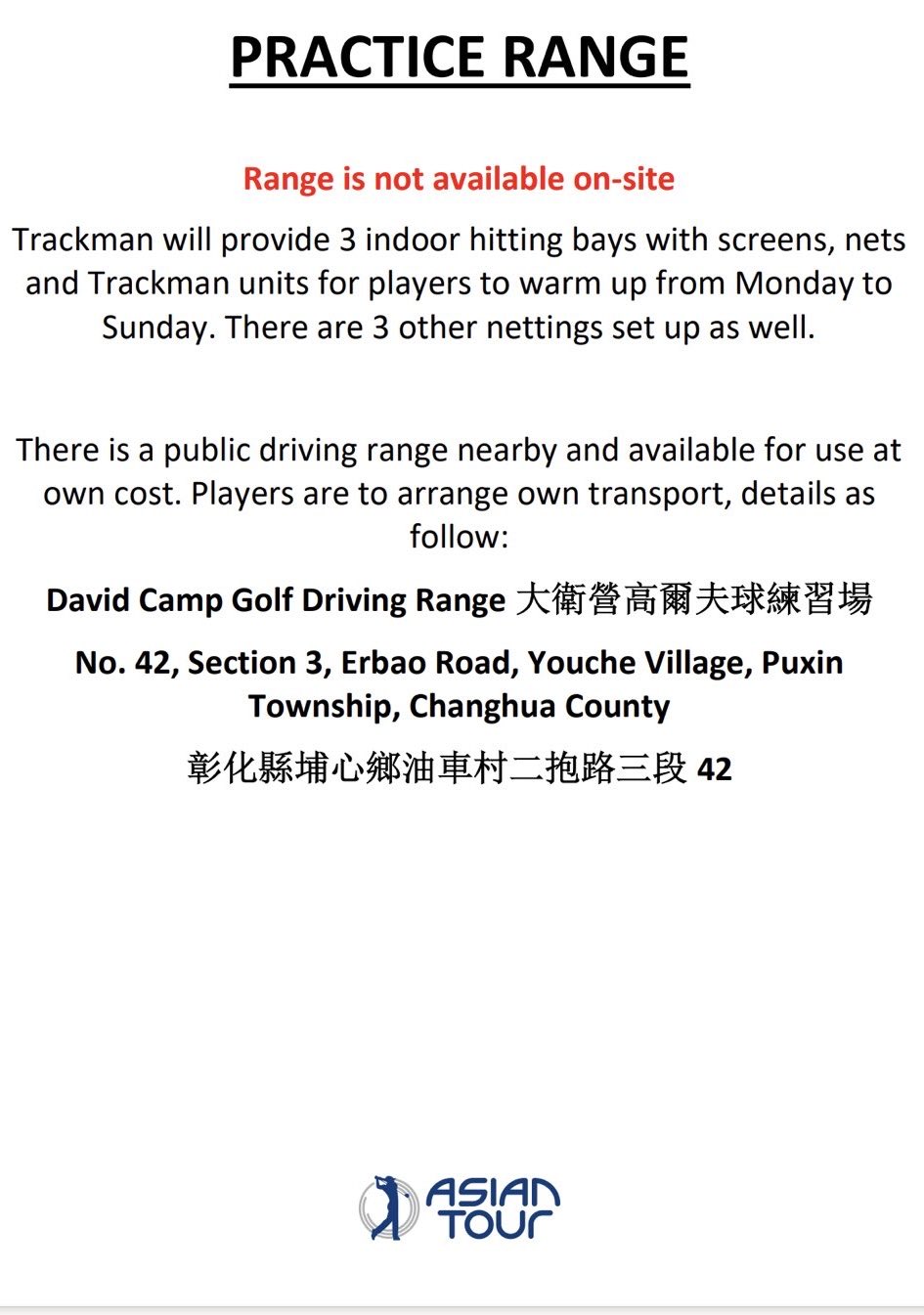 The memo also shared that Trackman would be providing three indoor hitting bays with screens, nets and Trackman units.
After seeing the tweet, Berry Henson, who regularly competes on the Asian Tour, shared that it's not entirely uncommon for the Japan Challenge Tour to have no range.
"Isn't that abnormal in Asia to have this. On Japan Challenge tour it's weekly occurrence to have no range. We have multiple events during the year where we can only warm up with irons. "Practice you talking about practice" Allen Iverson ???".
More from the 19th Hole
Your Reaction?
LIKE

0

LEGIT

0

WOW

0

LOL

0

IDHT

0

FLOP

0

OB

0

SHANK

0