'This guy does not stop' – Tour pros take aim at Patrick Reed over latest rules controversy
The words Patrick Reed and controversy seem to go hand in hand these days, and it continued at the weekend.
During the third round of the delayed Dubai Desert Classic, Reed took a penalty drop after identifying his ball lodged in one of a group of trees. Trouble is, the ball is only identifiable by a specific arrow marking in what appears to be a palm full of golf balls. And, in this case, by binoculars.
Here are two VERY close looks (per the wizards at Getty) of the markings on Patrick Reed's golf ball that allowed him to identify it in the palm tree in Dubai.

Spot the black "arrow" that Reed talked about in his post-round presser and the red dot. Both images are from today. pic.twitter.com/40UhXOq0rX

— James Colgan (@jamescolgan26) January 29, 2023
If unable to identify his ball, Reed would have needed to go back to the 17th tee to re-load, more than likely causing to him to score double-bogey instead of just the one dropped shot.
The former Masters champion had already found himself embroiled in a debate surrounding his apparel daubed with 'LIV Golf', and in a spat with the world number one in Dubai.
Pre-event, video footage showed McIlroy apparently ignoring his greeting when on the practise ground, resulting in a bit of tee-throwing, leading social media to comment we have moved from 'Tee Gate' to 'Tree Gate' in the space of a few days.
In a statement issued by tournament officials, the DP World Tour confirmed that "two on course referees and several marshals" identified that Reed's ball had been caught up in the tree.
As shown by the Golf Channel, this is the alleged offending tree, shown with a heap of golf-balls never to be seen again: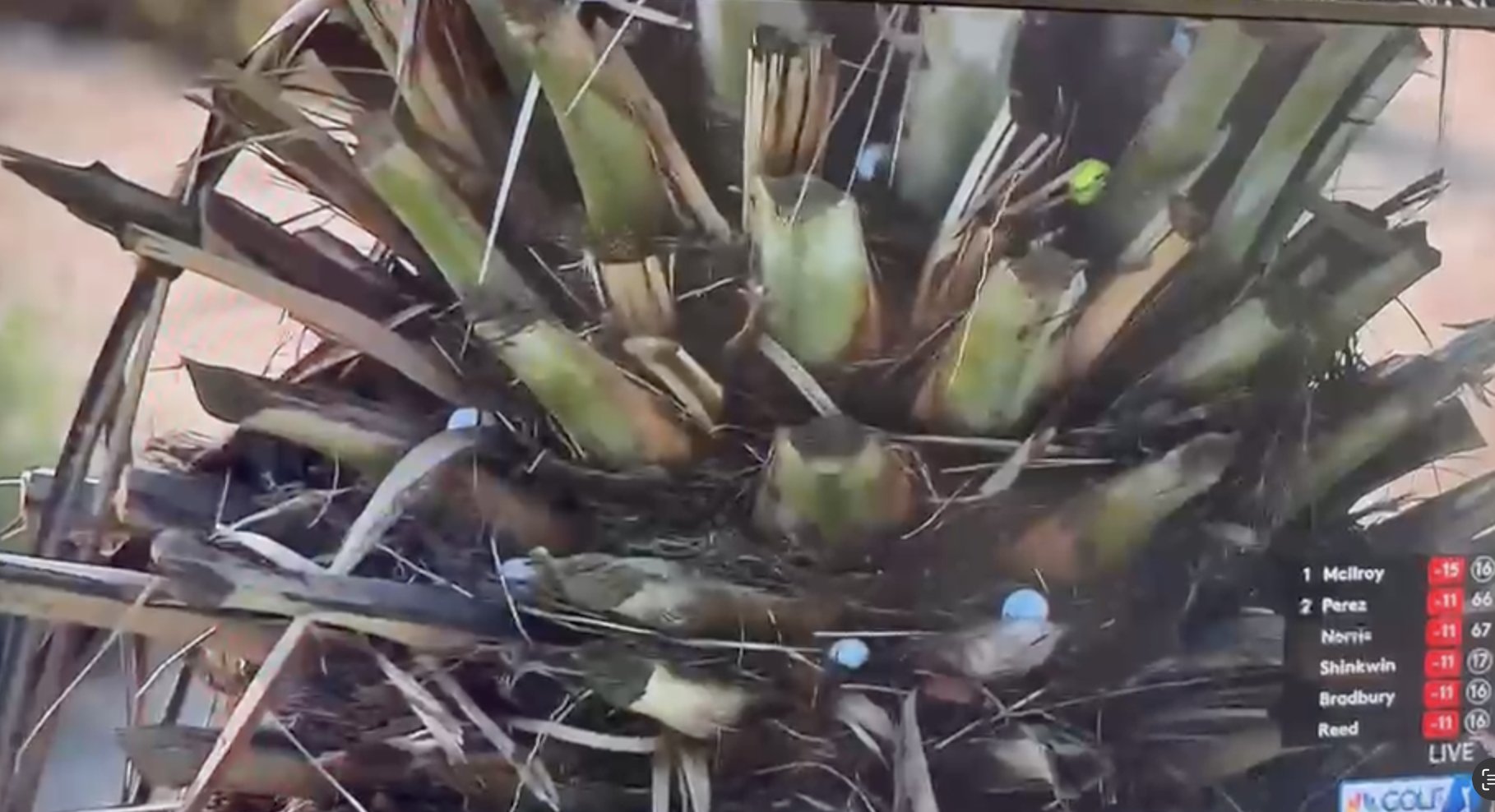 The full statement issued reads: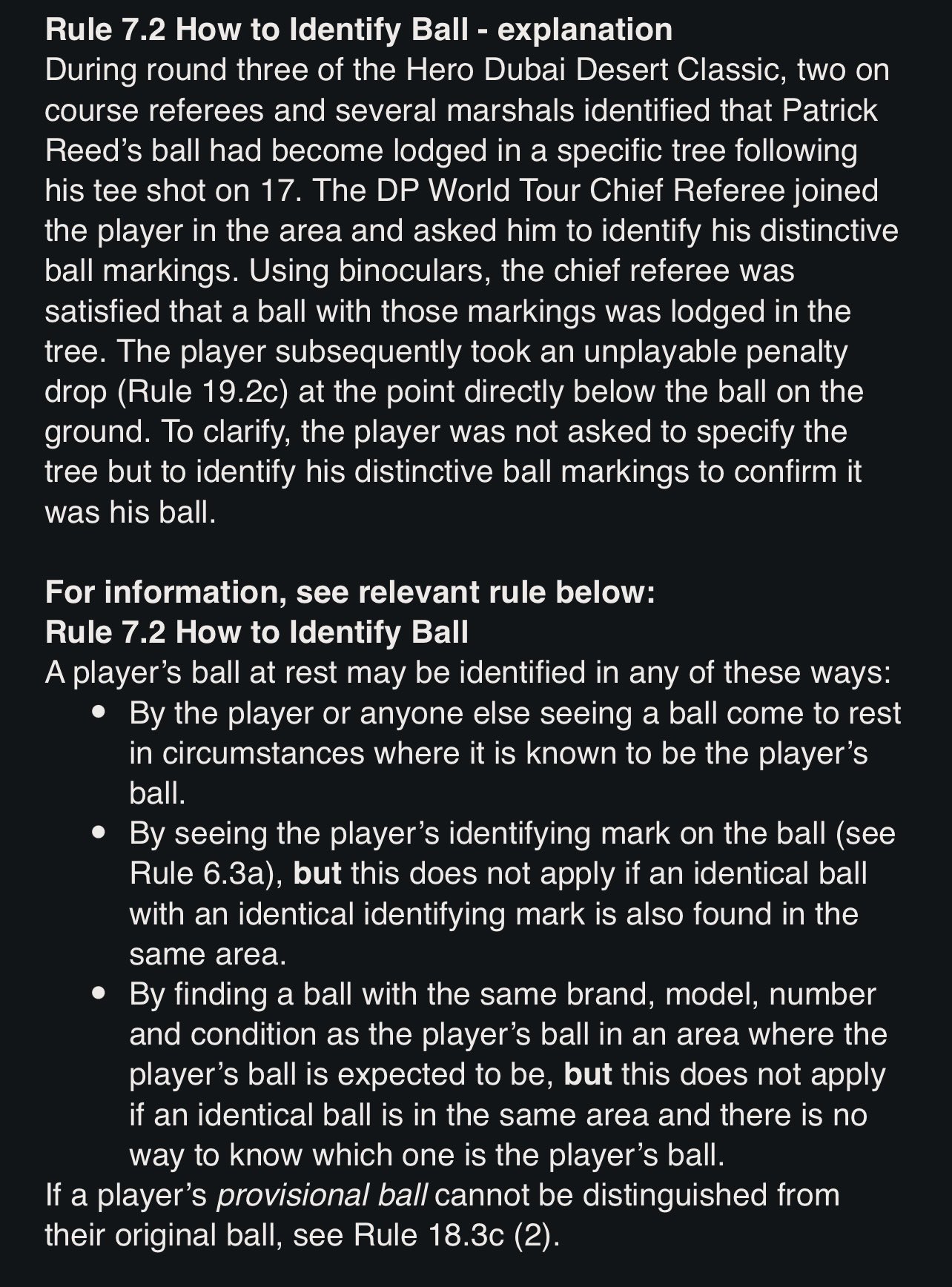 Despite being cleared of any wrongdoing, a couple of DP World Tour pros seemed not best pleased with the incident, with some footage appearing to show Reed's ball entering a different tree than where he eventually found his ball.
French Tour pro Matthieu Pavon responded to the video of the incident saying: "Wow wrong tree ?! Maybe optical illusion" followed by a laughing emoji. While his compatriot Mike Lorenzo-Vera went a little further stating: "This guy does not stop."
Le mec ne s'arrête pas !???

— Mike Lorenzo-Vera (@MikeLorenzoVer1) January 29, 2023
According to Reed himself, he would have gone back to the tee had he not been 100 percent sure the ball was his.
Here Patrick reed comments on the ball on tree here @DubaiDCGolf https://t.co/JxDvKY0KQK pic.twitter.com/t2GPKtu68E

— Golf & Science News (@TOURMISS) January 29, 2023
Ironically, almost a year to the day after being involved in a rule dispute at Torrey Pines, Reed again finds himself as the focus of attention over a drop.
More from the 19th Hole
Your Reaction?
LIKE

57

LEGIT

24

WOW

26

LOL

27

IDHT

3

FLOP

8

OB

10

SHANK

113
'You're f***ing hilarious, aren't you?' – Shane Lowry snaps at spectator during WGC Match Play
It's been a struggle for Shane Lowry throughout his career at the WGC Dell Technologies Match Play. Since 2019, the Irishman is now 3-6 at the event prior to the 2023 version of the event.
The struggles continued on Wednesday for Lowry as he found himself two down to Taylor Montgomery on the 17th hole when a fan said something to him after his tee shot.
The frustration finally showed through and Lowry snapped back at the fan.
"You're f***ing hilarious ,aren't you?"
Shane Lowry not a happy bunny ?? pic.twitter.com/0V1gHa7kJX

— Andy Roberts (@AndyRobertsGolf) March 22, 2023
Laura Davies on Sky Sports reacted immediately, saying "Apologies for the language."
Lowry will give it another crack tomorrow as he faces off against Mackenzie Hughes on Thursday at 11:59 A.M. EDT.
More from the 19th Hole
Your Reaction?
LIKE

4

LEGIT

0

WOW

0

LOL

0

IDHT

0

FLOP

0

OB

0

SHANK

3
Ex-Golf Channel host Holly Sonders returns to sports in new NSFW venture
Holly Sanders, who was a host on Golf Channel working on "School of Golf" and "Playing Lesson with the Pros," before going to Fox Sports until 2019.
According to her post on Twitter, the 34-year-old is about to be back in the world of sports in the form of a topless sports league.
@holly_sonders announces the launch of her new topless sports league, and suffice it to say, there are NO complaints over here. https://t.co/Mo6CCS0GB0 pic.twitter.com/MTXvazik3f

— Chulo Magazine (@ChuloMagazine) March 20, 2023
Sonders also made an Instagram post about her new venture, saying she was still looking to "add talent" to the league.
View this post on Instagram
"I will be watching over all operations making sure the content is of the highest quality possible, and that the girls are safe, having fun and enjoying themselves. This league is owned by women and will be run by women. Feminists should praise this as it's creating opportunities for women."
More from the 19th Hole
Your Reaction?
LIKE

4

LEGIT

1

WOW

2

LOL

4

IDHT

2

FLOP

0

OB

0

SHANK

11
Nelly Korda responds to fans following 'wardrobe malfunction' in latest video
LPGA Tour superstar Nelly Korda recently signed a deal with both TaylorMade and Nike. In a promotional Instagram video for TaylorMade, Korda was hitting the Stealth 2 driver.
The post read: #Fargiveness with a view. ? #TeamTaylorMade is gearing up for a big week in Arizona and striping their #Stealth2Drivers around Superstition Mountain."
View this post on Instagram
However, the post didn't go as planned, with some users comparing Korda to Rickie Fowler because of her wardrobe choice, while one user simply said: "Orange pants with red shoes? Bruh for real?"
Korda responded on Instagram shortly after, saying "Don't hate me for my Orange pants and red shoes," she wrote. "It was a bit of a wardrobe malfunction."
More from the 19th Hole
Your Reaction?
LIKE

55

LEGIT

5

WOW

2

LOL

10

IDHT

2

FLOP

13

OB

5

SHANK

133