'This guy does not stop' – Tour pros take aim at Patrick Reed over latest rules controversy
The words Patrick Reed and controversy seem to go hand in hand these days, and it continued at the weekend.
During the third round of the delayed Dubai Desert Classic, Reed took a penalty drop after identifying his ball lodged in one of a group of trees. Trouble is, the ball is only identifiable by a specific arrow marking in what appears to be a palm full of golf balls. And, in this case, by binoculars.
Here are two VERY close looks (per the wizards at Getty) of the markings on Patrick Reed's golf ball that allowed him to identify it in the palm tree in Dubai.

Spot the black "arrow" that Reed talked about in his post-round presser and the red dot. Both images are from today. pic.twitter.com/40UhXOq0rX

— James Colgan (@jamescolgan26) January 29, 2023
If unable to identify his ball, Reed would have needed to go back to the 17th tee to re-load, more than likely causing to him to score double-bogey instead of just the one dropped shot.
The former Masters champion had already found himself embroiled in a debate surrounding his apparel daubed with 'LIV Golf', and in a spat with the world number one in Dubai.
Pre-event, video footage showed McIlroy apparently ignoring his greeting when on the practise ground, resulting in a bit of tee-throwing, leading social media to comment we have moved from 'Tee Gate' to 'Tree Gate' in the space of a few days.
In a statement issued by tournament officials, the DP World Tour confirmed that "two on course referees and several marshals" identified that Reed's ball had been caught up in the tree.
As shown by the Golf Channel, this is the alleged offending tree, shown with a heap of golf-balls never to be seen again: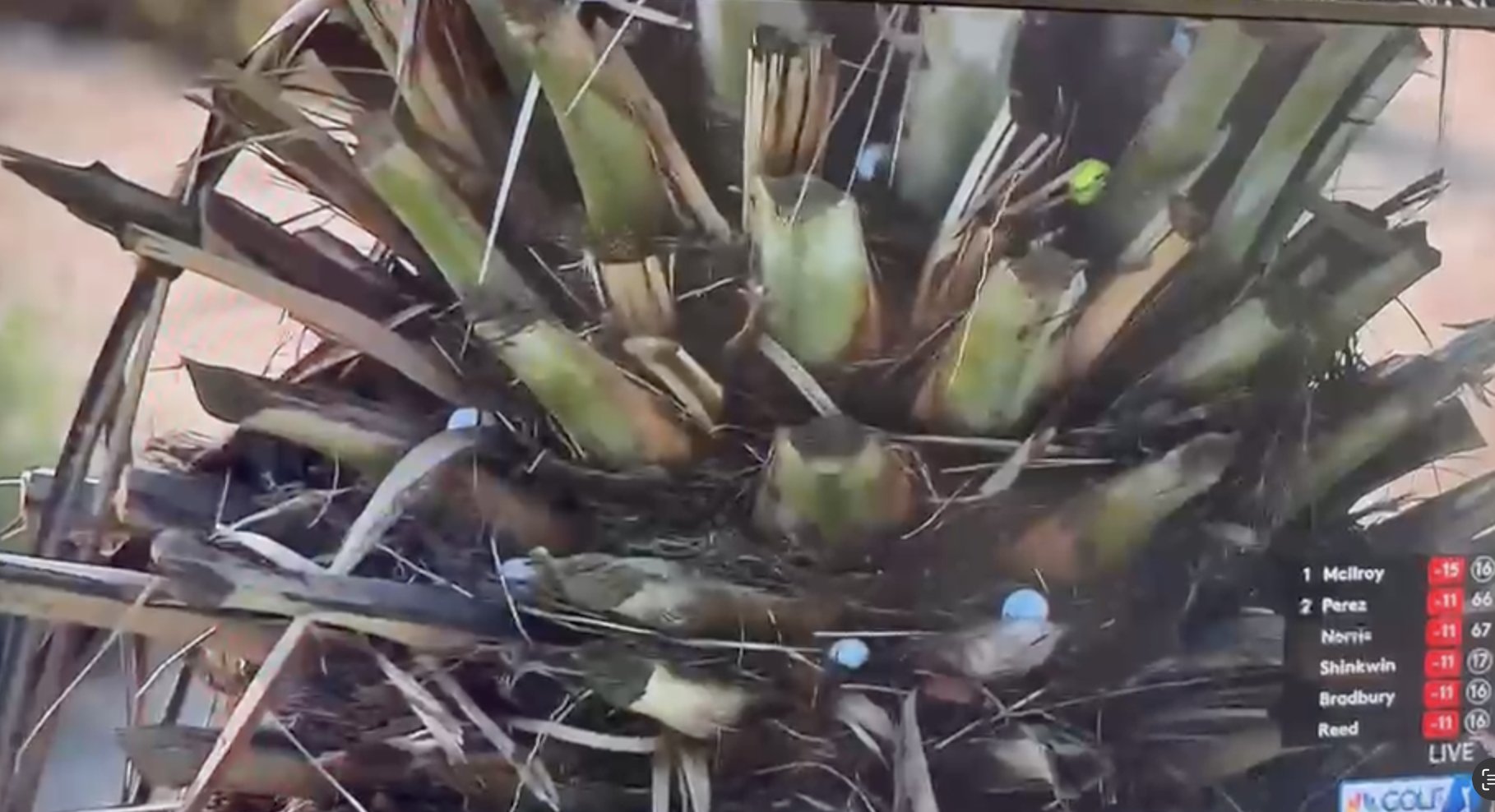 The full statement issued reads: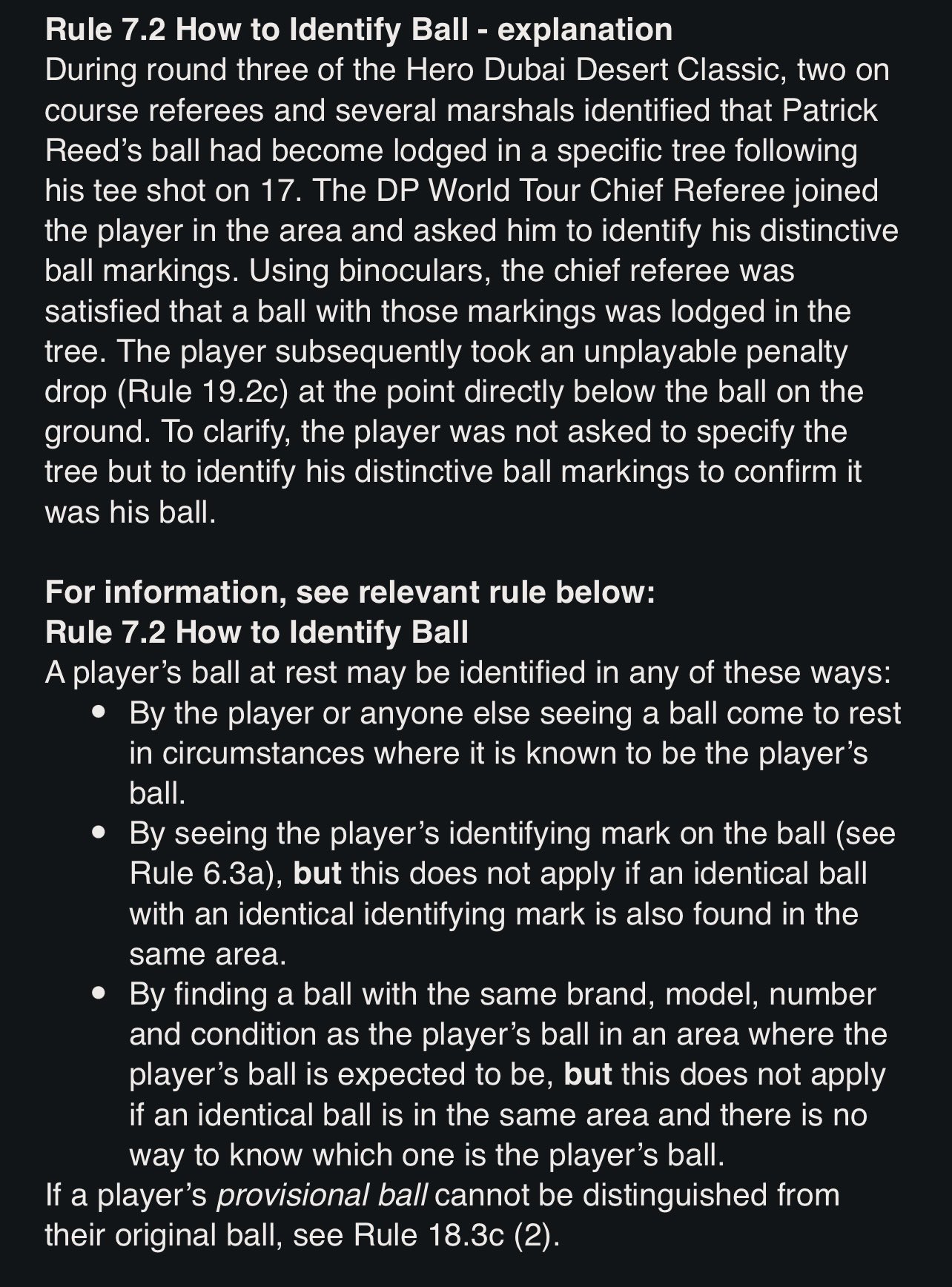 Despite being cleared of any wrongdoing, a couple of DP World Tour pros seemed not best pleased with the incident, with some footage appearing to show Reed's ball entering a different tree than where he eventually found his ball.
French Tour pro Matthieu Pavon responded to the video of the incident saying: "Wow wrong tree ?! Maybe optical illusion" followed by a laughing emoji. While his compatriot Mike Lorenzo-Vera went a little further stating: "This guy does not stop."
Le mec ne s'arrête pas !???

— Mike Lorenzo-Vera (@MikeLorenzoVer1) January 29, 2023
According to Reed himself, he would have gone back to the tee had he not been 100 percent sure the ball was his.
Here Patrick reed comments on the ball on tree here @DubaiDCGolf https://t.co/JxDvKY0KQK pic.twitter.com/t2GPKtu68E

— Golf & Science News (@TOURMISS) January 29, 2023
Ironically, almost a year to the day after being involved in a rule dispute at Torrey Pines, Reed again finds himself as the focus of attention over a drop.
More from the 19th Hole
Your Reaction?
LIKE

57

LEGIT

24

WOW

26

LOL

27

IDHT

3

FLOP

8

OB

10

SHANK

113
'You're a f*****g traffic cone!' – Brooks Koepka heckles Aaron Ekblad at Florida Panthers game
Brooks Koepka is preparing to play in this week's LIV event in Orlando. While in Florida, the four-time major champion attended a Florida Panthers game.
At the game, Koepka was seen taunting Aaron Ekblad, who was the first overall pick in the draft in 2014, with a traffic cone.
Brooks can be seen in the video yelling, "Ekblad you suck" as well as calling him a "traffic cone" with the prop in hand.
Is that Brooks Koepka calling Ekblad a fucking traffic cone from the stands in Florida??

?: IG/floridapanthersfp pic.twitter.com/LqolbAuYYt

— Missin Curfew (@MissinCurfew) March 26, 2023
So far this season, Koepka has finished 31st at LIV Mayakoba and 29th at LIV Tucson. He'll be teeing it up at The Masters next week in search of his 5th major championship.
More from the 19th Hole
Your Reaction?
LIKE

0

LEGIT

0

WOW

0

LOL

0

IDHT

0

FLOP

0

OB

0

SHANK

2
'Never mind the Masters' – Gary Player explains why he ranks the Masters dead last of all the majors
In an interview with Sportsmail, Gary Player spoke about which major championship he believes is the best among them. The 87-year-old won nine major championships, including the Masters three times and The Open Championship three times.
"But never mind the Masters, the Open is by far the greatest tournament on the planet."
Interestingly, Player ranked the Masters fourth of the four majors.
"I rate the Open at one, the US Open two, PGA three and Augusta four,' he adds. Four marvelous tournaments."
When asked why he ranked the Masters after the other three, Player said it was because the others have been around longer.
"It's the youngest of the majors. The others are steeped in tradition and history, and they still have to catch up. Nothing comes to the top without time."
Speaking of The Masters, Player also spoke about Rory McIlroy's quest for the career grand slam, of which he's still one green jacket short. Player believes McIlroy will win and needs to do so sooner rather than later to cement his spot amongst the greatest players of all time.
'He's got the best swing in the world by a mile,' Player says. 'He's won four majors but none since 2014. I think he will win the Masters because the course is made for him. I think if he does that, he'll go down as one of the greats, but that's something he has to do.
"I've always said my judgment of superstars is they have to win six majors. People these days say anyone who wins is a superstar. No. It's not easily done, but I believe Rory can."
More from the 19th Hole
Your Reaction?
LIKE

80

LEGIT

18

WOW

11

LOL

18

IDHT

4

FLOP

11

OB

8

SHANK

80
Golf legend says this was the biggest mistake of Tiger's career
At one stage in his career, it looked as if Tiger Woods becoming the record major holder was a formality, but for whatever factors that never materialised.
In an interview with Sportsmail, Gary Player spoke about Tiger Woods and his quest to break Jack Nicklaus's major championship record, and has his own view on why Tiger never surpassed Jack's record.
Player, who won nine major championships himself, said that he believes Ben Hogan was the "greatest" golfer he'd ever seen, but Tiger Woods was the most talented.
'The greatest I ever saw was Ben Hogan,' he says. 'He went to war for five years and then had a terrible car accident, so never played in 30 majors. Nobody had a streak like he had (winning his nine majors in the space of 16 starts). If I was a young boy today, I'd watch his swing from 1953 every day."
'Tiger Woods was the most talented golfer the planet has ever seen but he made a few bad decisions, which we all do."
"Having lessons when he won the US Open by 15 shots was inconceivable — if he never went for a lesson, he would have won 20 majors minimum and he would have beat Nicklaus's record."
Player is referencing the 2000 U.S. Open at Pebble Beach, which Woods won by 15 shots. Just two years later, Tiger completely renovated his golf swing, which in retrospect looks as if it may have been a mistake.
More from the 19th Hole
Your Reaction?
LIKE

61

LEGIT

18

WOW

5

LOL

5

IDHT

2

FLOP

4

OB

1

SHANK

19