'They can't give it away' – Latest viewing figures show worrying trend for LIV Golf
LIV Golf wants a television deal.
Whilst there are almost unlimited reserves available from the Saudi Arabian Public Investment Fund, the investors are sure to see something tangible come from the countless millions that have been ploughed into making the sport golf, but louder.
A week ago, we reported that Apple TV had turned down the chance to broadcast the series, and that Sports business site, sportspromedia.com, commented that, "LIV Golf's Saudi backing means it does not have to adhere to normal business practices for a sports property, with a focus on simply disrupting its rivals and making noise."
They may not need the money, but with further investment into the likes of Open champion and former world number two Cam Smith, as well as Anirban Lahiri and Joaquin Niemann, both attracting new audiences in their native countries, LIV would certainly enjoy finally securing a nationwide television deal.
Given the status of the newer signings, Greg Norman and co. would surely have expected increasing viewing figures, but as the table below shows, they are struggling to get past the mean.
Crediting number-cruncher @Robopz, golf writer David Bieleski tweeted the comparison figures on Tuesday, headlining the post with, "They literally can't give it away."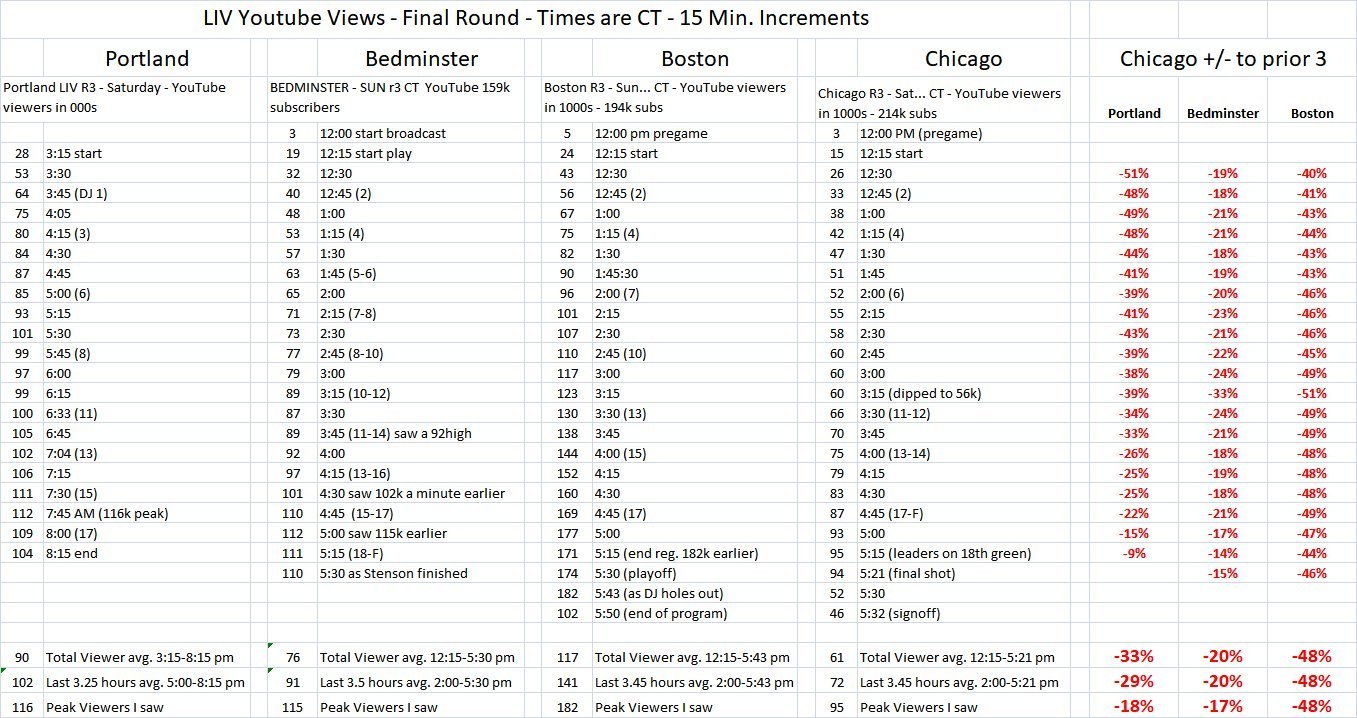 As can be seen above, an average of 90,000 viewers watched the inaugural US leg of the series, with a similar amount tuning in to Smith's victory in Chicago last Sunday.
Sure, the event was up against the NFL, something few sports can compete with, but Robopz had earlier pointed out the low figures for the first two rounds:
Clearly NFL severely impacted Sunday viewership (duh, ya think?)… but the real problem this week was R1 and R2 were down so much as well… both Chicago R1 and R2 were the lowest live viewers of the 5 events so far… pic.twitter.com/VLzz0CWaZn

— Robopz (@Robopz) September 19, 2022
Still, Norman and his chief media mogul, Will Staeger, continue to hold high hopes, letting everyone know negotiations continue apace – they are, by all accounts, in discussion with "virtually every major media company."
It would be right to point out that the numbers doubled during Dustin Johnson's play-off victory in Boston, but those figures are standout rather than the norm, even if Bryson DeChambeau says, "Over two million unique viewers watched. That's pretty solid. Someone is going to take the dive on us."
Golf is divided at present. Relationships between the ruling parties and between players themselves remain tense. It will take a strong media outlet to get involved, and while it may be "coming" (to use Bryson's word), it isn't here yet.
More from the 19th Hole
Your Reaction?
LIKE

162

LEGIT

30

WOW

14

LOL

38

IDHT

7

FLOP

60

OB

13

SHANK

115
Charlie Woods gives first interview after firing 68 at Notah Begay qualifying event
Over the weekend, Charlie Woods participated in the Notah Begay III Junior National Golf Championship at Mission Inn Resort in Howey-in-the-Hills, Florida.
With his dad on his bag, Charlie did not disappoint.
Charlie finished tied for fourth in the Boys 12-13 division thanks to a career low four-under 68.
After his round, Charlie gave an interview and in the process gave a lot of credit to the fifteen-time major champion helping him out throughout the event.
?#NEW: A Charlie Woods interview following his low round of the day at the Notah Begay qualifying event in central FL ??. Tiger was on site. pic.twitter.com/FDbFRgzZ6n

— TWLEGION (@TWlegion) September 25, 2022
"Dad told me to stay patient. I just played steady golf," Charlie said.
I'm sure we will hear a lot more of the name "Charlie Woods" in the coming years.
More from the 19th Hole
Your Reaction?
LIKE

14

LEGIT

5

WOW

2

LOL

0

IDHT

0

FLOP

0

OB

0

SHANK

5
'He didn't look right' – Tiger's mobility issues reportedly continue as he caddies for son Charlie
Over the weekend, 13-year-old Charlie Woods played in a junior golf tournament and shot a career low 68 on his way to a second-place finish.
As great as the performance was for Charlie, a big part of the story was who he had on his bag. That's right, his dad.
Tiger Woods caddied for Charlie during the event, and according to those in attendance, he "didn't look right."
According to @TWLegion on Twitter, the man who took a picture of Tiger Woods said he was in a cart all day and didn't look completely healthy.
?#PHOTOS: Tiger caddying for Charlie today, wearing his Presidents Cup hat. Charlie shot a career low of -4, 68 at the NB3 qualifying event. (?: santy_a.c_ / IG) pic.twitter.com/4HSKCc34si

— TWLEGION (@TWlegion) September 25, 2022
I just confirmed with the guy he took the pic with that he carted around but they added that he didn't look right. https://t.co/NLZQfVl7vw

— TWLEGION (@TWlegion) September 26, 2022
This adds further speculation to the health concerns of Tiger Woods. Many speculated that his lack of presence at the Presidents Cup was odd, considering he could have used a cart like the other captains of the American team. He was on the phone with Davis Love III during the match, but it was reported that he wasn't in attendance due to "physical limitations."
?#NEW: Davis Love III phoned Tiger while on the 6th tee today at Quail Hollow. Tiger is watching from Florida but has been in on team Zoom calls. He admits that Woods is not there due to physical limitations.

— TWLEGION (@TWlegion) September 23, 2022
The last time we saw Tiger on the golf course — a missed cut at The Open in July — he didn't look like he was ready to play professional golf competitively. Although his caddie Joe LaCava has speculated that we could see Woods tee it up a few times prior to the Masters in 2023, the recent developments don't seem promising.
More from the 19th Hole
Your Reaction?
LIKE

12

LEGIT

11

WOW

12

LOL

3

IDHT

1

FLOP

1

OB

0

SHANK

9
'I was pretty p****d off' – Justin Thomas on Si-Woo Kim's shush celebration during feisty Sunday clash
With the Internationals down four points heading into Sunday singles in the Presidents Cup, The United States threw out their de-facto leader Justin Thomas in the first match of the day. In a match where it was crucial to set the tone, International Team captain Trevor Immelmann surprisingly chose Si Woo Kim to counter Thomas.
The South Korean did not disappoint, and although the United States went on to win pretty comfortably, Kim did his job in defeating Thomas by 1-up.
Tensions ran high throughout the day, with Thomas seemingly upset over Kim's unwillingness to concede a few short putts early in the match.
Don't make Justin Thomas angry by not giving him putts. pic.twitter.com/oDE45kQXhw

— Fore Play (@ForePlayPod) September 25, 2022
It was a bit surprising to see Thomas take exception with Kim's insistence that he finish out some short putts, considering that the Internationals needed to make up quite a large deficit. Additionally, Thomas had been a stickler all week about giving his opponents anything that bordered on "a gimme".
Just a reminder that Justin Thomas gave this reaction when Spieth wanted to give a "gimmee". Justice is a dish best served cold.

— Flushing It (@flushingitgolf) September 25, 2022
After a big par putt on the 15th, a clearly emotional "JT" gave a big fist pump in celebration. Usually quite reserved, Si Woo Kim took notice and quieted the crowd after a big par save to match Thomas.
HUGE fist pump and reaction from Si Woo Kim ?

The match is now tied with 3 to play @IntlTeam.

Justin Thomas watches from a distance. pic.twitter.com/zBVBeMEhFa

— PGA TOUR (@PGATOUR) September 25, 2022
Once again, Thomas took exception to Si Woo, admitting after the match that he was "p***** off "at Kim's theatrics.
"Honestly, at the time, I was pretty p***** off," said Thomas afterwards. "I think when you're in the moment, when you're on the other side of it, it's something that gets you motivated, gets you pumped up a little bit."
When asked about his reaction to the made putt, Kim said he saw Patrick Reed do the celebration at the 2014 Ryder Cup and wanted to do something to match Thomas' energy.
"I saw that Patrick [Reed] did it before, and yeah, JT give me fist pump, and then I had to do it. And I had to make it, and I made it. Then, like, yeah, I had to do something. I think that give me more energy."
After all was said and done, Thomas admitted that Kim had the right to celebrate his victory.
"He hit the shots and made the putts better than I did the last three holes or, really, the last nine holes when he needed to," said Thomas. "So, I can say whatever I want about it, but he beat me. So he has the upper hand on me. But we won the Cup so that's all that matters."
More from the 19th Hole
Your Reaction?
LIKE

48

LEGIT

7

WOW

4

LOL

9

IDHT

1

FLOP

2

OB

0

SHANK

19