Greg Norman says he was asked not to attend PGA Tour event he created…event director refutes claim
On Tuesday, LIV Golf CEO Greg Norman posted on Instagram to announce he was asked not to attend 2023's QBE Shootout.
Norman founded what was previously known as "The Shark Shootout" event back in 1989 and has been hosting it ever since.
Norman's post began by saying:
"Sadly, after 33 consecutive years of playing in and hosting every Shootout tournament – a co-sanctioned PGA Tour event – since I founded it in 1989, this year I have been asked not to attend."
Norman also pointed out that the tournament has raised over $15 million for charities such as Cure Search.
View this post on Instagram

The director of the tournament Rob Hartman told the Naples Daily News that the decision was mutual, which refutes Norman's original statement that he was "asked not to attend".
"As we got close, ultimately the decision was made that he was going to step back and really let the focus remain on our tremendous charitable partners," Hartman said. "When he started this event 34 years ago, it was all about charity then, and it's all about charity now. Greg just made the decision that he didn't want anything to distract from that."
The two-player team competition is set to be held in December at Tiburon Golf Club.
More from the 19th Hole
Your Reaction?
LIKE

5

LEGIT

0

WOW

4

LOL

1

IDHT

0

FLOP

1

OB

1

SHANK

9
'They can't give it away' – Latest viewing figures show worrying trend for LIV Golf
LIV Golf wants a television deal.
Whilst there are almost unlimited reserves available from the Saudi Arabian Public Investment Fund, the investors are sure to see something tangible come from the countless millions that have been ploughed into making the sport golf, but louder.
A week ago, we reported that Apple TV had turned down the chance to broadcast the series, and that Sports business site, sportspromedia.com, commented that, "LIV Golf's Saudi backing means it does not have to adhere to normal business practices for a sports property, with a focus on simply disrupting its rivals and making noise."
They may not need the money, but with further investment into the likes of Open champion and former world number two Cam Smith, as well as Anirban Lahiri and Joaquin Niemann, both attracting new audiences in their native countries, LIV would certainly enjoy finally securing a nationwide television deal.
Given the status of the newer signings, Greg Norman and co. would surely have expected increasing viewing figures, but as the table below shows, they are struggling to get past the mean.
Crediting number-cruncher @Robopz, golf writer David Bieleski tweeted the comparison figures on Tuesday, headlining the post with, "They literally can't give it away."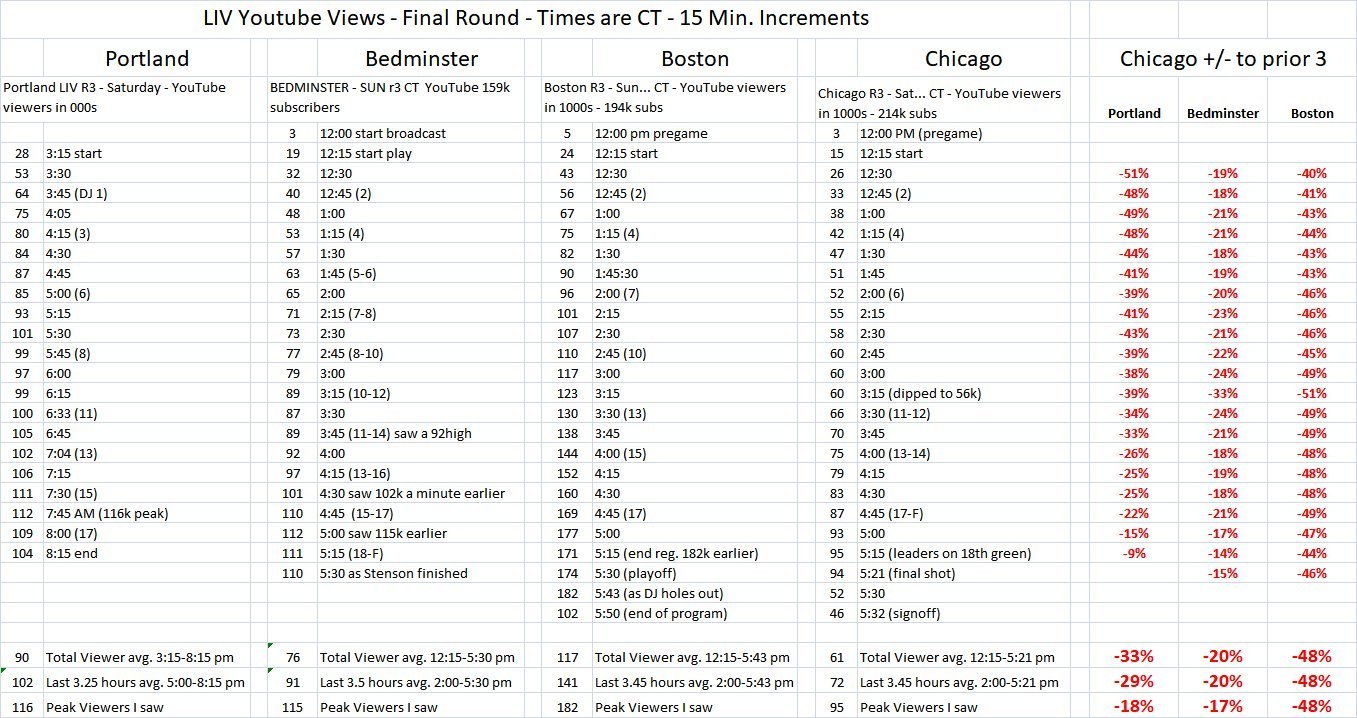 As can be seen above, an average of 90,000 viewers watched the inaugural US leg of the series, with a similar amount tuning in to Smith's victory in Chicago last Sunday.
Sure, the event was up against the NFL, something few sports can compete with, but Robopz had earlier pointed out the low figures for the first two rounds:
Clearly NFL severely impacted Sunday viewership (duh, ya think?)… but the real problem this week was R1 and R2 were down so much as well… both Chicago R1 and R2 were the lowest live viewers of the 5 events so far… pic.twitter.com/VLzz0CWaZn

— Robopz (@Robopz) September 19, 2022
Still, Norman and his chief media mogul, Will Staeger, continue to hold high hopes, letting everyone know negotiations continue apace – they are, by all accounts, in discussion with "virtually every major media company."
It would be right to point out that the numbers doubled during Dustin Johnson's play-off victory in Boston, but those figures are standout rather than the norm, even if Bryson DeChambeau says, "Over two million unique viewers watched. That's pretty solid. Someone is going to take the dive on us."
Golf is divided at present. Relationships between the ruling parties and between players themselves remain tense. It will take a strong media outlet to get involved, and while it may be "coming" (to use Bryson's word), it isn't here yet.
More from the 19th Hole
Your Reaction?
LIKE

0

LEGIT

0

WOW

0

LOL

0

IDHT

0

FLOP

0

OB

0

SHANK

0
'People don't know what the F they're talking about' – Billy Horschel rips Presidents Cup lineup critics
The 2022 Presidents Cup is severely lacking star power, specifically on the International Team side. The United States Team has climbed all the way to a -800 favorite and looks to be all but guaranteed to dominate.
The U.S. Team is 13-1-1 all time in the Presidents Cup, but there have been plenty of competitive matches, including in 2019 when the International Team hosted the event in Australia.
The lack of talent on the International Team this year can't be attributed to the fact that there are fewer good players worldwide this season. In fact, the International Team looked to be quite strong before the departure of many golfers who chose to play in the LIV Golf invitational series.
Cameron Smith, Joaquin Niemann, Abraham Ancer, Louis Oosthuizen and Marc Leishman were all sure-fire Presidents Cup players, and the International Team was forced to replace them with players who simply aren't as good.
The only player who would have been guaranteed to be on the United States Team is Dustin Johnson. An argument could be made for Brooks Koepka and Bryson DeChambeau, who both played in the 2021 Ryder Cup, but both players had fallen out of form even prior to their departure from the PGA TOUR.
The LIV players not being able to compete have left many fans questioning how deserving the remaining players are of their spots on the team and if the event is now watered down.
After his win at the Fortinet, Max Homa talked about being motivated by the notion he's only on the Presidents Cup team due to the LIV departures.
Billy Horschel has taken exception to that narrative.
"I know there's been a lot of chatter about it on both sides, at least the players who went to the LIV Tour," Horschel said during a press conference Tuesday. "Then as Max [Homa] sort of indicated Sunday after he won [the Fortinet Championship], there was a lot of people on social media that like to chime in," Billy said.
"What he's heard, I've heard as well, I only made the team because the LIV guys left the Tour. I mean, those are just people that don't know what the F they're talking about. If they would have seen the points list when they left the Tour, Max and I were clearly in the top 12. So it doesn't bother us one bit."
Both Horschel and Homa will be making their first Presidents Cup start this week at Quail Hollow.
More from the 19th Hole
Your Reaction?
LIKE

62

LEGIT

7

WOW

0

LOL

3

IDHT

0

FLOP

1

OB

0

SHANK

17
Paul McGinley: Make the Presidents Cup a mixed event
The Presidents Cup gets underway this week from Quail Hollow Golf Club, with the International side looking for just their second victory at the event and its first-ever win on U.S. soil.
The U.S. has won the last eight editions of the tournament, and with the International side losing some key names due to their defection to LIV Golf, the U.S. has been installed as an overwhelming 1/10 favorite to retain the cup.
This week, Geoff Shackelford and Beth Ann Nichols both championed the idea in their columns that the event should become a mixed event to kickstart the seemingly flagging event. And you can now add Golf Channel analyst Paul McGinley to the camp supporting that notion.
Speaking on Golf Channel's Presidents Cup preview alongside his colleague Brandel Chamblee, McGinley laid out the case for female players to join the event, saying:
"One of the things I've said in the past, I've said it on Sky, I may well have said it on this show too, is make it (Presidents Cup) a mixed event. I know it's a big radical change.

"Six of each on each team, and I just think with the strength and quality we have in the ladies game now in the International side, I think that would really equate the teams."
Referring to the World Rankings, which have the top 6 International female players currently ranked in the top 8, McGinley added:
"You would only go down to 8 in the world to fill the six ladies that would join the six male international players, and I think, we talk about growing the game, we talk about all the ideas that would come with it, I saw Geoff Shackelford writing about it this morning as well, so a couple of people out there think it is a good idea.

"I've been saying it for a year or two, and I think the Presidents Cup is a perfect opportunity for it."
This year's Presidents Cup features a U.S team with an official world golf ranking average of 11.6 against an International side whose average ranking is 48.9.
If the event this week was mixed, it would have featured a U.S. side with an average ranking of 9.83 vs an International side with an average ranking of 15.33.
More from the 19th Hole
Your Reaction?
LIKE

31

LEGIT

5

WOW

1

LOL

0

IDHT

0

FLOP

0

OB

1

SHANK

7