2014 Ryder Cup Recap and Highlights
The 2014 Ryder Cup at Gleneagles ended with Team Europe on the winning end of a 16.5 to 11.5-point rout. The Europeans needed only four points in Sunday's singles matches to secure a victory, which they accomplished when Jamie Donaldson closed out Keegan Bradley 4 & 3.
Below is a recap of the excitement, entertainment and competition that the 2014 Ryder Cup gave to fans and viewers all weekend.
DAY 1
The Ryder Cup began in familiar style as the autumn sunshine kissed the Scottish heartlands. The four-ball matches began bright and early (really early for viewers back in the states) on Friday morning and both Europe and the U.S. gave the 50,000-person crowd plenty to cheer about. The Europeans put in a strong performance, but it was not enough to lead after the first session as the Americans edged it 2.5-1.5. The players took some time to adapt to the slow pace of the greens but there was still plenty to marvel at, particularly the bunker play of Sergio Garcia…
…and U.S. debutant Jimmy Walker.
However, it was not the brilliant performance we've come to expect from Europe's "Postman" Ian Poulter as he and rookie Stephen Gallacher lost 5 & 4 to the impressive rookie duo Jordan Spieth and Patrick Reed. Poulter was fumbling around on the greens on Day 1.
But Spieth and Reed were the stars of the day for the U.S. and more than repaid Tom Watson's faith in them. They looked focused, passionate and shared a great connection all day to blow away Poulter and Gallacher, who failed to gain any momentum. Spieth and Reed staked a claim to be a familiar pairing in Ryder Cups for years to come. Spieth reflected on his satisfaction in silencing the boisterous home fans.
"It was very quiet around our group today- that's what we were looking for," Spieth said.
But it was a stark contrast in emotions for the more experienced pairing of Bubba Watson and Webb Simpson after being thrashed 5 & 4 by Stenson and Rose. They looked out of sorts and struggled to put a brave face on as they overlooked their compatriots still playing.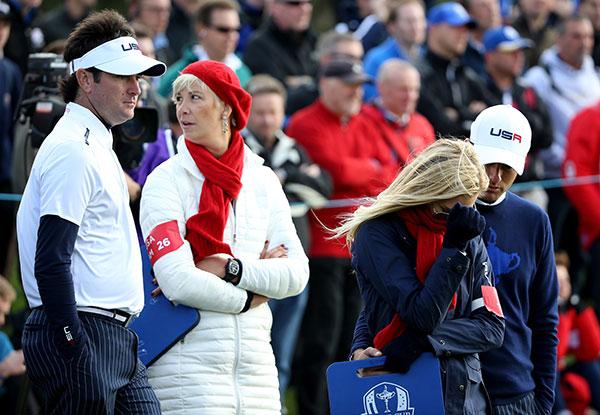 However, the early American momentum was halted by an emphatic European response in the foursomes, claiming a 3.5-0.5 victory to surge into a 5-3 lead at the completion of Friday's play. Tom Watson raised a few eyebrows in retaining Mickelson and Bradley for the afternoon over Spieth and Reed, despite their brilliance in the morning. Unfortunately, it backfired for him as Dubuisson and McDowell never looked in danger with Mickelson, in particular, looking jaded and far from his best.
Although the Europeans garnered the acclaim in the afternoon, Rickie Fowler reminded everyone that the US were not to be underestimated and showed his world-class shot-making powers on hole No. 16. An immense shot under the most intense pressure.
GIF: Rickie Fowler with the shot of the day on 16. http://t.co/jzMUIqsNbz

— Adam Sarson (@Adam_Sarson) September 26, 2014
https://twitter.com/Adam_Sarson/status/515542896796520448/photo/1
DAY 2
The standard of golf on display throughout Day 2 at the Ryder Cup reminded everyone watching why this tournament is one of the greatest sporting events in the world. Putts were made, roars were heard and the players looked especially pumped up. After failing to get a foothold in Friday's foursomes, the Team USA was able to claw their back with a 2.5-1.5 victory in Saturday morning's four-ball matches to take the score to 6.5-5.5 in Europe's favor. With over 80 birdies and eagles during the course of the morning, there were plenty of talking points and shots of the highest quality.
American ascendancy in the four-ball matches
After a winless Friday afternoon, Tom Watson's men showed their class with a gutsy display in the four-ball sessino and dominated two of the four matches. The rookie pairing of Jordan Spieth and Patrick Reed worked wonders once again as they recorded a resounding 5 & 3 victory over Thomas Bjorn and Martin Kaymer. The American pair was in the same imperious form that saw them dispatch Stephen Gallacher and Ian Poulter 5 & 4 on Friday.
The young pair served as inspiration for their compatriots, who followed suit as Team USA edged the four-ball session for the second day running. Jim Furyk and Hunter Mahan overcame Jamie Donaldson and Lee Westwood to add further red to the board while Jimmy Walker and Rickie Fowler secured a halve after a titanic tussle with Rory McIlroy and Ian Poulter to strengthen the American renaissance. But watch Ian Poulter's chip-in on 16 for an indication of how good today's play was:
OR, Fowler's magical bunker shot on No. 10.
Sensational play from Rose and Stenson to beat Watson and Kuchar
This four-ball will stand tall in the pantheon of great Ryder Cup matches, amassing a record-breaking combined score of 21-under-par. The American duo managed nine birdies, which may have seen a point delivered on a different day, but Rose and Stenson were not to be outdone. Blazing a trail of unprecedented proportions in the tournament's history, Europe notched ten consecutive birdies to close out the match in spectacular fashion.
Rose, in particular, was in untouchable form as he lead by example for Europe as their talisman, replacing Ian Poulter after his indifferent form. The U.S. Open Champion of last year delivered at the crucial moment, chipping from the thick rough at 16 to within inches, effectively securing a 3 & 2 victory. Rose was in such superior form that his Swedish partner joked about having to carry the team.
"It was one-half Stenson, one-and-a-half parts Rose," Stenson said as he came off the course. "Justin played phenomenally all week, and luckily I was there to back him up on a couple of occasions."
Reed is a competitor 
Patrick Reed's emotions and competitiveness were on display all week. On Day 2, he took out his frustrations from this missed putt on the next drive.
Europeans were dominant in foursomes… again 
Team USA was left to reflect on another poor showing in the foursomes after going down 3.5-0.5 for the second time. Rickie Fowler and Jimmy Walker looked fatigued as they were blown away 5 & 4 by Victor Dubuisson and Graeme McDowell, with the French rookie looking particularly comfortable in his new surroundings.
McIlroy and Garcia got their first win of the week as well by seeing off Hunter Mahan and Jim Furyk 3 & 2. The first day had seen both Europeans struggle but they contributed to the blue tide on Saturday afternoon with some solid play and a great display of clutch putting. Justin Rose sunk a six-footer on the No. 18 green to ensure Europe completed both foursome sessions undefeated and made it 10-6 to McGinley's men heading into Sunday's singles. Jamie Donaldson and Lee Westwood added to European joy by securing a 2 & 1 victory over Zach Johnson and Matt Kuchar.
Could Team USA repeat the European heroics of Medinah? 
Just like it was in 2012, it was 10-6 to the home team. Tom Watson had an unlikely task ahead of him as he tried to mirror the herculean efforts of Europe at Medinah and overturn the deficit in the singles. If the golden trophy was to travel back across the Atlantic on Monday, the U.S. would need to summon golfing courage and mettle of near miraculous proportions.
DAY 3
As always, it came down to Sunday to decide the winners of the 40th Ryder Cup on what gradually became one of the most exhilarating spectacles in sporting history. In the end, Europe stood firm against a brave American performance in the singles and completed a hat-trick of victories in golf's greatest team event.
Befitting to the general quality of golf throughout the three days, Welsh rookie Jamie Donaldson pulled a shot out of the top drawer on the 15th to defeat Keegan Bradley and keep the Ryder Cup in Europe for 2 more years.
This is how he delivered the crucial point, a sparkling iron shot to within gimme distance, and a handshake with Keegan Bradley.
Matt Kuchar and Patrick Reed delivered admirable performances to get red on the board for the U.S. but the superlative play of McIlroy, Kaymer and Donaldson ensured that no great comeback would leave the home fans heartbroken this year. McDowell and Rose also fought back from 3 and 4 down, respectively, to deliver a vital 1.5 points that forged the way for Donaldson to etch his name into the annals of golfing history.
Donaldson showed everyone how to close out a match, but Kaymer comes a close second with this magnificent effort
Matt Kuchar was not to be outdone however, in a day that provided excellent shot after excellent shot that spoiled the crowd.
While Kuchar did much to cultivate his image as one of the nicest guys in golf by giving a fan an autographed ball after picking it out of the hole, Patrick Reed played more of a Devil's Advocate to the local Scots. Reed did his best on Sunday to get his troops fired up, but it wasn't enough to spark a comeback.
Before the U.S. got handled by their European foes, Jim Furyk gave his version of Jose Maria Olazabal's dance at the 1987 Ryder Cup. Great entertainment all around.
Furyk's jig may have intimidated Sergio Garcia early (it probably wasn't the dance), but Garcia forged a comeback, defeating Furyk 1 up. His celebration was… interesting.
In the end, Europe stayed strong. The USA did much to discredit their pre-tournament labeling as underdogs, but came up shy and will have to wait until 2016 to get their hands on the famous golden trophy.
The Europeans were in no mood to delay the party for post-game interviews, as Donaldson demonstrated here:
Jamie Donaldson chugs a bottle of champagne during Rory's interview: http://t.co/0NyQNPGuzi

— Adam Sarson (@Adam_Sarson) September 28, 2014
Well done to both teams for putting on a fantastic spectacle throughout the week and congratulations to Europe on clinching their third successive Ryder Cup. The dust has not yet settled, but the countdown to 2016 has already begun.
Your Reaction?
LIKE

0

LEGIT

0

WOW

0

LOL

0

IDHT

0

FLOP

0

OB

0

SHANK

0
Interesting photos from the Zozo Championship
This week is the Zozo Championship at Sherwood Golf Club, and with most of the worlds top golfers including Tiger Woods playing and prepping for the November Masters, there is a lot going on around the range when it comes to gear and testing.
As a reminder, you can check out all of our photos in the GolfWRX forums.
New Fourteen irons and wedges
The irons are a throwback to a classic "channel back" style iron with mass positioned towards the top and bottom of the face to increase vertical stability of the blade while also maintaining feel.
Justin Rose with Artisan lob wedge
The little shop from Texas continues to make big waves with more wedges spotted on tour every week including in former world number 1 Justin Rose.
Xander Schauffele's new Apex irons and testing putters on Quintic
Xander's prototype Callaway Apex irons look a lot like the newly released 2021 X-Forged irons but with obvious Apex branding. We also can't forget about putting, and it's cool to see a Quintic high-speed camera system on the practice green getting players dialed in to launch conditions just like how they would for a driver.
Ricky using older generation Cobra Amp Cell Pro Irons
If there is one thing pros love, it's a set of older irons—they're the golf equivalent of putting on a pair of comfy broken-in jeans. For Ricky and his custom Amp Cell Pro's with tungsten toe inserts, there must be some magic there because he has previously used multiple newer sets of irons but continues to gravitate towards these.
Hideki Maruyama testing new Bettinardi putter
Hideki isn't someone to shy away from testing putters, and this week he was spotted testing one of the new Bettinardi putters that debuted last week in Las Vegas at Shadow Creek.
Pros are "just like us" – Justin Thomas and Mac Hughes edition
Yes, tour pros are just like us except for the fact that they are exceptional golfers, but even JT likes help in his long game and has a Titleist T300 3-iron in the bag, and when it comes to breakfast Mackenzie Hughes happens to like ketchup with his breakfast sandwich—although personally, I'm anti-ketchup when it comes to breakfast sandwiches.
Mickelson testing older X-Hot 3Deep
We've heard rumblings, of Champions Tour terminator Phil Mickelson testing 47.5″ drivers in the name of speed and distance, but as a way to also have a "fairway finder" it appears that he is contemplating putting his old X-Hot 3Deep in play. (Being able to identify a multi-generations old fairway wood from a distance based on its paint scheme is part of the reason we are WRX)
Gary Woodland testing Ping G425 driver
With the launch of the Ping G425 woods on tour a few weeks ago, it's no surprise to see more players testing them in prep for the Masters, and for the fact that, they are the next evolution of the well-loved Ping G410—Gary Woodland is no exception.
Your Reaction?
LIKE

41

LEGIT

4

WOW

2

LOL

1

IDHT

3

FLOP

1

OB

1

SHANK

5
Photos from the 2020 Zozo Championship
GolfWRX is live from the 2020 Zozo Championship, which takes place at Sherwood CC this year following the cancellation of the tour's Asia swing.
With a loaded field that features Tiger Woods, there is plenty of WITB intrigue, as well as a number of Japanese players, whose setups are always worth taking a look at.
Check out our 12 general galleries and a selection of special collections below, including plenty of Woods, Mickelson, and McIlroy photos.
General galleries
Special galleries
See what GolfWRXers are saying in the forums.
Your Reaction?
LIKE

11

LEGIT

1

WOW

1

LOL

1

IDHT

0

FLOP

0

OB

0

SHANK

2
Photos from the 2020 CJ Cup
GolfWRX is live at the relocated 2020 CJ Cup, which is being contested at Shadow Creek in Las Vegas after the COVID-19 pandemic made the PGA Tour's Asian Swing an impossibility.
Our photo sampling this week includes four general galleries packed with imagery, in-hand looks at the new Ping G425 driver and woods, drool-worthy putters and more.
Check out links to all our photos below.
General galleries
Special galleries
Join the discussion in the forums.
Your Reaction?
LIKE

40

LEGIT

3

WOW

3

LOL

2

IDHT

0

FLOP

0

OB

0

SHANK

3