How Far Should You Hit Your Golf Clubs?
One of the nice things about having all this new fancy technological equipment like Trackman, Flightscope, ShotLink, etc., at various PGA Tour events is that distance data can be gathered for each of the players.
In case you haven't come across it already, here are the approximate Trackman carry distance averages for men at the professional level.
Average PGA Tour Carry Distances (yards)
| | |
| --- | --- |
| Club | Carry |
| Driver (Total) | 289 |
| Driver (Carry) | 269 |
| 3-Wood | 243 |
| 5-Wood | 230 |
| Hybrid | 225 |
| 3-Iron | 212 |
| 4-Iron | 203 |
| 5-Iron | 194 |
| 6-Iron | 183 |
| 7-Iron | 172 |
| 8-Iron | 160 |
| 9-Iron | 148 |
| PW | 136 |
Pretty cool info. Perhaps they hit it farther than you might have thought…or maybe they hit less than you may have been lead to believe based on what you've seen on TV, read on the internet, etc.
Since I deal a lot with swing speed training and helping people in general hit the ball farther, a relatively common question I get is, "How far should I hit my clubs for my swing speed?"
Well, since we also know that the average driver swing speed on Tour typically runs around 112 to 113 mph, using a bit of algebra and the above distances we can approximate a guide for how far you could expect to hit the ball (assuming fairly consistent and solid contact) given your personal driver swing speed.
Here are those carry distances.
Approximate Carry Distances by Driver Swing Speed (mph)
I took the ranges down to 60 and 70 mph because those are swing speeds I'll encounter when working with some amateur women and seniors. I also went up to 140 mph because numerous long drivers I've trained can get their drivers up that high (RE/MAX World Long Drive champions like Joe Miller, Jamie Sadlowski and Ryan Winther can actually reach over 150 mph).
Aside from using the chart as a general reference point, here are a few other things that I think are worth pointing out:
First, these numbers are based off how the average Tour player strikes the ball. Although Tour players are overall good ball strikers with all their clubs, most of them are actually not as efficient (the Tour average is about 2.58 yards/mph of swing speed) as they can be when it comes to distance with their drivers because on average they hit drives that launch too low and with too much spin.
LGPA Tour players (2.65 yards/mph of swing speed) and Professional Long Drivers are actually more distance efficient with their drivers…but that's a topic for another article. The good news for you is that greater carry and total-driving distances can be achieved at all the range of swing speeds shown above if you are a more efficient driver than the average male tour player at 2.58 yards/mph of swing speed.
With a 2-degree change in driver loft and some minor adjustments made to his swing path, angle of attack, etc, one of my amateur students went from being an already above-average efficient driver at 2.61 yards/mph to an extremely efficient one at 2.75 yards/mph. So with no change to his 102 mph swing speed, he increased his driving distance average from 266 to 280. Then after some swing speed training, he got up to 112 mph and can now hit drives around 307 yards with that same efficiency of 2.75 yards/mph. That's 41 more yards!
Second, the club distances are based on the driver swing speeds that you would get from a system like FlightScope and Trackman. So if at all possible, get yourself checked on one of those. Otherwise, if you measure with something like a Speed Stik (which measure higher in my experience), you could get a false sense of how far you might expect to hit the ball.
As another example, Sports Sensors Swing Speed Radars (SSR) also read faster. It should be pointed out that SSRs are still a great personal training aid, and because of their accuracy and relative affordability and portability, they are actually the radar I recommend in my swing speed training programs.
However, the Doppler radar in an SSR measures the fastest moving part of the club head (typically the toe) versus a Trackman or FlightScope, which each have proprietary algorithms to calculate the speed at the center of the club face. For this reason, SSRs will read about 5 to 12 percent faster, depending on how you as an individual move the driver through impact. If you have an SSR, just hit 5 to 10 balls with it and a Trackman or FlightScope at the same time and you'll find out your personal difference for sake of comparison.
Third, the above numbers can be useful for a good general reference, but like I mentioned in my article about understand distance variance, recognize that carry distances can vary a lot depending on conditions. Slopes, wind, temperature, altitude, etc., are all things that can affect how far the ball flies, so remember to factor that in.
Fourth, keep in mind potential loft differences between your clubs and the ones here. As a general rule of thumb, club manufacturers have made their club lofts (especially in the irons) continually stronger over the years as a way of marketing and selling consumers the new clubs.
Many top Tour players are being paid to play the latest clubs, which could mean they might also be playing irons with stronger lofts than the set you are playing. This isn't always the case, however, but it's another thing to be aware of.
Last, once you start approaching less than 80 mph with the driver, notice how the distances start bunching up between clubs.  At this point, you start getting to an area where you really don't need a full set of 14 clubs. If this is you, perhaps you might also find that you hit a 3-wood or 5-wood further than a normal driver.
My wife is very strong and athletic, however, as a beginner who doesn't play or practice very much, she hasn't developed much swing speed. For that reason, we got her fitted for a 9-club set of Wishon 730CLs, a set that is designed specifically for men and women with less than 80 mph of club head speed.
The shafts are very light, the driver is 16 degrees and only 42 inches, the fairway woods are 20 and 26 degrees (versus the commonly used 15- and 19-degree fairway woods), and the remaining hybrids/irons are gapped out in 6-degree loft increments (compared to the normal 3- or 4-degree). Also, since many beginners, lesser skilled players and those with slower swing speeds can struggle with really high lofted wedges, the highest lofted wedge in the set is 54 degrees.
All of these things combine to provide a driver that can actually be hit in the air for distance, clubs that have substantial distance gapping, plus it's just less clubs in general to lug around and choose from.
Your Reaction?
LIKE

2431

LEGIT

360

WOW

162

LOL

83

IDHT

52

FLOP

59

OB

58

SHANK

137
How Tiger Woods lost the 2009 PGA Championship
11 years ago, the PGA Championship produced one of the greatest upsets in sporting history.
The all-conquering Tiger Woods arrived at the 2009 PGA Championship as the prohibitive favorite, having won three of his last four events. Woods then backed up that favoritism over the opening two days, picking apart Hazeltine National with extreme precision to build a four-stroke advantage by the halfway point.
It felt like such a formality that here in Ireland, our biggest bookmaker, PaddyPower declared Tiger as the winner and decided to pay out all outright bets on the World Number One after just 36 holes.
It proved to be a big mistake.
Next week will be the 11th anniversary of the monumental upset, and here I'll take a look at the factors behind Woods' unthinkable loss that week to Y.E. Yang.
Tiger's Ultra-Conservative Saturday
On a scoring Saturday, Woods was too content to play it safe. Why not? After all, the ultimate closer had won so many majors by forging a lead, aiming for the middle of the green, two-putting for par and watching his opponents slowly falter one by one.
Only this time was different, and even Tiger with a two-shot lead going into Sunday's final round as much as admitted he was too conservative during round three, saying after his round:
"They gave us a lot of room on a lot of these pins, six and seven even from the side, so you can be fairly aggressive. I just felt that with my lead, I erred on the side of caution most of the time.

"If I did have a good look at it, a good number at it, I took aim right at it. Otherwise I was just dumping the ball on the green and 2-putting."
The incessant safety first, lag putting strategy of Saturday even transformed into a tentativeness at the beginning of Sunday's final round.
On the par-five seventh hole, with Yang in trouble, Woods had 245 yards to the pin for his second with a huge opportunity to make a statement eagle or textbook birdie. He inexplicably layed up, hit a poor wedge and once again lagged for par.
Horrific Sunday Putting
To say Tiger's trusty Scotty Cameron betrayed him during Sunday's final round would be underselling it. Putt after putt just refused to drop when he needed it most.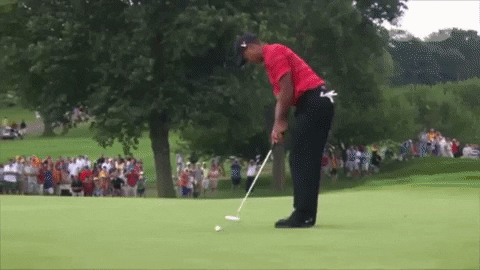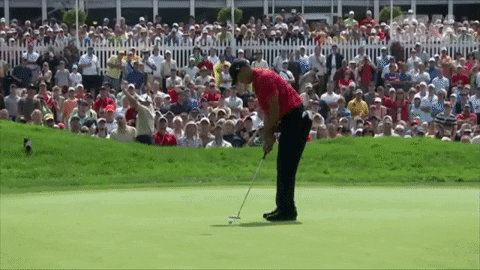 In the end, Woods' seven-foot birdie effort on the 14th hole is the only putt of any note he managed to make on the day.
Tiger played Sunday's final round in 75 strokes. Thirty-three of them were putts.
Yang Stood Up To Tiger
Critics of Woods have long claimed that in his prime, Tiger would crowd his opponents as an intimidation tactic, or rush off the green to the next tee leaving his competitors to putt out while the crowd dispersed.
Regardless, nothing was going to faze Yang that Sunday.
In fact, during the early stretch of the final round, Tiger's indecision and tentativeness led to the pairing being behind the pace of play. It forced on-course officials to remind the two that they needed to speed it up—and of course, they only stressed that Yang needed to do so.
How did the Korean respond? By pointing at Tiger and saying "Not me. Him."
The Pivotal Two-Shot Swing
Many look back on Yang's chip-in eagle to take the lead at the 14th hole on Sunday as the significant turning point of the Championship. However, Yang was always likely to make birdie on the short par-four hole, and the previous hole may well have been the tipping point for the upset.
On the par-three 13th hole, Yang found the bunker, while Woods hit a beauty to eight feet. The two-shot swing in Tiger's favor looked even more likely when Yang failed to get his bunker shot inside Woods' ball.
But when Yang buried his par effort, and Woods let yet another putt slip by, the two remained all square.
Woods' reaction following his putt was telling; his frustration poured out despite him still being in a share of the lead. It was a show of exasperation that may have given the Korean all the encouragement he needed to turn Tiger's 54 hole major lead record of 14-0 into 14-1.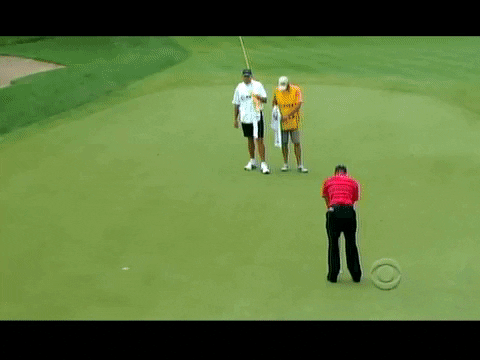 Asked following his round when he felt his control on the tournament beginning to loosen, Woods said:
"But as far as the tournament switching, 13, I stuffed it in there. He made a mistake, hit it in the left bunker. He blasted out. I missed my putt. He made his. And then he chipped in on the next hole.

"So that two-hole stretch turned — if I make my putt, he doesn't chip in, you know, he doesn't make his putt on 13."
The 2009 PGA Championship preceded a ten-year barren spell for Tiger at the majors before he claimed his fifth green jacket at the 2019 Masters. He is still yet to appear in the final twosome on a Sunday at a major since the 2009 PGA.
As for Y.E Yang, the 48-year-old now spends most of his time competing in Japan and his native Korea. He has played in all 10 PGA Championships since his remarkable victory. He has missed the cut seven times.
Your Reaction?
LIKE

23

LEGIT

9

WOW

3

LOL

3

IDHT

1

FLOP

1

OB

0

SHANK

12
The Gear Dive: Brandel Chamblee is back!
In this episode of TGD brought to you by Titleist, Johnny goes in on the distance debate with a friend of the podcast, Brandel Chamblee. Also picks for the WGC, filling a hole in the bag and why the LPGA is the best place to learn how to play.
Check out the full podcast on SoundCloud below, or click here to listen on iTunes or here to listen on Spotify.
Want more GolfWRX Radio? Check out our other shows (and the full archives for this show) below. 
Your Reaction?
LIKE

4

LEGIT

0

WOW

0

LOL

0

IDHT

0

FLOP

0

OB

0

SHANK

7
How to warm up like a PGA Tour pro
One of the keys to playing a great round of golf stems from how you prepare for your round. When you go to the range, you'll often see amateur golfers hitting shots quickly and sporadically without much rhyme or reason. On the other hand, when you take a look at players on the PGA Tour, each of them has a well structured and methodical approach to how they warm-up.
From watching the pros, there are a few key takeaways that you can implement in your game to improve the quality of your warm-ups.
Arrive Early
Give yourself enough time to warm up before your round. Showing up 10 minutes before you're due to tee off is a recipe for disaster and a double bogey waiting to happen on the first hole. Allowing yourself 30 minutes to an hour should be plenty of time to get through an awesome warm-up, leaving you confident when you step onto the first tee box.
Spend More Time Putting
Whether you watch Tiger Woods, Justin Thomas or any other pro, one thing is consistent: they all spend a lot of their warm-up practicing putting, accounting for well over half their practice strokes. And why wouldn't they? If you 2 putt every hole, you'll be hitting 36 shots, literally half of all your strokes during the course of your round.
Practicing both long and short putts will give you more confidence standing over your first birdie putt of the day.
Loosen Up
A little bit of stretching before you start hitting shots on the range can go a long way. Stretching before you start will activate your muscles for the day ahead. Spend some time doing bending toe touches, shoulder stretches, lateral twists, and a standing forward bend stretch to maximize your range session.
Work Your Way Up The Bag
When you watch a pro like Jason Day warm-up, you'll notice when he gets to the range that he'll start out by hitting shots with a wedge, working up the bag. This is how most pros structure their warm-up for the most part, and they do so to establish rhythm and tempo as they move into their longer irons and woods.
Try this out yourself by hitting some wedges, and then move up your bag using all even or all odd irons. Place emphasis on your short game as you move through your bag; the shots you hit inside 100 yards will lead you to the most scoring opportunities.
Hit Fewer Drives on the Range
It's fun to hit the driver, but it's one of the most taxing swings you can make. Plenty of amateur golfers spend way too much time hitting their driver on the range, and wearing themselves out before they get to the first tee. By doing so, not only do you tire yourself out, but you risk throwing off the swing tempo that you've worked so hard on during your warm-up.
Definitely still practice hitting drives, but make them count. Try only hitting 5-10 drives, but treating them as if they were on the course.
Hit Practice Shots With Purpose
It's really easy to get onto the range and start hitting shot after shot in quick succession, trying to get the right swing out as quickly as possible. Not only does this use up a lot of your energy, but it's not too realistic compared to how you'll approach your shots on the course.
Instead, take the methodical approach and try to make each shot count. Take the time to set up correctly, paying attention to alignment and ball positioning. Hitting more shots with real intention on the range sets you up for success when you hit the course.
Wrap Up
Implementing some of this structure into your pre-round routine will put you into a position to score. Practicing more putts and placing emphasis on your short game will help you save strokes where they count. These tips will help you take a better approach to golf.
Your Reaction?
LIKE

107

LEGIT

12

WOW

0

LOL

1

IDHT

0

FLOP

0

OB

1

SHANK

3