WRX Spotted: Mitsubishi MMT iron shaft
It's U.S. Open week, and with the best players in the world all in one place at Pebble Beach, it's the perfect time for West Coast-based companies to bring out some of the new gear for testing. In the case of shafts: Mitsubishi Chemical is debuting the new MMT: Metal Mesh Technology iron shaft.
We reached out to Mitsubishi and they were happy to supply the full rundown on the new shaft currently wrapping up the testing phase;
"MMT stands for Metal Mesh Technology, an exciting, new innovation that expands the potential for composite iron shaft construction," says Mark Gunther, Vice President of Sales and Marketing for MCA GOLF. "It's born from more than 30-years of composite shaft mastery at MCA – with the technology actually originating in our Archery Division – and opens up new avenues for our continued cutting-edge exploration."
"Designed to maximize the benefits of both composite and steel performance, MMT takes full advantage of the Mitsubishi end-to-end manufacturing approach. As layers of prepreg are stacked to build the shaft's core, a section of unique Metal Mesh is integrated towards the tip. This Metal Mesh – made up of individually braided strands of 304 Stainless Steel – improves the density and stability of the shaft. Together this yields a finely tuned, highly responsive shaft that still provides the consistent launch and spin control needed for precise iron play.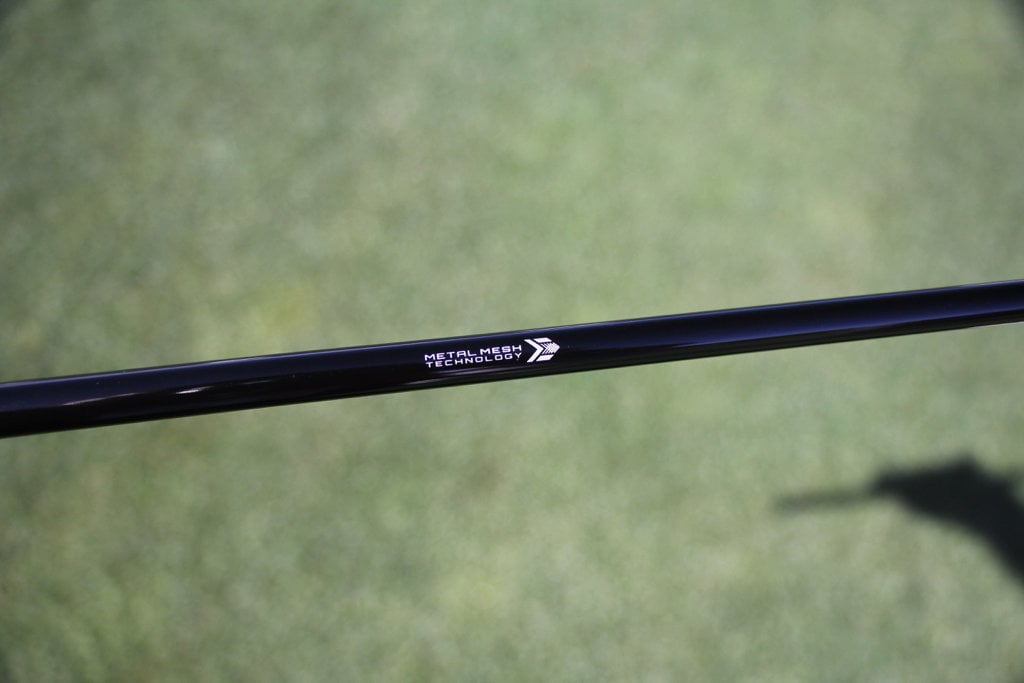 If you think you've heard MCA talk about a braided shaft before you are correct. They utilized this same technology (or at least part of it) in the OT, a shaft that was comprised entirely of braided strands of graphite. From an unfinished standpoint the OT was, and still is, one of the coolest shafts EVER made!
What's interesting about this new shaft is that not only does the steel MMT add stability, but it also adds weight to the tip section. As an experienced builder, one of the biggest difficulties with graphite shafts especially in lighter weight models is that it is difficult to achieve a desired swing weight, or at least something in the range of what was fit, as mass decreases, it's simple math. But by Mitsubishi Chemical using the much heavier material in the lower end and tip of the shaft, it should be easier to create the feeling of mass at the end of the club, something many players desire.
Currently being tested as a final prototype in taper tip the Parallel version be released this summer and available through MCA GOLF authorized retailers and dealers nationwide, with a suggested retail price of $90.00 USD.
MMT Iron with Parallel Tips will be available in five weights from 40g to 80g. With a Tour taper coming later in 2019.
Weights and flexes

MMT Iron 40 (L Flex)

MMT Iron 50 (L Flex)

MMT Iron 60 (A, R Flex)

MMT Iron 70 (R Flex)

MMT Iron 80 (R, S Flex)
Profile: Mid launch and mid spin
Your Reaction?
LIKE

64

LEGIT

4

WOW

1

LOL

2

IDHT

1

FLOP

0

OB

1

SHANK

2
Toulon Santa Monica: The inside scoop
As many have already seen this week in the forums, we spotted a brand new model from Toulon: the Santa Monica.
There were a lot of finer details going on with this putter that got peoples ears up including
The one-piece design – no variable weight sole plate
A classic head shape with Toulon refinements
The finish & overall aesthetics
Thanks to a ton of positive feedback, we had to find out more.  So, we went right to the top and called up Sean Toulon to find out about this new model and what else might be coming in the near future.
Here's what we know:
The Santa Monica, that was captured is part of a larger project that will be going all out when it comes to customization and "showing the world what we can do when it comes to design and manufacturing," according to Toulon. This line of putters will not be available on the grand scale and instead will focus on individual pieces and prioritize the customer experience.
This new line from Toulon will also include new putters not yet seen, although we have one name so far: La Grange (shout out to Texas!), and it will also include different materials not currently found in the Toulon/Odyssey line. The focus will be 100 percent on boutique, different and just for you, said Toulon. The new line will center around exercising total creativity, and also have the potential for one-off and limited-number pieces.
We don't have a timeline for when these will become available to the public, but when we do, we will be sure to let you know.
Your Reaction?
LIKE

29

LEGIT

2

WOW

2

LOL

1

IDHT

0

FLOP

1

OB

2

SHANK

3
Forum Thread of the Day: "Viktor Hovland signing with Ping"
Today's Forum Thread of the Day comes from Dave D and it surrounds Viktor Hovland's future as a Ping staffer. There has been plenty of chatter on our forums after Dave D shared this post from @golfnation_'s Instagram account.
Here are a few posts from the thread, but make sure to check out the entire discussion and have your say at the link below.
cvhookem3: "Seems like he was hinting at that with his equipment changes at the US Open. Good for him. He should be a lot of fun to watch."
bladehunter: "Figured. He had near a full ping bag anyway. Love this kid. I really predict great things. Loads of raw tools."
ImagineThat: "I think we'll be seeing a lot of Viktor Hovland in the future…enough where his name will no longer appear strange. He seems to really be an upbeat guy with a nice personality, and he has a nice friendly smile to go with it."
Golf Digest's E. Michael Johnson reported Hovland is now a Ping man, writing he "signed a multi-year deal with Ping to play a minimum of 11 clubs, including driver and putter, along with a Ping staff bag and logo on the hat."
An all-star collegiate career and he's just getting started. ???? Welcome to the family. #PlayYourBest pic.twitter.com/4LmtsixOgH

— PING GOLF (@PingTour) June 19, 2019
Entire Thread: "Viktor Hovland signing with Ping?"
Your Reaction?
LIKE

112

LEGIT

8

WOW

1

LOL

0

IDHT

1

FLOP

0

OB

0

SHANK

4
TaylorMade signs Matthew Wolff to a multi-year deal; Wolff WITB
TaylorMade Golf has officially announced the signing of Matthew Wolff on a multi-year agreement that will see the 20-year-old play the company's metal woods, irons, wedges, putter and ultimately, TaylorMade's flagship golf ball, the TP5x.
Wolff had previously unveiled that he would be making his professional debut at this week's Travelers Championship, and just as top prospect Collin Morikawa did earlier at this month's Canadian Open, Wolff will do so as a TaylorMade staffer.
The NCAA All-American and 2019 NCAA Division I individual champion made his debut on the PGA Tour at the Waste Management Phoenix Open earlier this year where he finished T50 after opening his week with a round of five-under par.
Matthew Wolff WITB
Driver: TaylorMade M6 (8 degrees)
Shaft: Graphite Design TP 7TX
Fairway Wood: TaylorMade M6 (15 degrees)
Shaft: Project X HZRDUS Smoke 6.5 TX
Utility Iron: TaylorMade P760 (2)
Shaft: Nippon Modus 130x
Irons: TaylorMade P750 Tour Proto (3-PW)
Shafts: Nippon Modus 130x
Wedges: TaylorMade Milled Grind Raw (52, 56, 62 degrees)
Shaft: True Temper Dynamic Gold X100
Putter: TaylorMade Spider X Copper
Your Reaction?
LIKE

144

LEGIT

14

WOW

3

LOL

4

IDHT

2

FLOP

7

OB

6

SHANK

28