Is The Future Of Golf Hiding In Trackman's Code?
The first few words out of Niklas Bergdahl's mouth were delayed because they were traveling across an ocean and six hours into the past. The delay is fitting because we're discussing the future of golf and how the technology he's been a part of for four years is changing that landscape. "We have a new radar system that we call an 'ultra-high-frequency radar system' that allows us to track the ball as it rolls across the green," Bergdahl said. Bergdahl and his colleagues at Trackman Golf are rolling into a new frontier of golf analytics.
Trackman has become the premier launch monitor on professional circuits around the world, and with Dustin Johnson using it to rise to power as the most dominant golfer in the world, the company has gained the attention of casual fans as well. And for good reason. When I was at the Valero Texas Open in San Antonio on the last day of practice rounds, there were more players hitting balls with a Trackman than not. And when you fully understand the amount of actionable data provided by Trackman, it seems there's no other way to truly maximize your game in today's world.
There are things a launch monitor can see that no naked eye on Earth can. What I learned speaking with Bergdahl and other members of the Trackman team is that those things a launch monitor can see might make the difference, not only in a professional reaching the top spot in the Official World Golf Rankings, but also in a brand new golfer blossoming into an avid player.
***
Before we dive into the details of Trackman, I want to draw your attention to a couple of things. In 2003, Michael Lewis released Moneyball. Lewis' book takes us on a journey into the front office of Major League Baseball's Oakland Athletics organization. The A's are notoriously one of the league's poorest teams, but somehow in 2001, Billy Beane (the team's general manager) built a team that won more than 100 games. How did he do it with less money than all but two other teams? Paul DePodesta.
DePodesta developed a system for valuing players based on statistics that created runs for the team. In DePodesta's mind, nothing else mattered. Building a roster to create the most runs was the only answer, and the analytics used in baseball at the time weren't good enough. There's a long backstory that we could go into, but it would be better if you read the book. The bottom line is, before DePodesta came along and Billy Beane had the guts to trust him, nobody in baseball was thinking about the value of statistical analysis, or data at all. Moneyball changed that.
Fast forward to 2009: STATS LLC is the data-tracking company that supports the NBA with analytics. In the 2009 NBA Finals, STATS demoed its newly minted SportVU camera system that hovers above the court during NBA games and collects 25 data points per second. Let that sink in. Twenty-five data points per second. Keep that figure in mind for when we start talking about the "ultra-high frequency radar" and putting with Trackman.
The demo went well and at the start of the 2010-2011 season, four teams were using the SportVU technology in their stadiums: the Dallas Mavericks, Houston Rockets, Oklahoma City Thunder, and San Antonio Spurs. Within a couple of years, teams started to figure out what the practical application of this massive amount of data was, and in 2013, Zach Lowe penned a piece for Grantland outlining how the Toronto Raptors were using the data collected. In his piece, Lowe describes the program the Raptors developed to overlay the defensive schemes used by the team and compare them to every movement of every player during every single play. The result was the capability to produce a video such as the one below for every second of every game.
As you can see, the defensive players are represented twice: once by the lighter circle, called the ghost, and once by the white circle. The ghost is where the player actually is during the play and the white circle is where the staff thinks the player should be at any given time based on the defensive scheme adopted by the team. It's pretty heady stuff. The application of sitting down a player and showing him this film is obvious. Trackman can do essentially the same thing with golf. And not just the full swing, but now too, with putting.
For the last half-decade or so, launch monitors have been able to provide us with the ball flight of players on television. Anyone who watches the sport from home wishes the broadcasts would show more and more of the colored line on the screen showing us how inferior we are to the professionals. But this article isn't about the professionals, it's about the little guy and how Trackman is changing the way we can enjoy the game.
Enter Trackman RANGE.
Along with Bergdahl (whom we'll return to in a moment), I spoke with Matt Frelich, the VP of Sales and Marketing for Trackman. When I started this piece, I had a hypothesis in mind that the future of golf was personal launch monitors. That eventually we would get to a point where the technology was so affordable that most players could buy one with a little planning, much like rangefinders. Personal launch monitors exist today but in a limited capacity. And the difference between most of those and Trackman is really in the name of the company. Trackman uses Doppler Radar to actually track the entire flight of the golf ball (or whatever object it's calibrated for), whereas most others use a snapshot reading from about 10 inches before and after impact.
Only a couple of minutes into my conversation with Matt Frelich, my personal hypothesis was blown to bits. For about 10 seconds, I was a little saddened, but what he shared with me soon after nearly made my head explode.
Imagine walking onto a driving range, setting your bag down behind a selected spot of turf and pulling your phone out. You scroll through your apps and select the Trackman app. Once you log on to the app, you'll be connected to the Trackman server at said range, and then you'll be prompted to hit a calibration shot. You take a swing, look at your phone once more, and the prompt will ask you, "Was this your shot?" You confirm it is and then you're locked in.
Now for the next however long you're at the range, Trackman will provide you the same data the pros are getting for each and every shot with the data hub right on your phone. While you're checking your numbers, it will also be doing the same exact thing, at the same exact time, for the 75 other golfers hitting balls down range. And you didn't have to pay a penny extra.
Trackman RANGE, in theory, looks like this.
This is a "single-radar setup", which means that there is one 3-foot by 3-foot radar installed behind and above the range hitting area. The Trackman package includes the radar and server, and the app and will be available in your respective App Store. Trackman personnel come and install all the equipment at the range, and once installed, the system will track all shots within a 75-yard wide hitting area at the same time, providing unique data to each individual player. On natural turf, you'll be able to move up and backward just as you do now. Trackman calls these "dynamic" bays as opposed to hitting off mats in what they call "fixed" bays.
They also have a "three-radar setup," which is the same concept. Using it, the hitting area can be expanded from 75 yards to 130 yards in width.
I was blown away. The most incredible thing is that Trackman has developed the app to track all of your historical data no matter what range you go to; it's all linked to an account within the app. What's more, both the single and multi-radar setups will tell you the actual distance to targets on the range. Those flags that you're currently shooting with a laser rangefinder will now appear on your phone screen. And when your shots land, you'll know exactly how close you were to hitting the target, which is the most actionable part of the whole set up.
The other unique feature with Trackman and its ball-tracking radar is because Trackman is tracking the ball and not a snapshot of data before and after impact, you will get accurate data on how your ball reacts in poor conditions or high winds. There will be no more guessing as to how much the wind affected your 9-iron. You can see it, and you can learn to make those adjustments on the range instead of guessing on the course.
I asked Matt Frelich how long it would be before I could go and try out one of these ranges. "Assuming you're willing to fly to Copenhagen, Denmark, you could try it out this afternoon," he said. "As far as the U.S., our first range should be up by the end of August this year," he said. I had to make him clarify. It was the first of May when we spoke on the phone.
"Wait, so you're saying this isn't a plan?" I asked. "It's actually being executed as we speak?"
"Yeah, Trackman RANGE is happening right now," Frelich said. "In fact, we had the multi-radar setup at the year's first major. We tracked every shot hit on the range for the entire week. All the data you saw on the range during the coverage came from this setup."
Now, one must keep in mind that Trackman RANGE will only provide ball data, not club data. The use of Trackman 4 is working its way into everyday teaching, however, and for good reason. In our conversation, Frelich and I also discussed the impact this technology could have on how the game is taught. He offered a scenario that resonated with me.
"Imagine you have this player who comes to you and is hitting a huge slice," he said. "You look at his swing and determine that his swing path is too far outside to in. You give the player a drill to work on and he works on it for a few minutes, then goes back to hitting balls. He still slices the balls and you can't see much difference in his swing. This continues for an entire lesson and the player leaves frustrated…" I stopped him and said this was the exact reason I'd only taken a couple of lessons.
"Wait, so you're saying this isn't a plan? it's actually being executed as we speak?"
"But with Trackman, I can take that player and do the same thing, but I'll measure his swing path currently and set an objective." he said. "Let's say 0 is the objective and he starts out at -10. I give him the drill, he works on it for a minute, then he starts hitting balls again. He still slices it, but this time his swing path is -8 instead of -10. It's progress that my eyes can't see and he likely can't feel, but his path is getting better. Over the 15 or 20 swings, he gets it down to -6, then -2, then he hooks one and it's +2. What we've just done is take a player who would have left really frustrated and changed his entire outlook because I can show proof that he was improving throughout the session. That's the difference with using data and not using data."
When the NBA implemented the SportVU camera system, they didn't yet have the tools to process it on a practical level, but they knew that in order to constantly improve, they needed the data. Three years later the Raptors had developed a system that can tell each and every player how far out of position they were on each and every play. SportVU gave the NBA coaches and players actionable data that is virtually impossible to see and convey to the naked eye but can easily be conveyed and comprehended through the digital world. Trackman is doing the same thing with golf.
We've already seen what Trackman's technology does for the best players in the world, but the best players in the world aren't the future of golf. The kids and teenagers playing in junior tournaments, learning the game with this type of data, are the future of golf. The people who decide to pick up the game in their 40s, who will be able to go to a range with Trackman installed and can tell if their progressing, are the future of golf.
Trackman RANGE is cool, but the final frontier of data collection in golf is putting. To this point, radars have only been able to track objects in flight, which has proven difficult to adapt to putting. "What makes putting data difficult", Bergdahl says, "Is the fact that the ball is on the ground, but also that the putter tends to get in the way. With the radar behind the putter, the follow through has given us trouble in the past to be able to see what the ball is doing. With Trackman 4, we've solved it."
Bergdahl would go on to say that with the Trackman 4, the ultra-high-frequency radar can give the player an effective Stimpmeter reading of the green by using the "ball deceleration rate," basically how quickly the ball loses speed. Knowing the quantifiable speed of the green you're practicing on can be huge in honing your feel for speed in putting.
While measuring the speed, it also tracks when your ball stopped skidding and when it started rolling. It breaks that down into a percentage of the putt. In the graphic above, you can see that the sample putt was 18 feet, 9 inches. The ball was skidding for 34 inches of that putt, which means it was only rolling end over end for 85 percent of the distance it traveled. The one thing you're trying to do when you're putting is always put a good roll on it. Now you see the fruits of your labor with Trackman.
Another way to think about it is this: You're working on five-footers at your club. You've hit about 50 of them thus far and feel good about your stroke, but you also know that seven or eight of those putts that went in the hole went in because you got lucky. Maybe you hit it too hard and it did one of those "bounce up and in" deals, or you pulled it a little bit and it just barely caught the edge of the cup. Without hard data, your mind will simply log those "accidents" as successes. But if you have Trackman, it's going to tell you where the ball would have ended up had it not gone in the hole. Trackman will tell you if your putt was going to roll two-feet past the hole or if it was going to stop just short and to the left. Those insights can better inform you of where you are in your path to improvement. Again, the message here is "actionable data."
The difficult part of this technology is that Trackman 4 won't be available to the casual golfer like Trackman RANGE will be. Trackman 4 starts at $18,995, so its Performance Putting Software won't be as readily available as the range setup will be. But that doesn't mean that it won't be available at your local golf shop.
Data has revolutionized professional golf. As I've written about before, the evolution of ShotLink technology and Strokes Gained Analytics has given players the ability to understand and improve areas of their game that, until the 2000s, weren't even measurable. What I think is important about where we're headed is that we will potentially see non-golfers become casual golfers and casual golfers become avid golfers. And in a time where everyone is screaming that the game is dying, I have to believe this is a shining light into the future.
Photo Credits: TrackMan Golf/Media Kit
Your Reaction?
LIKE

429

LEGIT

28

WOW

71

LOL

4

IDHT

1

FLOP

7

OB

5

SHANK

37
The Gear Dive: TrackMan's Lance Vinson Part 2
In this episode of the Gear Dive, Johnny goes even deeper into the TrackMan data with Tour Rep Lance Vinson. It's a ridiculous nerd out covering what the future holds, who is the most efficient player on tour, who hits it the best and a million other things.
Check out the full podcast on SoundCloud below, or click here to listen on iTunes or here to listen on Spotify.
Want more GolfWRX Radio? Check out our other shows (and the full archives for this show) below. 
Your Reaction?
LIKE

0

LEGIT

0

WOW

0

LOL

0

IDHT

2

FLOP

0

OB

0

SHANK

0
Mondays Off: How is the new PGA schedule looking? Gross golf bag cleaning story!
The new PGA schedule is out and how will so much major golf look in the fall. What golf gear would you buy with your stimulus check if you could blow it all on golf? Knudson has a gross story about cleaning out a golf bag.
Check out the full podcast on SoundCloud below, or click here to listen on iTunes or here to listen on Spotify.
Want more GolfWRX Radio? Check out our other shows (and the full archives for this show) below. 
Your Reaction?
LIKE

1

LEGIT

0

WOW

0

LOL

0

IDHT

0

FLOP

0

OB

0

SHANK

1
Tiger at the Masters: The 3 that got away
This time last year, Tiger Woods earned his fifth green jacket at the 2019 Masters, breaking a 14-year drought at Augusta National and completing a storybook career comeback (see Tiger Woods' 2019 Masters WITB here).
Between his 2005 and 2019 victories, Woods gave himself several chances to reclaim the green jacket, but for one reason or another, the championship continuously eluded the 15-time major winner.
Looking back on that drought, three years in particular stick out in my mind where Woods (being the ruthless closer that he is) could, and maybe should, have capitalized on massive opportunities.
2007 Masters
A unique tournament broke out at the 2007 Masters with chilly and windy conditions meaning we would see an over-par score winning the event for the first time in a generation.
Unusually however was the fact that Tiger Woods had got himself into a fantastic position heading into the final day's play—one stroke back of the lead and in the final group.
By the first hole on Sunday, Woods had a share of the lead. A couple of holes later, and he was the sole leader. But instead of the game's greatest ever closer doing what he does best, we saw the first small chink in Tiger's major armor.
Unable to keep up with the improved scoring on Sunday, Woods finished the championship two strokes behind Zach Johnson. It was the first time Woods lost a major in which he held the lead at some point in the final round.
Summing up after the round why things hadn't turned out the way the entire golf world expected, Woods said
"Looking back over the week I basically blew this tournament with two rounds where I had bogey, bogey finishes. That's 4-over in two holes. The last two holes, you just can't afford to do that and win major championships."
2011 Masters
In one of the most exciting final rounds in Masters history, an electric front-nine charge from Woods coupled with a Rory McIlroy collapse saw the then 35-year-old tied for the lead heading into the back nine.
After back-to-back pars on the challenging 10th and 11th holes, Woods found the green on the 12th before it all slipped away. A disastrous three-putt was followed by a deflating five on the par-5 13th and an agonizing near-miss for birdie on 14.
In typical defiant fashion, Woods then flushed a long iron on the par-5 15th to give him five feet for eagle and what would have been the outright lead. But he couldn't find the cup.
Directly following his round, a visibly miffed Woods said
"I should have shot an easy 3- or 4-under on the back nine and I only posted even. But I'm right there in the thick of it and a bunch of guys have a chance. We'll see what happens."
What happened was eventual champion Charl Schwartzel did what Woods said he should have done—shooting 4 under on the back to win his first major.
2013 Masters
Luck, or lack of, is a contentious topic when it comes to sports fans, but at the 2013 Masters, Woods' shocking fate played out as if those on Mount Olympus were orchestrating the tournament.
Woods entered the 2013 Masters as the World Number One, brimming with confidence having won three out of his first five tournaments to start the year.
By Friday afternoon, Woods had cruised into a share of the lead, before crisply striking a wedge on the par-5 15th as he hunted for another birdie.
In a cruel twist of fate, Woods' ball struck the pin and ricocheted back into the water. "Royally cheated!" shouted on-course announcer David Feherty. Nobody could argue otherwise.
A subsequent "bad drop" turned a probable birdie into a triple-bogey placing Woods behind the proverbial 8-ball for the rest of the tournament. The game's ultimate closer should have been in the lead with two rounds to play on a front-runner's paradise of a course; instead, he was in chase-mode. (From 1991-2012, 19 of the 22 winners came from the final group).
Woods tried to rally over the weekend, but if he didn't think the 2013 Masters was ill-fated for himself by Friday evening, then he would have been excused to do so on the eighth hole on Saturday.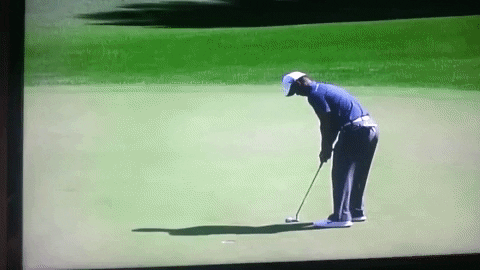 Had Woods' golf ball missed the pin at 15 on that hot and humid Spring afternoon in 2013, then he not only wins, but he likely wins going away.
Your Reaction?
LIKE

35

LEGIT

2

WOW

2

LOL

0

IDHT

0

FLOP

1

OB

0

SHANK

1