Brooks Koepka aims multiple jabs at LIV Golf on social media
By the looks of Brooks Koepka's Instagram account, the five-time major champion is beginning to get frustrated by LIV Golf not having released the 2024 season schedule.
Koepka has commented on two LIV Golf Instagram posts, with his first comment having been deleted.
The first post from Saturday was LIV showing a photoshopped direct message template with different LIV players sending a made up message.
View this post on Instagram
"The Dm with the schedule for next year would be nice," Koepka replied in the now deleted comment.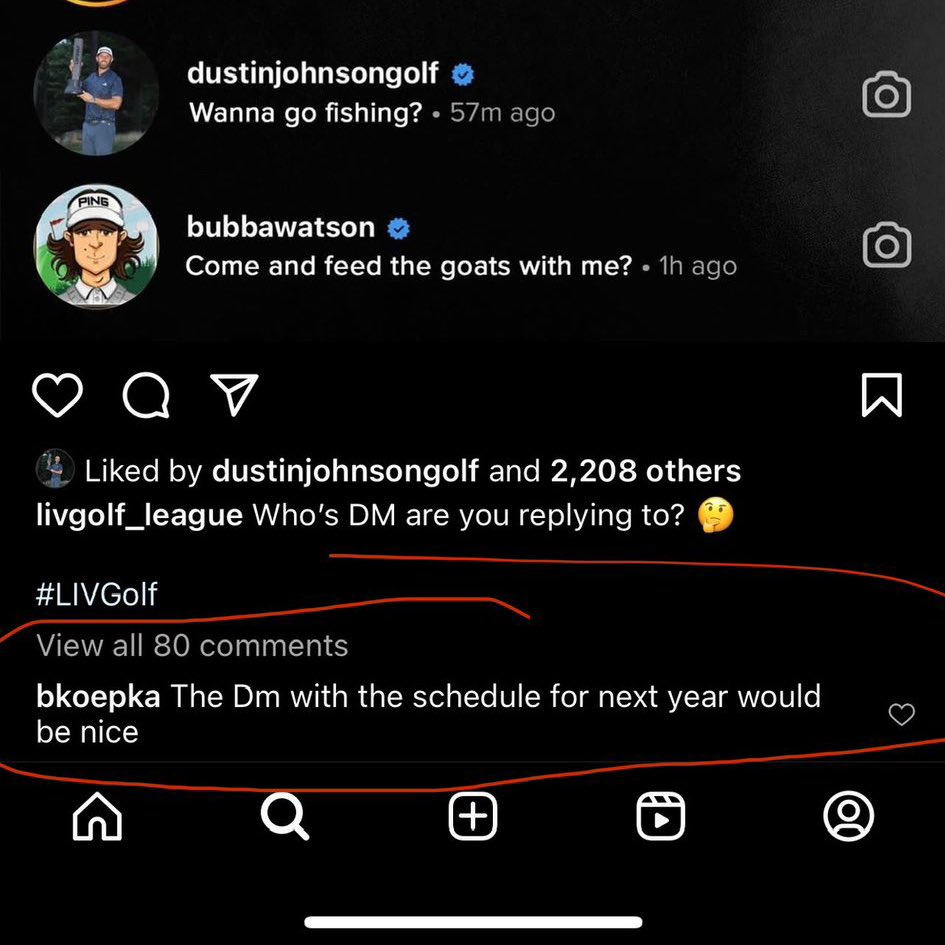 The most recent post said "The swag is unmatched. Which ones are you rocking on the course?"
Brooks commented, "We don't know what course cause we haven't seen the schedule".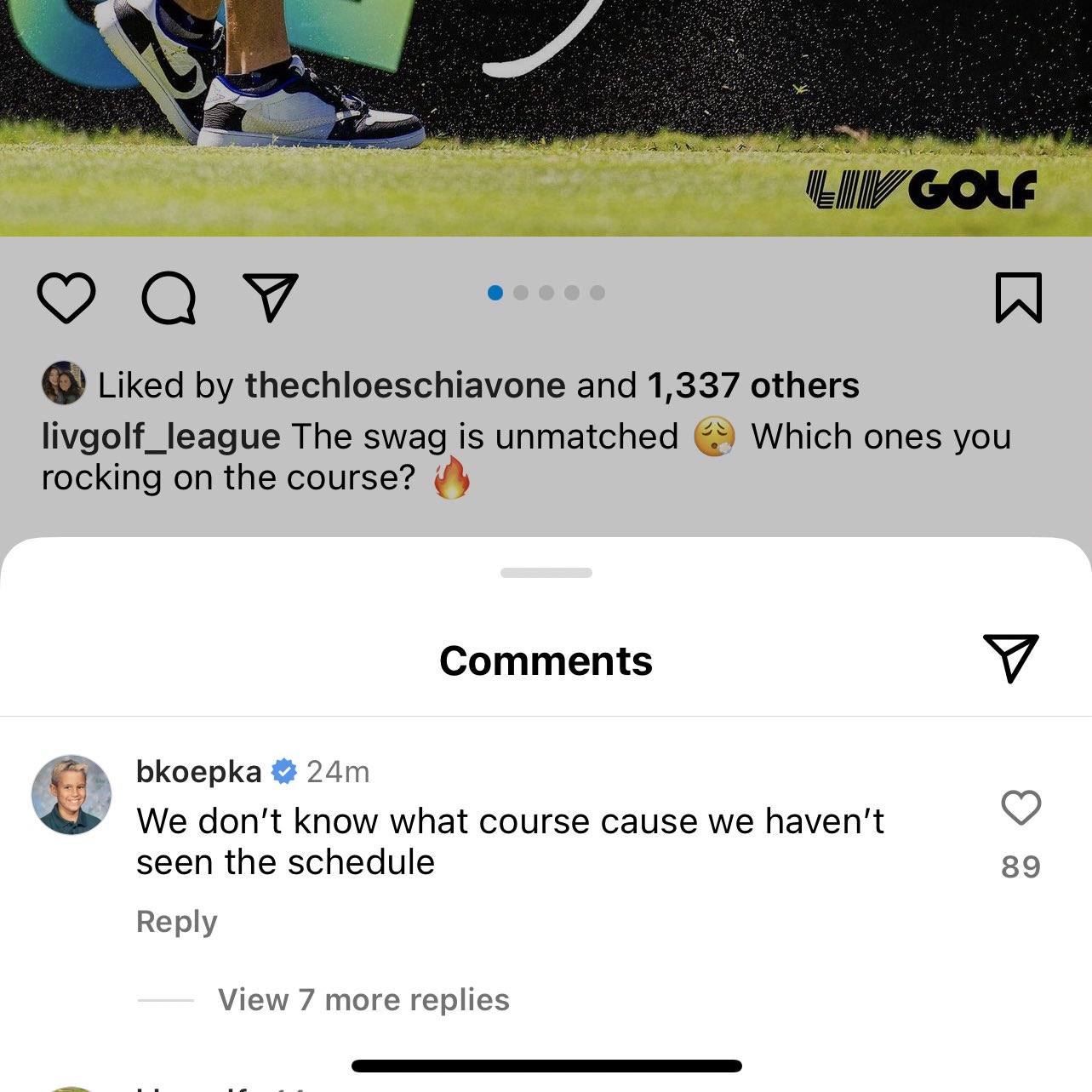 The LIV Golf Adelaide event (April 26-28), which was a big success last year, has been the only tournament announced thus far.
More from the 19th Hole
Your Reaction?
LIKE

0

LEGIT

0

WOW

0

LOL

0

IDHT

0

FLOP

0

OB

0

SHANK

0
Johnny Manziel chooses PGA Tour pro as part of his 'Dream Team Party Boy' lineup
In a recent podcast by "The Broadcast Boys", former NFL quarterback and infamous party animal Johnny Manziel was asked to assemble his "dream team party boy trip".
"Johnny Football" was asked to start by naming three celebrities to take with him on the trip, and he chose Drake, Rob Gronkowski, and interestingly enough, PGA Tour player Max Homa.
"I really like partying with Max Homa. Under the radar celebrity, but he is my guy on the PGA Tour and we do get to party quite a bit".
Manziel added that the foursome would go to a club called "Delilah" in Los Angeles and drink "Hennessy Side Cars" for "the entirety of the night".
More from the 19th Hole
Your Reaction?
LIKE

1

LEGIT

0

WOW

0

LOL

0

IDHT

0

FLOP

0

OB

0

SHANK

0
Tiger spotted testing new driver ahead of confirmed Hero World Challenge comeback
Over the weekend, Tiger Woods was announced as the final player in the field for the 2023 Hero World Challenge, which Woods himself will be hosting.
It's been speculated that Woods would make his return for the event as he's been seen practicing and seemingly "gearing up" towards something over the last six weeks.
As spotted by "The Equipment Junkie" on Instagram, Woods may be heading to the event in The Bahamas with a new driver. The 15-time major champion was spotted trying out the new TaylorMade Qi10 LS driver during the annual Bridgestone Golf photoshoot.
View this post on Instagram
"This driver appears to be the 2024 Taylormade Qi10 LS with a Graphite Design Tour AD VF shaft. Tiger used to play the Tour AD DI, but has since moved into more "whiteboard" style profiles and this new Tour AD VF is much more in that realm than anything we've seen from Graphite Design before. "
The Tour AD VF shaft is the same one that Justin Thomas recently put on his driver which helped him gain a ton of ball speed over the fall season.
We will find out in just about 10 days whether or not Tiger uses the new equipment in his return to competitive golf.
More from the 19th Hole
Your Reaction?
LIKE

0

LEGIT

0

WOW

0

LOL

0

IDHT

0

FLOP

0

OB

0

SHANK

0
Houston Texans quarterback CJ Stroud uses well-known golf accessory during unusual pre-game warmup
Prior to the Houston Texans' week 11 win against the Arizona Cardinals, star rookie quarterback went through an interesting warmup routine that included some peculiar equipment including a basketball and a well-known golf accessory.
CJ Stroud's pregame routine is interesting pic.twitter.com/RNpAHZMV2U

— JPAFootball (@jasrifootball) November 19, 2023
As you can see from the video, Stroud uses the Orange Whip Trainer, a swing aid accessory used by plenty of PGA Tour pros to help them train their swing "to stay on plane, balanced, and in rhythm."
A user called "Hsg087" on X commented:
"Drive, touch, hand eye coordination are being practiced in these warm ups. Makes a lot of sense to [to be honest]."
The routine is seemingly working for Stroud, who is the odds-on favorite to be the NFL's Rookie of the Year and had led the Texans to a 5-5 record through ten games this season after the team went 3-13-1 in 2022-2023.
More from the 19th Hole
Your Reaction?
LIKE

0

LEGIT

0

WOW

0

LOL

0

IDHT

0

FLOP

0

OB

0

SHANK

0