Tiger Woods explains his 'no divots' range comment that left Scottie Scheffler stunned
Back in May, world number one Scottie Scheffler was fascinated by Tiger Woods explaining to him that he doesn't take divots when he's "flushing it". During the TaylorMade video, a bewildered Scheffler repeatedly asks for clarification from the 15-time major champion.
"When I'm flushing it, I don't take divots." – @tigerwoods.
 
Watch the full video here: https://t.co/gNEamYvi3f pic.twitter.com/L6U5ScfJ7z

— TaylorMade Golf (@TaylorMadeGolf) May 11, 2023
The video went viral, with plenty of debate taking place amongst golf fans about whether or not Tiger meant what he said or if he was just messing with Scheffler.
This week, TaylorMade released a video where they asked Woods what he meant in that now viral conversation.
We HAD to get to the bottom of this "no divots" explanation once and for all. ? #TeamTaylorMade pic.twitter.com/TBkQ2JR4ac

— TaylorMade Golf (@TaylorMadeGolf) November 2, 2023
It's unclear whether that explanation would suffice for Scottie, but we can all agree that Tiger's deep understanding of the golf swing is fascinating.
More from the 19th Hole
Your Reaction?
LIKE

39

LEGIT

7

WOW

5

LOL

3

IDHT

0

FLOP

0

OB

1

SHANK

11
The reason behind Azinger's NBC exit as his replacement for Hero World Challenge is revealed
Over the weekend, it was announced that NBC has not renewed the contract for lead golf analyst, Paul Azinger.
"With the golf and media landscapes now in a more challenging environment, Azinger and NBC will part ways as their current contract ends," said Azinger's agent Rich Braund in a statement.
Sports Illustrated learned that the negotiations reportedly fell apart between Azinger and NBC when the one-year extension Azinger received was for less than he was making previously.
NBC also released a statement about Azinger.
"We want to thank Paul for his work with us over the last five years. His insights, work ethic and relationships in the golf industry are well known, and we appreciate what he brought to our team. We wish Paul the best in his future endeavors."
On Monday, Sports Illustrated shared that Azinger will be replaced at next week's Hero World Challenge by Curt Byrum. Byrum is a former PGA Tour player and has been an analyst for the Golf Channel since 2001.
More from the 19th Hole
Your Reaction?
LIKE

10

LEGIT

8

WOW

4

LOL

5

IDHT

1

FLOP

1

OB

4

SHANK

17
Pat Perez handed contract extension by 4Aces LIV Golf team
Despite finishing the LIV Golf season in the "Open Zone", which means the team is free to let him walk in the off-season, the 4Aces have decided to bring back Pat Perez.
View this post on Instagram
Perez finished 28th in the LIV Golf season standings, leaving his future in doubt. The 4 Aces won the inaugural LIV Golf league but last year they fell short, and Bryson DeChambeau's Crushers GC won the team championship.
The combination of Dustin Johnson, Patrick Reed, Peter Uihlein and Pat Perez will give it at least one more go in 2024.
More from the 19th Hole
Your Reaction?
LIKE

3

LEGIT

0

WOW

0

LOL

3

IDHT

1

FLOP

0

OB

0

SHANK

3
Brooks Koepka aims multiple jabs at LIV Golf on social media
By the looks of Brooks Koepka's Instagram account, the five-time major champion is beginning to get frustrated by LIV Golf not having released the 2024 season schedule.
Koepka has commented on two LIV Golf Instagram posts, with his first comment having been deleted.
The first post from Saturday was LIV showing a photoshopped direct message template with different LIV players sending a made up message.
View this post on Instagram
"The Dm with the schedule for next year would be nice," Koepka replied in the now deleted comment.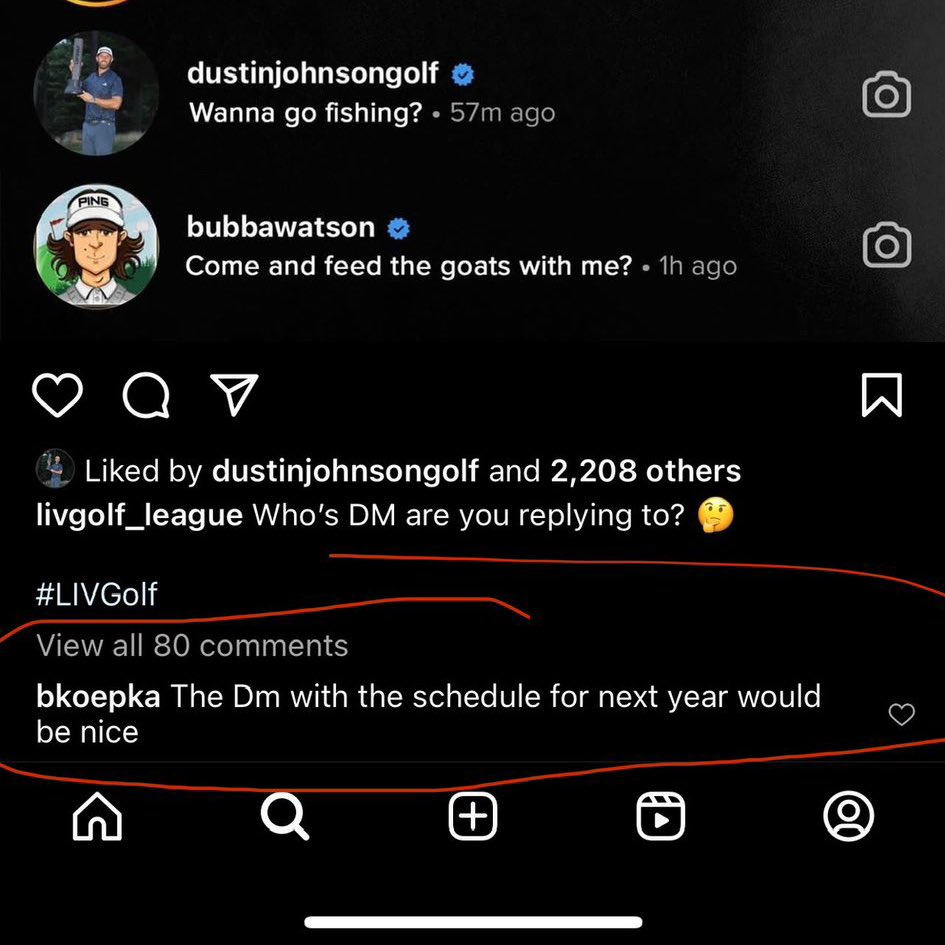 The most recent post said "The swag is unmatched. Which ones are you rocking on the course?"
Brooks commented, "We don't know what course cause we haven't seen the schedule".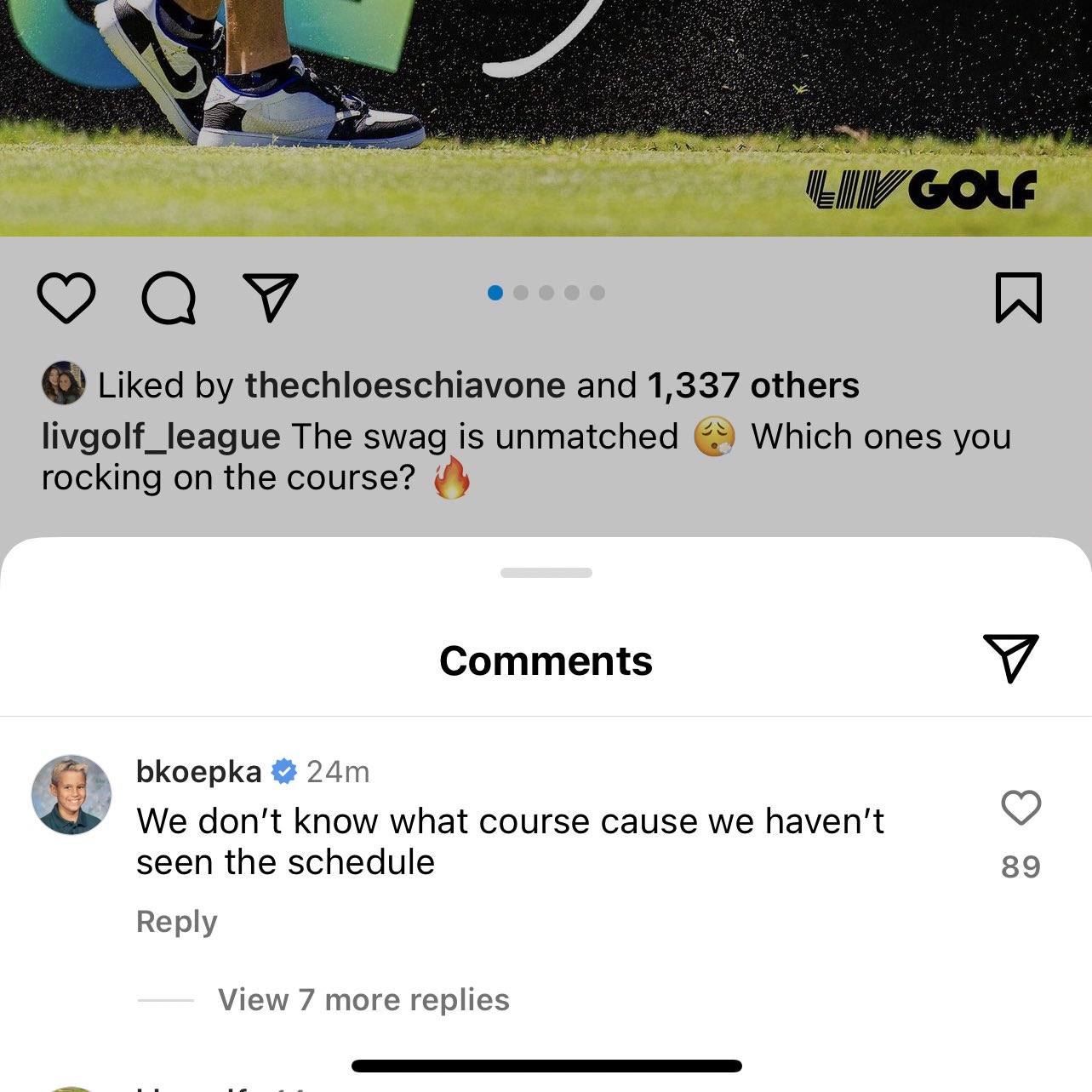 The LIV Golf Adelaide event (April 26-28), which was a big success last year, has been the only tournament announced thus far.
More from the 19th Hole
Your Reaction?
LIKE

31

LEGIT

8

WOW

4

LOL

19

IDHT

2

FLOP

3

OB

0

SHANK

31