Ben Griffin reveals minimum sum needed to compete weekly on PGA Tour in financial deep dive
PGA Tour player Ben Griffin recently took to TikTok to share what it's like being a professional golfer.
In one of his latest videos, Griffin gives fans some insight as to the expenses involved in being a PGA Tour player.
In a recent sitdown with Griffin, I asked him about his activity on TikTok and why he decided to begin sharing on the platform.
Speaking to GolfWRX, here's what he had to say:
"A lot of this year, with the help of my girlfriend Dana, we've kind of entered the TikTok space a little bit just because a lot of players haven't. You see Min Woo Lee posting his swing videos, but we kind of use TikTok as an opportunity to show kind of an inside look at what it's like to be a PGA Tour player.
"We did a lot of day-in-the-life videos throughout the summer and last spring, and a lot of people liked them. And I've kind of made it a mission for me to use TikTok as a way to give people just an inside look." 
"I had some friends ask me about what it's like traveling on Tour, what the different experiences are, what's given, what's not, and I figured why not put it into a TikTok."
The 27-year-old's videos have gotten plenty of views, but none of them have gotten as many as the video where he breaks down the expenses of being on tour. Griffin wanted people to realize that being a professional isn't all the glitz and glamour that it appears to be at times.
"This week is everyone flying together on a private jet going over to Rome and competing. And for some players, that's kind of how it is on a week-to-week basis. Other players are kind of on their own and figuring things out. And I am obviously in a very privileged place to be able to play on the PGA Tour and have access to certain things. But I'm a business owner, and I'm trying to be as smart as I can with my money and try to save as much as I can, even though I can write off a whole lot of stuff being a golfer.
"I created the 'player expenses' kind of TikTok to showcase what my expenses are every week, whether it be how much I pay my caddie, how much hotels are, we go to some of the nicest places in the US primarily, and we're at the peak seasons at each of these cities and destinations we go to."
The former North Carolina Tar Heel concluded that most golfers are spending a minimum of $6,000 a week in order to compete on Tour. The expenses include paying caddies, tipping, hotels, airfare, and food.
"So, hotels are always expensive more than generally, and as a player, we kind of face that on our own. Now we get to play for a lot of money, and there's a lot of really good times, but sometimes you might miss a few cuts and you kind of feel it in your pocket, so it really helps to, I'm very fortunate to have sponsors and people that believe in me and have supported me, and I'm in an awesome position financially to be able to afford some of these things, and I'm very blessed.
"But the reality is that guys on tour are spending at least five, $6,000 a week, and a lot of guys are a lot more. I'm pretty much, I don't have a family. I don't have kids or anything like that, so it cuts costs down for me a little bit, but other guys are having their physical therapists with them every week, and prices can kind of go up from there."
"When players are fighting for their livelihood on a week-to-week basis, there's undoubtedly a great deal of stress on the players who aren't yet established financially. Griffin agreed that it can be "very stressful" and said that "when you're struggling, you can kind of feel it a little bit."
"I mean, it can be very stressful and, especially at the bottom level below the PGA Tour because the Korn Ferry Tour, it's not like they're going to super remote areas. They do sometimes, but they start off the year going to the Bahamas and other places.
"And on that Tour, you've got guys that literally have $0 in their bank account, and they're trying to figure out how they can get to the Bahamas. And you mentioned it being a vacation. Yeah, you're paying for your vacation, but you're also paying for your caddie's vacation, in a way." 
"A lot of the events that are on islands are more expensive. Players are generally giving their caddies more money to cover those expenses, so you're paying for that and, on top of that, girlfriend, wife, family. So, it can get very expensive quick, but that's the thing about the sport, it's high reward, but also when you're struggling, you can kind of feel it a little bit."
Griffin has an incredibly unique story. He chose to step away from golf in 2021 to be a loan officer in North Carolina. Just a few years later, he qualified for the FedEx Cup Playoffs and finished 24th at the FedEx St. Jude.
"It was more different then. I was really at the bottom level. I mean, I wasn't even on the Korn Ferry Tour. I had my card for a little bit in 2019, but 2020 was all mini-tour golf, and it started in 2021.
"I wasn't having to pay for a caddie because at that level of golf when you're below the Korn Ferry Tour, you don't even pay for a caddie. You kind of carry your own clubs. At most tournaments, they don't require you to, and they almost have to because if you had to have a caddie on the mini-tour level, it'd be impossible to cover expenses or make any sort of money." 
"So yeah, I'd say back when I was working, it was more just a little bit of burnout. There was definitely financial strain, and that comes from being at a minor league of professional golf being many tours, and you see it in other sports too…"
After a great rookie season on the PGA Tour, Griffin will be looking to build off of his success and capture his first PGA Tour win. He'll be teeing it up in the fall series and is set to play at this week's Sanderson Farms Championship at the Country Club of Jackson.
Your Reaction?
LIKE

317

LEGIT

54

WOW

29

LOL

11

IDHT

5

FLOP

7

OB

6

SHANK

24
Jason Dufner among well-known names teeing it up in LIV Golf Promotions event
The field for the LIV Golf Promotions event has been released.
Full 70-man field for the LIV Golf Promotions event at Abu Dhabi Golf Club 12/8-12/10 pic.twitter.com/ObXDJ23lvt

— Matt Vincenzi (@MattVincenziPGA) November 30, 2023
Some notable players in the field include Jason Dufner, who has five PGA Tour wins including a major championship, Kevin Chappell (one Tour win and Arnold Palmer Award winner in college), Martin Trainer (one Tour win), former Ryder Cup players Victor Dubuisson and Jeff Overton, as well as Lucas Bjerregard, who famously took down Tiger Woods in the 2019 Dell Matchplay.
The event will take place from December 8-10 at Abu Dhabi Golf Club with the top three finishers earning a spot with LIV for the 2024 season.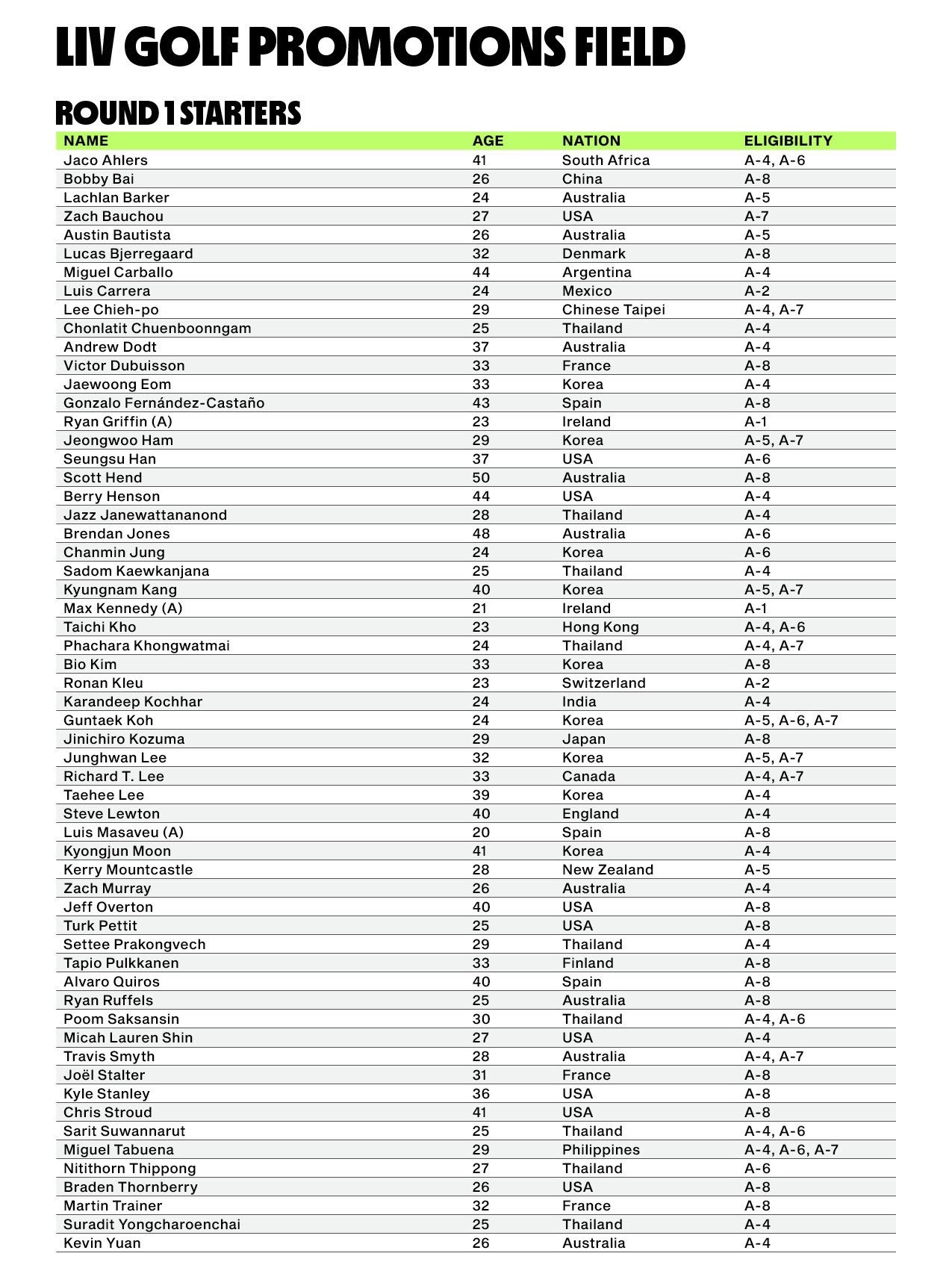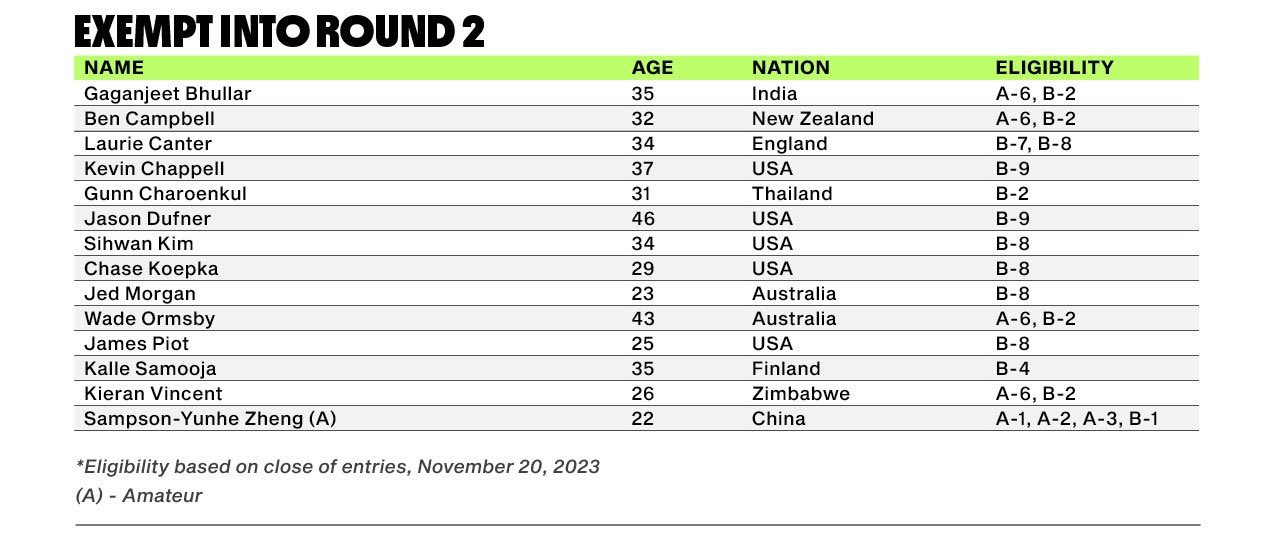 Players who are eligible to participate in round one include: Players who ranked #6-#32 on the Asian Tour's International Series' Order of Merit, the U.S. Amateur Champion, the British Amateur Champion, the Latin-American Amateur Champion, the Asia-Pacific Amateur Champion, the European Amateur Champion, the Top-200 from the OWGR and the Top-20 from the WAGR.
In round two, the top 20 and ties from round one will advance, as well as the relegated LIV Golf players from 2023, the DPWT and PGA Tour 2023 winners, any major champion since 2018, any Ryder Cup or Presidents Cup participants, and #1-#5 of the Asian Tour International Series Order of Merit.
The top 16 players remaining on the leaderboard will advance to the 36-hole shootout on Sunday, with the top 3 earning a spot-on LIV in 2024.
More from the 19th Hole
Your Reaction?
LIKE

6

LEGIT

1

WOW

0

LOL

0

IDHT

0

FLOP

0

OB

0

SHANK

12
Caddie opens up on surprise firing following multiple-win season
Kip Henley, who's been caddying for Grayson Murray since May, took to X this week to reveal that Murray "decided to 'go another direction'" for the upcoming season.
Pretty tough news today. Grayson decided to "go another direction" this coming year. I don't think it was easy for him to tell me but it doesn't change it for me. I'm back out on the curb looking for a bag for next year. One door closes another one will open like always.

— KIP HENLEY (@KipHenley) November 29, 2023
The news is a bit surprising, considering Murray won twice (May and September) on the Korn Ferry Tour in a short span with Henley on his bag.
Murray's career has been a bit of a rollercoaster. He was a highly decorated youth player and rose to the professional ranks quickly but has ran into multiple controversies over the years.
Most recently, he told Rory McIlroy to "f*** off" during a players-only meeting at the RBC Canadian Open. He also got into an altercation with Kevin Na at the driving range prior to the Mexico Open at Vidanta.
Henley added he's not upset at Grayson following the split, but "disappointed and sad it worked out this way."
I'm disappointed and sad it worked out this way but believe it or not I'm not really mad a Grayson. He's not a bad person. It's just a tough relationship out there at times. I spent the better part of 10 years with one dude and we are still dear friends. I'm still buds with most…

— KIP HENLEY (@KipHenley) November 30, 2023
Murray will be back on the PGA Tour in 2024 after earning his card back following a strong season on the Korn Ferry Tour.
More from the 19th Hole
Your Reaction?
LIKE

18

LEGIT

7

WOW

6

LOL

2

IDHT

1

FLOP

3

OB

1

SHANK

20
Golf analyst tears into 'disgraceful' U.S. Ryder Cup side
While appearing on Claude Harmon's Son of a Butch podcast, former PGA Tour player Andrew Coltart ripped the United States Ryder Cup team for the 16.5-11.5 drubbing they received at Marco Simone Golf and Country Club.
During the event, reports emerged that there were players on the U.S. team, specifically Patrick Cantlay and Xander Schauffele, that wanted compensation for their Ryder Cup efforts. Coltart argued that in order to win, the players needed to want to play for the "red, white and blue" and found it "disgraceful".
"Before we talk about the captains, you've got to take 12 players who want to play for your red, white and blue."
"Because what I see is that's not the case. There might be 10 of them, that might've been the case this year, there might be nine.
"I'm not seeing 12 players that want to play – you guys had a team two years ago at Whistling Straits that was meant to dominate for 10 years."
"I know you were arguably more depleted because of LIV than the DP World Tour, but the DP World Tour this year had guys in form.
"At Whistling Straits, we didn't. But you need to get 12 players who want to play.
"I can't stand listening to some of these multi-millionaires bitching – pitching up to a Ryder Cup and – 'Somebody's not paying me any money for it'.
"There's something wrong with your psyche and personally, I wouldn't have anybody in my team, even if they qualified, that didn't want to play for the red, white and blue.
"I find it disgraceful. You go to the DP World Tour – every single man will bleed for that team."
"They will pay to play a Ryder Cup, not the other way around. Until you sort that out, you're always going to be up against it."
Coltart also referenced the fact that the vast majority of the United States team took a month or more off in the lead up to the Ryder Cup, whereas the entire European team played at Wentworth for the BMW PGA Championship the week before.
"Where's the respect for Zach Johnson and that task force that you can't be bothered playing for five weeks prior to a Ryder Cup?
"It's not just you you're letting down, what about the American fans?
"What about the people who paid for the trip to get over there to Rome to support you? And you're only going to give it a half-baked opportunity?
"And it was no surprise that guess what, you started to play more like you could play at the end of the week when it was basically all but lost? I just don't understand.
"There is no sport I know that any professional athlete would conceivably take that much time off before what is the Olympics – and expect to perform anywhere near their optimum level? I thought it was really, really poor."
With Luke Donald having just been named the captain for the 2025 Ryder Cup, the United States will need to rethink their strategy as we get closer to Bethpage Black in 2025.
More from the 19th Hole
Your Reaction?
LIKE

60

LEGIT

15

WOW

5

LOL

1

IDHT

0

FLOP

1

OB

0

SHANK

5