Dave Portnoy reignites feud with Brooks Koepka while revelling in his Masters heartache
If you're looking for a man to cross who will forgive and forget, then that man is certainly not Barstool Sports founder Dave Portnoy.
El Pres recently cashed in with a sale of Barstool Sports for hundreds of millions, and he's currently enjoying the finer things in life with a trip to Italy, but has that stopped the 46-year-old from denouncing those who have crossed him in the past? Absolutely not.
Over the weekend, Portnoy took time out of his Venice adventure to vehemently root against Brooks Koepka, who he explosively described in 2021 as a "scumbag piece of s***'. 
If you aren't aware of the initial beef between the two, here's what allegedly went down between both men. Per Portnoy, who was speaking on his podcast with @EddieBarstool last summer:
"We had the match set-up for $250,000, Lefty vs Lefty (Koepka was required to play left-handed). He got injured. Whatever, s*** happens – the weekend before we were supposed to play. He DMs (Direct Messages) me, going, 'Sorry, we'll reschedule it. No problem."
"There was a lot of work on our end, Eddie, to get this thing set-up. The broadcaster, the tech-side, hours and hours and hours of setting this thing up, all on our end. Next thing you know, I don't hear from him and he is going, 'Hey! I'm doing this match with Bryson DeChambeau"
"Listen, you do you. To not give me a heads up, he was not doing that first and after all the work we put in to our thing… Scumbag, piece of s***! If I wasted somebody's time and energy, not just mine, it wasn't actually mine, it was our company's, granted. I was practicing and injuring my shoulder. If I wasted that much time – it wasn't his fault that he got hurt – but the courtesy to go, 'Hey, I got this opportunity to do this first, then we will do you.' What a piece of s***. Not even a – 'I should have told you', nothing, what a piece of s***."
Cut to the 2023 Masters, and with Koepka leading at the halfway stage, Portnoy was not about to let his vacation get in the way of reigniting his feud with Koepka and cheering against his foe at all costs.
I can't even take 1 weekend off from hating. Now I got to direct all my energy to rooting against Brooks Koepka. pic.twitter.com/TyJLlQYwWr

— Dave Portnoy (@stoolpresidente) April 6, 2023
I hope Brooks Koepka chokes

— Dave Portnoy (@stoolpresidente) April 7, 2023
Cut to Sunday, and Koepka was out-gunned by Jon Rahm, a defeat which it's fair to say Portnoy took particular pleasure in throughout the day (or evening and night as it was in Venice at the time).
CUT IT TO 1! Tee to green it's Jon Rohm! #masters pic.twitter.com/jLDhaCghLA

— Dave Portnoy (@stoolpresidente) April 9, 2023
Love look at Brooksey at the #Masters as Jon Rahm Grabs the lead!!! pic.twitter.com/7l7YkQoPnI

— Dave Portnoy (@stoolpresidente) April 9, 2023
Another bogey from Brooksey! What an epic collapse from him. This has to be one of biggest collapses in major history right? Even I'm starting to feel bad for him. Just pathetic. Hey @PMTsportsbiz can you crunch the numbers on biggest choke jobs in history of Masters? pic.twitter.com/ooBiHtaLkx

— Dave Portnoy (@stoolpresidente) April 9, 2023
Buona Notte

— Dave Portnoy (@stoolpresidente) April 9, 2023
Whether El Pres dunking on Brooks as the 4-time champ suffered a particularly rough moment will spark a reaction remains to be seen. If a Match ever did get played between the two, though, it may be one of the few golf showdowns where the animosity between the two participants is very much real.
More from the 19th Hole
Your Reaction?
LIKE

48

LEGIT

9

WOW

15

LOL

33

IDHT

6

FLOP

16

OB

6

SHANK

101
Jason Dufner among well-known names teeing it up in LIV Golf Promotions event
The field for the LIV Golf Promotions event has been released.
Full 70-man field for the LIV Golf Promotions event at Abu Dhabi Golf Club 12/8-12/10 pic.twitter.com/ObXDJ23lvt

— Matt Vincenzi (@MattVincenziPGA) November 30, 2023
Some notable players in the field include Jason Dufner, who has five PGA Tour wins including a major championship, Kevin Chappell (one Tour win and Arnold Palmer Award winner in college), Martin Trainer (one Tour win), former Ryder Cup players Victor Dubuisson and Jeff Overton, as well as Lucas Bjerregard, who famously took down Tiger Woods in the 2019 Dell Matchplay.
The event will take place from December 8-10 at Abu Dhabi Golf Club with the top three finishers earning a spot with LIV for the 2024 season.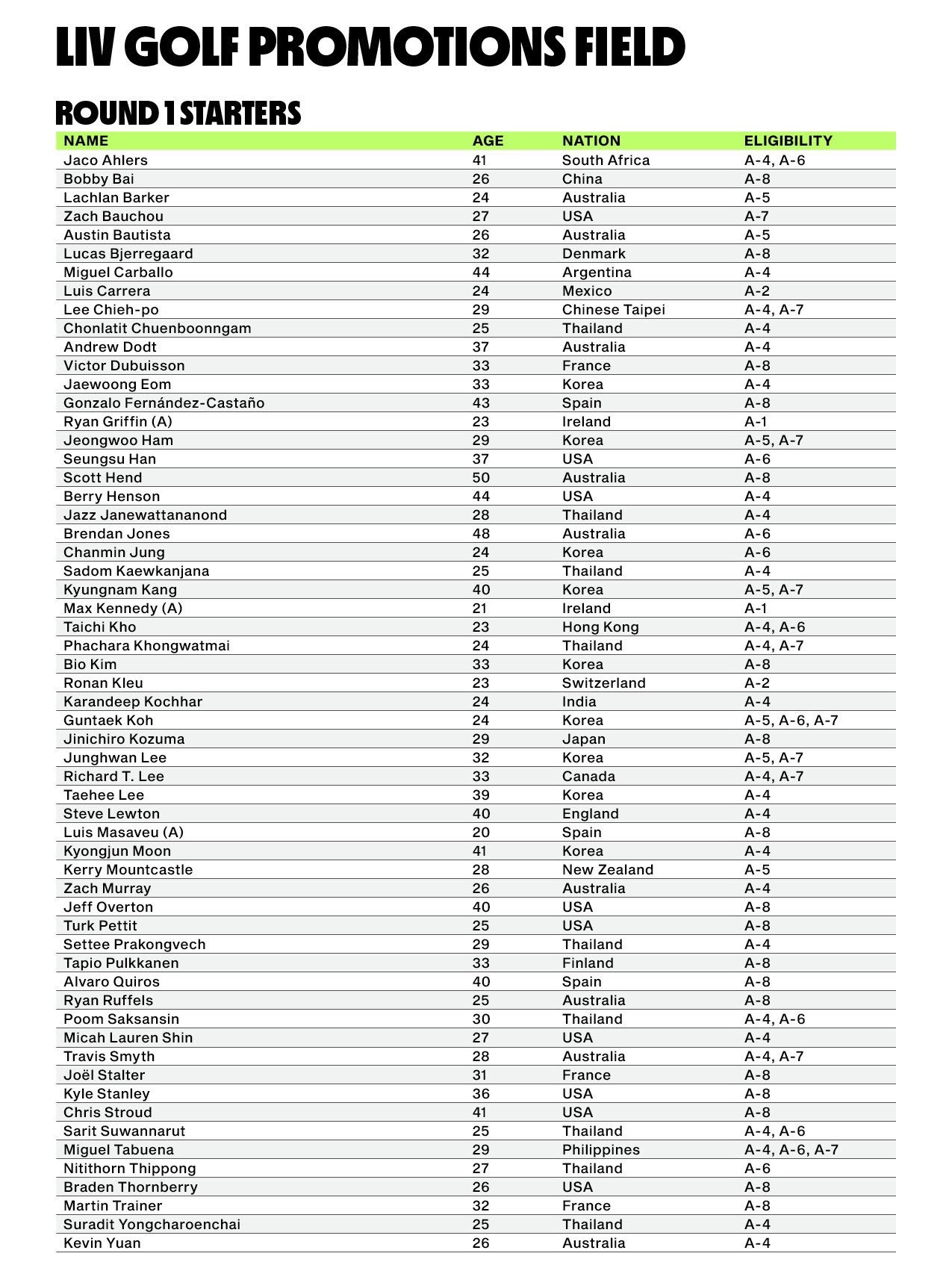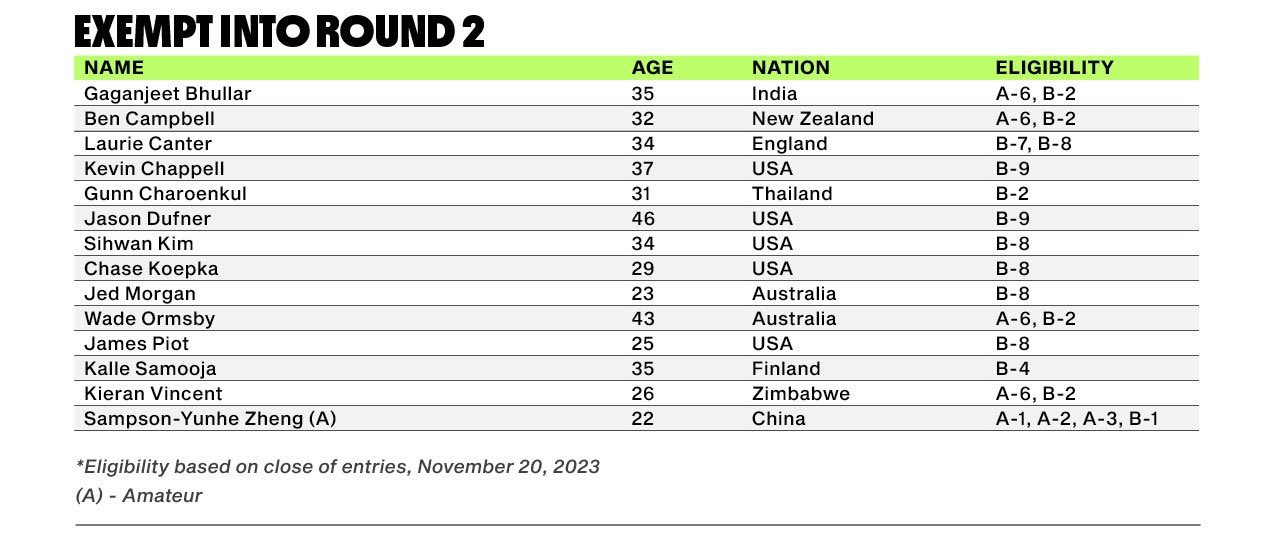 Players who are eligible to participate in round one include: Players who ranked #6-#32 on the Asian Tour's International Series' Order of Merit, the U.S. Amateur Champion, the British Amateur Champion, the Latin-American Amateur Champion, the Asia-Pacific Amateur Champion, the European Amateur Champion, the Top-200 from the OWGR and the Top-20 from the WAGR.
In round two, the top 20 and ties from round one will advance, as well as the relegated LIV Golf players from 2023, the DPWT and PGA Tour 2023 winners, any major champion since 2018, any Ryder Cup or Presidents Cup participants, and #1-#5 of the Asian Tour International Series Order of Merit.
The top 16 players remaining on the leaderboard will advance to the 36-hole shootout on Sunday, with the top 3 earning a spot-on LIV in 2024.
More from the 19th Hole
Your Reaction?
LIKE

11

LEGIT

3

WOW

1

LOL

1

IDHT

1

FLOP

0

OB

0

SHANK

15
Caddie opens up on surprise firing following multiple-win season
Kip Henley, who's been caddying for Grayson Murray since May, took to X this week to reveal that Murray "decided to 'go another direction'" for the upcoming season.
Pretty tough news today. Grayson decided to "go another direction" this coming year. I don't think it was easy for him to tell me but it doesn't change it for me. I'm back out on the curb looking for a bag for next year. One door closes another one will open like always.

— KIP HENLEY (@KipHenley) November 29, 2023
The news is a bit surprising, considering Murray won twice (May and September) on the Korn Ferry Tour in a short span with Henley on his bag.
Murray's career has been a bit of a rollercoaster. He was a highly decorated youth player and rose to the professional ranks quickly but has ran into multiple controversies over the years.
Most recently, he told Rory McIlroy to "f*** off" during a players-only meeting at the RBC Canadian Open. He also got into an altercation with Kevin Na at the driving range prior to the Mexico Open at Vidanta.
Henley added he's not upset at Grayson following the split, but "disappointed and sad it worked out this way."
I'm disappointed and sad it worked out this way but believe it or not I'm not really mad a Grayson. He's not a bad person. It's just a tough relationship out there at times. I spent the better part of 10 years with one dude and we are still dear friends. I'm still buds with most…

— KIP HENLEY (@KipHenley) November 30, 2023
Murray will be back on the PGA Tour in 2024 after earning his card back following a strong season on the Korn Ferry Tour.
More from the 19th Hole
Your Reaction?
LIKE

21

LEGIT

8

WOW

10

LOL

4

IDHT

3

FLOP

5

OB

2

SHANK

24
Golf analyst tears into 'disgraceful' U.S. Ryder Cup side
While appearing on Claude Harmon's Son of a Butch podcast, former PGA Tour player Andrew Coltart ripped the United States Ryder Cup team for the 16.5-11.5 drubbing they received at Marco Simone Golf and Country Club.
During the event, reports emerged that there were players on the U.S. team, specifically Patrick Cantlay and Xander Schauffele, that wanted compensation for their Ryder Cup efforts. Coltart argued that in order to win, the players needed to want to play for the "red, white and blue" and found it "disgraceful".
"Before we talk about the captains, you've got to take 12 players who want to play for your red, white and blue."
"Because what I see is that's not the case. There might be 10 of them, that might've been the case this year, there might be nine.
"I'm not seeing 12 players that want to play – you guys had a team two years ago at Whistling Straits that was meant to dominate for 10 years."
"I know you were arguably more depleted because of LIV than the DP World Tour, but the DP World Tour this year had guys in form.
"At Whistling Straits, we didn't. But you need to get 12 players who want to play.
"I can't stand listening to some of these multi-millionaires bitching – pitching up to a Ryder Cup and – 'Somebody's not paying me any money for it'.
"There's something wrong with your psyche and personally, I wouldn't have anybody in my team, even if they qualified, that didn't want to play for the red, white and blue.
"I find it disgraceful. You go to the DP World Tour – every single man will bleed for that team."
"They will pay to play a Ryder Cup, not the other way around. Until you sort that out, you're always going to be up against it."
Coltart also referenced the fact that the vast majority of the United States team took a month or more off in the lead up to the Ryder Cup, whereas the entire European team played at Wentworth for the BMW PGA Championship the week before.
"Where's the respect for Zach Johnson and that task force that you can't be bothered playing for five weeks prior to a Ryder Cup?
"It's not just you you're letting down, what about the American fans?
"What about the people who paid for the trip to get over there to Rome to support you? And you're only going to give it a half-baked opportunity?
"And it was no surprise that guess what, you started to play more like you could play at the end of the week when it was basically all but lost? I just don't understand.
"There is no sport I know that any professional athlete would conceivably take that much time off before what is the Olympics – and expect to perform anywhere near their optimum level? I thought it was really, really poor."
With Luke Donald having just been named the captain for the 2025 Ryder Cup, the United States will need to rethink their strategy as we get closer to Bethpage Black in 2025.
More from the 19th Hole
Your Reaction?
LIKE

75

LEGIT

21

WOW

7

LOL

3

IDHT

0

FLOP

2

OB

1

SHANK

6