Lydia Ko explains reason behind surprise split with swing coach Sean Foley
The world number 3 in the women's game has parted ways with her swing coach.
In an Instagram post made on Sunday, LPGA star Lydia Ko announced that she and Sean Foley had stopped working together last month due to "logistical reasons."
"When I first met Sean, I was in a place where I didn't have a lot of confidence in myself and in my game," Ko wrote. "Over the past two years he has helped me evolve as a better player and person. Our time together was full of so much learning, laughter. Last month, we decided to go our own ways as a coach and player due to logistical reasons, but Sean will always be a close friend. Sean has been and will be a mentor to me. Thank you again, Sean, for your inspiration and your support in my golf and personal life."
The change is notable, due to the fact that Ko's career has improved by leaps and bounds after she started working with Foley. He became Ko's swing coach during the COVID-19 pandemic when she was ranked outside of the top 50 in the world. During their time together, Ko has risen to the number 3 ranked player in the world due to one of her best seasons this past year.
Ko has also spoken in the past about her relationship with Foley and how much he's helped her both on and off the golf course.
"He's more than just a swing coach," Ko told Golf.com in March of 2022. "Sometimes I talk about life things with him. He's worked with and met so many people, so his perspective is different. It's nice to talk to him about golf things and non-golf things. There is no B.S. He's very straightforward and gives grounded advice."
According to Golfweek, Ko's sister and manager Sura told them that Ko has been working with her former instructor Ted Oh once again. However, it isn't yet a full time nor an official arrangement.
More from the 19th Hole
Your Reaction?
LIKE

22

LEGIT

5

WOW

4

LOL

2

IDHT

2

FLOP

3

OB

0

SHANK

19
Phil Mickelson says it's harder to win on LIV than PGA Tour in wild (and amusing) Twitter return
Phil Mickelson is active once again on Twitter and is spicing things up in typical Lefty fashion.
There are tomes now written about the 52-year-old since last May, when he pulled out of the defence of his PGA Championship crown,  joined LIV, justified the choice, and spoke of never taking part in an interview with Alan Shipnuck. Each story providing its own element of Lefty as we know him.
Over the weekend, Mickelson posted a tweet that most interpreted as a dig at the PGA Tour's non-shorts policy, saying:
?
The Tour doesn't allow shorts but does allow this weeks leader to wear joggers with ankle socks? Showing 4 inches of ankle? I'm no fashion guy, never will be, but there are some things I won't ever understand ????

— Phil Mickelson (@PhilMickelson) January 28, 2023
Then the three-time Masters champ has ramped it up, going after the world number one, Rory McIlroy. In a back-handed compliment, Lefty requested that viewers "see if he can finish it off," while capitalizing the word "Dubai" and making sure everyone knew the event was being held in the middle east.
What a great -7 3rd round by @McIlroyRory in DUBAI to open up a 3 shot lead. See if he can finish it off. Watch live final round action from the Middle East on the golf channel.

— Phil Mickelson (@PhilMickelson) January 29, 2023
The replies were biting but, let's face it, quite amusing!
To the comment that his career has been loaded with Sunday chokes, especially in majors, Mickelson replies, "I have won 6 though," a jibe at McIlroy with four majors and none since 2014?
Of course, with less than a month to the start of the 2023 LIV calendar, it is time to ramp up interest again, particularly with a brand new broadcasting agreement.
Mickelson even made a cheeky claim that LIV events are tougher than PGA Tour events, since he's yet to win on LIV but has "won 45 of those PGA thingies."
I agree. I've already won 45 of those PGA thingies. They were pretty easy. Captains choice tournaments (LIV EVENTS) are much tougher with such stronger fields. I haven't even won one yet ????

— Phil Mickelson (@PhilMickelson) January 29, 2023
Whatever Mickelson might or might not say and how much we are to believe him, he's doing the job of generating noise if not interest.
More from the 19th Hole
Your Reaction?
LIKE

10

LEGIT

2

WOW

1

LOL

4

IDHT

0

FLOP

1

OB

2

SHANK

11
Gary McCord explains why he once missed every green ON PURPOSE during a PGA Tour event
Gary McCord, who's eccentric personality made him popular in the CBS broadcasting booth, did an interview with Barstool Sports on the "Foreplay Podcast" last week.
McCord, who also played a role in the movie "Tin Cup" told an interesting story. He wasn't the most successful player on Tour, but decided there was one record he could break.
Going into the event, McCord was leading the Tour in putting. In order to preserve his lead in that category, he decided to miss every green in regulation.
"I knew at that particular point my career sucked, and it wasn't going anywhere," McCord said then. "So, this was the only thing literally I was going to win."
The "performance" enabled McCord to win the putting title that season with 28.57 putts per round.
McCord tells the full story here:
What's more important, hitting greens or winning that putting title? Well Gary McCord certainly wanted to win something that year pic.twitter.com/vPPxFfwDNI

— Fore Play (@ForePlayPod) January 27, 2023
More from the 19th Hole
Your Reaction?
LIKE

9

LEGIT

1

WOW

3

LOL

7

IDHT

0

FLOP

0

OB

0

SHANK

3
'This guy does not stop' – Tour pros take aim at Patrick Reed over latest rules controversy
The words Patrick Reed and controversy seem to go hand in hand these days, and it continued at the weekend.
During the third round of the delayed Dubai Desert Classic, Reed took a penalty drop after identifying his ball lodged in one of a group of trees. Trouble is, the ball is only identifiable by a specific arrow marking in what appears to be a palm full of golf balls. And, in this case, by binoculars.
Here are two VERY close looks (per the wizards at Getty) of the markings on Patrick Reed's golf ball that allowed him to identify it in the palm tree in Dubai.

Spot the black "arrow" that Reed talked about in his post-round presser and the red dot. Both images are from today. pic.twitter.com/40UhXOq0rX

— James Colgan (@jamescolgan26) January 29, 2023
If unable to identify his ball, Reed would have needed to go back to the 17th tee to re-load, more than likely causing to him to score double-bogey instead of just the one dropped shot.
The former Masters champion had already found himself embroiled in a debate surrounding his apparel daubed with 'LIV Golf', and in a spat with the world number one in Dubai.
Pre-event, video footage showed McIlroy apparently ignoring his greeting when on the practise ground, resulting in a bit of tee-throwing, leading social media to comment we have moved from 'Tee Gate' to 'Tree Gate' in the space of a few days.
In a statement issued by tournament officials, the DP World Tour confirmed that "two on course referees and several marshals" identified that Reed's ball had been caught up in the tree.
As shown by the Golf Channel, this is the alleged offending tree, shown with a heap of golf-balls never to be seen again: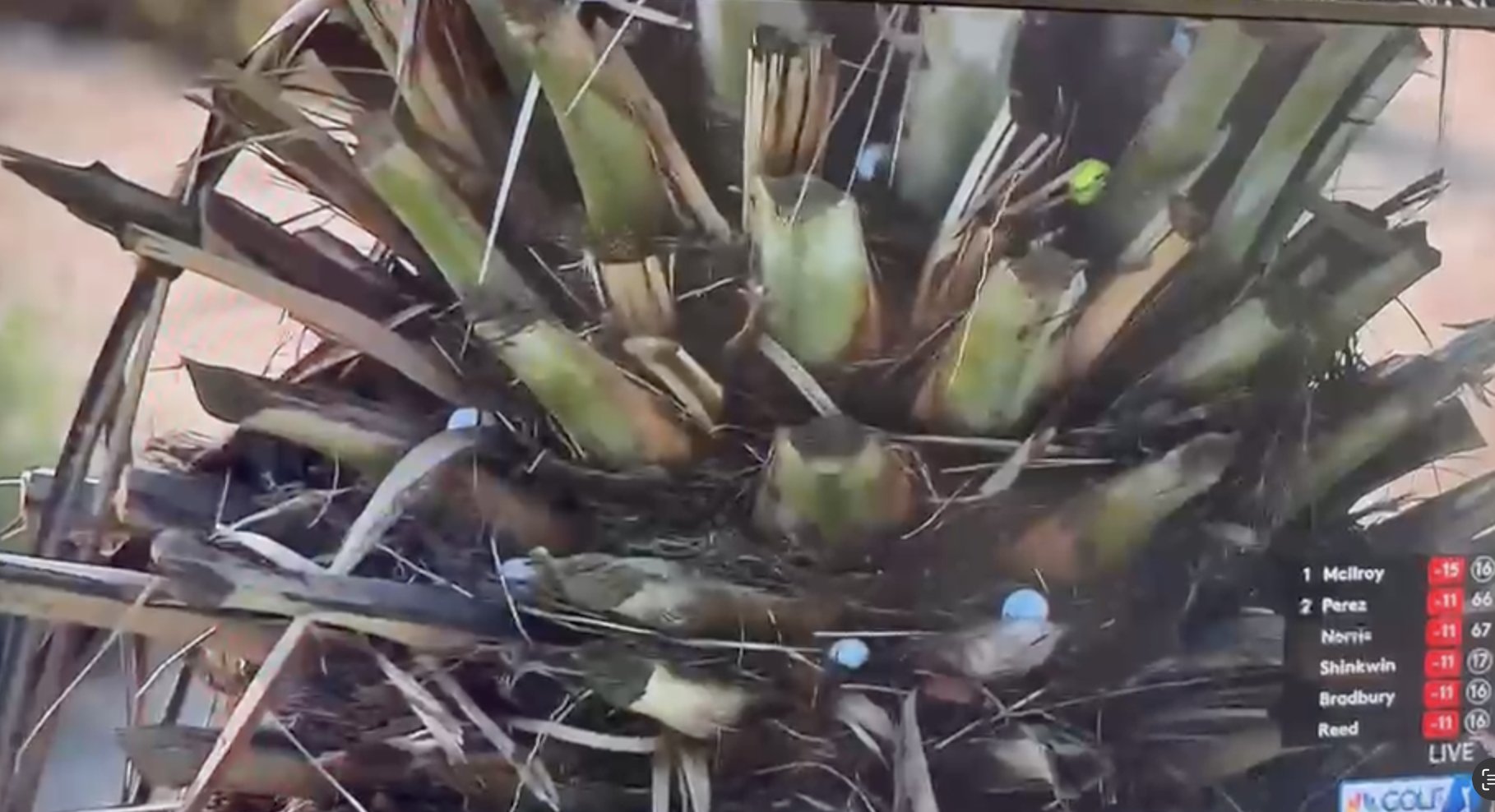 The full statement issued reads: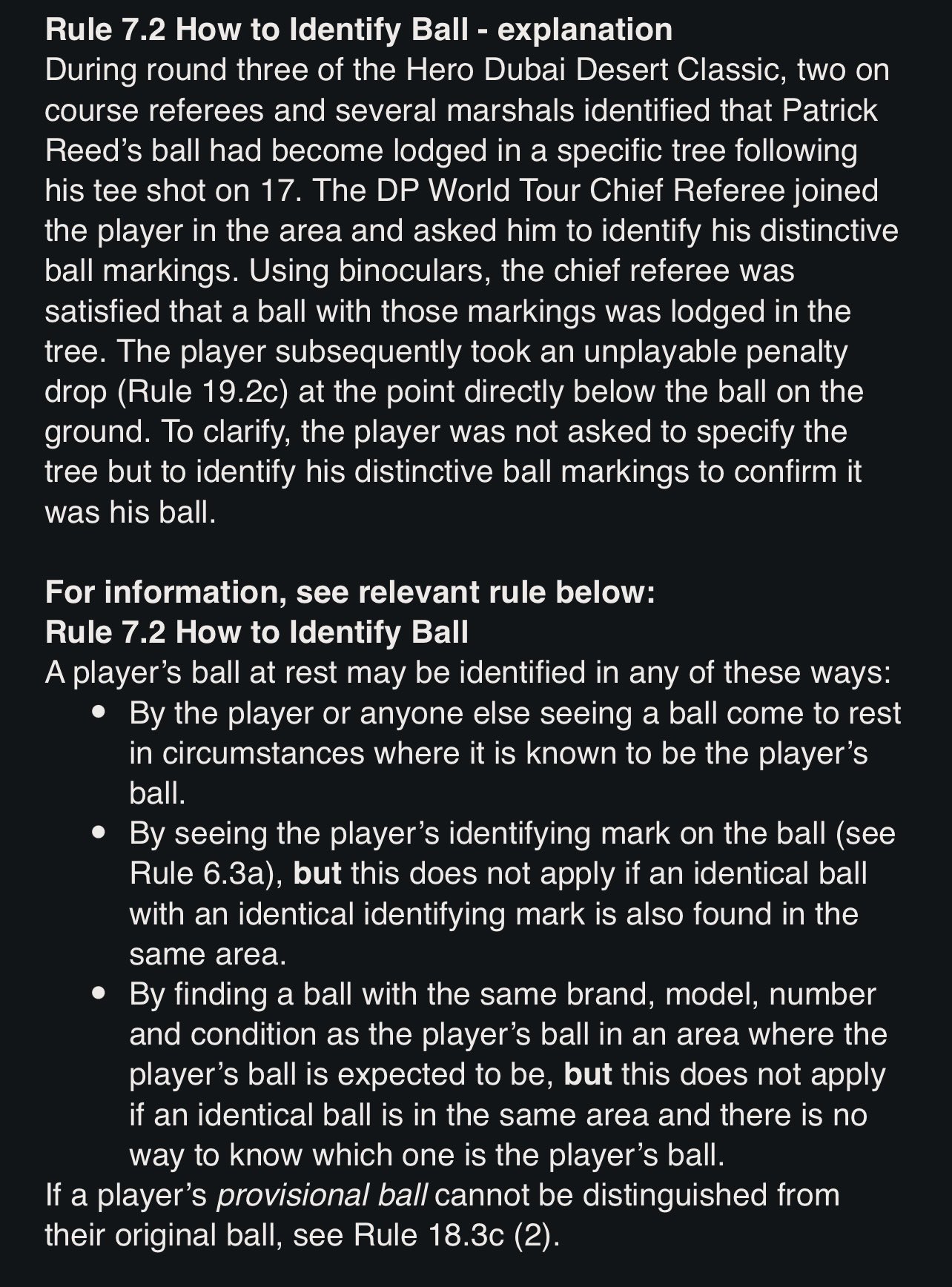 Despite being cleared of any wrongdoing, a couple of DP World Tour pros seemed not best pleased with the incident, with some footage appearing to show Reed's ball entering a different tree than where he eventually found his ball.
French Tour pro Matthieu Pavon responded to the video of the incident saying: "Wow wrong tree ?! Maybe optical illusion" followed by a laughing emoji. While his compatriot Mike Lorenzo-Vera went a little further stating: "This guy does not stop."
Le mec ne s'arrête pas !???

— Mike Lorenzo-Vera (@MikeLorenzoVer1) January 29, 2023
According to Reed himself, he would have gone back to the tee had he not been 100 percent sure the ball was his.
Here Patrick reed comments on the ball on tree here @DubaiDCGolf https://t.co/JxDvKY0KQK pic.twitter.com/t2GPKtu68E

— Golf & Science News (@TOURMISS) January 29, 2023
Ironically, almost a year to the day after being involved in a rule dispute at Torrey Pines, Reed again finds himself as the focus of attention over a drop.
More from the 19th Hole
Your Reaction?
LIKE

8

LEGIT

8

WOW

5

LOL

6

IDHT

0

FLOP

3

OB

2

SHANK

16