'Don't drink and order Taco Bell on Uber Eats' – John Daly's Taco Bell order is pretty incredible
John Daly spent the weekend playing at Trump National Doral in Miami at the "Trump Touring Pro" weekend. His trip came with a few highlights including this impressive one handed chip in with a drink in his hand:
View this post on Instagram
Additionally, "Long John" posted his "Uber Eats" order on his Instagram story and it was excessive to say the least. Daly ordered $446.10 worth of Taco Bell and captioned the story "Don't drink and order Taco Bell on Uber Eats". It's no secret that Daly doesn't live the healthiest lifestyle, but let's hope he had some help finishing the Tacos and Burritos.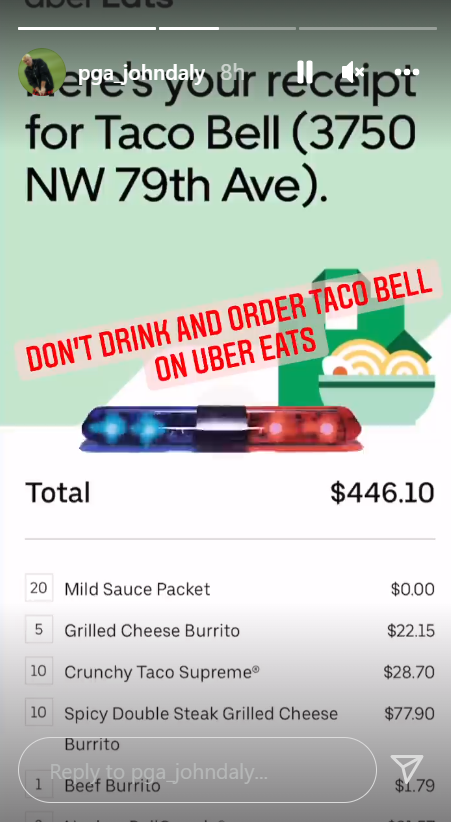 More from the 19th Hole
Your Reaction?
LIKE

71

LEGIT

12

WOW

10

LOL

26

IDHT

1

FLOP

9

OB

8

SHANK

56
You can play this Minnesota golf course for free if you're under 18
Golf is in a great place at the moment, with an enormous interest in a mere sighting of Tiger Woods on the range and then at his own Hero Challenge.
Top that with the healthy debate on the recent PIP awards and what looks like being record amounts of bloggers and podcasts in 2022, and the sport is in rude health at premier level. But what of grassroots?
As reported by The Morrison County Record, the Little Falls Golf Course will no longer charge anyone aged 18 or under to play golf as "an investment in our community".
Aimed at getting a younger generation to take up the sport, City Administrator Jon Radermacher continued, "If you get people hooked on golf, or at least exposed to golf when they're in their younger years, they're going to come back when they're older and capable to pay. They're going to be future members for our course. I think, for us, that could yield some great benefits."
With the circa $200 junior membership fee a thing of the past, as well as family membership now a discontinued option, and the abandonment of senior and resident discounts, single membership and that for couples rises to $800 and $1500, respectively.
As well as the initiative, Little Falls will use the increase to offset increasing expenses and to offer pay rises for their employees, many of which have seen their workload increase over the past year as interest in golf has soared both here and throughout the world.
Whilst green fees will change slightly depending on date and time, they expected the average round to be around $45 for a non-member aged 18-plus, something Radermacher says will "be in line with where we need to be." He continued, "With those changes on the membership side and then the greens fees side, I think that really would set us in line for future years."
Radermacher called the plan "radical," but the Minnesota course is hopefully on track to produce another Tom Lehman, one of the County's most successful golfers.
More from the 19th Hole
Your Reaction?
LIKE

6

LEGIT

0

WOW

0

LOL

0

IDHT

0

FLOP

1

OB

0

SHANK

1
The 10 most read articles on GolfWRX in 2021
With the year almost in the books, here we take a look back at the top-10 most-read articles on GolfWRX for 2021.
From big equipment news and in-depth analysis to hot takes and beyond—excluding WITB pieces—here are the top-10 stories that grabbed the attention of WRXers over the past 12 months. And THANK YOU for reading and your loyal following.
10. Golf fans react to bizarre driving range video
A stranger driving range video is unlikely to ever be found.
9. GolfWRX Members Choice: Best fairway wood of 2021
Our fitters break down the best fairway woods of 2021.
8. Symetra Tour player hit with baffling two-stroke penalty
A rules violation that had more than a few people scratching their heads.
7. The member list at Michael Jordan's private golf club is a sight to behold
MJ's member's list at The Grove is as exclusive as you would expect.
6. Gary Player's son 'banned from the Masters' for perceived guerrilla marketing
The incident that clouded the opening day at the 2021 Masters in controversy.
5. Sergio Garcia's wife fires warning to 'embarrassing' U.S. Ryder Cup fans
Sergio Garcia's wife putdown of the U.S. Ryder Cup fans got many people talking before this year's Ryder Cup.
4. Best driver 2021: By club fitters for you!
Our fitters break down the best drivers of 2021.
3. 'Patrick Cantlay p****d me off' – European Ryder Cup rookie hits out at U.S. star
Shane Lowry was not happy with Ryder Cup star Patrick Cantlay following a one-sided affair at Whistling Straits.
2. Bryson reveals the cut-off point on money list where players make an annual loss on Tour
DeChambeau had his say on what the cut-off point is where players make an annual loss on Tour, and his answer stunned many of our readers.
1. 'What the f**k you doing?' – Former Masters champ tells Brooks Koepka to 'get a life'
Ian Woosnam sticking the boot into Brooks Koepka was our most read article of 2021.
Your Reaction?
LIKE

11

LEGIT

2

WOW

1

LOL

1

IDHT

1

FLOP

2

OB

1

SHANK

4
John Daly says Bryson isn't close to his prime long hitting for this reason
John Daly was known for his huge-hitting when he was in his pomp on the PGA Tour and he was showcasing that skill once again recently on his way to winning the 2021 PNC alongside his son John Daly II.
Following the win, the multiple major champion appeared on the Full Send Podcast, and when the subject came to distance, Daly was in no doubt that even the likes of Bryson DeChambeau wouldn't be able to match his length in his prime.
When asked if he could outdrive Bryson or any other long hitter today at his best, Daly was in no doubt, saying: "Oh! by far, I would", before calling himself the "straightest long hitter that ever lived."
The reason why Daly doesn't believe any of the current big-hitters could keep up with him at his best? The golf ball.
"I looked at the monitor at the Masters last year, and he was at 200/205mph ball speed or something, and I remember Nick Faldo was watching him, and I was like 'Nick, I was at 220mph, man' and that's with the balata ball. I was carrying the ball 330/340mph with the balata ball."
Daly went on to say that what Bryson is doing is phenomenal but added that he doesn't believe any long-hitter could do handle the balata ball, bar Bubba Watson and that "Tiger would agree."
The 1995 Open Champ also had a word of advice for all amateur golfers on how to pick up some length after identifying a key mistake he sees so many amateurs commit.
"The problem with amateur golf is that they never finish their backswing. They never get a full turn. You should be able to try and turn the club in your hips as far as you can turn them to get power, especially as the golf ball is so easy now it goes straight."
Check out the full interview below.
More from the 19th Hole
Your Reaction?
LIKE

172

LEGIT

21

WOW

6

LOL

5

IDHT

1

FLOP

3

OB

0

SHANK

17