Why Angel Cabrera will go down as one of the greatest pressure players of all time (Masters WITB 2009 & 2013)
The 2020 Masters is finally underway, but one man intrinsically connected to the tournament is not in action: Angel Cabrera.
The 51-year-old who has been ever-present at the event since making his debut in 2000 is missing his first Masters tournament due to a wrist injury he underwent successful surgery on last month.
The Masters is an event which a litany of greats have failed to conquer, leaving a noticeable and painful gap in otherwise stellar careers: Greg Norman, Ernie Els, Lee Trevino, Tom Weiskopf, Johnny Miller, the list goes on. 
The mystique of the tournament intensifies the spotlight and pressure, for most that stress causes errors, for the rare few it helps them to shine. Angel Cabrera is one of those rare few.
The Argentine's career has been fascinating. In 2005 he won the European Tour's flagship event, the BMW Championship, and then didn't win again until a major breakthrough victory at the 2007 U.S. Open at Oakmont. At that event, he stood tall to join an exclusive club who have outgunned Tiger Woods on the back nine of a major.
He did so by playing exceptional golf that Sunday, the only player in the top 10 to break par.
The win took him to 17th in the Official World Golf Rankings, but two years later he headed to Augusta National having slipped to 69th in the rankings and priced up as a rank outsider for the event at 150/1.
2009 Masters
At Oakmont in 2007, Cabrera had to fight off Tiger and Jim Furyk. At Augusta in 2009 it was Kenny Perry and Chad Campbell, and it was a Sunday where the Argentine was always on the back foot.
Cabrera trailed Perry by three with six holes to go, and despite two birdies in his next three holes, he was still down by two. On the 16th hole, the man known as 'El Pato' ('The Duck') struck his shot to 15 feet above the hole, while Perry hit the shot of life to kick in range for birdie.
Faced with a do or die putt, Cabrera answered the call.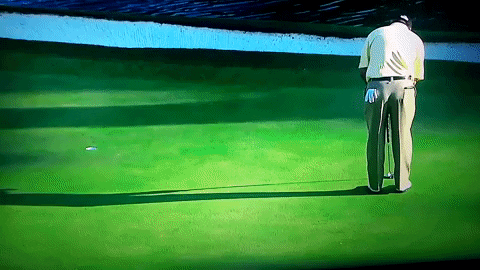 From there, his American adversary felt the anxiety that comes with winning a green jacket. Two closing bogeys let Cabrera in, who poured in a slick 5-footer down the slope on 18 for par to secure his place in the three-man playoff.
On the first playoff hole, disaster struck for El Pato, when he found himself handcuffed in the woods after a wayward drive on the 18th hole.
Faced with needing to get up and down from the fairway to stand a chance of slipping on the green jacket, Cabrera once again answered the call in emphatic style.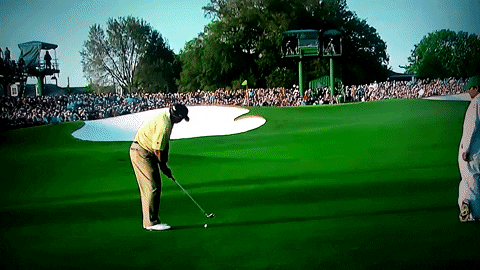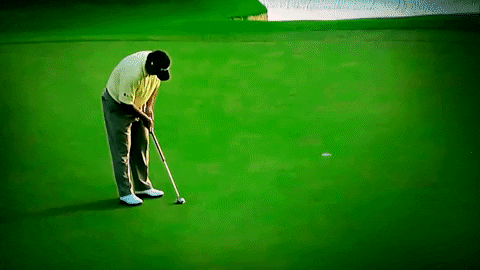 With just Perry remaining to defeat on the second playoff hole on one of the most challenging holes on the course – the 10th -, a stunning 8-iron sealed the deal after Perry hooked his approach to a devilish pin position.
The moment was too big for Kenny Perry. It was made for Cabrera.
Angel Cabrera 2009 Masters WITB
Driver: Ping Rapture (7.5 degrees)
Shaft: Aldila NV Proto
3-wood: Ping Rapture V2 (15.5 degrees)
Irons: Ping G10 (2),  Ping S57 (3-PW)
Wedges: Ping Tour-W 54 degrees, Ping Tour-W TS 60 degrees
Putter: Ping i Series 1/2 Craz-E Belly
2013 Masters
Four years on, Cabrera had done little else of note and arrived at Augusta ranked a lowly 273rd in the world. Like four years prior, Cabrera found himself in the mix, and once again his clutch-gene activated.
Fighting against a trio of Aussies – Scott, Day and Leishman – the man from Cordoba would once again step up in a monumentally big moment.
While Leishman and Day were faltering, on the 16th hole, El Pato saw only opportunity and faced with a lengthy putt underneath the hole, promptly rammed the ball into the back of the cup.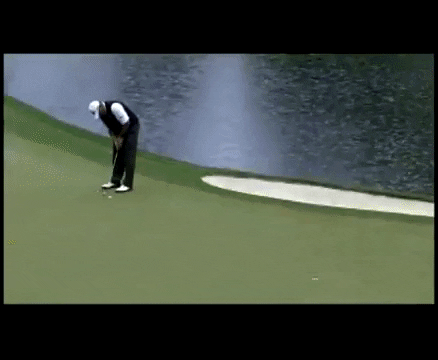 Then on 17, a hole where most players would bite your hand off for a four on a Sunday at the Masters, Cabrera wanted more, playing the hole supremely, and leaving himself a chance for what he felt could be a killer blow.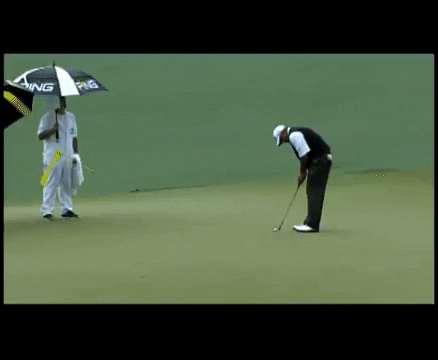 To this day, it still mystifies me how the ball didn't move to the right as it ought to do.
From the fairway on 18, the then 44-year-old watched on as Adam Scott erupted with emotion after burying a birdie which he felt had given him his first major championship.
Like 2009, Cabrera's hand was forced and he needed something special. What he did, was hit one of the best shots ever seen at Augusta National, striping an iron in the pouring rain to a couple of feet.
I asked my friend in Buenos Aires, what was said between Cabrera and his son on the bag, Angel Jr, as the shot was in the air, and this is how it went down:
Cabrera: Vuele! (Go/Fly) 
Angel Jr. Dejala Papi, deja (Leave it daddy, leave it.)
On the first playoff hole, Cabrera scared the hole with a birdie chip, and after trading pars on the hole, he made his way to the familiar tenth hole where his duel with Scott would come to a climax.
Both men hit excellent tee shots and approaches, and both were left with medium length birdie chances from almost identical distances. Cabrera got the nod to play first, and just as on 17, put a pure roll on the ball that looked destined to find the cup, but like on 17 the ball wouldn't go down.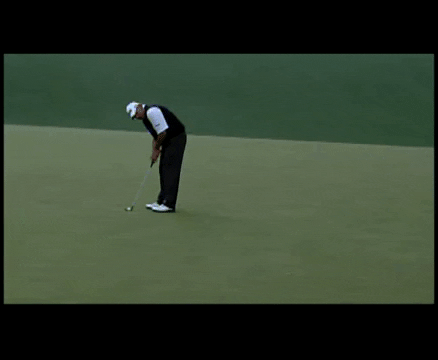 It was to be Scott's time, who poured in his effort for his breakthrough major. 
The Argentine was gracious and honest in defeat. He may not have won the green jacket, but unlike greats who never got their hands on the green jacket, he went down while playing his best golf, hardly missing a shot.
"That's how golf is. I came back and I had that chip on 18, I could have won it. But Adam's a good winner. I would have been happier if I had won but he's a great player."
Angel is that rare breed whose game improves under the most intense of pressure. He is a predator, and one of the best pressure players of his generation. And if there is one player who I'd love to see in contention one last time on a Sunday at Augusta, Angel Cabrera would be at the top of the list.
Angel Cabrera 2013 Masters WITB
Driver: Ping G25 (8.5 degrees)
Shaft: Aldila Tour Green 75 X
3 wood: Ping G25 (15 Degrees)
Shaft: Aldila RIP Alpha 80X
Irons: Ping i20 (3), Ping S56 (4-PW)
Shaft: True Temper Dynamic Gold X100 Tour Issue
Wedges: Ping Gorge Tour 54, 58 and 62 Degrees
Shafts: True Temper Dynamic Gold X100 Tour Issue
Putter: Ping Scottsdale TR Shea H
Ball: Titleist Pro V1x
Your Reaction?
LIKE

47

LEGIT

7

WOW

1

LOL

1

IDHT

0

FLOP

0

OB

0

SHANK

0
Tiger Woods receives outpouring of support following car accident
Following Tuesday's accident which has left Tiger Woods currently recovering from major surgery, support and well wishes have been pouring in for the 15-time major champion.
Per a statement from Tiger's official social media account, Woods suffered "comminuted open fractures" affecting both the upper and lower portions of his tibia and fibula in his right leg from the crash, as well as damage to the ankle bones and trauma to the muscle and soft-tissue of the leg.
The statement also communicates that Woods is "awake, responsive and recovering in a hospital room".
— Tiger Woods (@TigerWoods) February 24, 2021
In response to Tiger's accident, a mammoth amount of support has rolled in from A-list stars, members of other sports and fellow tour pros for Woods. Here's a look at some of the well wishes:
Your Reaction?
LIKE

10

LEGIT

0

WOW

0

LOL

0

IDHT

0

FLOP

0

OB

0

SHANK

0
Tony Finau's short driver backswing – Would he be the longest on tour by a distance if he wanted? 
In our forums, our members have been discussing the driver distance Tony Finau generates with his short backswing. WRXer 'TIScape' posted a photo of Finau on 18 at Riviera at the top of his backswing from Sunday (above) and says:
"It amazes me how far Tony hits driver with his short backswing. This is a still from a video of his drive at 18 on Sunday at Riviera. Captured at the very top of his backswing. It's almost as if he's laying up with driver, and he still averages 306 yards! The clubhead speed he generates with that short swing is astonishing."
Back in July, Finau showcased his fully extended driver swing in a practice round. The result? 206mph ball speed and a ridiculous 383-yard carry.
Check out the video below.
View this post on Instagram
Our members have been discussing both his current driver swing and whether Finau could be comfortably the longest on tour if he wanted.
Here are a few posts from the thread, but make sure to check out the entire discussion and have your say at the link below.
chipa: "His swing is fun to watch. One thing I have noticed about a lot of big hitters is the forward hand position like Finau's and then turning the left hand over immediately during the takeaway. DJ Johnson, John Daly, Mike Austin and quite a few long drivers use(d) this technique. I use it when I'm swinging my best and hope to have it mastered sometime soon. I have tried everything like the one piece takeaway, but I just can't make it work and feel relaxed too."

bscinstnct: "Man, if Tony could just get a little more confidence on Sunday with his putter. He'd basically be DJ. Just want to see him play his best a few times; he'd really light it up."

mosesgolf: "TF said in an interview that he can easily attain 190plus ball speeds but won't go there due to consistency and accuracy issues. Plus, it's an avenue for injury to swing that hard."

cardoustie: "Longest on tour if he wanted to be."
Entire Thread: "Tony Finau's short driver back swing – Would he be the longest on tour by a distance if he wanted?"
Not yet a GolfWRX member? Sign up for FREE here.
Your Reaction?
LIKE

21

LEGIT

5

WOW

5

LOL

1

IDHT

0

FLOP

0

OB

0

SHANK

1
This astonishing Tiger Woods stat sums up his greatness and perseverance since 2012
There are countless achievements from Tiger Woods that will be talked about for years to come, and we can now add another to the list thanks to Brandel Chamblee.
The golf analyst took to Twitter on Monday, where he produced one of the most stunning Tiger Woods stats imagineable, which covers the tumultuous period of his career since 2012.
During this period, Woods reclaimed the number one ranking, endured 5 back surgeries, suffered from the chipping yips, an inability to practice, had a humiliating DUI and dropped to 1,199th in the Official World Golf Rankings before rising again.
Despite everything, as Chamblee posted on Monday, Woods has a better win % on Tour than the likes of Dustin Johnson and Brooks Koepka, with only Rory McIlroy having a marginally better win return since 2012.
There were some sceptics that the high win % was down to Tiger appearing so sparingly over the past few years. However, golf fans were quick to correctly point out that the 45-year-old continuously appears at the biggest events with the strongest fields, which makes the 11.7 win % over that period even more impressive.
Never, ever, write off Tiger.
Your Reaction?
LIKE

26

LEGIT

2

WOW

3

LOL

0

IDHT

1

FLOP

0

OB

0

SHANK

0