Why Angel Cabrera will go down as one of the greatest pressure players of all time (Masters WITB 2009 & 2013)
The 2020 Masters is finally underway, but one man intrinsically connected to the tournament is not in action: Angel Cabrera.
The 51-year-old who has been ever-present at the event since making his debut in 2000 is missing his first Masters tournament due to a wrist injury he underwent successful surgery on last month.
The Masters is an event which a litany of greats have failed to conquer, leaving a noticeable and painful gap in otherwise stellar careers: Greg Norman, Ernie Els, Lee Trevino, Tom Weiskopf, Johnny Miller, the list goes on. 
The mystique of the tournament intensifies the spotlight and pressure, for most that stress causes errors, for the rare few it helps them to shine. Angel Cabrera is one of those rare few.
The Argentine's career has been fascinating. In 2005 he won the European Tour's flagship event, the BMW Championship, and then didn't win again until a major breakthrough victory at the 2007 U.S. Open at Oakmont. At that event, he stood tall to join an exclusive club who have outgunned Tiger Woods on the back nine of a major.
He did so by playing exceptional golf that Sunday, the only player in the top 10 to break par.
The win took him to 17th in the Official World Golf Rankings, but two years later he headed to Augusta National having slipped to 69th in the rankings and priced up as a rank outsider for the event at 150/1.
2009 Masters
At Oakmont in 2007, Cabrera had to fight off Tiger and Jim Furyk. At Augusta in 2009 it was Kenny Perry and Chad Campbell, and it was a Sunday where the Argentine was always on the back foot.
Cabrera trailed Perry by three with six holes to go, and despite two birdies in his next three holes, he was still down by two. On the 16th hole, the man known as 'El Pato' ('The Duck') struck his shot to 15 feet above the hole, while Perry hit the shot of life to kick in range for birdie.
Faced with a do or die putt, Cabrera answered the call.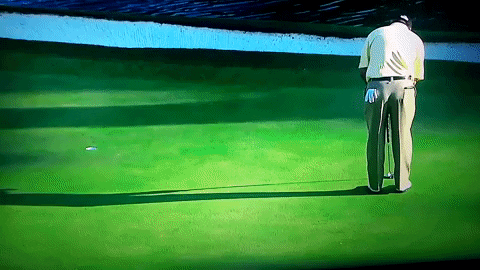 From there, his American adversary felt the anxiety that comes with winning a green jacket. Two closing bogeys let Cabrera in, who poured in a slick 5-footer down the slope on 18 for par to secure his place in the three-man playoff.
On the first playoff hole, disaster struck for El Pato, when he found himself handcuffed in the woods after a wayward drive on the 18th hole.
Faced with needing to get up and down from the fairway to stand a chance of slipping on the green jacket, Cabrera once again answered the call in emphatic style.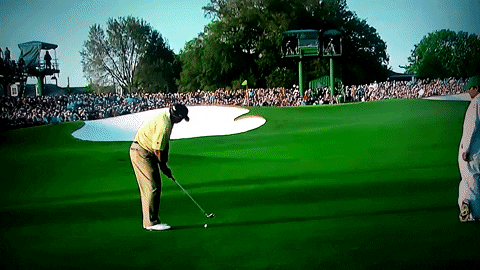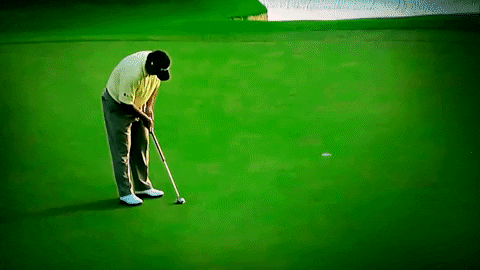 With just Perry remaining to defeat on the second playoff hole on one of the most challenging holes on the course – the 10th -, a stunning 8-iron sealed the deal after Perry hooked his approach to a devilish pin position.
The moment was too big for Kenny Perry. It was made for Cabrera.
Angel Cabrera 2009 Masters WITB
Driver: Ping Rapture (7.5 degrees)
Shaft: Aldila NV Proto
3-wood: Ping Rapture V2 (15.5 degrees)
Irons: Ping G10 (2),  Ping S57 (3-PW)
Wedges: Ping Tour-W 54 degrees, Ping Tour-W TS 60 degrees
Putter: Ping i Series 1/2 Craz-E Belly
2013 Masters
Four years on, Cabrera had done little else of note and arrived at Augusta ranked a lowly 273rd in the world. Like four years prior, Cabrera found himself in the mix, and once again his clutch-gene activated.
Fighting against a trio of Aussies – Scott, Day and Leishman – the man from Cordoba would once again step up in a monumentally big moment.
While Leishman and Day were faltering, on the 16th hole, El Pato saw only opportunity and faced with a lengthy putt underneath the hole, promptly rammed the ball into the back of the cup.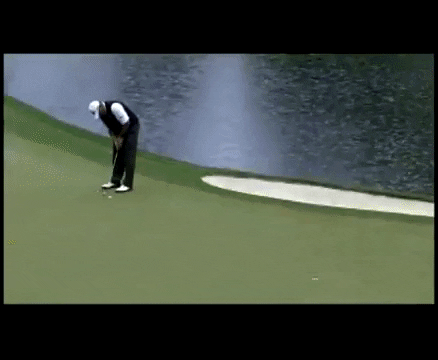 Then on 17, a hole where most players would bite your hand off for a four on a Sunday at the Masters, Cabrera wanted more, playing the hole supremely, and leaving himself a chance for what he felt could be a killer blow.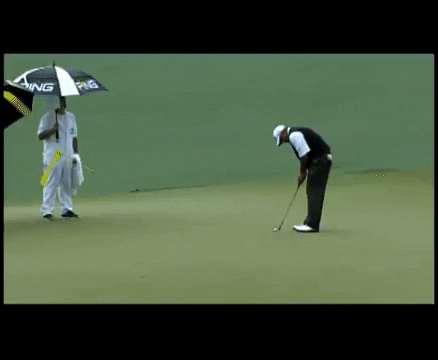 To this day, it still mystifies me how the ball didn't move to the right as it ought to do.
From the fairway on 18, the then 44-year-old watched on as Adam Scott erupted with emotion after burying a birdie which he felt had given him his first major championship.
Like 2009, Cabrera's hand was forced and he needed something special. What he did, was hit one of the best shots ever seen at Augusta National, striping an iron in the pouring rain to a couple of feet.
I asked my friend in Buenos Aires, what was said between Cabrera and his son on the bag, Angel Jr, as the shot was in the air, and this is how it went down:
Cabrera: Vuele! (Go/Fly) 
Angel Jr. Dejala Papi, deja (Leave it daddy, leave it.)
On the first playoff hole, Cabrera scared the hole with a birdie chip, and after trading pars on the hole, he made his way to the familiar tenth hole where his duel with Scott would come to a climax.
Both men hit excellent tee shots and approaches, and both were left with medium length birdie chances from almost identical distances. Cabrera got the nod to play first, and just as on 17, put a pure roll on the ball that looked destined to find the cup, but like on 17 the ball wouldn't go down.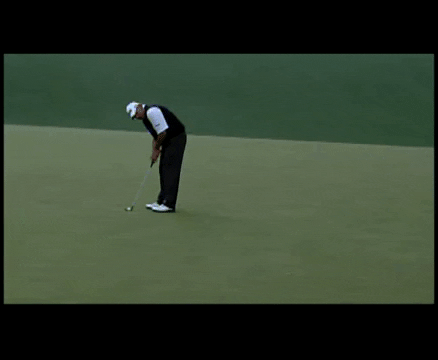 It was to be Scott's time, who poured in his effort for his breakthrough major. 
The Argentine was gracious and honest in defeat. He may not have won the green jacket, but unlike greats who never got their hands on the green jacket, he went down while playing his best golf, hardly missing a shot.
"That's how golf is. I came back and I had that chip on 18, I could have won it. But Adam's a good winner. I would have been happier if I had won but he's a great player."
Angel is that rare breed whose game improves under the most intense of pressure. He is a predator, and one of the best pressure players of his generation. And if there is one player who I'd love to see in contention one last time on a Sunday at Augusta, Angel Cabrera would be at the top of the list.
Angel Cabrera 2013 Masters WITB
Driver: Ping G25 (8.5 degrees)
Shaft: Aldila Tour Green 75 X
3 wood: Ping G25 (15 Degrees)
Shaft: Aldila RIP Alpha 80X
Irons: Ping i20 (3), Ping S56 (4-PW)
Shaft: True Temper Dynamic Gold X100 Tour Issue
Wedges: Ping Gorge Tour 54, 58 and 62 Degrees
Shafts: True Temper Dynamic Gold X100 Tour Issue
Putter: Ping Scottsdale TR Shea H
Ball: Titleist Pro V1x
Your Reaction?
LIKE

47

LEGIT

7

WOW

1

LOL

1

IDHT

0

FLOP

0

OB

0

SHANK

0
Leona Maguire hit with brutal lost ball penalty on LPGA Tour
Leona Maguire suffered a cruel twist of fate at the LPGA Mediheal Championship during her third round after an errant approach led to a wild sequence of events.
On the opening hole, Maguire blocked her approach to the right and into the pine trees. With playing partners Lauren Kim and Danielle Kang, the Irishwoman attempted to spot her ball in the tree, which would have allowed her the ability to take lateral relief or back-on-the-line relief.
Failing to identify the ball would lead to the worst-case scenario of stroke and distance relief option, which looked likely until the ball dropped shortly after 3 minutes with Maguire talking to an official.
Unfortunately, as the ball dropped after 3 minutes, Maguire was forced to indeed take the penal stroke and distance relief penalty, meaning that she was penalized a stroke and had to return and replay the shot.
Speaking on the incident after the round, playing partner Lauren Kim described the 'awful' situation, saying
"Her ball was stuck up in the tree and then it fell down and it was her ball that fell down, and then we were trying to figure out what the timing was, whether it was a lost ball and all that. I just felt just awful. Like Danielle and I were talking about it, and at the end of the day, we felt like it probably was more than three minutes.
But, you know, in those kind of situations, it's just kind of — you just kind of have to say the hard thing to say and kind of move on. But I felt so bad. I was so excited for her because as I was setting up to my putt it fell out of the tree. I was like, that's great, we found the ball, let's move on. And then it turns out it was the timing issue. So, yeah, that was a challenge." 
Maguire would make double bogey on the hole and finish her day with a two-over par round of 74.
Your Reaction?
LIKE

1

LEGIT

0

WOW

1

LOL

0

IDHT

0

FLOP

1

OB

0

SHANK

0
Data shows hybrids far more popular with women at Scandinavian Mixed event
The inaugural Scandinavian Mixed event took place last week, with 78 men and 78 women competing on the same course for one trophy and the same prize money pool.
The event was hosted by Swedish pair Henrik Stenson and Annika Sorenstam, with Jonathan Caldwell coming out on top with two men and one female finishing in the top-3 of the leaderboard.
Courtesy of data shared by Sports Marketing Surveys – the official equipment survey for the European Tour – we got a look at the different approach of the women players in the field, primarily with their implementation of hybrids compared to the men.
Last week, just 16 hybrids were in the men's bags in the field, compared to 81 hybrids in the women's bags. Those numbers equate to 1.04 hybrids in the bag of each lady in the field, with the average number of hybrids in the bag of the males just 0.21.
Instead, the men in the field used far more utility irons, with 53 UIs in play at the tournament from the men (0.68 per player), compared to just 20 (0.26 per player) for the ladies.
When it came to wedges, 286 (3.67 per player) were in play for the men, while 309 (3.96 per player) were in the women's bags.
Your Reaction?
LIKE

1

LEGIT

0

WOW

0

LOL

0

IDHT

0

FLOP

0

OB

0

SHANK

0
Tour pro racks up 10 shot penalty before withdrawing at Palmetto Championship
Looking to make his first cut on the PGA Tour in 5 years, Mark Hensby suffered an early exit at the Palmetto Championship after a ball mix up cost him 10 strokes in penalties.
The 49-year-old was 2-over for his round on Thursday through 8 holes when he noticed something odd about his golf ball. After finding the water on his fourth hole, Hensby took a drop; four holes later, he saw an unfamiliar dot on his Titleist ProV1.
Speaking to PGATour.com, Hensby explained
"I asked my caddie, 'Hey what's this dot on the ball? I've never noticed this before; did they do something with the new pro V1?'. And he didn't know, so I asked my playing partners, and they were like, 'That's a low spin ball.'

Now I don't use this ball, so there was a lot of confusion where it came from – none of my others had the dot – but we knew I had played the wrong ball."
Under Model Local Rule G-4, Hensby was penalized 10 shots in total, 2 strokes for each hole he used the ball.
How did the ball get into his bag? Well, enter Pat Perez, who Hensby accidentally switched balls with while hitting putts on the practice green prior to the round.
"Somehow I picked up one of Pat's balls and he ended up with one of mine. I only found this out because Titleist wanted to get to the bottom of it. I thought they had a wrong ball in the sleeve that I had. If you look at both balls it's hard to know the difference.

It's not like one is black and one is red. They're both black, but one has a small dot on it, and one doesn't. Unfortunately, I didn't notice that. I'm glad he didn't use mine."
Hensby withdrew from the event following his unfortunate opening round saying "I knew my tournament was over."
Your Reaction?
LIKE

0

LEGIT

0

WOW

0

LOL

1

IDHT

1

FLOP

0

OB

0

SHANK

0