Buying new irons? This is the most important fitting parameter
When golfers head into a club fitting, whether it be their first ever experience or part of a yearly tuneup, there is always one common goal—to play better golf and shoot lower scores.
But the question that often comes up is, "How do I shoot lower scores?" and "What should I be looking for in a club fitting?"
We're here to help.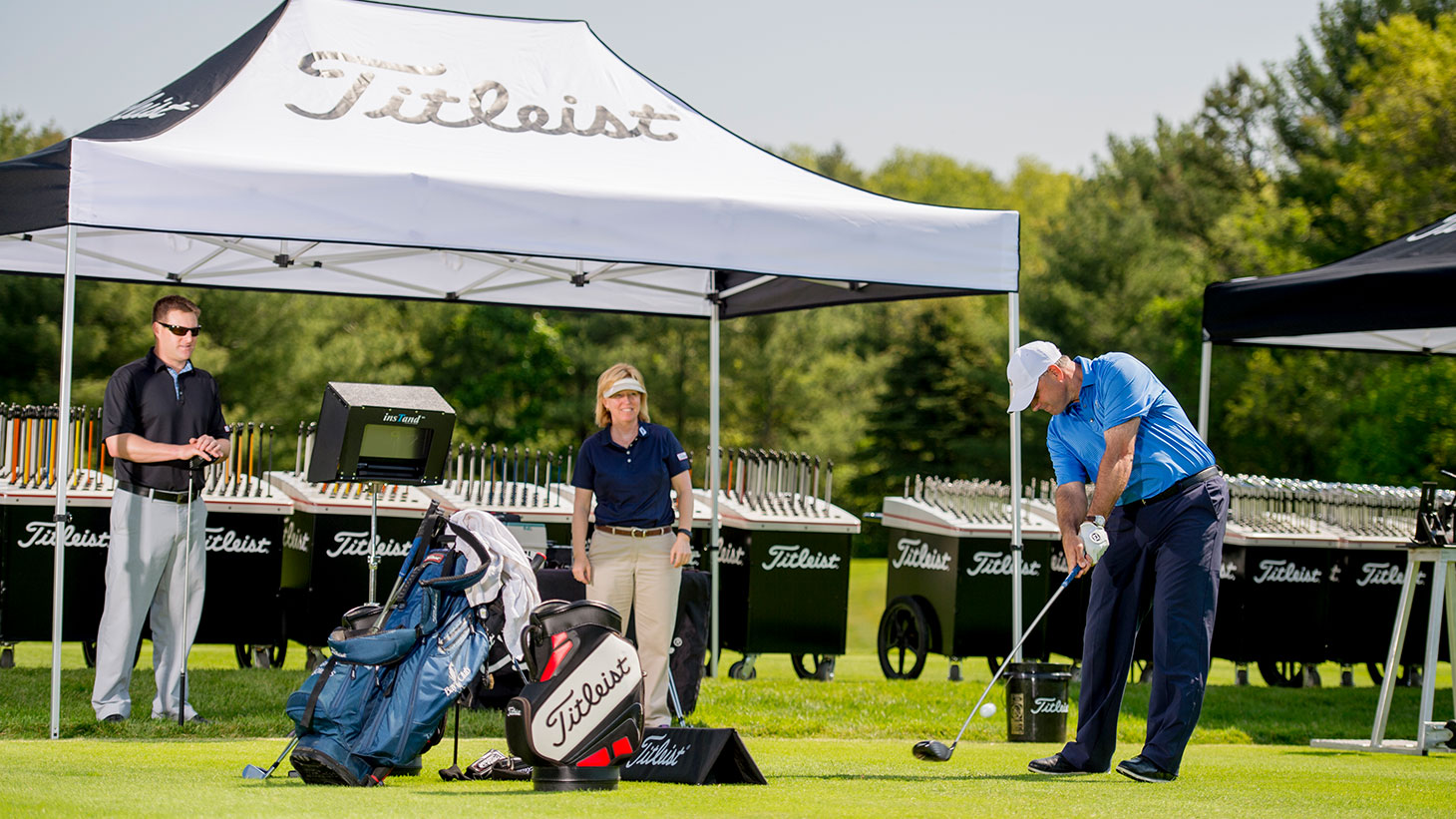 The process
Every fitting should always start with an interview, where the fitter will ask about your game, both strengths and weaknesses—be honest with yourself and the fitter! If you have a trouble club or yardage that your struggle with, speak up. This is your opportunity to work with someone to help you fix any issues with your equipment.
A great fitter will analyze your current game and clubs and will start providing solutions to potential problems you see on the course—maybe it's a shot shape you are trying to eliminate, or in some cases create a tighter dispersion with your current clubs.
For a driver fit, distance is almost always the main objective but when it comes to irons, total distance should not be the main goal—it should be proximity to target with consistent distances. One of the best ways to reduce your proximity to your target is by hitting it higher and stopping it faster. This is why descent angle is one of the most important parameters when getting fit for irons.
Descent angle
Descent angle is also known as land angle. This is the angle at which the golf ball makes contact with the ground, and the steeper it is the quick the ball will stop.
Many golfers struggle to create enough speed to increase launch and spin and the average for many players heading into a fit for the first time can be around 40 degrees while on the PGA Tour the average in 50 degrees with a 6-iron—on the LPGA Tour, it's 46 degrees—that's a big difference in stopping power.
Check out the video below featuring Titleist Master Fitter Glenn Mahler to see how, in a real-world scenario, land angle can help you hit it closer and improve your scores.
Your Reaction?
LIKE

542

LEGIT

68

WOW

21

LOL

23

IDHT

9

FLOP

29

OB

10

SHANK

72
Club Junkie: NEW Cobra 3D-printed putter, Birdie Wrap Tape, and Grooveit Brush!
Cobra has expanded its line of 3D-printed putters and the Agera is a super high MOI mallet. With added tungsten weights and a SIK face insert, the Agera is one of the most forgiving putters I have tried. The 3D-printing latticework is absolutely a work of art and will have you staring at it for hours.
Birdie Wrap is a tape designed for golfers to help with blisters, cuts, and hot spots on their hands. It is very sticky to stay in place without having to fidget with it all round and flexible enough that you don't notice it is on.
The Grooveit club brush contains a water reservoir that keeps your clubs clean without a wet towel. The brush is really well made and hasn't leaked a drop of water in my car or on my bag.
Your Reaction?
LIKE

1

LEGIT

1

WOW

1

LOL

0

IDHT

0

FLOP

0

OB

0

SHANK

1
The Wedge Guy: Thinking about gimmees
Do you always hole out every putt? I mean even the shortest ones, under a foot? Should you?
Or do you play the way the vast majority of recreational golfers do . . . and "give" your buddies putts deemed "sure thing". I've seen groups that give nothing, and others that are overly generous, knocking back 3- and 4-footers. Whatever floats your boat is fine, but let me offer another idea for you to consider.
In his wonderful book about the short game and scoring – "Getting Up and Down" – Tom Watson wrote that he always finishes the hole by hearing the ball drop, as anything less seems like unfinished business. He explains that his dad started him in golf on the putting green and told him to make the ball go in the hole. And to this day, that this part of each hole has always been his favorite.
How many of us think that way? Not too many, I would guess.
That, of course, gets you thinking about how much longer it would really take if you just finished each hole by tapping in. Hearing the ball drop. Really finishing each hole you started. It would certainly eliminate any discussion or disagreement of just what length putt warrants a knock-back and "That's good" from you or your golf buddies, wouldn't it?
And what is a "gimmee" anyway? You've seen it many times, a golfer puts his putter head into the hole to measure whether a putt is a "good" or not. If the ball lies in between the hole and the bottom of the grip, that's generally considered "good", right? But there really isn't any law to define it.
And does guy with the long/belly putter get more freebies than the player with a 32" putter? Or a golfer using one of these extended long putter grips?
Wouldn't it be easier if we all just holed out?
A bit of research into the notion of a "gimmee" reveals that "in the leather" originally meant inside the length of the grip on the putter, not the distance from the putter head to the bottom of the grip. That would make "gimmees" something under a foot in length, which might not be too bad.
But I'm going to take a fresh new approach and begin to hole out everything, even if just a few inches . . . and even if I'm out by myself practice/playing. I'm guessing this is going to bring a new feeling of completion to each hole in the round. And to each round itself.
What do you guys think?
Your Reaction?
LIKE

50

LEGIT

14

WOW

0

LOL

8

IDHT

1

FLOP

6

OB

1

SHANK

19
Golf's Perfect Imperfections: The side of golf that no one talks about, special guest Dr. Karl Morris
In this episode, we establish how to feel gratitude when things aren't going your way. And how to accept what you have today, so you can be the best version of yourself.
Your Reaction?
LIKE

0

LEGIT

1

WOW

1

LOL

0

IDHT

0

FLOP

0

OB

0

SHANK

0