Buying new irons? This is the most important fitting parameter
When golfers head into a club fitting, whether it be their first ever experience or part of a yearly tuneup, there is always one common goal—to play better golf and shoot lower scores.
But the question that often comes up is, "How do I shoot lower scores?" and "What should I be looking for in a club fitting?"
We're here to help.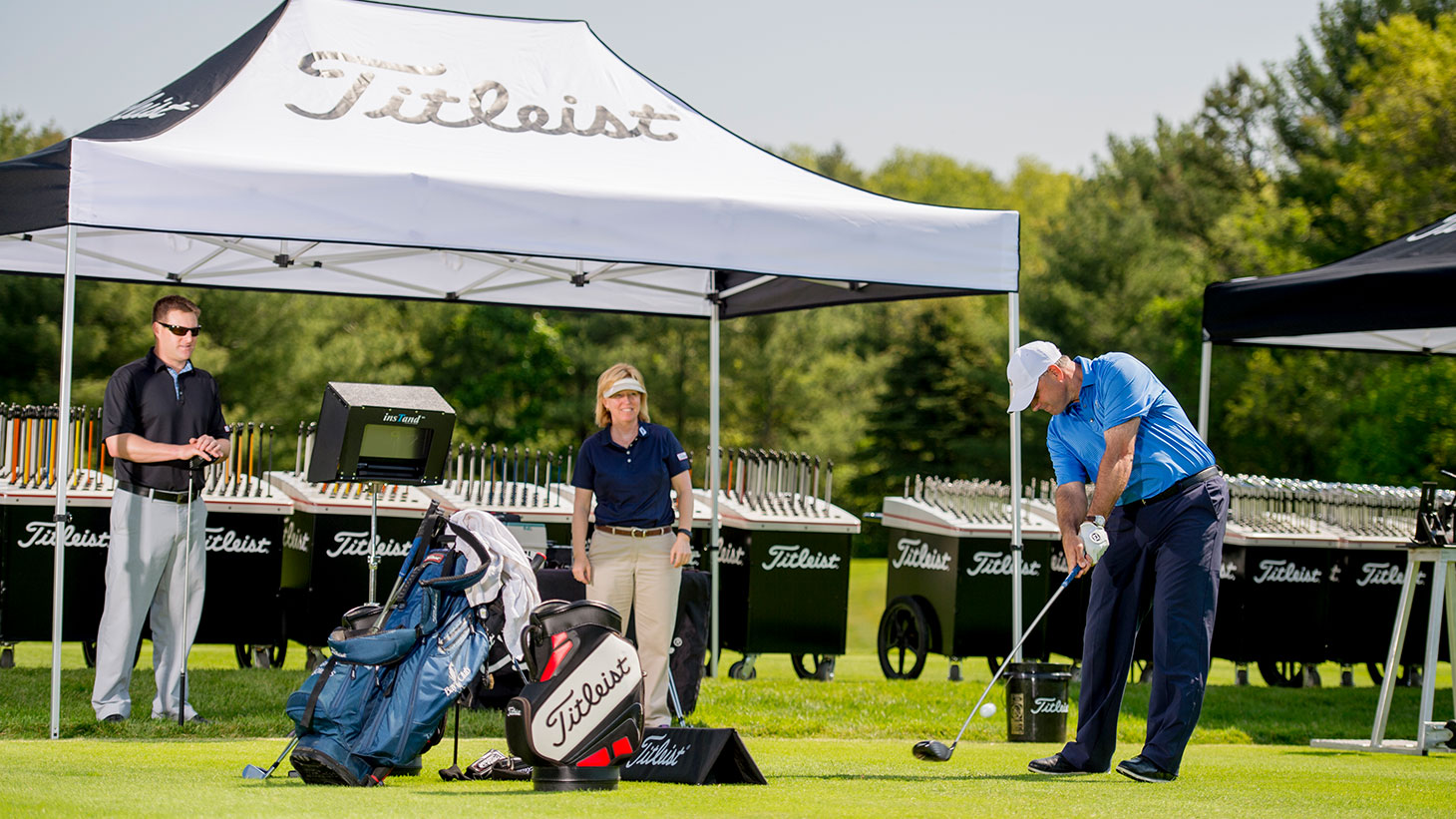 The process
Every fitting should always start with an interview, where the fitter will ask about your game, both strengths and weaknesses—be honest with yourself and the fitter! If you have a trouble club or yardage that your struggle with, speak up. This is your opportunity to work with someone to help you fix any issues with your equipment.
A great fitter will analyze your current game and clubs and will start providing solutions to potential problems you see on the course—maybe it's a shot shape you are trying to eliminate, or in some cases create a tighter dispersion with your current clubs.
For a driver fit, distance is almost always the main objective but when it comes to irons, total distance should not be the main goal—it should be proximity to target with consistent distances. One of the best ways to reduce your proximity to your target is by hitting it higher and stopping it faster. This is why descent angle is one of the most important parameters when getting fit for irons.
Descent angle
Descent angle is also known as land angle. This is the angle at which the golf ball makes contact with the ground, and the steeper it is the quick the ball will stop.
Many golfers struggle to create enough speed to increase launch and spin and the average for many players heading into a fit for the first time can be around 40 degrees while on the PGA Tour the average in 50 degrees with a 6-iron—on the LPGA Tour, it's 46 degrees—that's a big difference in stopping power.
Check out the video below featuring Titleist Master Fitter Glenn Mahler to see how, in a real-world scenario, land angle can help you hit it closer and improve your scores.
Your Reaction?
LIKE

535

LEGIT

68

WOW

21

LOL

23

IDHT

9

FLOP

29

OB

10

SHANK

70
On Spec: The best gear of 2020 with guest Johnny Wunder
After a very interesting year in the golf equipment world, host Ryan Barath welcomes fellow GolfWRX writer and podcaster Johnny Wunder—of The Gear Dive—to chat about everything we saw in 2020 and what could be next.
Your Reaction?
LIKE

1

LEGIT

0

WOW

0

LOL

0

IDHT

0

FLOP

0

OB

0

SHANK

0
Flatstick Focus: Interview with the Moose
In Episode 28, we chat with leftymoose, a very diverse putter collector from Canada. He has close to 50 putters from several manufacturers and helps shed some great insight into the collecting world.
Your Reaction?
LIKE

3

LEGIT

0

WOW

0

LOL

0

IDHT

0

FLOP

0

OB

0

SHANK

0
What makes a golf ball curve? (GolfWRX explains)
At some point, every golfer has asked the question "Why did that shot slice? Why did that shot hook? How did that shot go straight?"
The simple answer is physics, but the actual reason is a little bit more complicated and has to do with the relationship the golf ball has with the golf club as it approaches contact, but that's why we're here to explain why your golf ball travels where it does.
It's all about spin axis – AKA "sidespin"
Side spin is the commonly used, but incorrect way to describe the spin axis of a golf ball as it travels through the air. Rather than try and define it myself, I will refer to the experts at Trackman to help me explain what's really going on.
"Spin Axis is the tilt angle relative to the horizon of the golf ball's resulting rotational axis immediately after separation from the club face (post impact)."

"The spin axis can be associated to the wings of an airplane. If the wings of an airplane are parallel to the ground, this would represent a zero spin axis and the plane would fly straight. If the wings were banked/tilted to the left (right wing higher than left wing), this would represent a negative spin axis and the plane would bank/curve to the left. And the opposite holds true if the wings are banked/tilted to the right."

Unlike a plane in the example used by our friends at Trackman, a golf ball has no propulsion system, and all the force that causes it to move comes from the golf club. Depending on how the club makes contact with the ball will result in how the ball will fly. It's no different than how a tennis or ping-pong ball travels through the air after it is struck with a racket or paddle – a golf club is just a "paddle" with a much longer handle length.
Why does a golfball curve right and left?
There are 2 main factors of the impact that influence how a golfball will curve;
The direction the clubface is aimed relative to the target line at impact
– Face Angle
The direction the club is moving at the moment of impact
– Club Path
Face-to-path – How to hit a draw
So now that we have a better understanding of why the golf ball curves in one direction or the other, the video below from TrackMan and Martin Chuck does a great job explaining the relationship of face to path, and how to hit a draw.
How to hit a straight golf shot
Being able to hit a straight shot is one of the most difficult things to do in the game of golf. The reason professionals don't intentionally hit straight shots very often is that when it's not executed properly it can create a shot that misses both right and left and if there is one thing professionals and low handicap players like to see is a golf ball that misses in one direction.
Face Strike Point
Beyond the relationship between the clubface and path, hollow golf clubs also have another factor at play, and that is the bulge and roll – curvature of the face from top to bottom and side to side. This curvature combined with the gear effect of hitting a shot outside the sweet spot results in the club imparting a higher measured spin axis and as a result the ball curves even more.
Check out this video below by TXG demonstrating how strike location on a driver has an effect on how the golf ball curves.
Your Reaction?
LIKE

68

LEGIT

9

WOW

3

LOL

1

IDHT

1

FLOP

1

OB

1

SHANK

10