Buying new irons? This is the most important fitting parameter
When golfers head into a club fitting, whether it be their first ever experience or part of a yearly tuneup, there is always one common goal—to play better golf and shoot lower scores.
But the question that often comes up is, "How do I shoot lower scores?" and "What should I be looking for in a club fitting?"
We're here to help.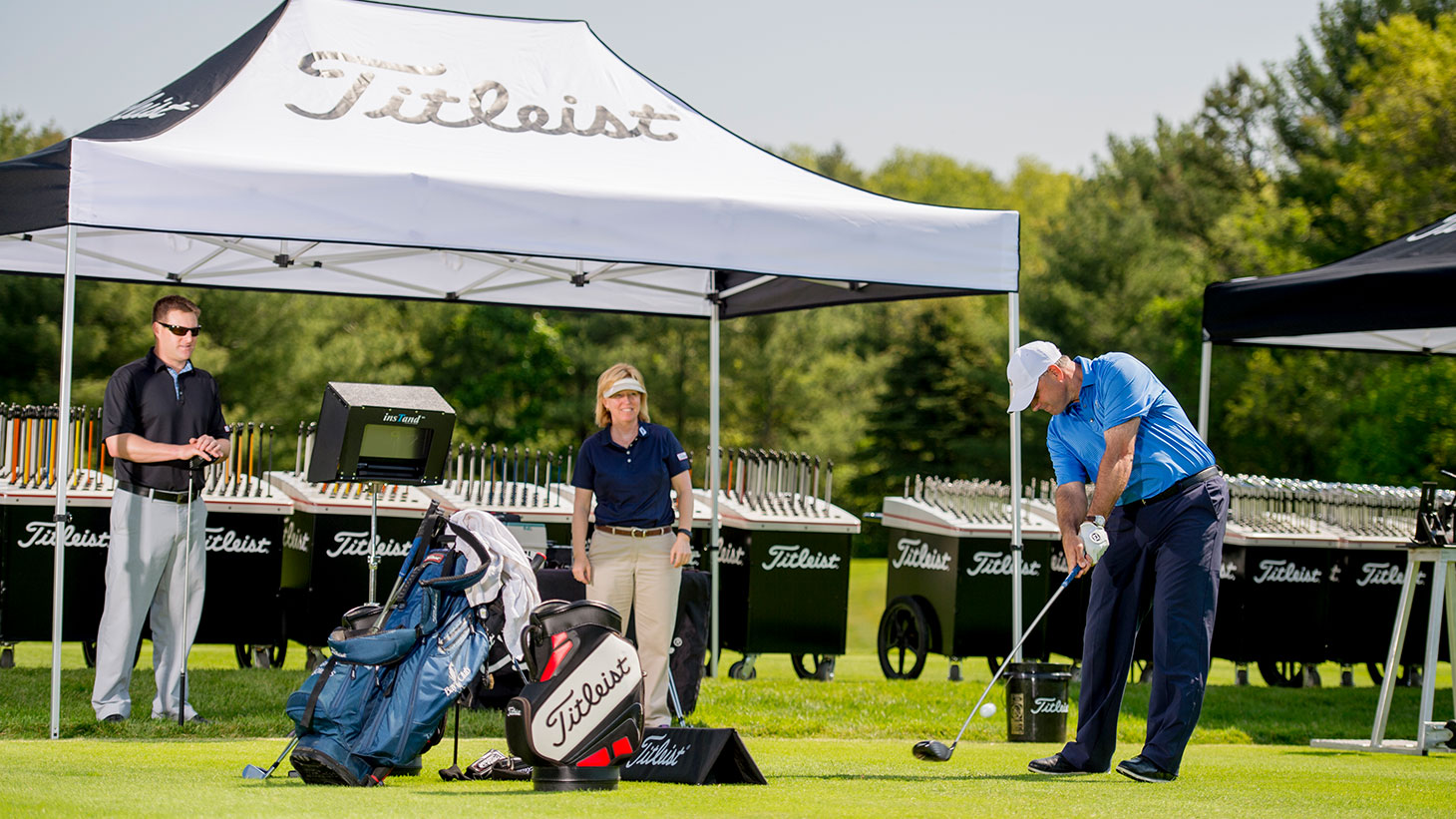 The process
Every fitting should always start with an interview, where the fitter will ask about your game, both strengths and weaknesses—be honest with yourself and the fitter! If you have a trouble club or yardage that your struggle with, speak up. This is your opportunity to work with someone to help you fix any issues with your equipment.
A great fitter will analyze your current game and clubs and will start providing solutions to potential problems you see on the course—maybe it's a shot shape you are trying to eliminate, or in some cases create a tighter dispersion with your current clubs.
For a driver fit, distance is almost always the main objective but when it comes to irons, total distance should not be the main goal—it should be proximity to target with consistent distances. One of the best ways to reduce your proximity to your target is by hitting it higher and stopping it faster. This is why descent angle is one of the most important parameters when getting fit for irons.
Descent angle
Descent angle is also known as land angle. This is the angle at which the golf ball makes contact with the ground, and the steeper it is the quick the ball will stop.
Many golfers struggle to create enough speed to increase launch and spin and the average for many players heading into a fit for the first time can be around 40 degrees while on the PGA Tour the average in 50 degrees with a 6-iron—on the LPGA Tour, it's 46 degrees—that's a big difference in stopping power.
Check out the video below featuring Titleist Master Fitter Glenn Mahler to see how, in a real-world scenario, land angle can help you hit it closer and improve your scores.
Your Reaction?
LIKE

542

LEGIT

68

WOW

21

LOL

23

IDHT

9

FLOP

29

OB

10

SHANK

72
Club Junkie: Reviewing TaylorMade's P770 Irons and SuperStroke's Wrist Lock Putter Grip!
Finally, I have had a full set of TaylorMade P770 irons out on the course for the last few weeks. The P770 takes a bunch of DNA from the larger P790 and packs it into a smaller size. Don't be fooled, the smaller size still gives you a bunch of distance and forgiveness! SuperStroke's Wrist Lock putter grip is designed to help add stability and consistency to your putting stroke. It really does give you the feeling that the putter is locked into your stroke and won't go anywhere.
Your Reaction?
LIKE

0

LEGIT

0

WOW

0

LOL

0

IDHT

0

FLOP

0

OB

0

SHANK

0
The Wedge Guy: My thoughts on single-length irons
One of the bigger stories in golf equipment the past few years – thanks to Mr. De Chambeau – is the development of single-length irons. So, are they right for you or not? That's a question only a fair trial can answer, but let me offer some thoughts on how your set make-up might look if you do take that direction.
First of all, the concept is not about single-length clubs — the conversation is about single-length irons. No one is playing a driver or fairway woods at the same length as their irons. Probably not even the hybrids. The putter is typically not either. So, the question is where in the set does the "single-length" begin and end?
I've long espoused the concept that your set of clubs (excluding the very specialized putter) should be divided into three sub-sets: Distance Clubs, Positioning Clubs, and Scoring Clubs. And generally speaking, these subsets each cover a specific range of lofts.
The Distance Clubs are those up to 20-25 degrees or so. This subset begins with your driver and encompasses your fairway woods and maybe your lowest loft hybrid or two. Your goal with these clubs is to move the ball "on out there" and put you in a place for your "positioning shot."
The Positioning Clubs then begin after that highest loft Distance Club and take you up to 38 to 40 degrees of loft. Generally speaking, this subset would begin with your 3 or 4-iron or hybrid and go up to through your 7- or 8-iron. The goal with these clubs is to set up a reasonable putt or chip so you can get down in no more than 2-3 shots. My opinion is that it is only within this subset that "single-length" might serve you.
The Scoring Clubs – those over 38-40 degrees of loft — are the ones with which your scores will likely be determined. Long ago, I wrote several posts about the "round club mindset" when 8-irons had a more curved topline than the seven – a distinctly different look, and those 8-irons were 38 to 40 degrees. These are the clubs designed for putting the ball close enough for a makeable putt, hopefully, more often than not.
So, most conversations about single-length irons should be limited to that subset of "Positioning Clubs," from your longest iron through that iron of 38-40 degrees. While many golfers may not see the distance separation between clubs that you would ideally like to have in that subset, others might. I've long observed that the distance a club can be hit is a combination of loft AND club shaft length. I just don't see how you can get the range of distances from the longest to shortest in the set by changing loft only. I have tried several of these sets and just do not experience the distance differentials I want from that subset in my bag.
But I can certainly assure you that you simply cannot be as accurate with wedges that are 37 or 38 inches in length as you can with those clubs being 35 to 36 inches. It's simple golf club physics. With very few exceptions, the shorter the club, the narrower your distance dispersion is going to be.
Consider that a "wide" shot with a 45-inch driver might be 30-40 yards off-line, while even the worst "wide" shot with your 35-and-three-quarter-inch pitching wedge is not likely to be more than 15 yards offline. In between, your lateral dispersion is progressively narrower as the shaft length is reduced.
So, I just cannot see why anyone would want to make their wedges the same length as their 5- or 6-iron, 37.5 to 38 inches, and give up the naturally more accurate dispersion that the shorter shaft delivers.
I am looking forward to hearing from those of you who have tried single-length irons and longer wedges to share your experiences.
Your Reaction?
LIKE

92

LEGIT

16

WOW

5

LOL

4

IDHT

4

FLOP

6

OB

3

SHANK

34
Golf's Perfect Imperfections: Sharing some time with one of the best PGA Professionals in America
Meet Jimmy Stewart. From his early childhood junior days in Singapore and Thailand, to golf course and driving range operator in California. We talk Turkey, where the game was, where it is and to where it's going.
Your Reaction?
LIKE

0

LEGIT

1

WOW

0

LOL

0

IDHT

0

FLOP

0

OB

0

SHANK

0