Buying new irons? This is the most important fitting parameter
When golfers head into a club fitting, whether it be their first ever experience or part of a yearly tuneup, there is always one common goal—to play better golf and shoot lower scores.
But the question that often comes up is, "How do I shoot lower scores?" and "What should I be looking for in a club fitting?"
We're here to help.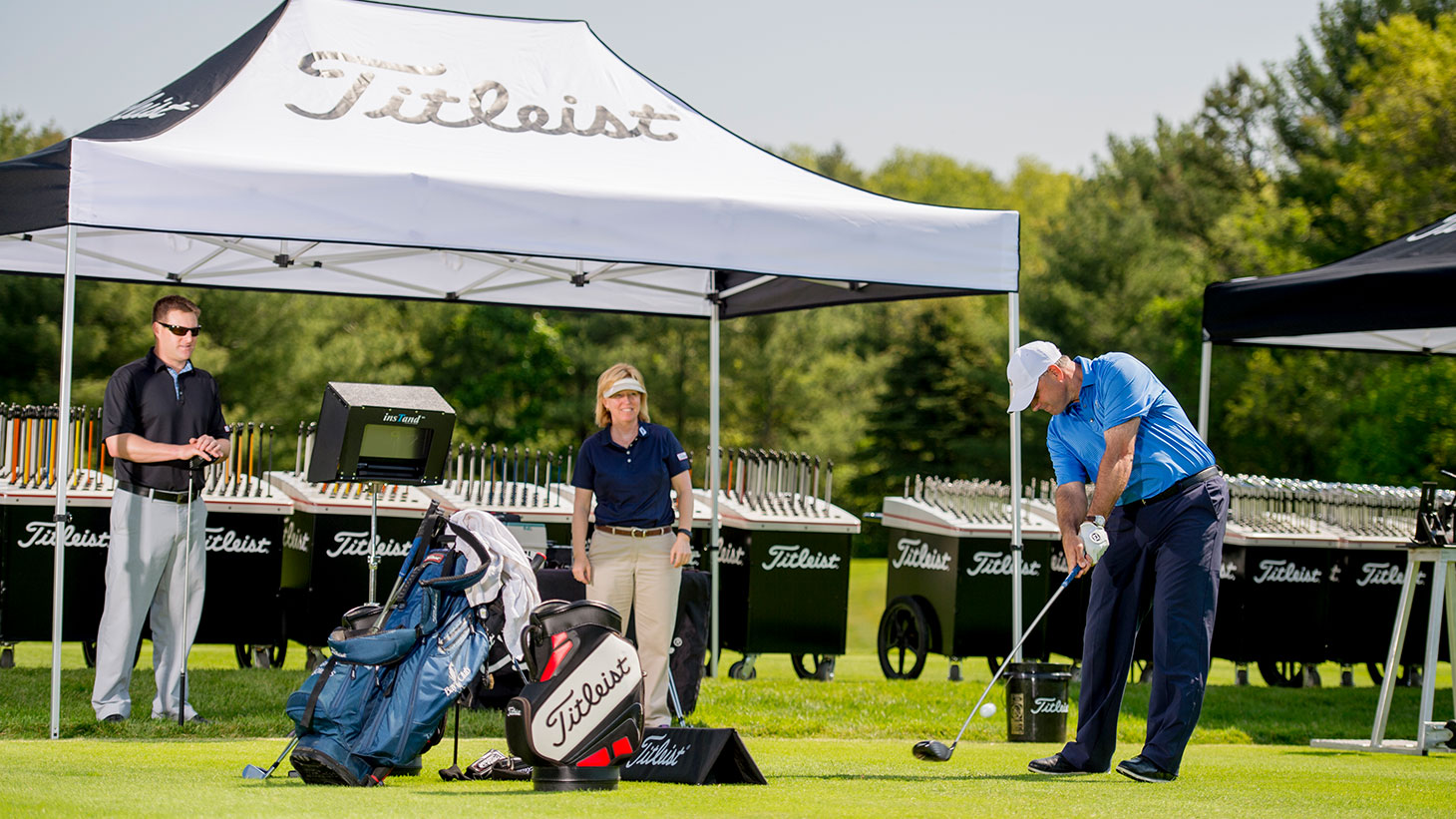 The process
Every fitting should always start with an interview, where the fitter will ask about your game, both strengths and weaknesses—be honest with yourself and the fitter! If you have a trouble club or yardage that your struggle with, speak up. This is your opportunity to work with someone to help you fix any issues with your equipment.
A great fitter will analyze your current game and clubs and will start providing solutions to potential problems you see on the course—maybe it's a shot shape you are trying to eliminate, or in some cases create a tighter dispersion with your current clubs.
For a driver fit, distance is almost always the main objective but when it comes to irons, total distance should not be the main goal—it should be proximity to target with consistent distances. One of the best ways to reduce your proximity to your target is by hitting it higher and stopping it faster. This is why descent angle is one of the most important parameters when getting fit for irons.
Descent angle
Descent angle is also known as land angle. This is the angle at which the golf ball makes contact with the ground, and the steeper it is the quick the ball will stop.
Many golfers struggle to create enough speed to increase launch and spin and the average for many players heading into a fit for the first time can be around 40 degrees while on the PGA Tour the average in 50 degrees with a 6-iron—on the LPGA Tour, it's 46 degrees—that's a big difference in stopping power.
Check out the video below featuring Titleist Master Fitter Glenn Mahler to see how, in a real-world scenario, land angle can help you hit it closer and improve your scores.
Your Reaction?
LIKE

535

LEGIT

68

WOW

21

LOL

23

IDHT

9

FLOP

29

OB

10

SHANK

70
TG2: Reviewing the first major OEM (Cobra) 3D-printed putter!
The first major OEM with a 3D printed putter is Cobra Golf! I took the new Limited Edition King Supersport-35 putter out on the course and found it to be a great performer. Cobra partnered with HP and SIK Putters to create a 3D printed body mated to an aluminum face that features SIK's Descending Loft technology.
Your Reaction?
LIKE

0

LEGIT

0

WOW

0

LOL

0

IDHT

0

FLOP

0

OB

0

SHANK

0
You went to play, now you want to stay: Homes near Cabot Links & Cliffs
At some point, we've all had that moment during a vacation where we look around and think to ourselves, "Instead of visiting, why don't we just move here?" It always sounds a little crazy in the moment, but really, what's stopping you?
Like many, I have done this myself, and it leads me down a rabbit hole of golf destination real estate to places all over North America where you get world-class golf minutes from home.
So whether you're a big spender or looking to downsize and find a cozy hideaway, these homes near Cabot Links & Cliffs have it all.
Homes near Cabot Links & Cliffs
Inverness, Nova Scotia
Steps away
Location, location, location!
This is currently the most expensive house in Inverness NS, and for good reason. It's steps away from Cabot Links and overlooks the resort. It's over 2,600 square feet of beautiful open concept living, and with a local address, you get a discount on tee times at the course, although with its growing popularity, you aren't guaranteed times like if you stay on the actual property.
Who wouldn't want to wake up to this view every day? Listing: 12 Mine Road – Realtor
Just up the road
If the first one seems a bit crazy, this next one might be right up your alley.
This 4,000 square foot home, is only minutes from Cabot Link and Cliffs and has amazing views that overlook the Gulf of St. Lawrence. It has everything you could want including a large chef's kitchen and enough room to host friends and family.
Listing: 30 Broad Cove Road – Realtor
Just you and the ocean
If you like golf but want a little more separation from the Cabot golf resort, less than 20 miles down the road is Port Hood, another quiet seaside town filled with quaint shops and endless views of the ocean.
You can wake up every morning to the sounds of the ocean and the smell of sea air, and when you want to play golf at a top 50 course in the world, you just need to make a relaxing drive along the water to get there—heck, if you are so inclined, and happen to have a boat, you can go almost door to door that way too!
Listing: 6 Bayberry Road – Realtor
Your Reaction?
LIKE

10

LEGIT

0

WOW

0

LOL

0

IDHT

0

FLOP

1

OB

1

SHANK

4
Golf's Perfect Imperfections: Kinetic chain engagement in your chipping: The Base of all Swings
Golf instruction went from, 'stable-don't move your legs' to 'it's okay to move your hips in the backswing' because golf is not worth getting hurt over; to what, are you kidding me, we should have just allowed the legs to be used in the first place like they are supposed to. Just watch Ben Hogan hitting a pitch shot full body with no restrictions tells you that we are right.
Your Reaction?
LIKE

0

LEGIT

0

WOW

0

LOL

0

IDHT

0

FLOP

0

OB

0

SHANK

3