Buying new irons? This is the most important fitting parameter
When golfers head into a club fitting, whether it be their first ever experience or part of a yearly tuneup, there is always one common goal—to play better golf and shoot lower scores.
But the question that often comes up is, "How do I shoot lower scores?" and "What should I be looking for in a club fitting?"
We're here to help.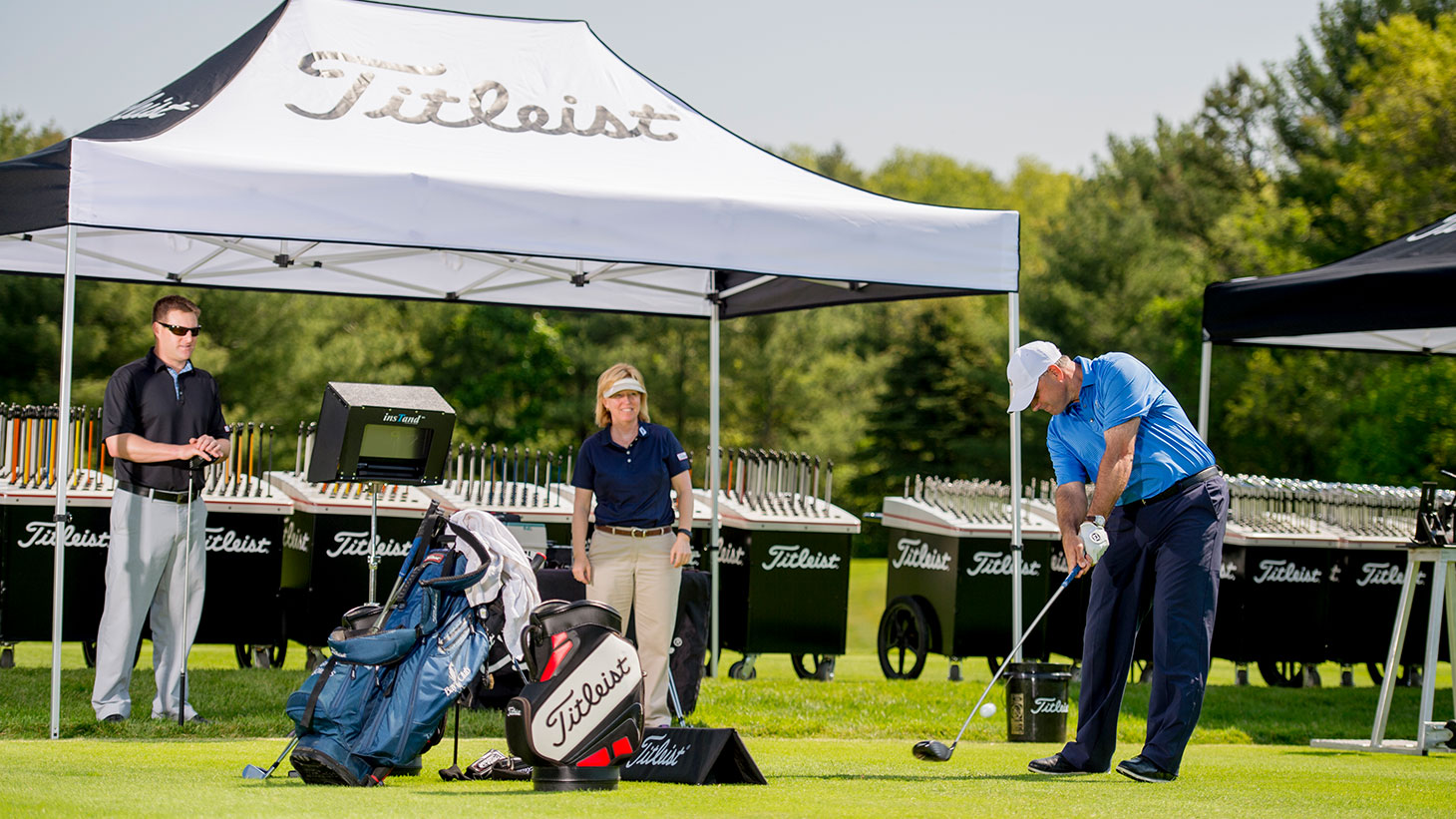 The process
Every fitting should always start with an interview, where the fitter will ask about your game, both strengths and weaknesses—be honest with yourself and the fitter! If you have a trouble club or yardage that your struggle with, speak up. This is your opportunity to work with someone to help you fix any issues with your equipment.
A great fitter will analyze your current game and clubs and will start providing solutions to potential problems you see on the course—maybe it's a shot shape you are trying to eliminate, or in some cases create a tighter dispersion with your current clubs.
For a driver fit, distance is almost always the main objective but when it comes to irons, total distance should not be the main goal—it should be proximity to target with consistent distances. One of the best ways to reduce your proximity to your target is by hitting it higher and stopping it faster. This is why descent angle is one of the most important parameters when getting fit for irons.
Descent angle
Descent angle is also known as land angle. This is the angle at which the golf ball makes contact with the ground, and the steeper it is the quick the ball will stop.
Many golfers struggle to create enough speed to increase launch and spin and the average for many players heading into a fit for the first time can be around 40 degrees while on the PGA Tour the average in 50 degrees with a 6-iron—on the LPGA Tour, it's 46 degrees—that's a big difference in stopping power.
Check out the video below featuring Titleist Master Fitter Glenn Mahler to see how, in a real-world scenario, land angle can help you hit it closer and improve your scores.
Your Reaction?
LIKE

542

LEGIT

68

WOW

21

LOL

23

IDHT

9

FLOP

29

OB

10

SHANK

72
Club Junkie: Reviewing KBS PGI iron shafts and an updated what's in the bag!
The PGI graphite iron shaft is new from KBS and it is a great playable option for any player. The PGI comes in multiple weights and launches mid/high for soft landing shots into the green. Easy to square up and hit straight, even in the heavier weights. Finally, it is time for an updated WITB since a few things have changed over the summer.
Your Reaction?
LIKE

1

LEGIT

0

WOW

0

LOL

0

IDHT

1

FLOP

0

OB

0

SHANK

0
The Wedge Guy: Lessons from the round of a lifetime
To all of us "senior golfers," the notion of shooting our age is one that carries great appeal. It answers the burning question:
"Can I keep my skills sharp enough to withstand the hands of time?"
Earlier this year, I had made the proclamation to my golf buddies that my goal was to shoot my age before I turned 70 next March. That meant I needed to work on my game a little more, given that I had let my handicap slip up to 5 at the time. Over the past few months, I've brought that down to 2.5. My ball-striking has been solid, but have struggled with the greens at my new club since moving to a great little coastal town of Rockport, Texas. And I lose my mental focus too many times in each round.
So, I hope you don't mind me sharing with you this week that Sunday was the most glorious round of golf I've played since my 20s. Not only did I shoot my age, but I shattered that goal with a six-birdie, no-bogey 65 – a round of golf that was remarkably "easy" as I experienced it and as I look back on it.
And of course, being the analytical type that I am, I have spent time reflecting on just what happened to allow me to shoot the lowest score I've carded in over 40 years. I believe I have come to understand what caused the "magic" and want to share that with you this week. Maybe these tips can help some of you to a career round soon.
One of my favorite movie lines comes from Mel Gibson in The Patriot, when he tells his young sons "aim small, miss small." Because I had a guest who hadn't played this course before, I was giving him very specific target lines off the tee. Instead of "the left side of the fairway," I was pointing out "those two trees that make a 'y,'" "that child's playset in the back yard straight away." And that made me focus on smaller targets, too. Sometimes, we can forget those things we know. Aim small, miss small.
A new flatstick. Well, new to me anyway. I had not been putting very well, so I went to the bullpen and drew out one of my personal favorite putter designs. It's a little Bullseye-inspired brass blade with some technology weighting; I designed it in the early 1990s for Ben Hogan, who marketed it as the Sure-In 1. The point is, sometimes a fresh look gives your putting new life.
Stay in the moment. With every shot, I found myself more focused because of the guidance I was giving my friend, and that allowed me to stay more focused on each shot's execution. I don't recall any shot where my mind wandered.
"See it. Feel it. Trust it." Another line from a great golf book and movie, Golf's Sacred Journey – Seven Days in Utopia. Robert Duvall's Johnny character extolls our hero to do just that with every shot. And that's what I was doing. Seeing the shot, feeling that I've hit it many times before, and trusting that I could do it again.
Thank you all for indulging me in telling my story of shooting my age. I'm sure this isn't my "new normal," but it was certainly lightning in a bottle for an afternoon. And as we all should from every good shot or good hole, or good round, I'm going to carry that feeling with me the best I can for as long as I can.
Your Reaction?
LIKE

79

LEGIT

8

WOW

6

LOL

0

IDHT

0

FLOP

1

OB

0

SHANK

5
Golf's Perfect Imperfections: A new way to line up your driver for center ball contact
Fine-tune your driver and tighten up your impact and your dispersion with these awesome references.
Your Reaction?
LIKE

0

LEGIT

0

WOW

0

LOL

1

IDHT

0

FLOP

0

OB

1

SHANK

1