Buying new irons? This is the most important fitting parameter
When golfers head into a club fitting, whether it be their first ever experience or part of a yearly tuneup, there is always one common goal—to play better golf and shoot lower scores.
But the question that often comes up is, "How do I shoot lower scores?" and "What should I be looking for in a club fitting?"
We're here to help.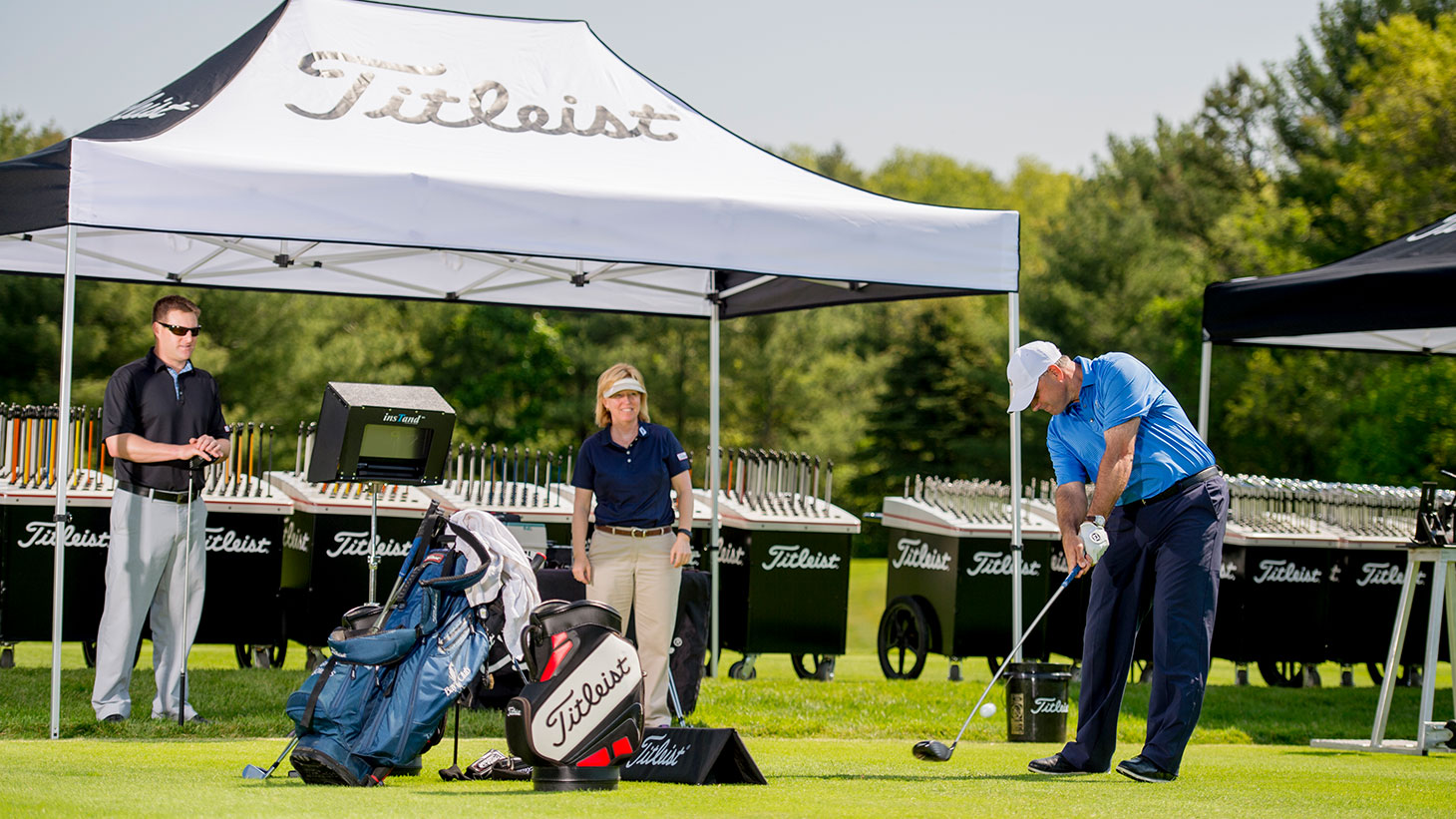 The process
Every fitting should always start with an interview, where the fitter will ask about your game, both strengths and weaknesses—be honest with yourself and the fitter! If you have a trouble club or yardage that your struggle with, speak up. This is your opportunity to work with someone to help you fix any issues with your equipment.
A great fitter will analyze your current game and clubs and will start providing solutions to potential problems you see on the course—maybe it's a shot shape you are trying to eliminate, or in some cases create a tighter dispersion with your current clubs.
For a driver fit, distance is almost always the main objective but when it comes to irons, total distance should not be the main goal—it should be proximity to target with consistent distances. One of the best ways to reduce your proximity to your target is by hitting it higher and stopping it faster. This is why descent angle is one of the most important parameters when getting fit for irons.
Descent angle
Descent angle is also known as land angle. This is the angle at which the golf ball makes contact with the ground, and the steeper it is the quick the ball will stop.
Many golfers struggle to create enough speed to increase launch and spin and the average for many players heading into a fit for the first time can be around 40 degrees while on the PGA Tour the average in 50 degrees with a 6-iron—on the LPGA Tour, it's 46 degrees—that's a big difference in stopping power.
Check out the video below featuring Titleist Master Fitter Glenn Mahler to see how, in a real-world scenario, land angle can help you hit it closer and improve your scores.
Your Reaction?
LIKE

533

LEGIT

68

WOW

21

LOL

23

IDHT

8

FLOP

29

OB

10

SHANK

70
The Gear Dive: Aaron Dill is back!!!
In this episode of TGD brought to you by Titleist, Johnny has a dear friend and master wedge human Aaron Dill to chat about Cantlay, The Masters, and his new TSi3.
Your Reaction?
LIKE

6

LEGIT

0

WOW

0

LOL

0

IDHT

0

FLOP

0

OB

0

SHANK

0
TG2: Testing the NEW Cobra King Tour irons and the Ben Hogan GS53 MAX driver
Cobra's new King Tour irons with MIM technology are built for better players looking to hit precision shots. The feel is very soft and responsive while the smaller profile lets you easily hit any shot in the book. Ben Hogan has released their most forgiving driver, the GS53 MAX and it is easy to hit. Designed with a ton of tech, this driver is long and helps reduce that slice!
Your Reaction?
LIKE

5

LEGIT

0

WOW

0

LOL

0

IDHT

0

FLOP

0

OB

0

SHANK

2
The Wedge Guy: Equipment tidbits for you to think about
One of the most fun things about being a golfer is that we all want to get better–hit drives longer and straighter, iron shots that find greens more often, pitches and chips that get closer, and putts that go in more often. And we all seem to take great pleasure in finding that next "missing link" in our bags that will help us achieve one of those goals.
Today I want to share some thoughts about how little things can often mean a lot when it comes to tweaking your equipment. On the surface, a golf club seems to be a pretty simple thing—a piece of metal, at the end of a tubular piece of metal or graphite, with a rubber-like handle at the end. But when that golf club is put into motion at 100 mph or so, a lot of dynamics begin to happen.
As we ponder the dynamics of the complex action of swinging a golf club and the broad set of mechanics that come into play on every shot, I thought I'd share some random observations I've made over the years about equipment cause and effect:
Increasing your driving distance: The industry has taken us on this dramatic quest for distance and power, and the average driver sold today is over 45" long. That's two inches longer than the standard of 25 years ago. And while the humongous driver heads brag about "forgiveness", the fact is that your longest drives (and straightest) will always come from dead center hits. It's still a fact that a sweet spot miss of just ½" will cost you 7-9% distance loss, and a miss of 3/4" will increase that to 12-15%. I suggest you try gripping down on your driver an inch or more the next time you play and see if you don't hit the ball closer to the sweet spot and see it consistently going longer and straighter. It's been proven over and over again.
Examining iron specs: The "standard" way a set of irons was engineered for decades was that the irons vary in length by ½", and in loft by 4 degrees. But the past few years – driven by the relentless quest for distance – we have seen the loft gaps increased to 5° at the short end of the set and as small as 2.5° at the long end. The harsh reality of this geometry is that almost every golfer will have much smaller distance gaps at the long end of the set than at the short end, where distance precision is critical. I have tweaked my irons for years so that I have smaller length and lie differences at the short end than the long, and that allows my distance gaps to be more consistent. Most golfers could benefit from examining their TRUE carry distances from club to club and then tweaking lofts and lengths to fix their gapping.
Fit your putter. It amazes me to watch how many golfers–even some of the pros on TV–and see the toe of the putter up in the air at address. Simple fact is that this makes the face point left because of the loft. I've become a true believer in putter fitting. A good fit will ensure that your putter really is aimed at the target, and that the lie angle allows the ball to come off the putter straight. Yes, the style of putter is a matter of personal preference, but a putter that is accurately fit to you makes this maddening part of the game much less so.
Watch your grips. We spend hundreds of dollars on a driver or set of irons, and we get disposable "handles". It's a fact that grips wear out. They get dirty. And they need replacing regularly. Take a close look at yours. Worn, dirty grips cause you to grip the club tighter to have control. And bad shots are much more frequent because of that.
Experiment. The toys are a big part of the fun of golf, so don't be afraid to experiment. I've long suggested all golfers should try the blade style short irons of one of your better player friends or pros, but experiment with other clubs, too. Hit your buddies' hybrids, fairways, irons, drivers. Try different golf balls. [But I just can't buy that tees can make a difference, sorry.] It's fun.
So, there you have some random thoughts of the hundreds that swirl around in my head. Let me know your other questions about equipment, and I'll try to address them in future columns.
Your Reaction?
LIKE

127

LEGIT

19

WOW

2

LOL

1

IDHT

2

FLOP

4

OB

0

SHANK

9