WRX Spotted: Mitsubishi MMT iron shaft
It's U.S. Open week, and with the best players in the world all in one place at Pebble Beach, it's the perfect time for West Coast-based companies to bring out some of the new gear for testing. In the case of shafts: Mitsubishi Chemical is debuting the new MMT: Metal Mesh Technology iron shaft.
We reached out to Mitsubishi and they were happy to supply the full rundown on the new shaft currently wrapping up the testing phase;
"MMT stands for Metal Mesh Technology, an exciting, new innovation that expands the potential for composite iron shaft construction," says Mark Gunther, Vice President of Sales and Marketing for MCA GOLF. "It's born from more than 30-years of composite shaft mastery at MCA – with the technology actually originating in our Archery Division – and opens up new avenues for our continued cutting-edge exploration."
"Designed to maximize the benefits of both composite and steel performance, MMT takes full advantage of the Mitsubishi end-to-end manufacturing approach. As layers of prepreg are stacked to build the shaft's core, a section of unique Metal Mesh is integrated towards the tip. This Metal Mesh – made up of individually braided strands of 304 Stainless Steel – improves the density and stability of the shaft. Together this yields a finely tuned, highly responsive shaft that still provides the consistent launch and spin control needed for precise iron play.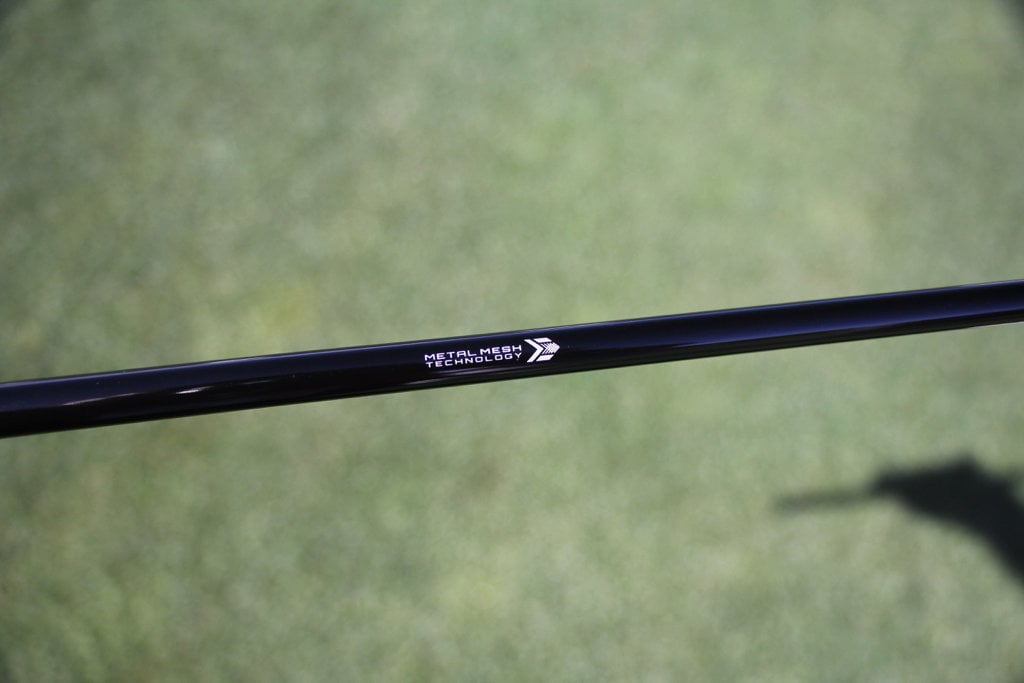 If you think you've heard MCA talk about a braided shaft before you are correct. They utilized this same technology (or at least part of it) in the OT, a shaft that was comprised entirely of braided strands of graphite. From an unfinished standpoint the OT was, and still is, one of the coolest shafts EVER made!
What's interesting about this new shaft is that not only does the steel MMT add stability, but it also adds weight to the tip section. As an experienced builder, one of the biggest difficulties with graphite shafts especially in lighter weight models is that it is difficult to achieve a desired swing weight, or at least something in the range of what was fit, as mass decreases, it's simple math. But by Mitsubishi Chemical using the much heavier material in the lower end and tip of the shaft, it should be easier to create the feeling of mass at the end of the club, something many players desire.
Currently being tested as a final prototype in taper tip the Parallel version be released this summer and available through MCA GOLF authorized retailers and dealers nationwide, with a suggested retail price of $90.00 USD.
MMT Iron with Parallel Tips will be available in five weights from 40g to 80g. With a Tour taper coming later in 2019.
Weights and flexes

MMT Iron 40 (L Flex)

MMT Iron 50 (L Flex)

MMT Iron 60 (A, R Flex)

MMT Iron 70 (R Flex)

MMT Iron 80 (R, S Flex)
Profile: Mid launch and mid spin
Your Reaction?
LIKE

96

LEGIT

8

WOW

2

LOL

4

IDHT

1

FLOP

0

OB

2

SHANK

5
Coolest thing for sale in the GolfWRX Classifieds (05/27/21): Ping PLD Prime Tyne putter
At GolfWRX, we love golf, plain and simple.
We are a community of like-minded individuals that all experience and express our enjoyment of the game in many ways. It's that sense of community that drives day-to-day interactions in the forums on topics that range from best driver to what marker you use to mark your ball. It even allows us to share another thing we all love – buy and selling equipment.
Currently, in our GolfWRX buy/sell/trade (BST) forum, there is a listing for a Ping Putter Lab Design (PLD) Prime Tyne putter ($650)
From the seller (@T-Bone84): "Limited edition putter that is very hard to find for less than 4 digits.  It's a compact head with a super shape, I just love my LAB so much it doesn't get any bag time.  It is lightly used with original shaft (35″) and a GP grip, headcover and original grip included.  It does have a tiny mark on top of hosel that can't be seen from address but I tried to capture."
To check out the full listing in our BST forum, head through the link: Ping Putter Lab Design (PLD) Prime Tyne putter.
This is the most impressive current listing from the GolfWRX BST, and if you are curious about the rules to participate in the BST Forum you can check them out here: GolfWRX BST Rules
Your Reaction?
LIKE

0

LEGIT

0

WOW

0

LOL

0

IDHT

0

FLOP

0

OB

0

SHANK

0
What GolfWRXers are saying about using a pitching wedge as a chipper
In our forums, our members have been discussing the strategy of using a pitching wedge for chipping. WRXer 'SkrappyHacker1' wants to know if anyone else employs this tactic, saying:
"My 44 degree PW is the club I feel most confident with when chipping. I used to use my 50° gap wedge for chip shots but never hit it consistently."
And our members have been sharing their thoughts and ideas in our forum.
Here are a few posts from the thread, but make sure to check out the entire discussion and have your say at the link below.
lefthack: "When I first learned I didn't have a PW, only a SW and learned to do everything with it. Now I have 3 wedges, but use my 52/8 for almost everything inside of 30 yards minus heavy rough or sand, then it's 56. But my PW is good for everything from 100-30 yards."
FootWedge16: "A majority of amateurs would shoot lower scores if they used bump and runs with an 8, 9, or PW in almost every situation that doesn't require a flop."
PJE: "Depends upon the shot you want or need to hit and the green contours and speed, but if it's working go with it. Several years ago, people often chipped with pitching wedges, 9 irons, and 8 irons. It's less common today. I think because today's club lofts are stronger. Many people also play game improvement irons which can be chunky and kind of awkward for chipping."
DavidCrockett: "I choose the wedge with the appropriate bounce (and sometimes grind) for the intended shot. These are far more important to me than loft."
Entire Thread: "What GolfWRXers are saying about using a pitching wedge as a chipper"
Your Reaction?
LIKE

4

LEGIT

1

WOW

0

LOL

0

IDHT

0

FLOP

2

OB

0

SHANK

1
GolfWRXers showcase their first ever driver
In our forums, our members have been displaying their first ever driver. WRXer 'Mackepa' wants to know what driver fellow members learned the sport with, who himself began with a Callaway Little Bertha 5 club set.
Our members have been sharing photos of their first driver and how they feel about the club today.
Here are a few posts from the thread, but make sure to check out the entire discussion and have your say at the link below.
mogc60: "Hogan Speedslot persimmon. Had the 2 and 4 wood as well. My grandpa insisted I start playing golf at 15, and he gave me these."
scooterhd2: "Still gaming my first driver (above photo). I've cheated on it a few times but keep going back to it. Worn grip, epoxy rattle, and all. Just goes straight for me."
electroleum: "The first driver I had with a proper set of golf clubs was a MacGregor Dx Power Pyramid driver. Had the full matching set."
jwhite86: "My first real driver was a Taylor Made 360… bought it right after the 500 series came out… let a friend try it at the range, and it immediately got a sky mark…"
Entire Thread: "GolfWRXers showcase their first ever driver"
Your Reaction?
LIKE

2

LEGIT

0

WOW

0

LOL

0

IDHT

0

FLOP

0

OB

0

SHANK

1