I will try to keep this short.
First I will start with this teaser photo...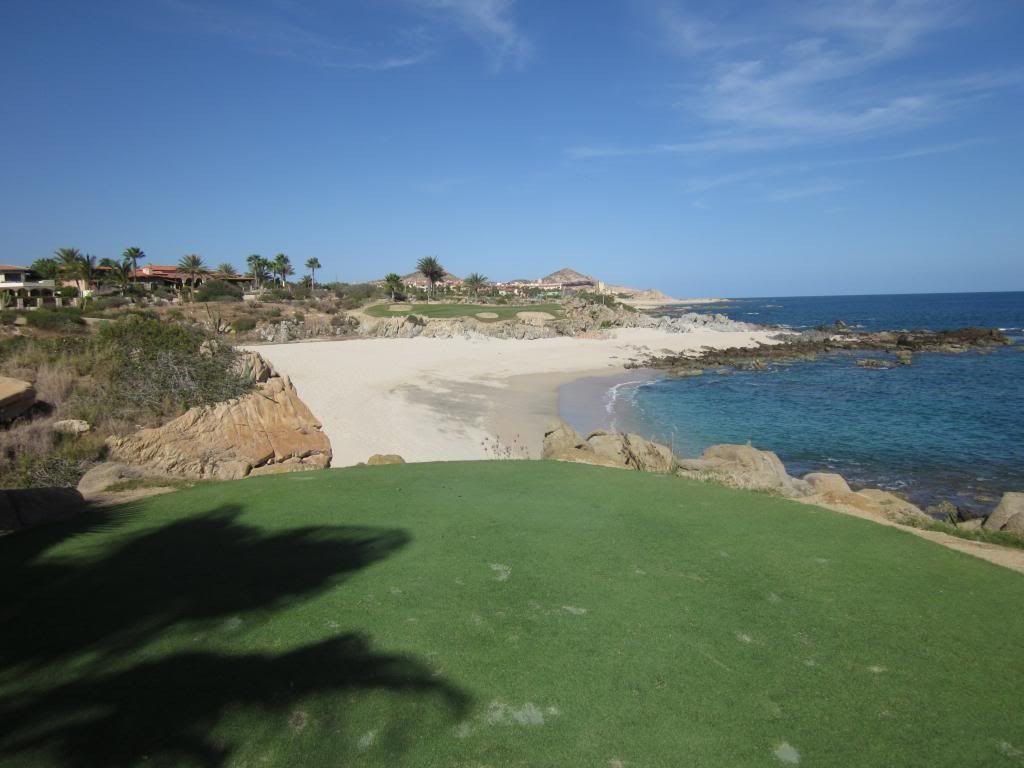 Cabo is a great place to golf if you can afford it. The golf is not affordable, but is plentiful and very high quality. I went to Cabo for my 30th birthday, stayed at the Hilton Los Cabos and played 54 holes while I was there.
I played Cabo Real first, and was paired with other groups. This course was fun, had great views of the ocean, desert, and canyons. It was in fantastic shape, I shot 76 from the tips (Par 71), and would play there again in a heartbeat.
Second and Third I played 36 Holes at Cabo Del Sol for my birthday. I played my first 18 at 8:10am on the Desert Course and was all alone, without another group on the course within sight of me. The course was absolutely in perfect shape, the marshalls were not as rude as other reviews I had read, actually they were very welcoming and nice. Shot 71 (-1) from the tips and was 2" from my first ace on my 30th birthday. I finished my round about 11:30 and met my old lady for lunch at the clubhouse between rounds. My second round was not supposed to start until 1:10 but because I was a reply I did not have to wait in line for the 1PM rate decrease (there were 9 carts waiting at 12:30 to tee off at 1pm). The old lady rode along for my second round at Cabo Del Sol on the Ocean Course. Now this is where they really lay on the good stuff. This course had insanely awesome holes, views, and service all the way around. They have a great taco shop between the nines where you can enjoy free tacos. (shrimp, chicken, steak, or beef) I drank plenty of Pacifico and shot 76 (+4) for a nice little +3 on my bday.
The golf at Cabo Real ran about $150
The golf at Cabo Del Sol ran about $400 for both rounds.
Check out the below album if you would like to see some pics.
http://s1205.beta.ph...brary/Cabo Golf
Password: cabowabo
Edited by SOONERMAGIC, 25 February 2013 - 03:09 PM.