BuckeyePaul01, on 01 October 2012 - 12:59 AM, said:
I've played to a 0.0 HC index with an average score of 77!! Your HC has a lot to do with where you play and the CR................is the course rating from the tees you play 69.1 or 75.1?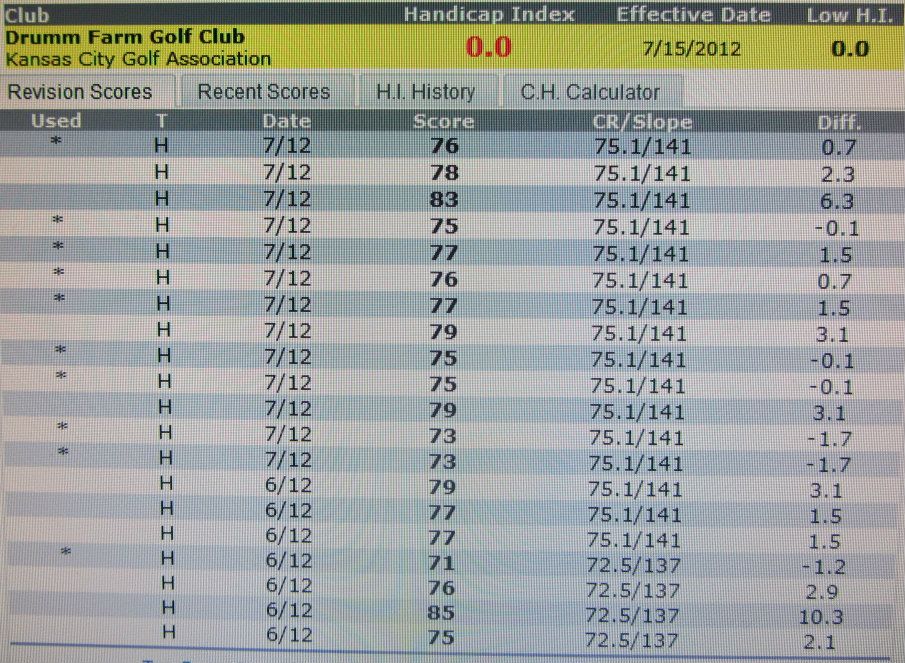 Just saying..................I've never cracked below the 0.0 mark in spite of having 3 revisions during the year exactly at 0.0!!! LOL...a crazy coincidence! oh well......0.0 stands as my PB.
On my home course.......a 0.4 Index= 0 course HC from the tips.
"Shooting Par"
is not relevant........it depends on the course rating. If you can average 77 from tees rated 75, a scratch HC is in your near future.
The scratch golfers I question are those who have only 10-15 rounds posted for the year.......How can they be scratch if they only play 10-15 times a year? (not realistic) On the other hand, I remember a young AM making the cut and finishing high at Olympic club...........and he barely posted any rounds either, so this could be a double edged sword!!!!! Just because they don't post doesn't necessarily mean they are Vanity.
what i also find interesting is that every round on your GHIN is at the same course. i've typically found that i can play my home course like a semi-pro, but i have a lot of trouble playing a new course for the first time. of course, that's a general rule, as some courses i've flat out owned the first time, but don't shoot so well once i know what's out there to get in trouble with.