Introduction
Back by popular demand (thanks to some Gary dude everyone calls Bubba), Grafalloy has reintroduced the BiMatrix shaft to the masses. The official name is the BiMatrix Tour Prototype. Fortunately for me, I have gotten a chance to review one thanks to True Temper/Grafalloy/ProjectX and GolfWRX, by virtue of the GolfWRX Test Panel group.
From Grafalloy's website:
BiMatrix Tour Prototype combines the best of both worlds in materials and performance. The ultralight graphite BiMatrx body joins with a steel tip section for ultimate distance and control. BiMatrx also has the unique combination of allowing golfers to increase driver loft by as much as 30% while offering a 20% reduction in spin rate. This high launch and low spin blend delivers incredible carry and roll.
When it came time to select a color and flex, I first decided upon the color. Fortunately for all of us out there, Grafalloy has a neat and handy tool on their site http://www.grafalloy.com on the homepage to aid in selecting your color. It's located near the top of the page, right under the scrolling pictures of different shaft offerings they have. It begs the question: What is your True BiMatrix color. Simply click the go button and answer a few questions and their suggestion for color pops up for you. There are 6 colors total to choose from: white, black, lime green, pink, neon blue, and neon orange.
I went with an X Flex lime green version. According to their specifications, it's a .335 tip, .600 butt diameter, 80 gram and 46" raw length shaft. The torque rating is 2.0 for this shaft.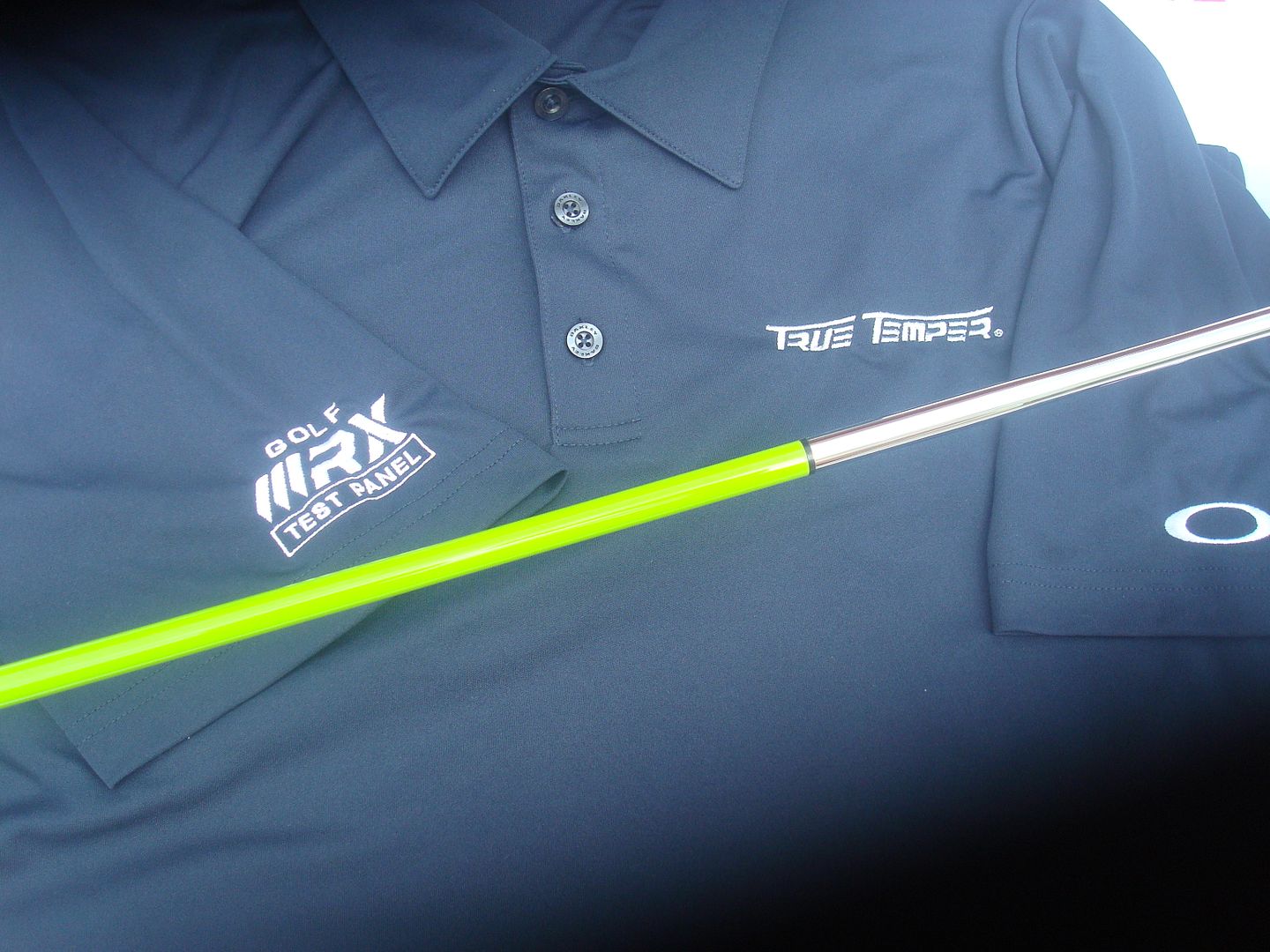 After a few weeks of anxiously waiting, a cardboard tube arrived on my door step. The wait was mainly in part due to the demand for the lime shaft (I'd imagine the pink also had high demand, again thanks to that Bubba fellow). I tore into the shipping tube like a kid on Christmas morning. Eminating from the soft glow of the incandescent bulbs in my doorway upon removing the packing was the stripper candy lime colored shaft. Why stripper candy lime? Because the color was pure sex to my eyes.
Feel, Build Notes, Miscellaneous
For this test run, I decided to install the shaft into the driver I've been fighting to find a shaft for for a month or so now. That driver head? A Tour Issued TaylorMade Superfast 2.0 version 2 LCG with a marked loft of 8.5 degrees. After having it digitally lofted, I can say that the actual loft on this head is 8.9 degrees and the face angle is 2.1 degrees open. The head had also been hotmelted to 203 grams prior to my receiving it(I didn't weigh it, but it's heavier than the v2 I had before). I did use a heatgun to move the hotmelt low and deep in the head (and I got too close to the paint once and ended up scorching part of the red line on the underside, lol).
I then spined and FLO'd the shaft. It came out with the graphics down in the optimal orientation. That turns out great for me, as I prefer the graphics to be down, even though I don't mind them in any orientation. It's a mental thing, I suppose one could say.
Once the head was determined, I prepped the tip of this shaft (which is awesomely easy to prep compared to most driver shafts. Simply insert it into the head and mark it slightly above the hosel and tape it off then simply abrade it on the belt sander. Took maybe 2 minutes). From there, it's a simple epoxy job. I choose 2:1 tour set Golfworks epoxy in black and used a short ferrule. I also mixed in a small amount of shafting beads as there was a tiny bit of slop in the hosel when dry fitting it.
I let the club sit overnight in my drying rack. The next morning, I pulled out the trusty Mitchell Club Length ruler and set it up in the soleplate. I measured out to my preferred 44 7/8" length, marked it and chopped it off at that length. I then put 2 wraps of tape under the right hand and blew on my favorite grip at the moment, the Lamkin Performance Plus 3gen midsize in white. The club swingweighted with the grip on at D6.5 (which is fine, as I like a heavy swingweight).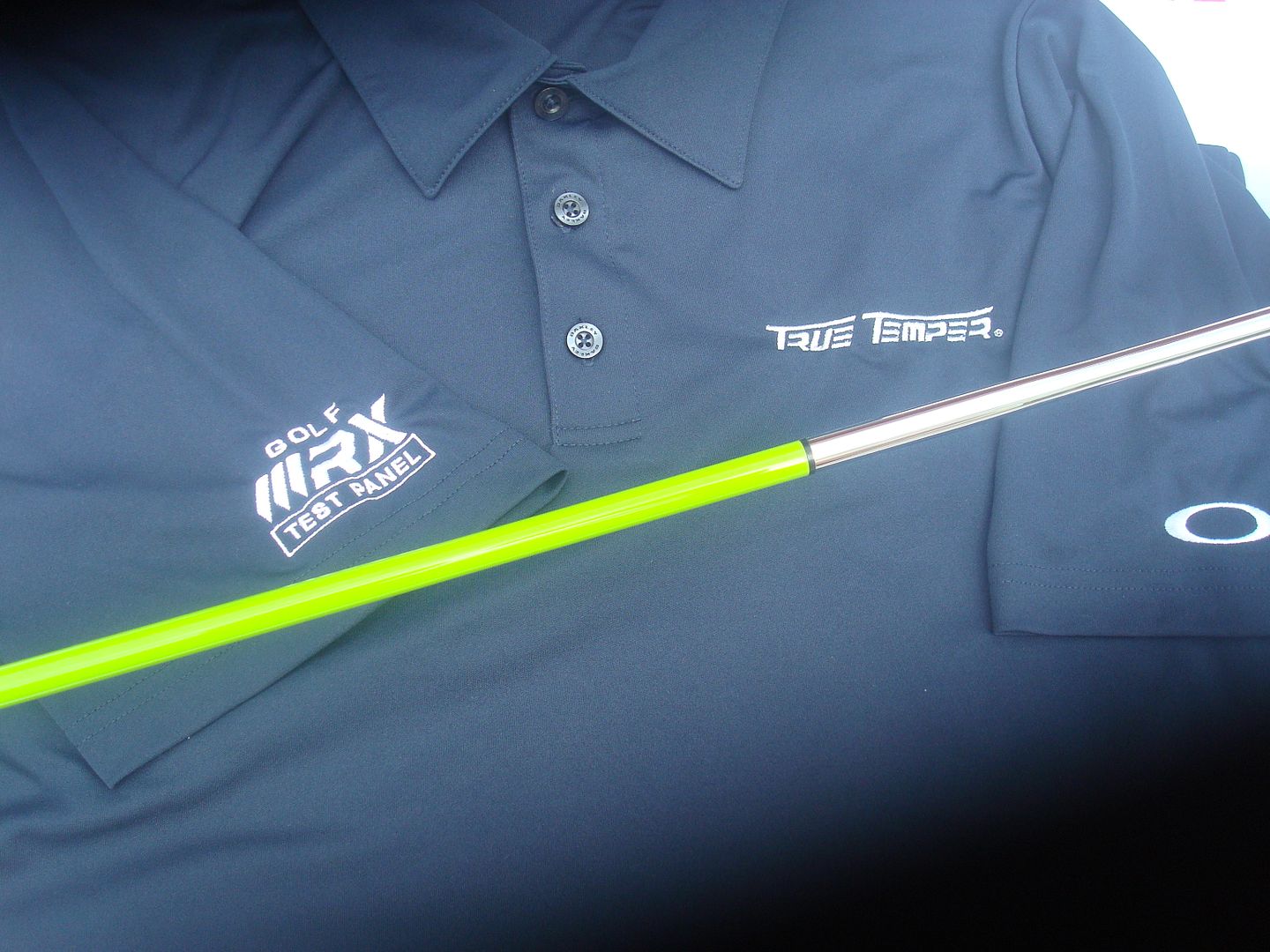 I then gave it the waggle test. The shaft felt nice and firm without being overly boardy. It felt great giving it the waggle test inside the house and outside the house. I couldn't resist hitting a few balls out across the pasture before going to the range to pull numbers. I got 5 shag balls out and gave them all mighty whacks after taking some warm up swings. The shaft felt phenominal, I could feel where the head was at the entire time during the swing (which mine could be described as a prisoner chopping the side of a roadway with a slingblade at the moment). The balls soared and kept climbing until disappearing behind the tree line at the back of my property. (I never get to see exactly how far these balls fly as they also have corn planted in there at the moment).
Performance(Feel, Flight, Visual)
Visually, I was in love with the shaft from the moment I laid my eyes on it. The color was just mesmerizing (seriously, it's like looking at a sour apple Jolly Rancher). It was bright and loud like my choice of clothing at times. It inspired confidence to me, as it wasn't distracting but rather pleasing to the eye. I try to blur everything out when addressing the ball, but pulling this sucker out of the bag just made me ooze confidence in it because it's "my" color (if you've looked through my WITB photos from the past, you've seen the crazy lime schemes I've thrown out there).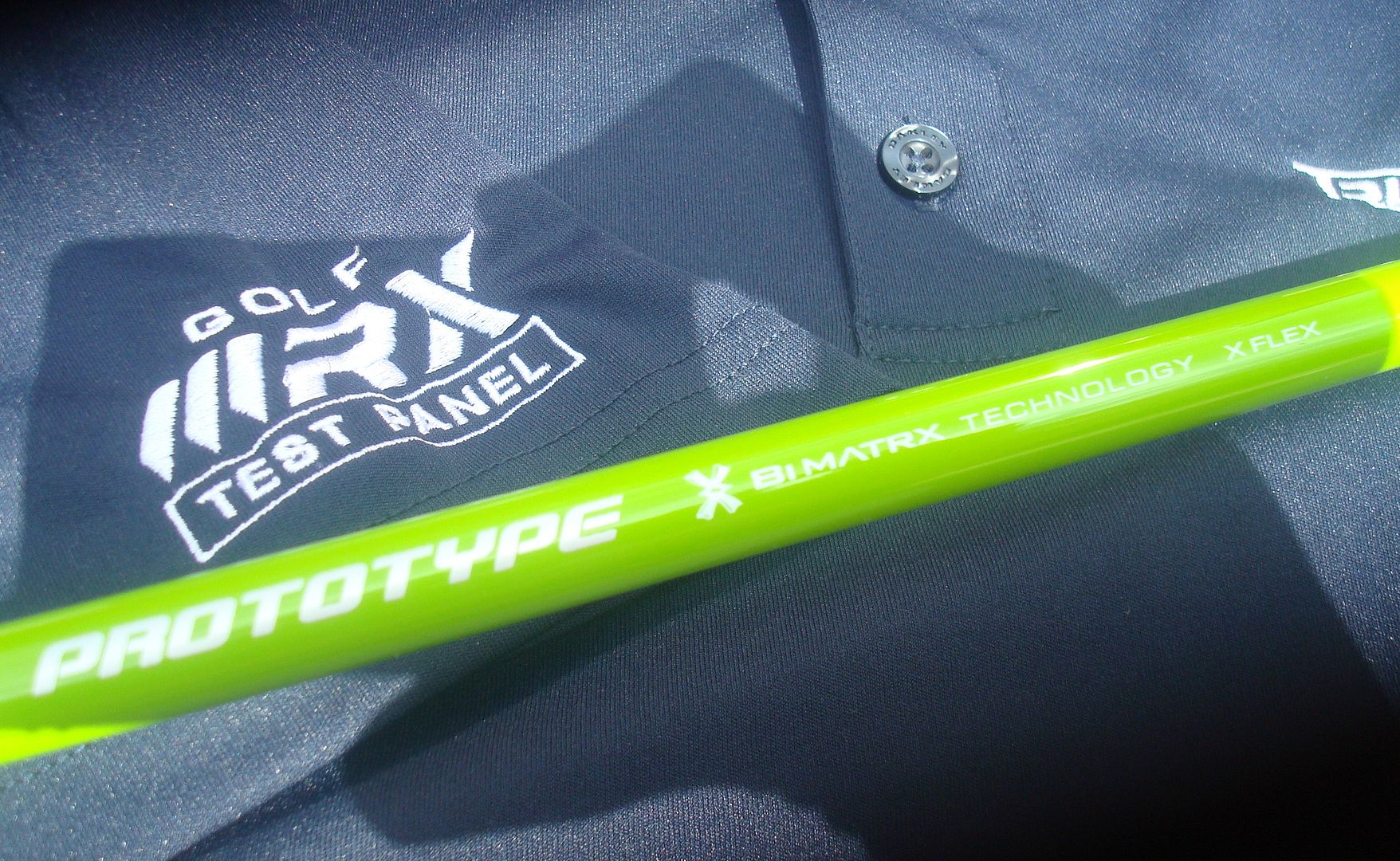 Now on to the range session. I got there for the first range session, and I got good and loose. Once that was done, I wanted to get an idea of the shaft's feel and see the ball flight. I didn't concern myself with distance at this point, as I wanted to make sure I was making good passes at the ball and making solid contact. With this shaft, you can really feel it load at the top and unload at impact. It's hard to describe, but I'd imagine if a mule kicked you in the gut, that's what impact would feel like.
I started out not going full bore, just being smooth (mostly trying to figure out my swing, as I've been struggling off the tee lately with the disco stick). After 4 or 5 balls, I was hitting everything straight and controlling the flight well, so I threw caution to the wind and started going full bore. Let me tell you, this combination is scary good for me at the moment. Ball after ball took off like a rocket, climbing to it's apex and staying there for what seemed like seconds before starting it's descent. And they'd hit the earth and bound out like a gazelle being chased by a pride of lions. A lot of carry and a lot of roll? Yeah, this could be good. I hit 50 balls and missed exactly 2 of them (and when I say missed I hooked one so bad that I almost hit the range picking cart parked in the shed dead left of the teeing ground. The other was a slice that hit a tree that boarders the right side of the range around 50 yards from my position. The ball bounced back completely across the left side of the range.) Nothing bad besides those two skanks, which was surprising to me as I've been hitting the ball all over the place with my driver lately (seriously, I've been in more back yards and in the trees more than most landscapers lately).
Data
With the warm-up over, I played a round (which I'll cover in the next section) and then went home. I got up the next day and went to the launch monitor(wanted to be fresh and salty on the day I went). On D-day, it was a Vector Pro inside the local Golfsmith. I've used this one before and I know the guy working there that will set it up for me to ensure that I am not at elevation or have wind behind me or anything hokey to sell me a club. He set it up and I got loose. After warming up, it was time to get jiggy with it. I had to put electrical tape on the toe of the club as it doesn't like picking up the white very well and the electrical tape allows me to pull it tight on the club. After that was done, it was time to pound some balls. I hit 50 to get my numbers and here's what I came up with(averages):
Swing Speed: 113.8 mph
Spin(RPM): 2755
Launch Angle:13.9
Ball Speed: 168.4
Smash Factor: 1.48
Distance (Carry): 281.1 yards
Analysis
As I mentioned above, after the initial warm up session, I played 18 holes. I hit the driver 11 times (I've been hitting driver on average 3-4 times per round lately, only on par 5's). This day, I threw caution to the wind as I needed to hit this club with this shaft for the purposes of this review. Of the 11 times I hit it, I hit the fairway 8 times. 2 of them were in the first cut, and the last one was a swing that would've made Paul Bunyon proud. It was straight right, OB, into a road (the retee with the penalty assessed drive on this hole was pounded down the center though and I had a 75 yard wedge shot left, normally hit PW on this hole. Yes, it was a frustrated swing with plenty of anger in it). I drove the green on the downhill, par 4 10th (Muxi knows the course, it's his home course). It hit the green and rolled to the back collar. 2 putted for birdie. I followed the 10th up with a nuked drive down the gut on the 11th hole par 5. Hit a choked down 4/21 hybrid to 4 feet (and lipped out the eagle attempt). All in all, this shaft flat out worked and performed for me all day. The LM session spat out numbers I was happy with. But the happiest thought of it all? I CAN CONTROL THIS SUCKER.
Final Thoughts
Call it a honeymoon period, or a good day, or whatever you want. But for me, this combination works and it works darn well. Was it a career day hitting the driver for me? Well, compared to the 16 others I've attempted to hit thus far, it was a career day for the year thus far. Do I still need to work on my swing with my driver? Of course I do, because until I groove it, I'm sure bad driving days will pop up. But, this review isn't an analysis of my game, it's for my thoughts on this shaft. And my thoughts on it are that it works as good as it looks and you'll be prying this from my cold dead fingers if you want to hit this club any time soon.
I'd also like to throw out another Thank You to the folks affiliated with True Temper/ProjectX/Grafalloy for throwing in the awesome shirt that you see in these pictures as well as the Project X hat that they also included. I actually wore the shirt for the round I mention above that I played as the first round with this shaft. It looked awfully nice with the white and grey Sligo pants I wore it with. Now to purchase a navy blue hat to match it.
Edited by RookieBlue7, 05 September 2012 - 03:27 PM.