I have always been a Muscleback player since a young lad and could never get comfortable looking down at anything that looked "different" to me. I am very picky with toplines, toe shapes and sole width so when the guys at Adams told me I had to try the CMB's i was kinda like "sure, i will hit them but im not going to like them" Well, needless to say my MB2's are on the bench now.
Aesthetically these things are beautiful. From address and even in the bag which shouldnt matter but these have it all. Very Clean lines and a very nice satin finish that looks like it was carved out of a block of platinum and cool gold/copper badge that not big, flashy or obnoxious.
These irons are all business but the party starts when you strike the ball and the 1025 carbon makes it feel as if just turned into Freddy Couples for a second. Its a feel you wont get with 8620. I hit plenty of shots on the button with my MB2's and you wont get the same feeling. 1025 carbon is just superior in feel.
Forgivness is another strong suit of this club. I was made aware of this when i struck a 4 iron on a 212 yard par four which i hit slightly on the toe and still carried it 208 and rolled out to pin high. I know that would have cost me 7-10 yards with my musclebacks which is usually fine with me because i enjoyed paying the price for a bad move and learning from the feedback i got. But why not learn from the feedback and still get away with it? Duh!
Trajectory and shot shape are very comparable to the MB2 which i also had shafted with the Ctapers. I was always a DG X100 man but i finally gave the new stuff a try and these new KBS C-tapers didnt dissapoint. It comes off high and flat that would knife through a wind but comes down soft like you need it to. Thats the best non tecnical way i can describe it.
The sole on this club is really what sold me. I cant stand a fat sole that bounces through the turf. I study my divots and these cut through the dirt like a scalpel through a tomato. If your a digger or take good divot you will like these. If you pick the ball i dont see why you would have trouble with these either.
Here are some comparison pics of the CMB and the MB2. It would be hard to tell one from the other due to the same offset and very identical topline and toe shape.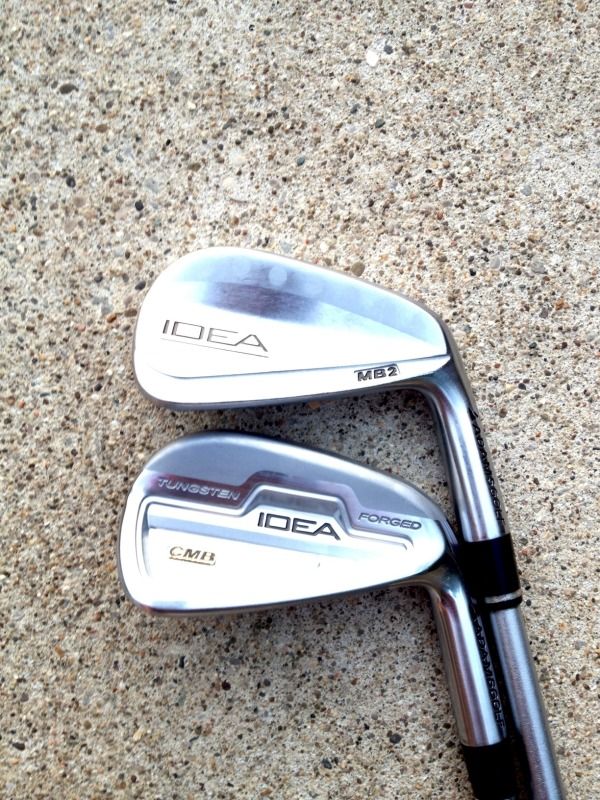 CMB on right
CMB on left