Link to Zach's Burner 2.0 / RBZ Comparison
http://www.golfwrx.c...03#entry4361603
Some long iron shots 4 and 5 (did not order 3)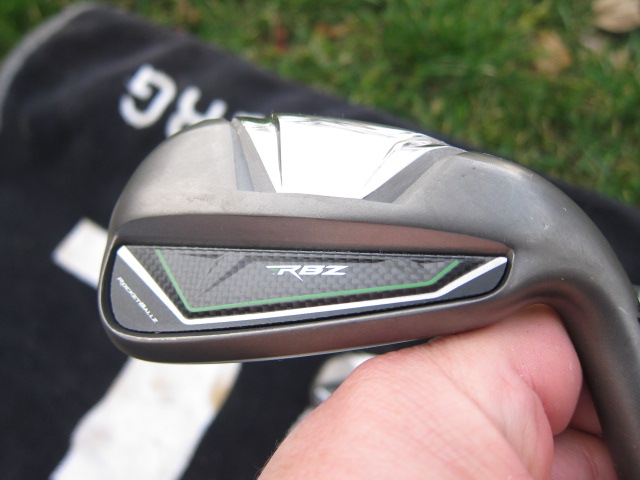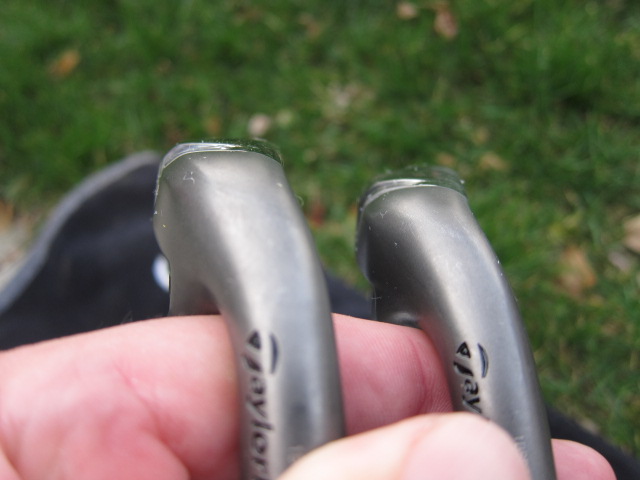 Cavity of 6 Iron (other are actual similar)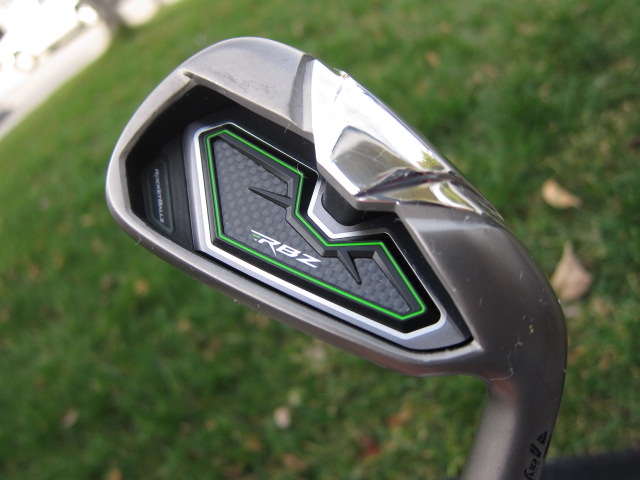 my favorites :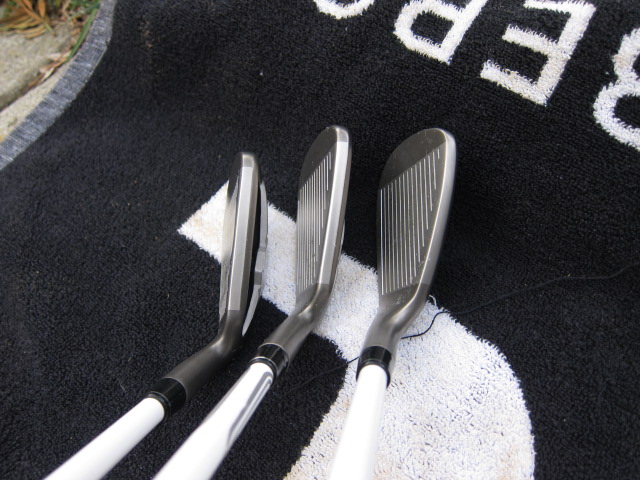 The AW..
EDITOR REVIEW : 2012 Rocketballz "RBZ" Irons Review (tested 4-AW)
FROM Taylormade:
Our Longer is Longer
Engineered for extreme distance and pinpoint accuracy. Inspired by metal-wood construction. Fast-flexing faces and innovative Toe-Bar technology for exceptional feel and sound.
PRO'S
·
6-AW are smaller then I expected
·
4-5 are very hybrid/driving iron like
·
9-AW really setup the sweetest on the set
·
Sound and thus Feel where a pleasant surprise.
CONS
·
Long irons have huge offset and very thick top line
·
Thick but acceptable topline in other irons
·
Was not as pleased with feel of 4-5 irons, rest of set felt better.
BOTTOM-LINE
:
The new Rocketballz irons represent the latest technology in game improvement irons. They are designed to give the player maximum ballspeed and pinpoint accuracy. I think they are ideally suited for that mid to high handicapper that struggles to get the ball in the air and who also has difficulty hitting the longer irons.
EDITOR REVIEW
:
I must state it has been years since I played a round with some serious game improvement irons. I'm coming from the background of playing forged irons and mostly blades the last dozen or so years plus. Having said that, yes visually the RBZ were quite an adjustment, but I will try to come from the GI iron perspective for the review. I've been working on this review for a few days now and I got a chance to reshaft a couple irons to see if there is any improvement in my initial opinions. So comments in () will be new based on reshafting the 4Iron with a DGS400 and the 7iron with a Aerotech Steelfiber i95.
LOOKS
( 4.0 stars)
I feel better if I break this up into different sets, starting with the 4 and 5 irons. They are rather big in appearance with lots of offset and a huge topline. Even by GI standards probably not the best looking heads, but I do realize a 2 piece metalwood construction can only look so good. I wish the 5 would have been the same design as the 6i and up.
Now on to the 6-7-8 irons. I would almost describe these are undercut/pocket type cavity irons. The Heel to toe dimension is shorter than most GI irons which I take as a big positive and make the head seem "compact" despite the semi-thick topline. Now the 9, PW and AW are not all that different from the 6-7-8, but maybe the added loft makes the topline appear thinner.
The believe Taylormade was very smart in giving this head a dark finish, not only do the irons look cool, but I think it make the irons look compact at address not to mention easy to frame the ball in the hitting area of the face.
PERFORMANCE/PLAYABILITY
(4.25 stars)
The Turf: I didn't hit too many fairways with my first round and that might have been a good thing too. I was surprised how good these irons where from the intermediate and heavier rough. I actually had more success in the rough then I did when I was in the fairway. I tend to be a picker / sweeper of the ball in general, so I did try to take some heavier divots dropping a second ball in the fairway and it worked a little better with that motion. Knockdowns are very playable with these irons as well which is a bonus since I play in a very windy area.
Direction: The irons want to go straight. I did manage to fade them consistently, but could not turn the ball over to consistently get a high draw that was advertised. I might have been compensating a little in my swing knowing how much more offset these had then what I am used too. I like to work a fade most of the time into greens so that is fine by me. Overall very straight hitting irons, especially 7-AW which were extremely straight for me.
Forgiveness: Looking at where I was hitting the ball on the face, I think I was pretty much staying in the center, so I cannot comment on heel and toe hits. As for low and high the irons seemed very forgiving to me. I think this is the inverted cone technology coming into play. Sure hitting them a little thin gave me lower ballflight, but distance and direction were still good. ( Today for whatever reason is was slightly off to the heel side of the face, which is my common miss. I got the expected fade with that impact area, but a little less so then with my gamer forged irons.)
Ball flight/Distance : If you are looking for low ballflight, look elsewhere. Despite the strong lofts I hit these irons fairly high which is kind of what I expected to do with the added offset on the heads compared to my gamers. Now my gamers are shafted with KBS C-Tapers and I noticed probably about ½ club distance gain over my older S400 shafted irons. These RBZ's are right there distance wise with my gamers, so I can safely say they are ½ club longer then irons I had been using last year. As Taylormade says "Our longer is longer" might be a little something to that. ( Ballflight with my DGS400 shafted 4I really improved, lower and penetrating vs the original shaft. Distance was still very comparable to my gamers which is good. With the Steelfiber in the 7iron, ballflight was only slightly higher then my gamer 7I with C-taper and distance was equal. I was hitting into a 15mph headwind and there was no sign of ballooning. )
FEEL
( 3.75 stars )
Honestly for a cast game improvement iron these are really not that bad, specifically speaking about the 6-AW wedge. Maybe there is something to this Taylormade "sound system" where both and acoustic polymer and constrained layer improve the feel and sound of the irons. Now I have also played the R9 TP "B" prototypes which I have regarded as the best feeling cast heads around. Now they don't quite feel that good, but they are not too far off either.
The long irons on the other hand do not feel as solid of the rest of the set. Knowing the design behind them, I figured they would feel a little different and they did. Not terrible but definitely a little less feedback on where I was striking the ball on the face. ( After trying the 4I with S400 my opinion of it improved a little, but it definitely still has a different feel and sound from the rest of the set . I almost want to say it's like a mini fairway wood in sound and feel. )
OVERALL
(4.0 stars)
Again I have to remind everyone reading this that I am a forged iron player, but if I was not I would definitely give these irons a whirl. I actually really enjoy playing the 6-AW and the AW has really grown on me and was a good to club for a variety of shots because of its playability. I tried these with a high end graphite shaft because honestly I am not getting any younger but still have a 6I swingspeed in the 90s when I need it. I have not talked about the shaft until now, because I feel they were not a great fit me and we be swapping a few with something I'm more used to and maybe my opinion will adjust some. However I didn't want to make this about the shafts and I still feel the iron heads are exceptionally well designed.
As I stated earlier I think these RBZ's are geared towards the mid to high handicapper that struggles with ball flight and distance and direction. If you fit into this category these RBZ's are a must try. Taylor made currently has a promotion giving away the 5i, so sign up and give it a go.