Hello all!
A little bit about me:
My name is Aubrey, and I started playing at around age three. Now i'm 15, and I have gotten down to a ) handicap, which means I acheived my goal for this year. My coach, Ted Naff, is expecting me to be around a +2 by next year, and by working out and practicing I think that it is an reachable goal. I want to be able to break par nearly every time I play.
Long story short ,here is my current set up:

Driver: Ping G15 7.5* w/ Tour Ad 6s /Gripmaster swinger

3 wood: Adams XTD 14.5/ Stock Fubuki

Hybrid:

-i15 20* w/ Aldila Proto by you 80s and GP tour velvet cord (blue paintfill)

Irons:

Scratch Golf AR1's... just scroll to the dang pictures, no words can descride these..


Wedges:

Scratch 8620 milled 50*,53* (bent to 54*), and a cleavland 58* w/ Project x 6.0 flighted/ GP multi comps (white)

Putter:

Odyssey Protype black #9 34" /Black half wrap grip


Driver:
Matte Black G15 7.5 degree built at the Tour Dept. with Graphite design Tour AD DI 6S. The shaft does wonders with a low loft driver. Also, I have it gripped with a gripmaster swinger stichback.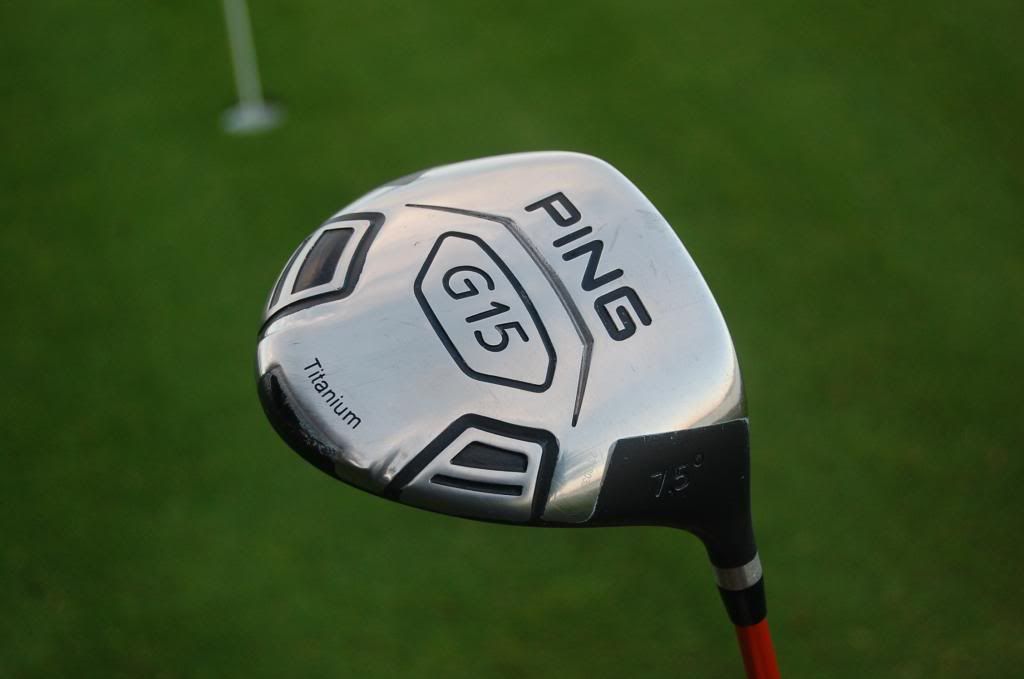 3 WOOD



I currently have a stock Adams XTDin the bag, standard everything (length/shaft/grip/the whole shabang). Deepest 3 wood out there, no questions. I gained about 15-20 yards over my old G15.




HYBRIDS



I carry one hybrid:

A 20 degree i15 with Aldila Proto by you 80s with a Golf Pride Tour Velvet BCT cord (blue) Also, the club has some dark blue paintfill on the bottom, done by myself and some leadtape attached to the back to help with a higher launch. I really love this hybrid, it is in no danger of leaving the bag.


Picture of woods all together:
IRONS (Thanks ScratchSwinger)



Scratch Ar1's w/ Nippon N.S. Pro 950 stiff (took me forever to find these.) (+1/2") GP multi compound purple, purple paintfill, and purple custom ferrules. I'm a big husky, and it's my goal/dream to play for them.. I love these irons, and I can't believe that anything will be better but we shall see... In a one word description... they are...butter.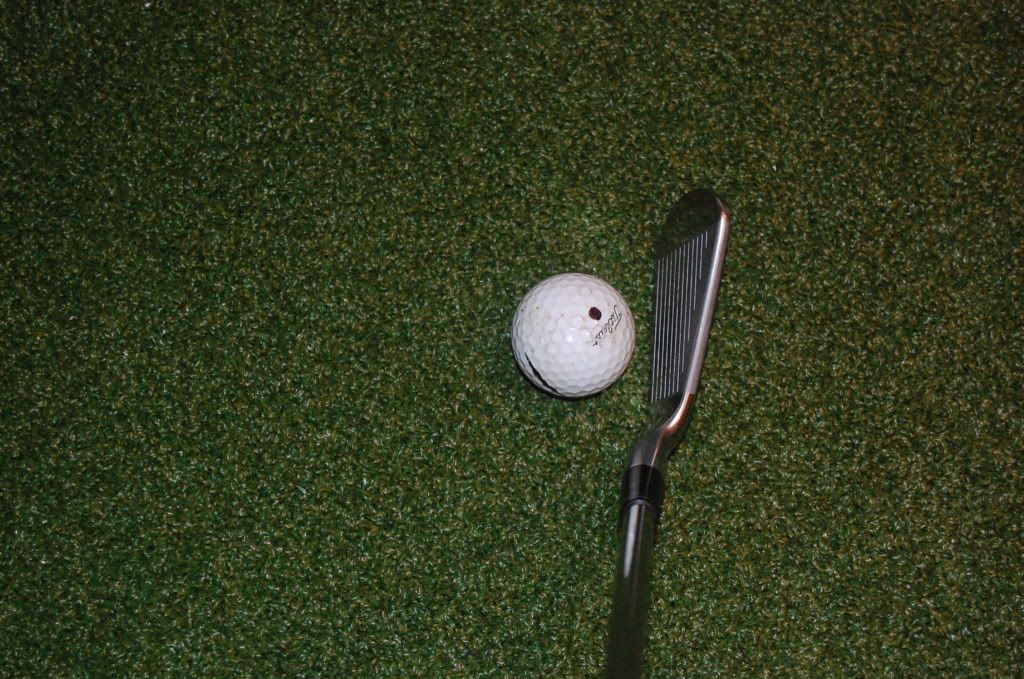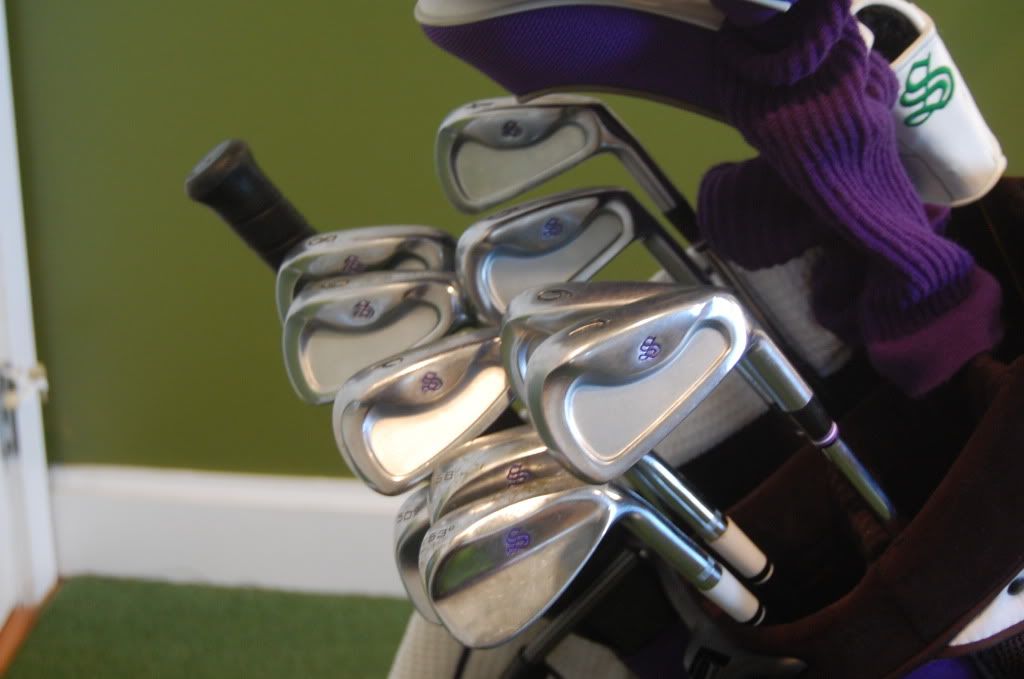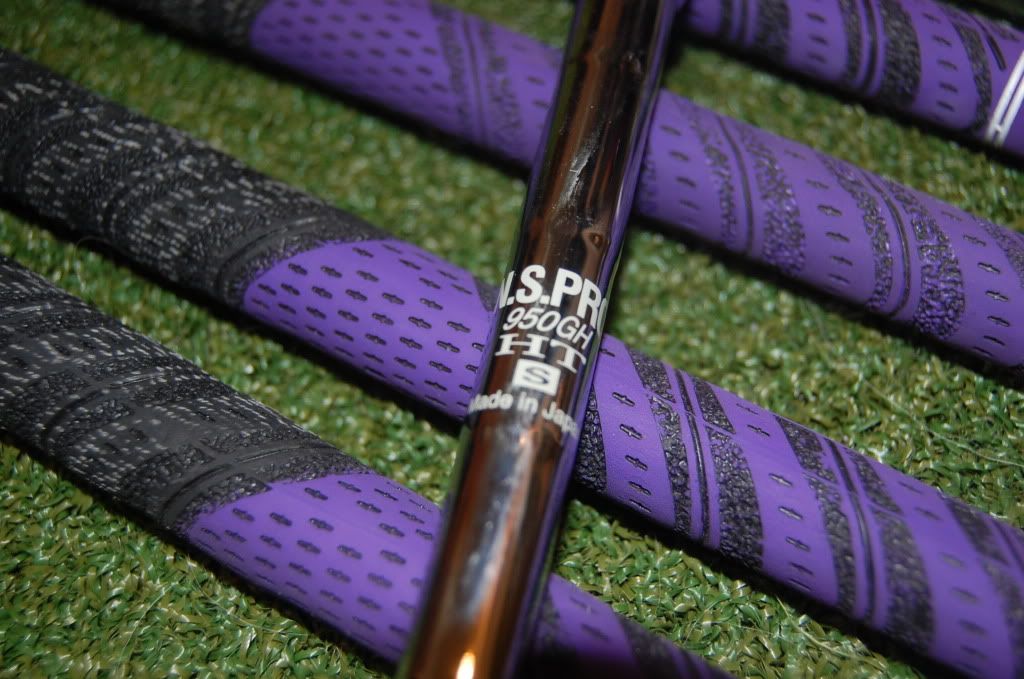 WEDGES



I am really exited about these. I got some Scratch 8620's for Christmas and have just now reshafted them with Project x 6.0 flighted's. I threw some multi compounds on them and they are ready for a great 2012! They are also +1/2" and are in lofts 50,54 (bent from 53) and a CLEAVELAND CG14 58 degree. White ferrules are a must.




Putter(s)



I am a ho when it comes to putters. Currently, I have six! Six, thats alot for a junior. My current gamer is an Protype black #9 and I have finally convinced myself that this style will be my gamer forever.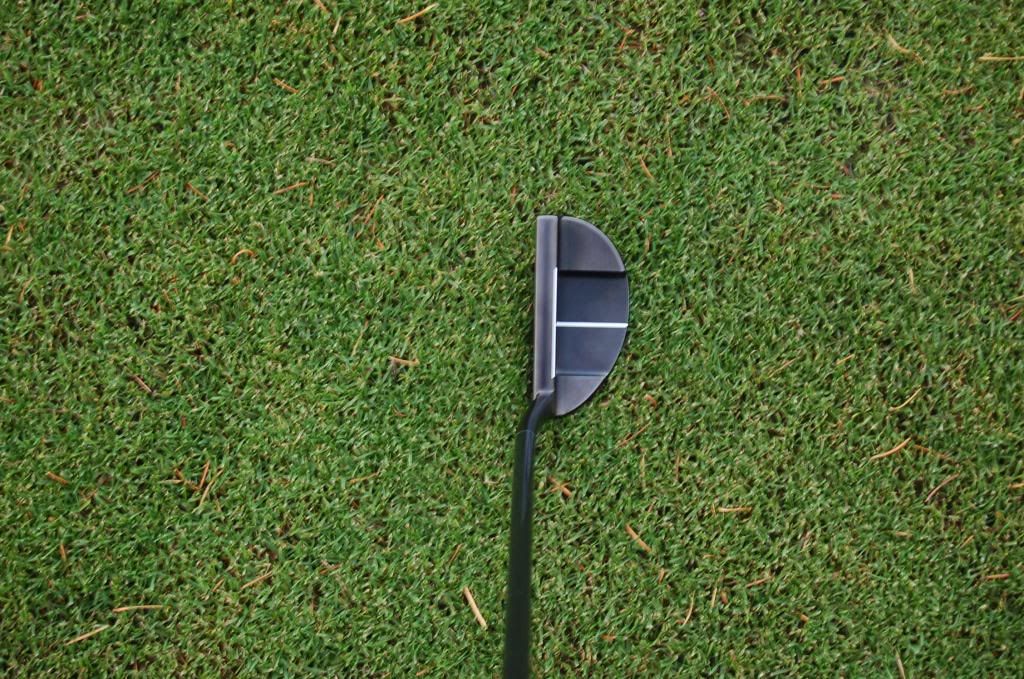 As well as a backup Odyssey #9 (i) putter

Some comparison pictures:
So far so good...

but then...

BOOM GOES THE HO!






I made that putter rack in shop, by the way!

so here are the other putters:

1. Odyssey Black (i) series #9.... I have two of the exact same putter but one has a jumbo grip for training... silly I know.





2. *DON"T HAVE ANYMORE* even though I sold this, it belllongs in here as it was the nicest/best feeling Cameron I have ever rolled, a studio design 5:




3. Odyssey white hot XG 2 ball...

Never sell a putter that was one a full time gamer is my motto... might make it ito a cheating stick later, haha.




4. Ping Anser 2 that I coated with black paint. Its a piece of junk, but it looks nice at address;




5. Ping b60 putter...ugh.





Here's a shot of all of them together:




And thats it for my clubs!!

You probably noticed I have a putting green in my room, yes, I do
It's DreamTurf synthetic turf, took me about a year to save up my money to buy it, runs about a 10, it's very true, and it is 7'x9'. Also I got both parents on board so I have two regulation depth cups.





Here are a few of the trophies and medals I have won:




Also my two most memorable items (golf related):

The scorecard and ball from when I first broke 100 (97 at Canoa ranch in 2005) and the scorecard and ball from where I won my first tournement (fort Lewis Golf course, even par in 2008)




here is my assortment of practice balls inside a sick Titleist shag bag, it consist of Practice Prov1x's I took from the USGA, and any othere premium balls that I don't play...Theres about 70 total, enough to satisfy me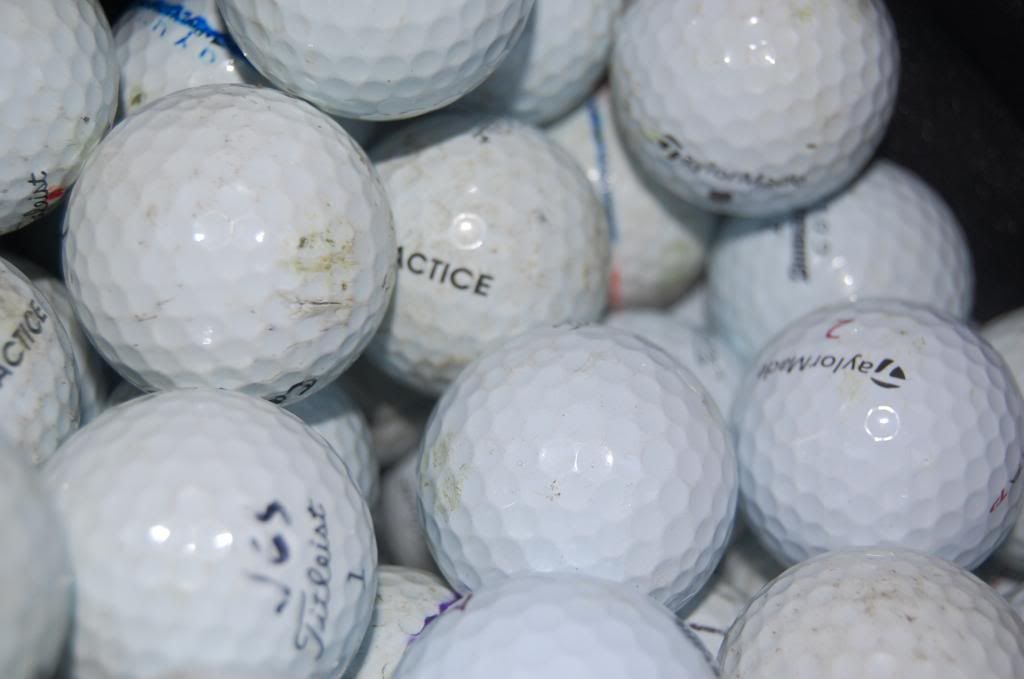 I also couldn't survive without this stuff on the course (yardarge/scorekeeping book/water bottle/ball markers/ Prov1x's, and A video camera to record my swing for showing to my swing teacher.)




Most of you already knew I had the putting green in my room, but I actually have a real grass green with a bunker, that I 100% maintain all by myself in my yard. It hold pitches and I can hit from a max of about 60 yards away, Its awesome! The pictures don't do it justice. It's at winter mowing height right now, but in the summer it rolls around a 8-8.5, and I have taken alot of my relatives money on matches here, haha.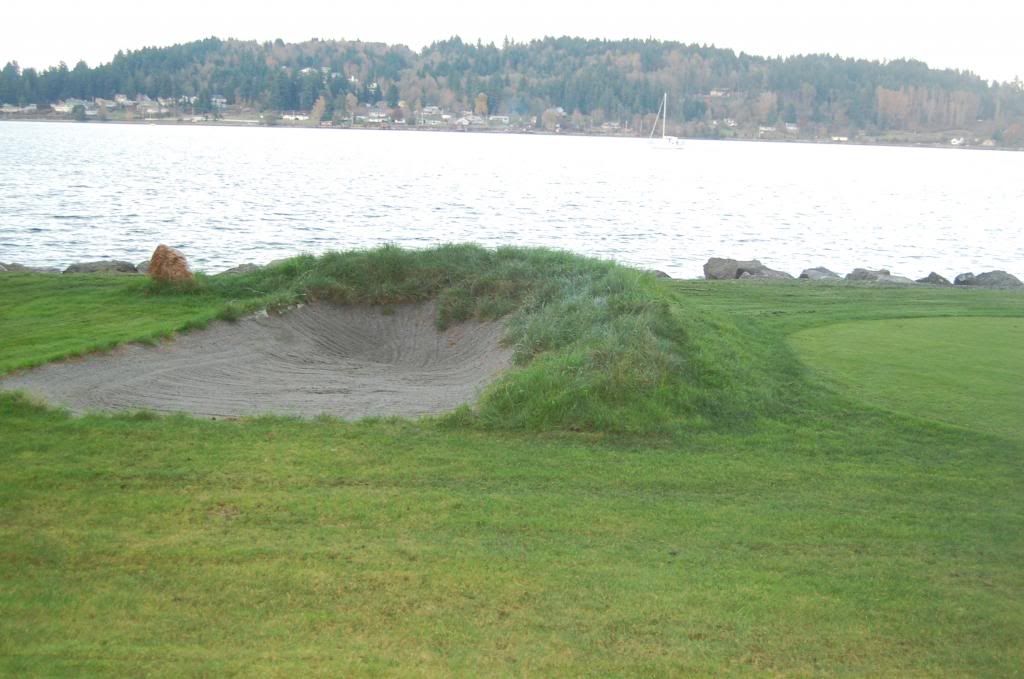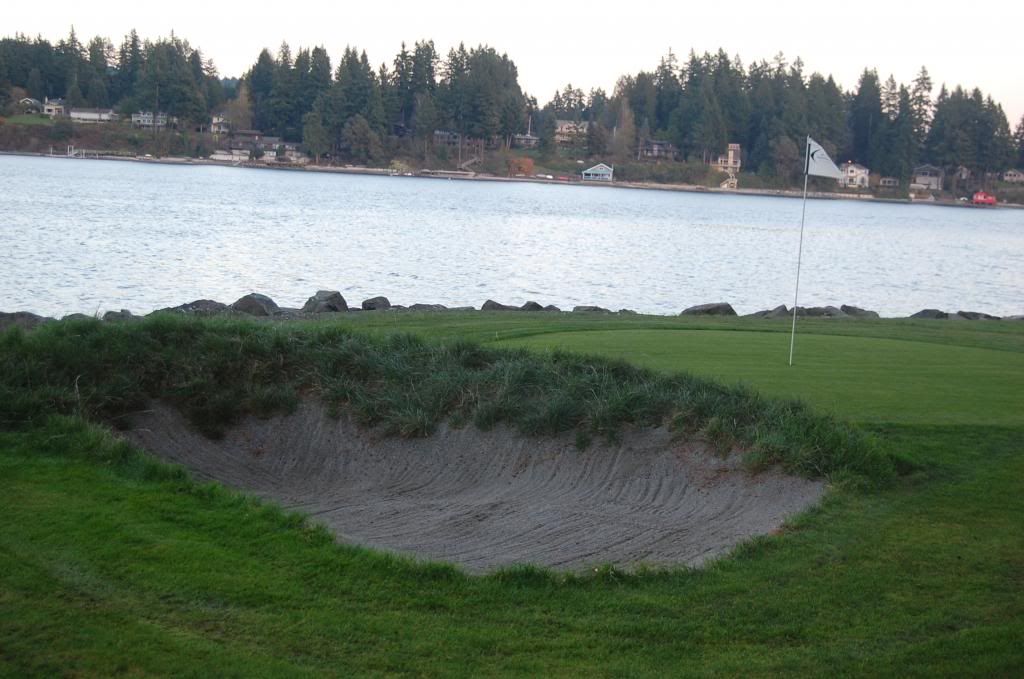 I use a flag from my home course as well:
Here's a cool pic of me and my dog. In the summer this is how I spend most mornings when I'm not at the course:






Here are some ****new March 16th***

Swing Videos

:

Down the line:

Face on:



HOPE YOU ENJOYED!!
Edited by TheMackDaddy, 24 April 2013 - 08:06 PM.