Scroll down to the bottom of this post and see the new Ju Ju's including the new style (similar to the Cally Diablo knit headcover!)


I probably could've done this 4 or 5 other times this year as I am an ADMITTED CLUB HO. Particularly irons. I can't help myself... I love shiny irons. I love to hit them. Most of all though, I love to get rid of them as soon as I feel I've "mastered" them. Go figure. Thanks wrx... YOU ALONE HAVE CAUSED THIS!!!
Today was my first round with this setup. I shot 3 over on my regular course which was the 5th best round of my year, after not having played for a month. This bag isn't changing this year (easy to say because golf is pretty close to over around here for me) and probably not well into next year! LOL!
DRIVER:
Adams 9015D 10.5* Graphite Design PM-702x
I've had a 9015D in my bag all year. Actually I've had probably 6 different combinations of this head. 9.5* with a Diamana Whiteboard (probably the best combo to date, but I was too greedy to realize it). 8.5* with a Diamana Blueboard (great combo, but the shaft snapped just above the hosel one day). When that one broke, I ended up hitting my backup (all of my backups are in my son's bag)... a 9.5* 2007 TM TP Burner with the same shaft currently in the 9015D. I personally think the GD PM-702 is one of the best shafts ever made.
FAIRWAY:
Adams Fast 10 Tour issue head in 14* with Matrix Ozik Code-7 stiff
I was hesitant to move away from my TM TP ST Tour spoon, but "andrew13" assured me this was the best fairway EVER. He's right. No matter how bad a swing I put on this club, it just goes straight and very LONG. This club won't be leaving the bag for a VERY long time.
HYBRIDS:
Adams PNT V2 in 18* Matrix Altus stiff, Adams PNT V2 in 22* with Fujikura Rombax 8D07HB.
I can't say enough about these clubs. Absolutely stupid easy to hit, dead straight, and everyone should have one. I've tried numerous hybrids (including a number of other Adams), but NOTHING compares to these clubs. The Altus shaft is ok, but it's not even close to the Rombax. I'll be finding another one to put in the 18* with any luck.
IRONS:
Adams CB1, 4-G, Rifle Flighted 6.0
I started the year with a set of Titleist ZB's which I loved. Then I fell in love with the looks of the Adams a4 Forged and traded out. The a4 Forged are nice sticks, but not for me and my steep swing. Fat soles (more like cally) and that ever present ugly cavity showing at address on the long irons made them less than desireable for me. Moved to the a4 Tours. Loved those irons, but I had a set of Titleist 690.cb's that I was dying to try so I moved the a4 Tours. I actually preferred the 690's to the a4 Tours, but it was close. Then the CB1/CB2's came out and I just had to have a set. Picked up heads only on the CB1's with the flighted 6.0's. I was very concerned because I've always been a DG S300 guy and had tried the Project X a couple of times only to be very disappointed. Not the case with the Rifle flighted... the 6.0 fits my swing very nicely and for a high ball hitter, they're just about perfect. I find the CB1's to be quite forgiving, but they do require a good swing. Love 'em!~!~!
WEDGES:
TM TP XFT 56* and 60* KBS
Picked these up off wrx for a steal. Had tried numerous wedges (cleveland, Vokey, etc) and spun the ball entirely too much with them, often times backing balls clear off the front of the green. For whatever reason, I don't get that with these. Not to mention I could never hit a lob wedge well, but this one is just money. I guess they just fit my swing, or maybe it's the KBS shafts.. I dunno.
PUTTER:
Odyssey Black Tour Series #6
I'm not a putter ho... I spend my money on irons. I am however a TERRIBLE putter averaging 34 putts per round and still playing to a 6 hdcp. I absolutely LOVE this putter. I've played numerous Cameron's, a SWEET TP Mills custom Softtail, and a couple other Odyssey's, but today with this putter, I had 29 putts. My best all year. Like I said, my putting sucks. My iron play is really strong and I get MANY opportunities to 1 putt from within 10 feet, but it's a rare occurance that I make them. I think I finally found my flatstick!!
Here's the pictures.... ENJOY!!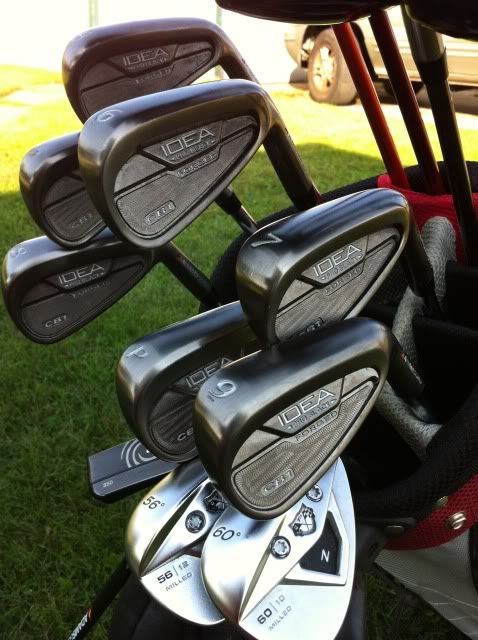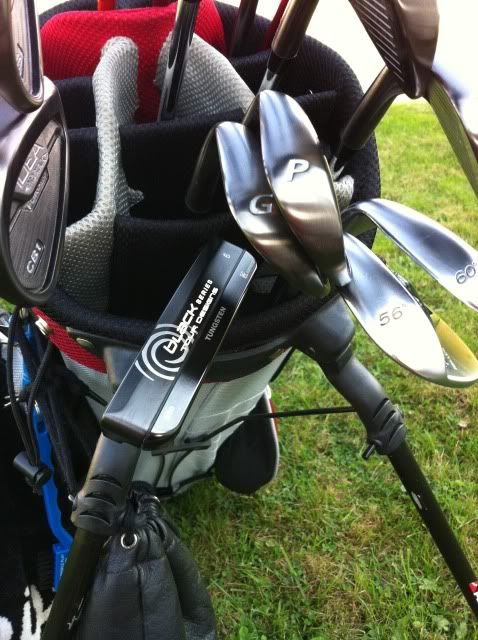 New pics with new bag and some new "Ju Ju's"... WOW she does amazing work. I sent her a pic of the new bag color, and a pic of the knit Callaway Diablo headcover. She did the rest. You fellas who have used Rocket Tours solely, need to feel what craftsmanship REALLY is.
I might also add..... Jan Craig covers have absolutely NOTHING on Ju Ju's. The sock itself is soooo much longer... it protects the shaft well down into the bag.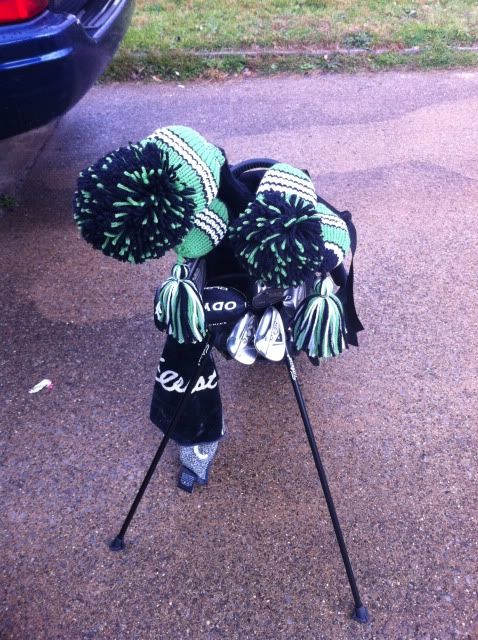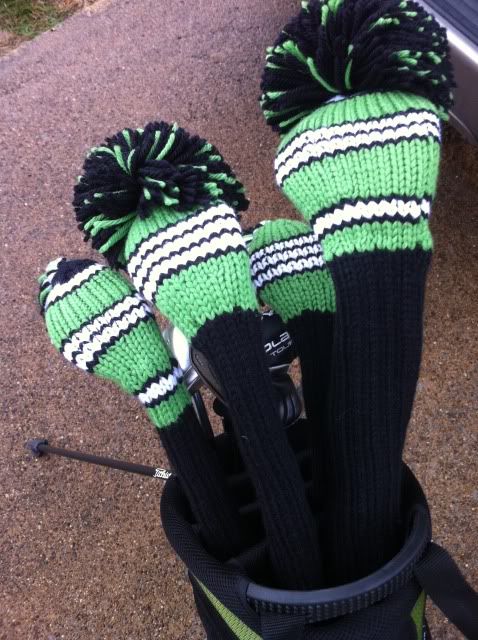 Edited by albatrosser, 05 November 2010 - 12:33 PM.