So I have been meaning to put this review up and I just haven't had any time to do it...until now. My experience with Hybrids has been a good one. I enjoyed all the Adams, Nickent, TM...etc that I have owned and tested over the years. I now have 2 hybrids in the bag and both are TEE XCG-V's #3 and #4. Both tour heads so they are open about 2 degrees, which I love.
Here are the shafts I have tested in them...
MRC Diamana Thump X
Fujikura Motore 80X
Fujikura 904HB X
Oban Devotion 85 X
Ozik Altus HB Black Tie X
Aldila VS Proto HB X
UST V2 102 X
and now the Project X HB6...my testing and search is now finished.
I would put the Thump, Altus and VS Proto all in the same category. They have a smooth feel and great launch characteristics, but they all seemed to go left on me. The Fuji 904HB, UST V2 and Oban Devotion all had a firmer feel (sometimes downright boardy) but never seemed to go left on me...which is the #1 requirement of my hybrids, DON'T GO LEFT!! The Fuji Motore is a blend of both worlds, but still has a tendency to go left when I jump on it and I am sure I could tip it some more to get the kickpoint a little higher.
True Temper was gracious enough to send me an HB6 to test against the rest of these hybrid shafts. If you aren't following @projectxgolf on Twitter, I highly recommend you do. They give away free shafts all the time and they are very helpful and responsive if you have any questions.
First of all, the HB6 paint scheme is as beautiful as the X7A3 that I game in my driver. Just flawless and the paint does seem to "slim" the overall look of the shaft.
Well after installing this in the #3 XCG-V I went out to the range to warm up and also to test it against the Motore HB in my #4.
First impressions...
The HB6 is the smoothest feeling, anti-left hybrid shaft I have ever hit. Usually 2.2 torque shafts feel "boardy" and along with that you get the "anti-left" performance. The HB6 is the smoothest feeling 2.2 torque shaft I have ever felt.
The dispersion is unbelievable. I mean that, unbelievable. I hit 35 balls to a target that is 220 yards away at my home course, they were all within 6 yards of one another (right to left).
Looking down at the HB6 in my Exotics hybrid just inspires confidence.
On the course...
I only hit my driver on my home course (King's Creek in Spring Hill, TN) between 5-8 times a round, depending on conditions and tee box. I use my 3 wood and #3 hybrid on most of the par 4s. My first experience was on #5, which is a 445 yard dogleg right par 4. Most of the time I cut the corner with my 3 wood and have about 90-120 yards in. I decided I might as well hit my #3 hybrid to see how far I could muscle it and to see if it would go left when I went after it. Well, I hit a high, tight 3 yard draw and cut the corner leaving myself 133 yards into this green. While I will probably continue to hit my 3 wood so I can be a little closer to this green I was obviously impressed with how straight and how far it flew.
I used it 3 more times throughout the round and always hit a high, 3 yard draw that just seemed to go forever and then roll forever.
In Conclusion...
If you are someone who is looking for a smooth feeling, anti-hook hybrid shaft, look no further than what Project X is offering. It won't always be for everyone, because not everyone can swing a 96 gram hybrid shaft.
I have started the search for another HB6 to put in my #4 and I have already fit 5 other people into Project X hybrid shafts.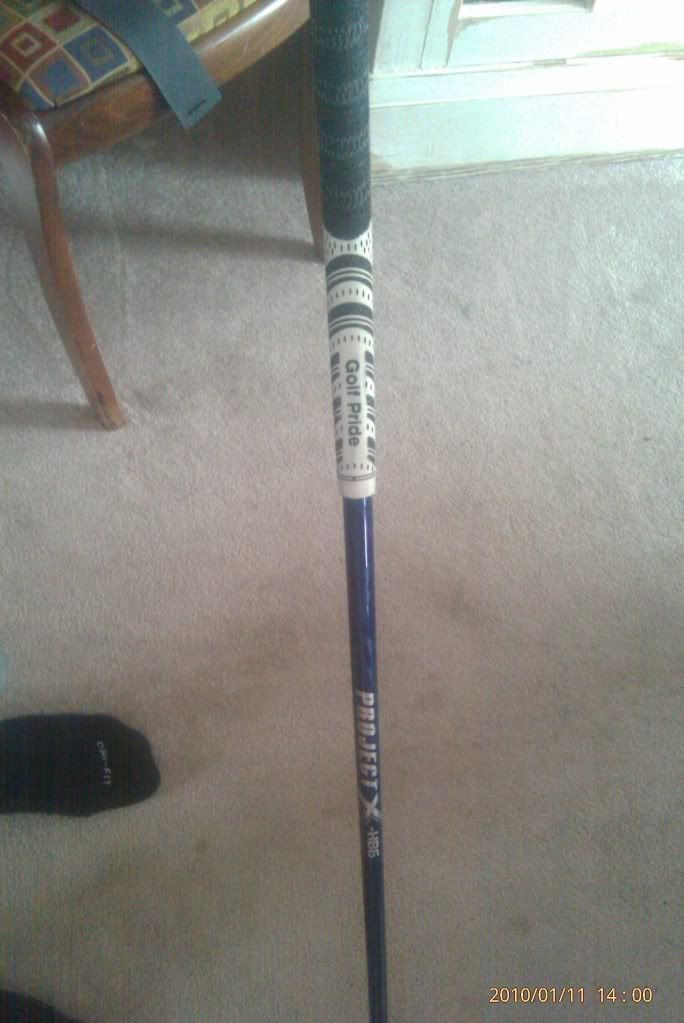 Thanks True Temper/Project X for allowing me to test your products. They are top of the line in my opinion and I continue to endorse them to my friends and customers.
Keep up the good work.