Today played, and decided to take out two drivers and 2 putters, this was my late 1980's /90's themed bag, played half decent had two dirty doubles in a 74 but drove the ball very well with both drivers, but the irons today compared to last week made a huge difference.
Titleist 681's 4-PW
Ping eye2 2 iron
Titleist 60 degree wedge
Callaway driver
Late 80's Nicklaus driver
Taylomade spoon 3w
TP Mills handmade putter
PLOP putter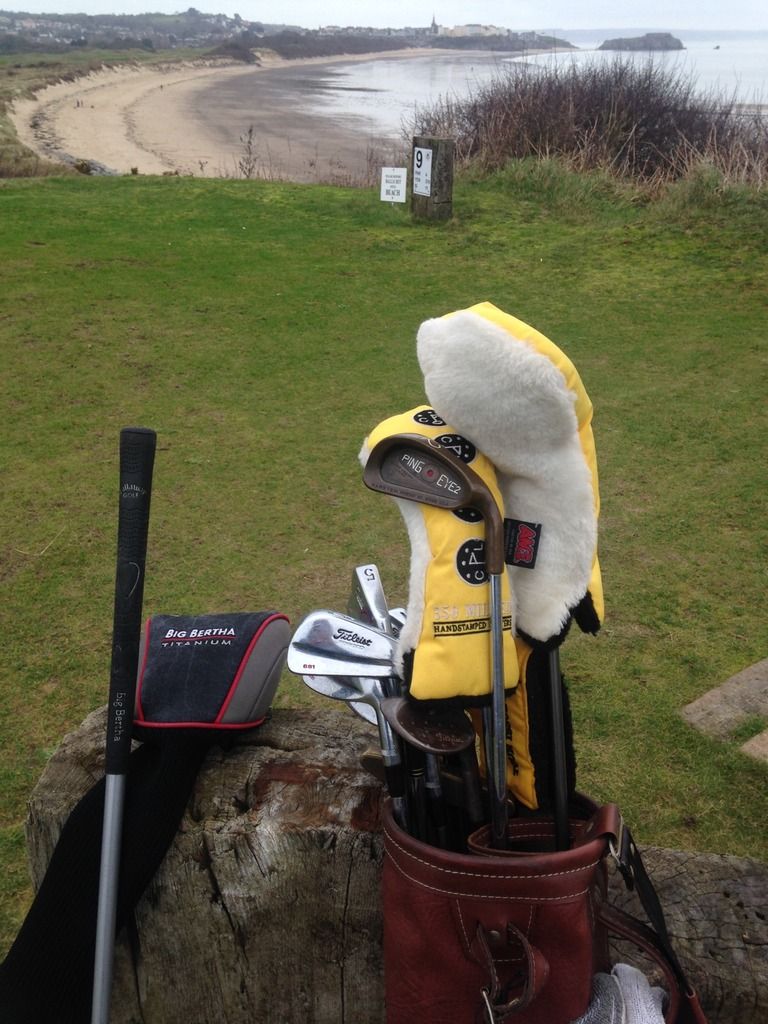 Bag used Boxing day, didnt play particuarly great irons are a good 1.5 inches shorter than standard today, and lofts are hugely different i found it was 2-3 clubs different. Shot 78 which wasnt too bad didnt get on with either putter.
Callaway great big bertha driver
Harry Busson driver
Joe powell 3 and 5 wood
Macgregor colokrom irons 3-PW late 1950's early 60's ? Anyone know?
Ping Karsten I 2 iron
IMG putter
John letters golden goose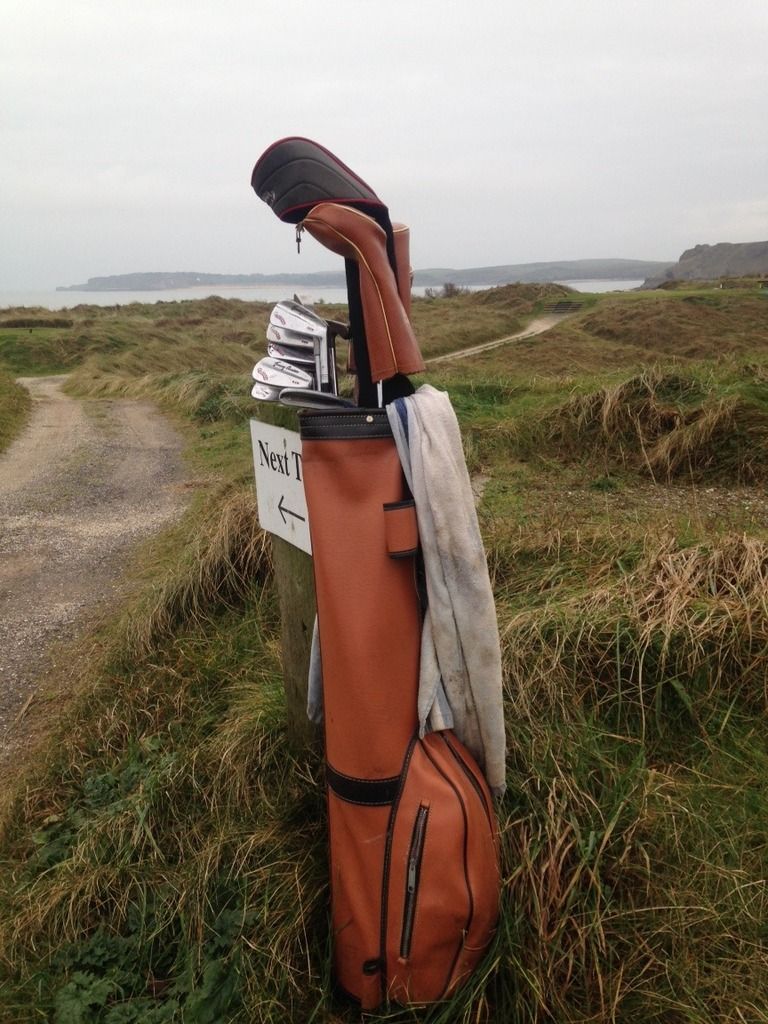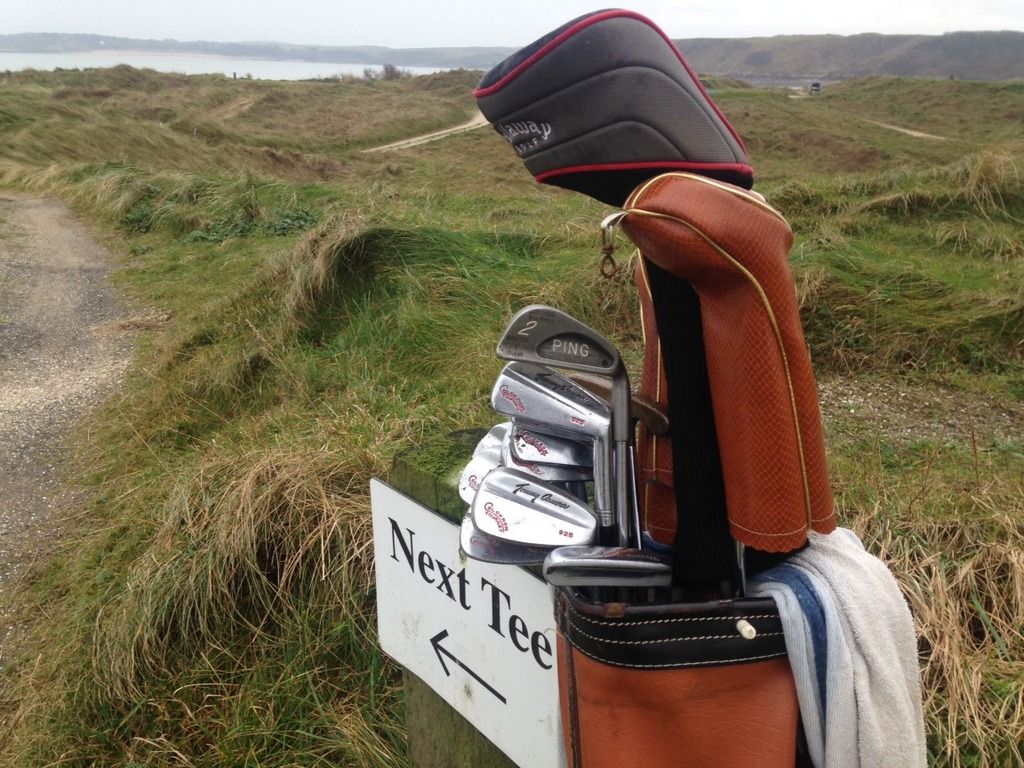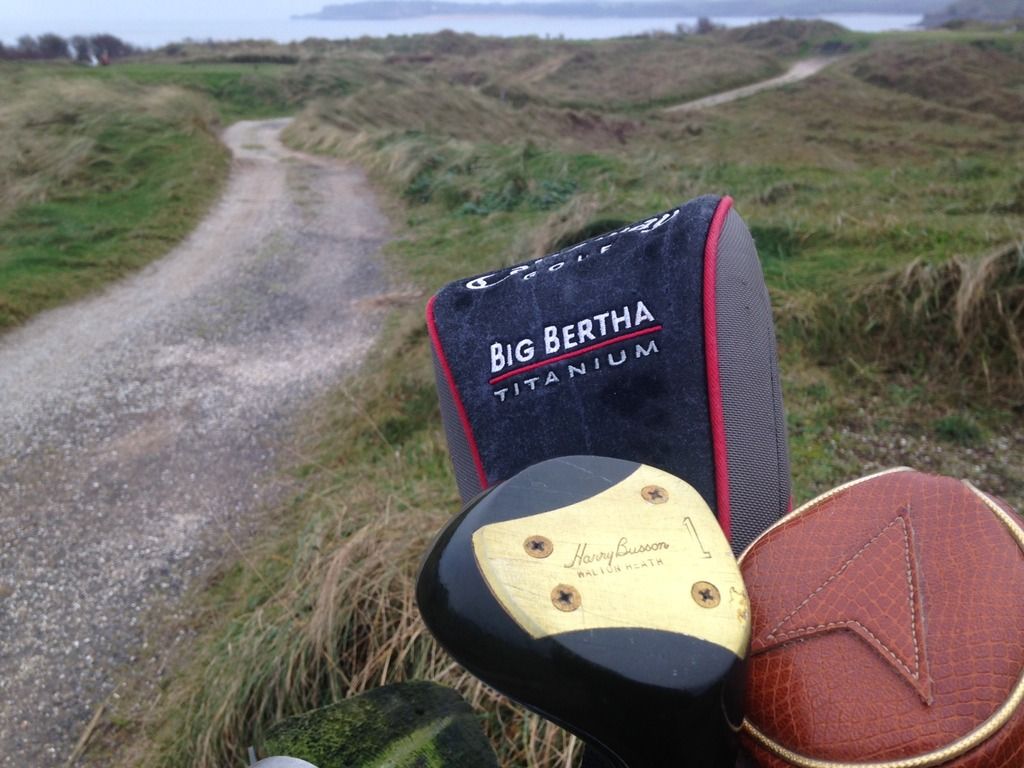 For the last few years Ive been playing in a few events around the UK and wondered what I could get from each venue as a memento. I know a lot of people buy markers divot tools etc but for me it seems to have become headcovers, and or tote bags! Here are a few...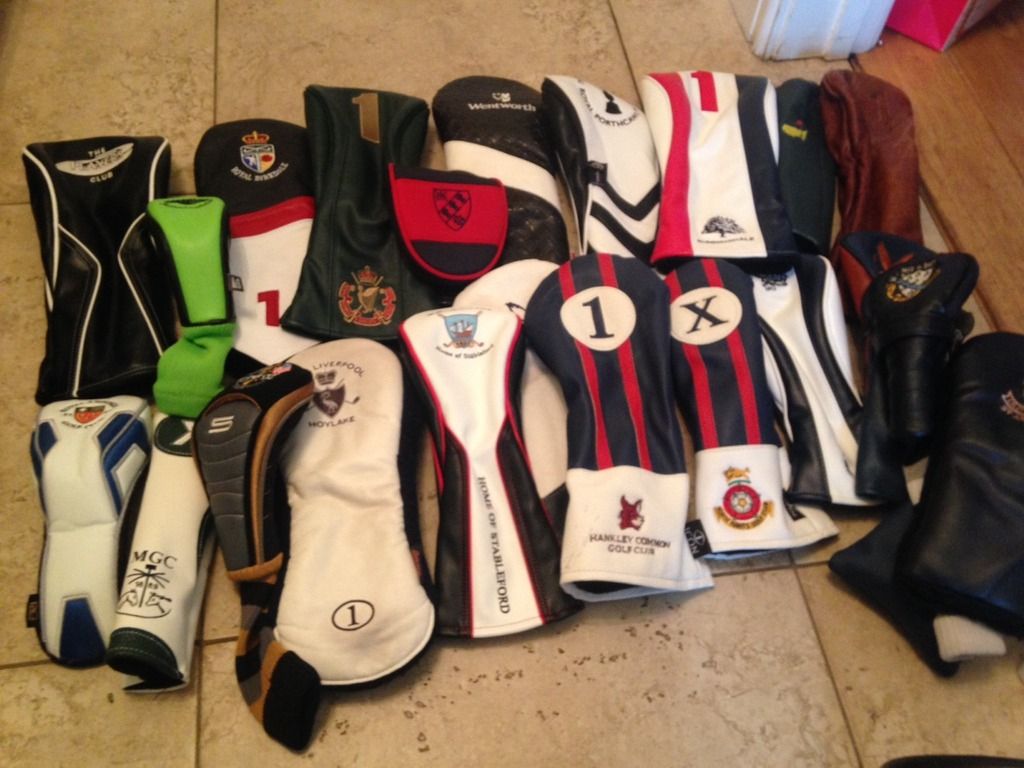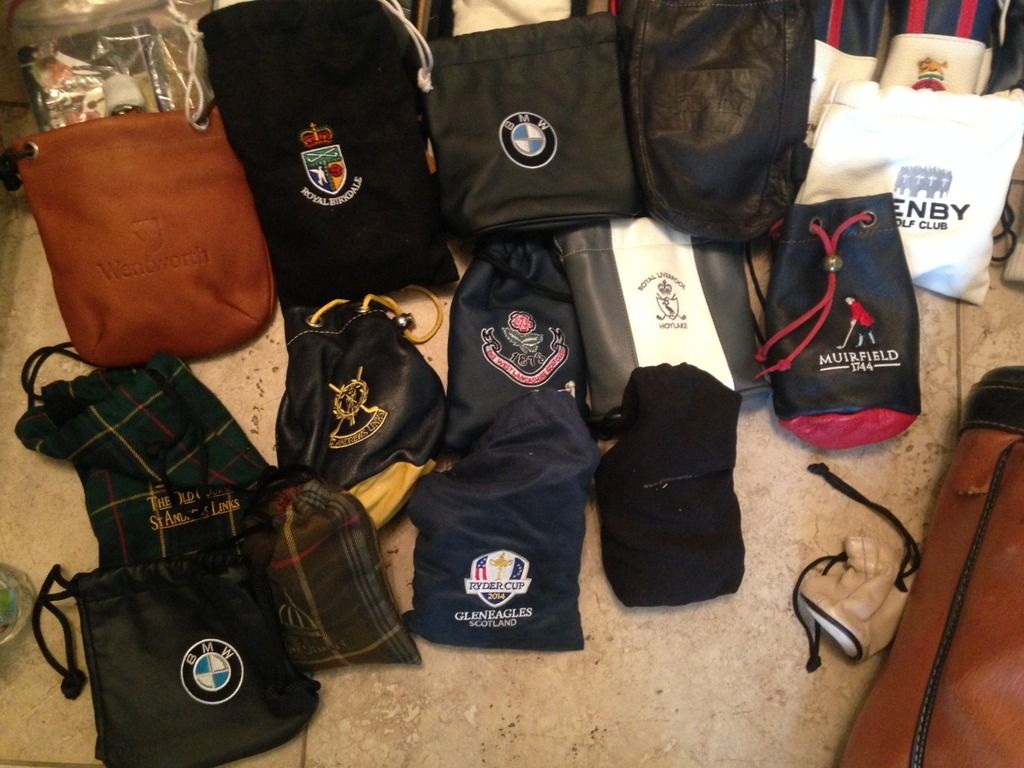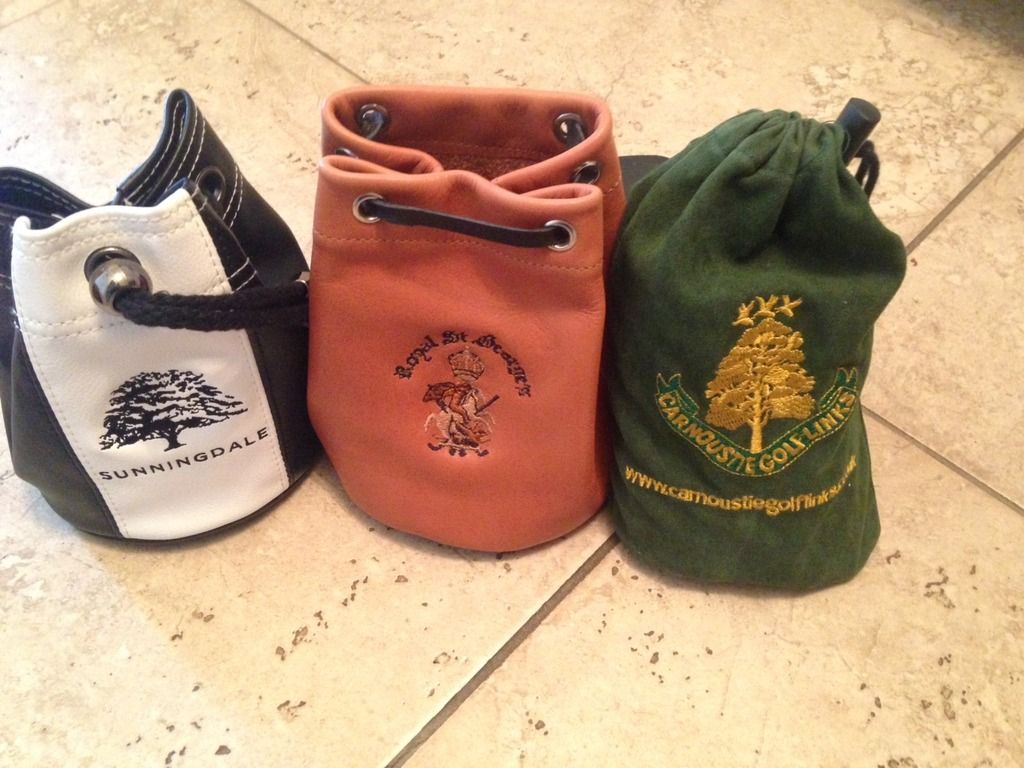 You cant beat a links and Kings tote bag, beautifull.
Had a few issues with the coating on my 60 degree wedge from Bettinardi, spoke with the guys and girls there and they were fantastic, sorted it out even with me living on the other side of the Atlantic and this arrived the other day.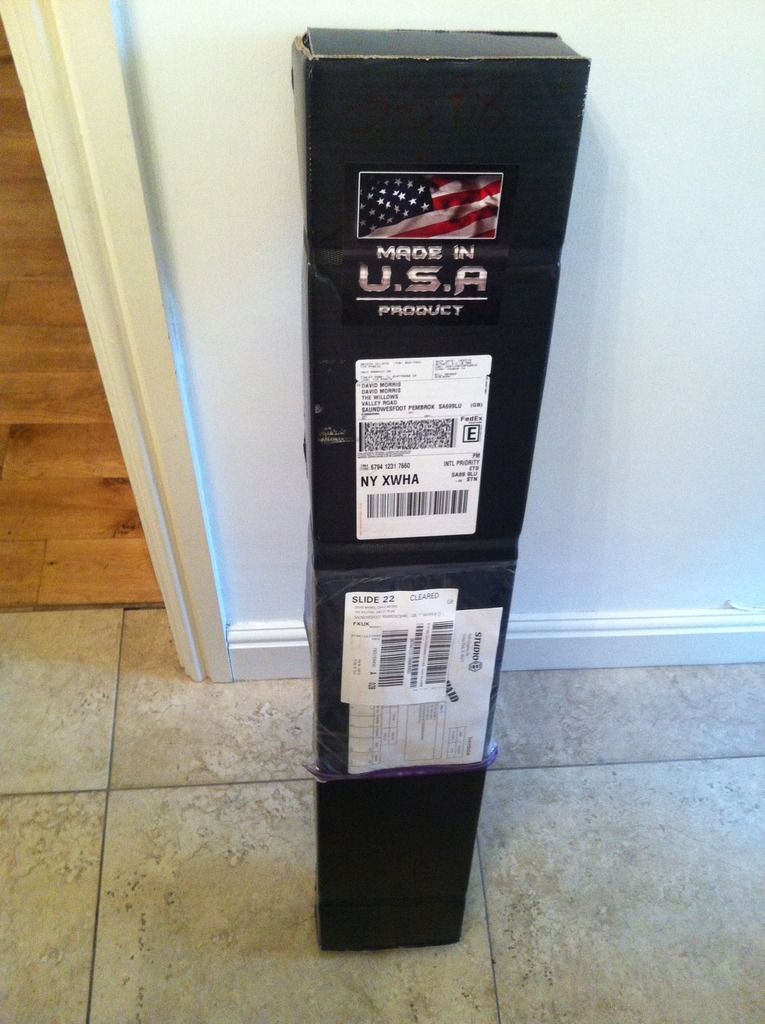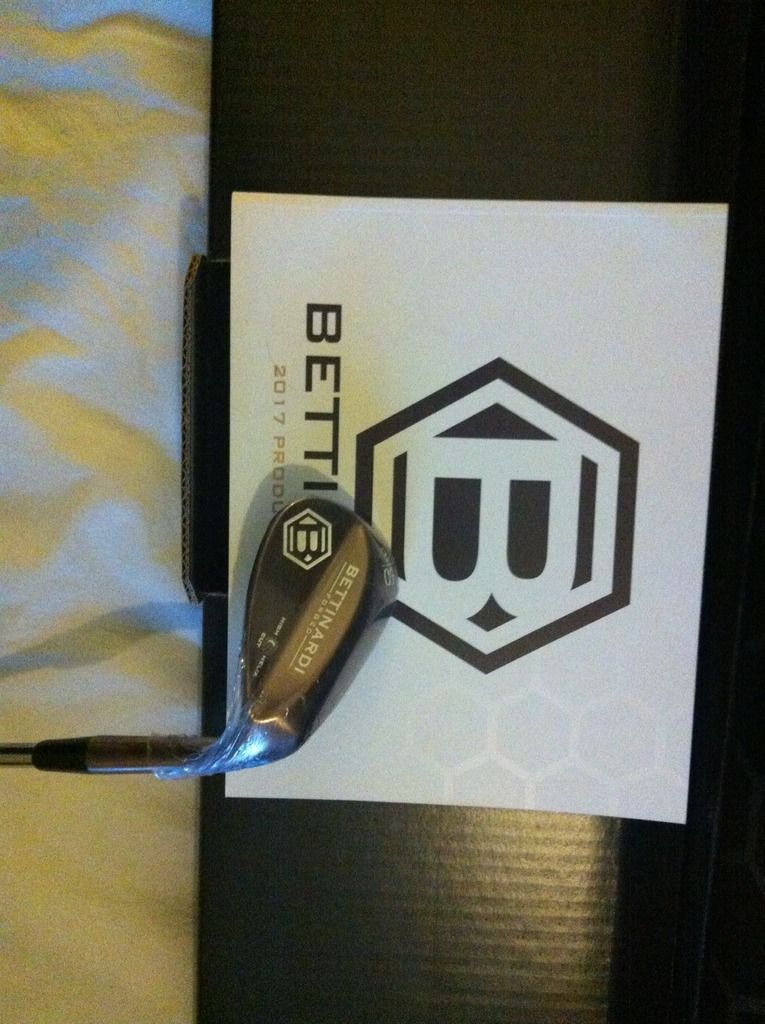 Also a nice little early Christmas present
Bettinardi Innovai 3.0 counterbalance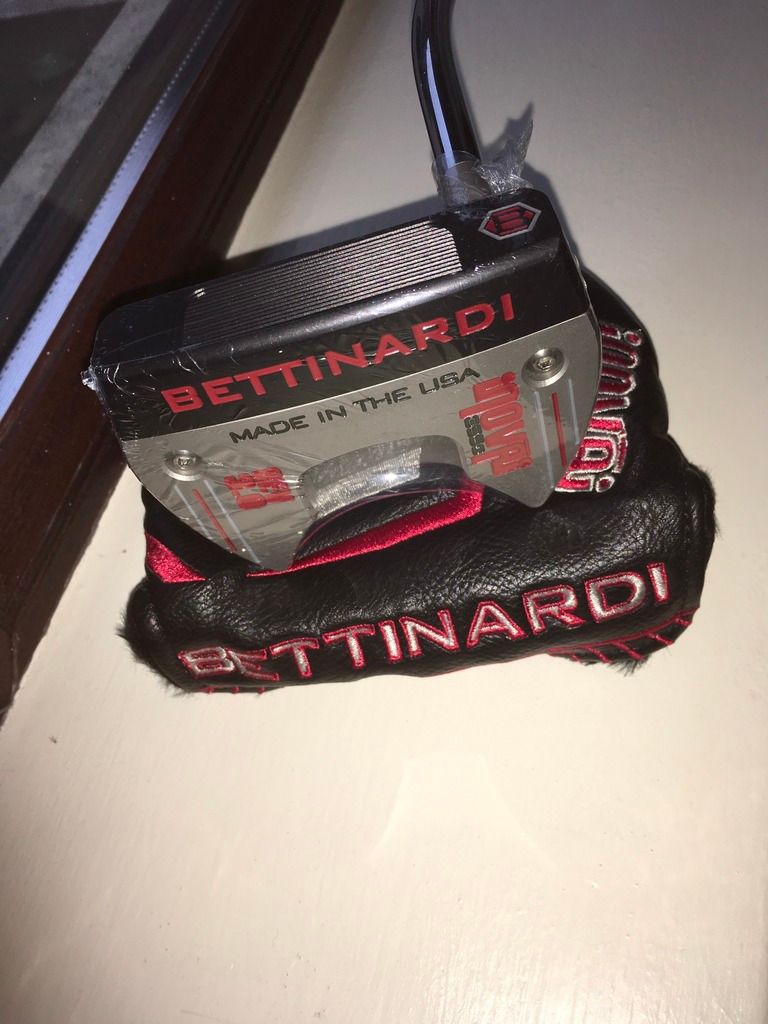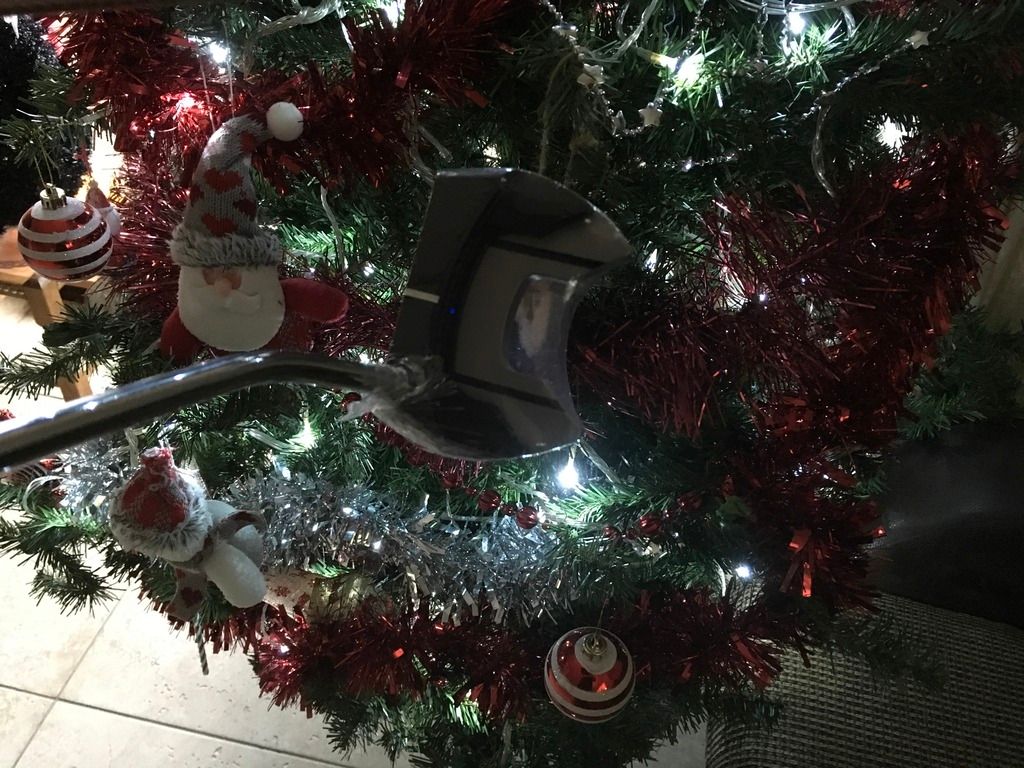 Glued in the weight into the top of my scotty, sanded down the plastic plug and regripped, ready for tomorrows outing. Ready to rock and roll. Once again thanks to Howard Jones on his putter weighting article he wrote!
Had a few problems with the bronze finish peeling on the face of my Bettinardi 60 degree wedge, so having to send that back off. So have been on the lookout for a new 60 degree, popped down the club today and our pro had all the rotex 2.0 and 3 wedges, so took them for a quick test drive down the practice ground and came away this little baby.
Sits very similar to my old scratch 58 degree, which was what I was after, I have tried numerous vokeys and for some reason or other they just don't sit well on the eye with me. It has even Inspired me to get out of the cupboard my old cleveland 52 degree wedge, and am almost tempted with the 50 degree original rotex that i bought a while ago and have never used in anger.
Putter weight tinkering see page 7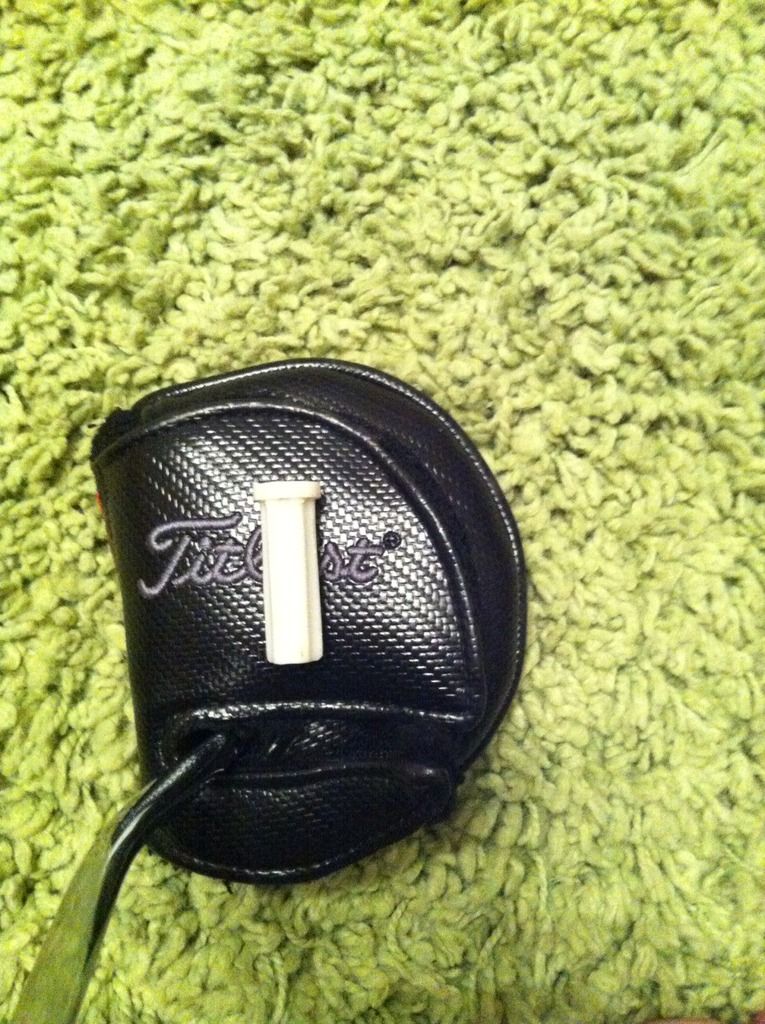 Whats in the bag for 2016 Golf Digest style
More pics of Bettinardi's and rack, workshop on page 7
New Bettinardi bag with extras see page 7 for more......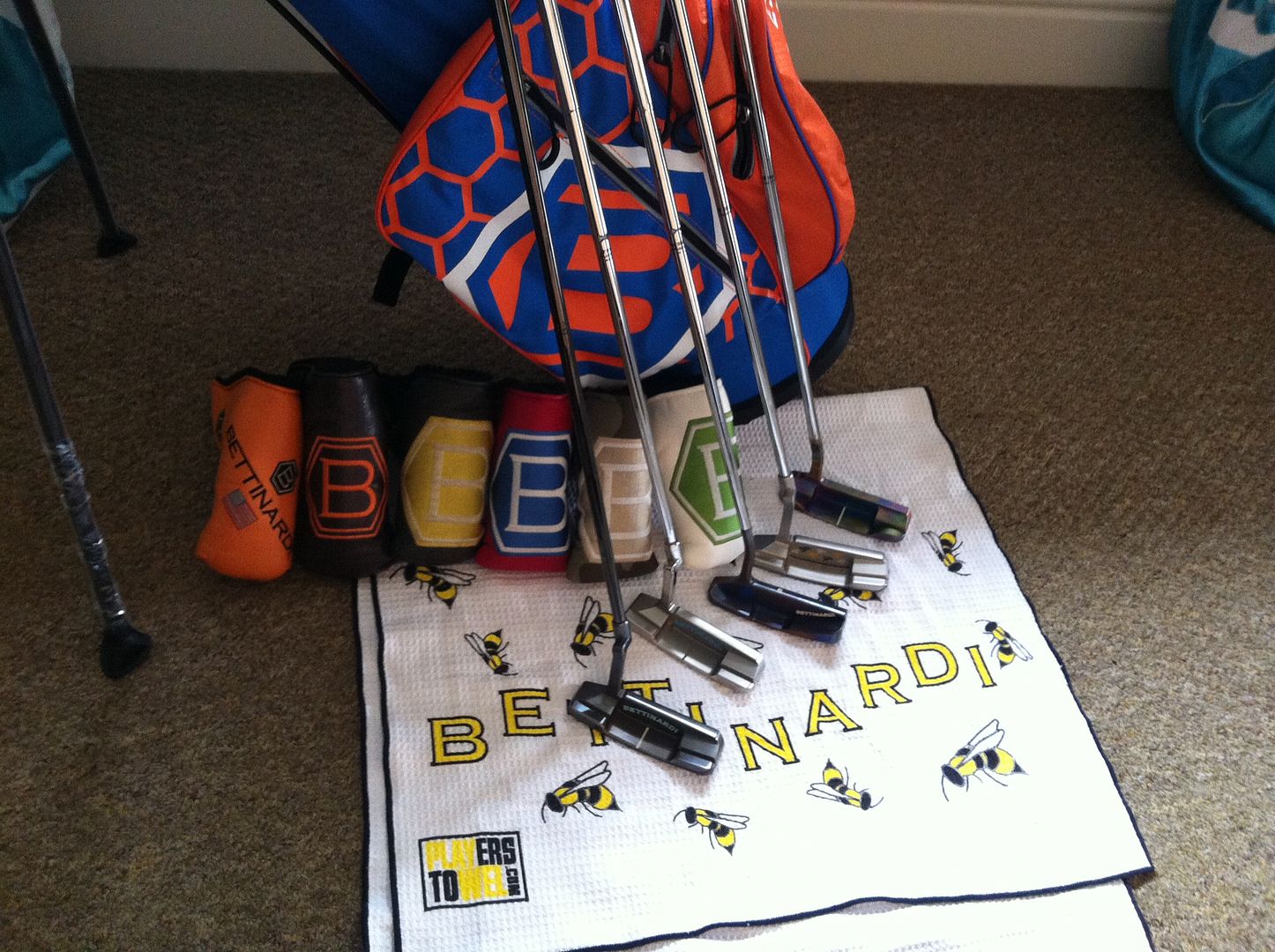 Pics from my trip to Royal Liverpool Hoylake on page 7
March 2016
Had this little lot recently courtesy of the county golf team I play in. Have a few other changes but will sort them out for a later date.
September 2015
All sorts to report, got lots of little titbits, lots of new hickory and Persimmon, but my main playing hasnt changed a great deal as of yet. Bought Some new Bettinardi wedges, but still find myself using the 53 degree scratch wedge. Also have put a Scotty Cameron Futura X5 putter in the bag, so far so good! So here we go:-
TP Mills David handmade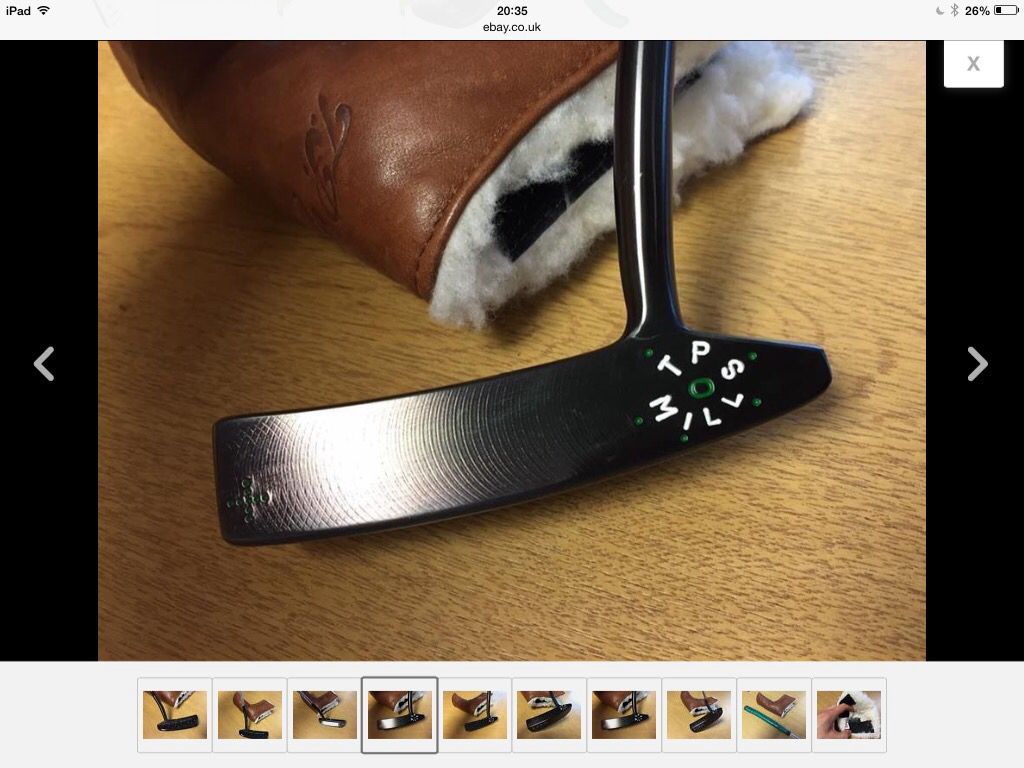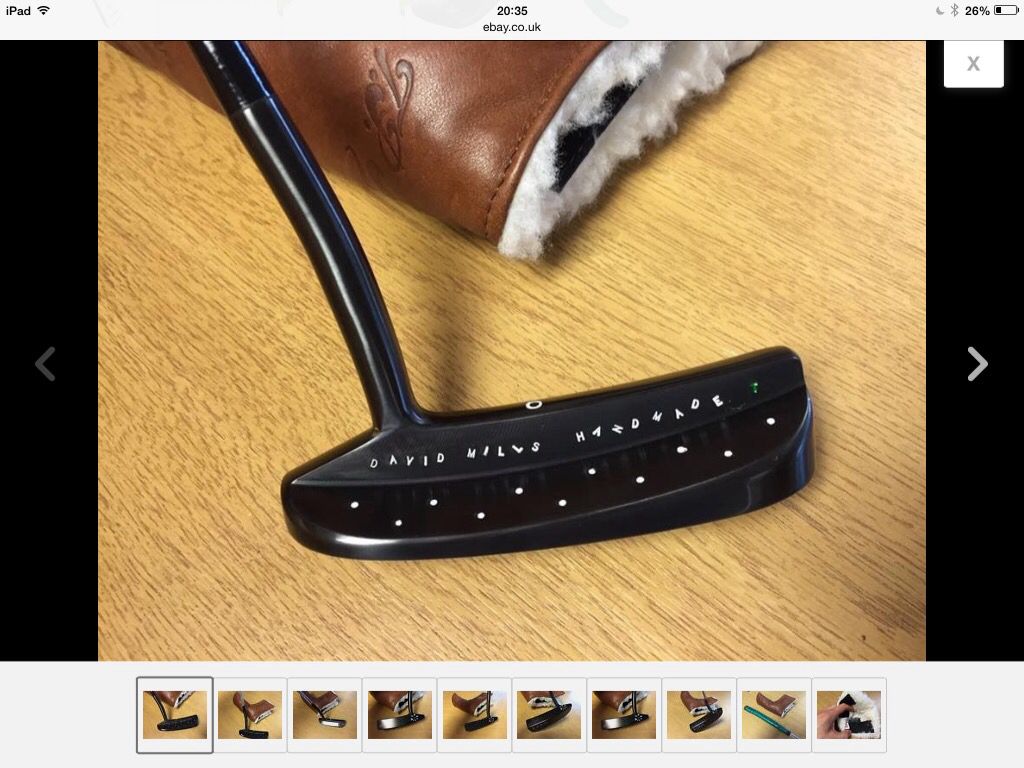 Wilson buttonback re-issue, loved the 1972 version so had to purchase these!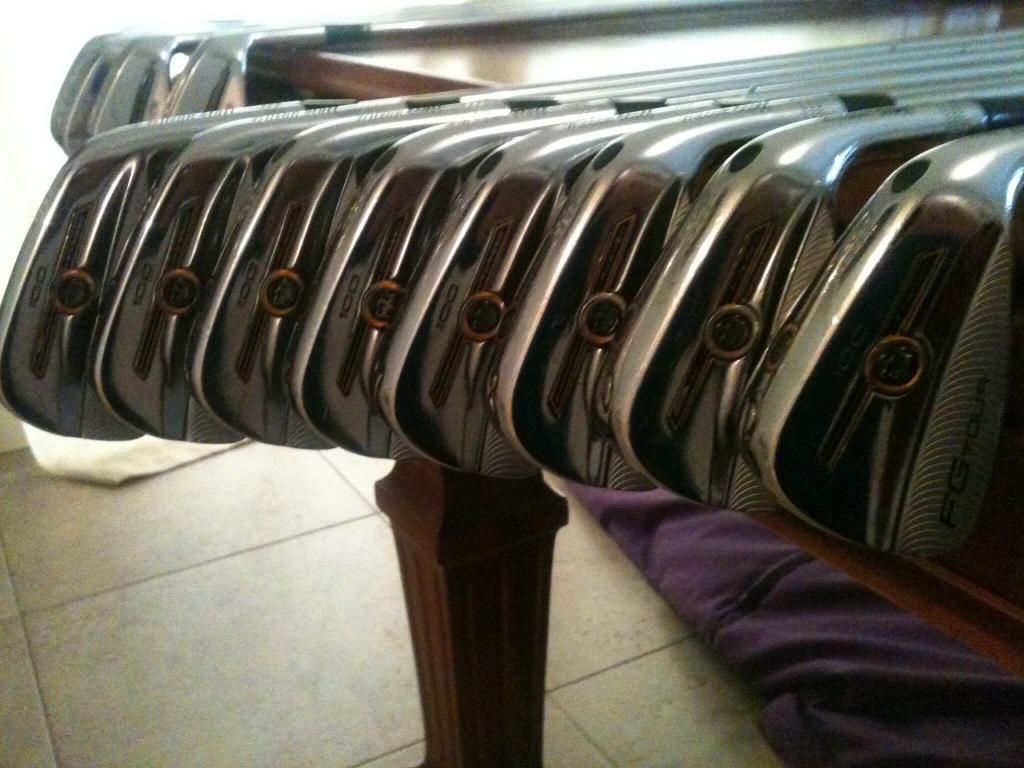 Old and new versions!
Also a set ive long admired Tour Edition Bird on a ball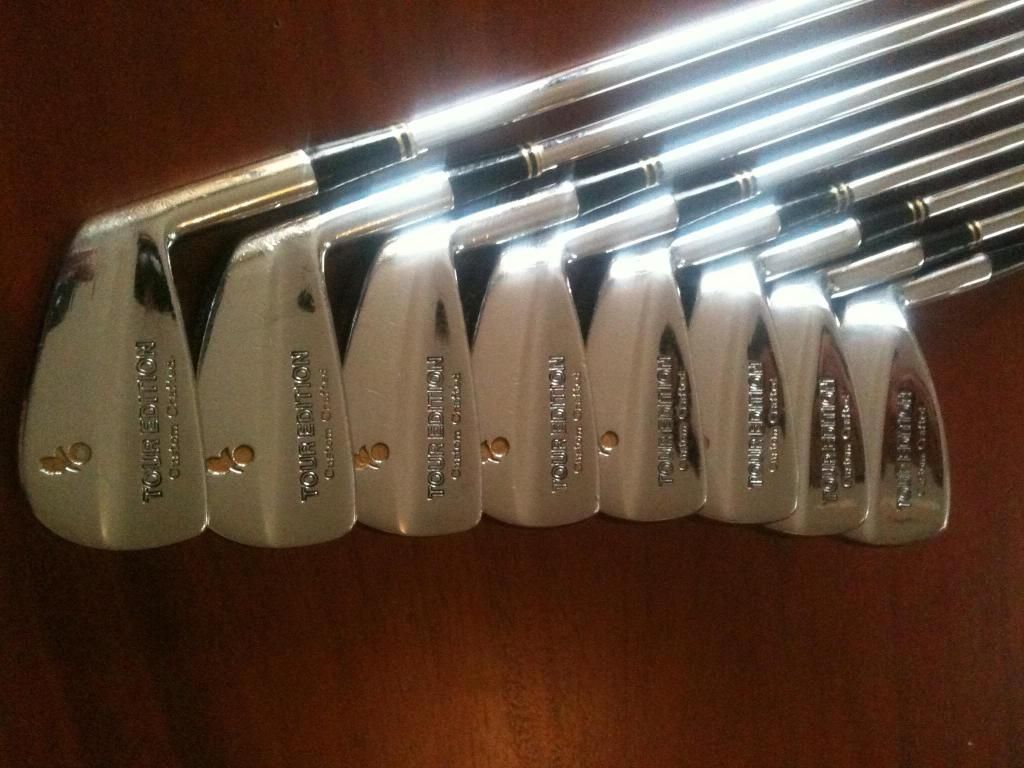 Seve irons SB-02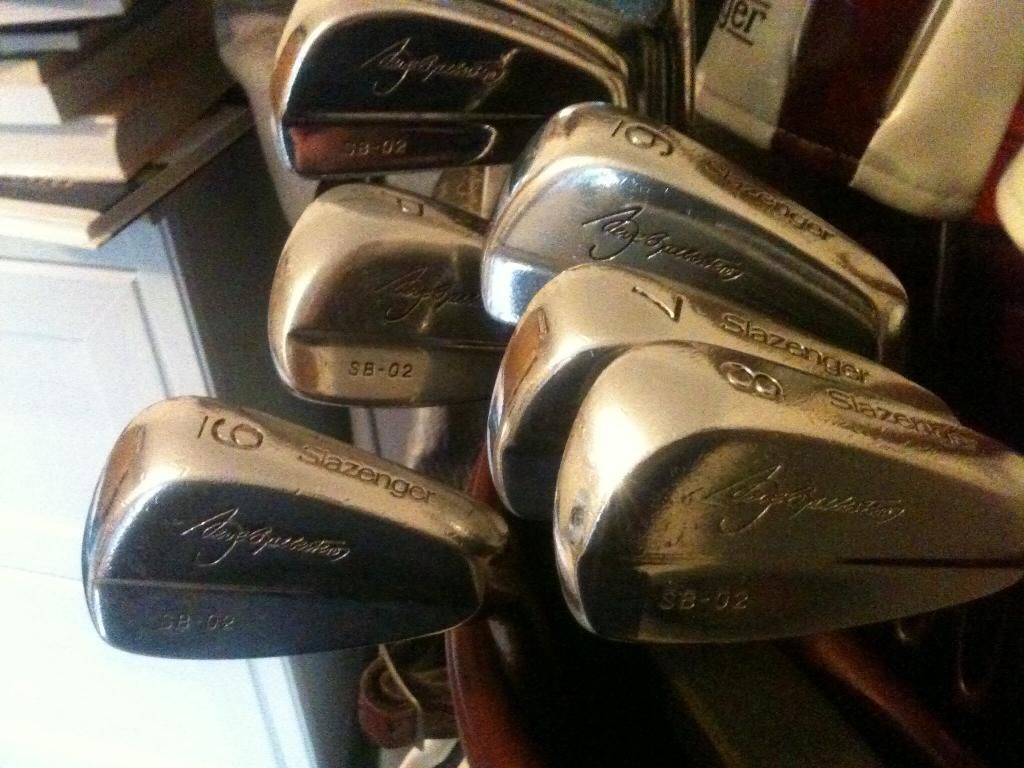 Set of Bettinardi wedges, 52, 56 and 60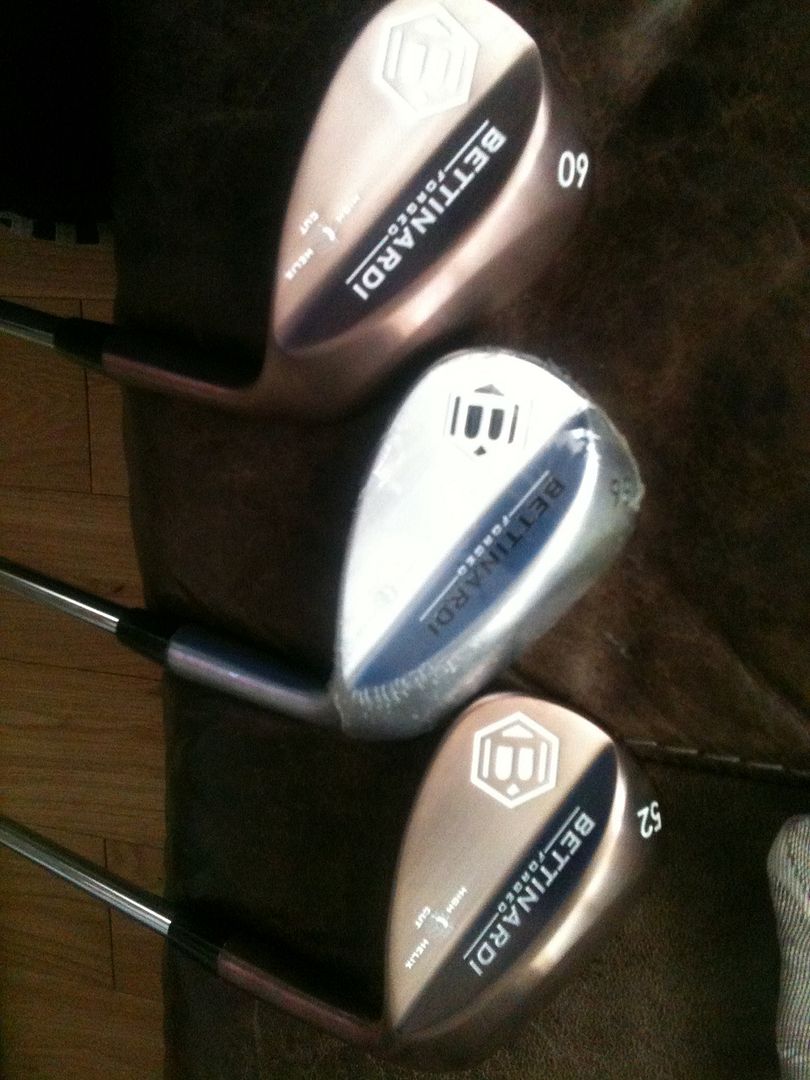 Always wanted a set of these when i was young, 28 odd years later i did!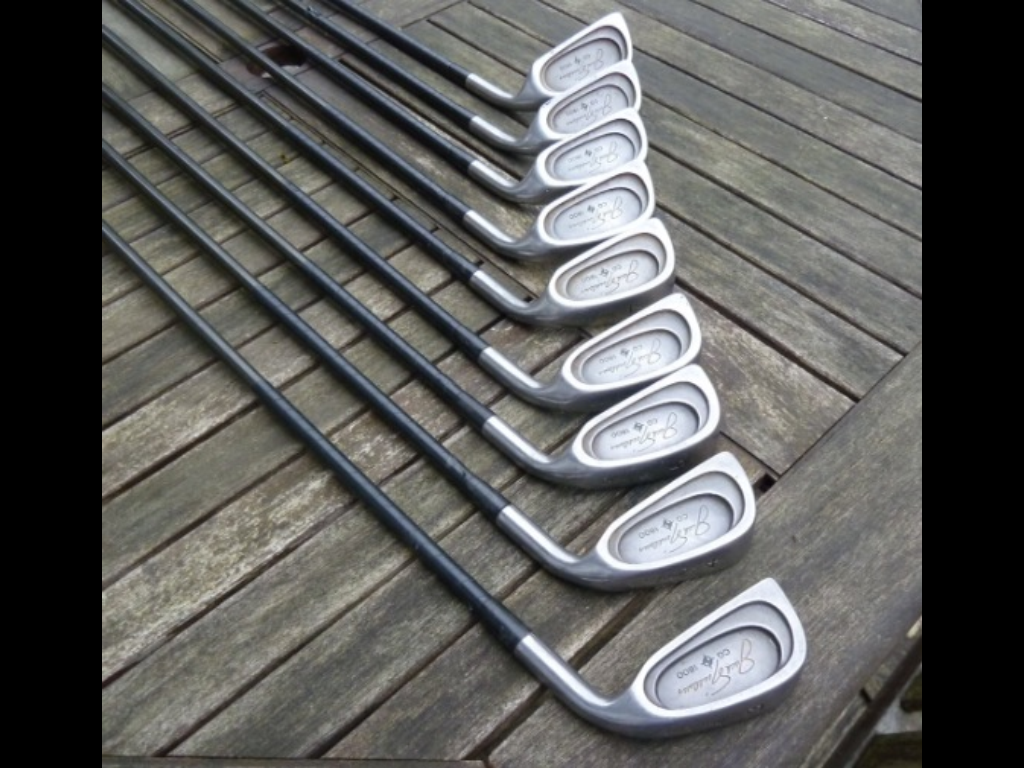 Christmas 2014,
few new additions even if it is the time of hickory and persimmon. Will be doing a golf digest version in due course.
Ok not new but this baby is going to be getting some use this year, been putting really well with when its been in use so far. Machine copper 370grams, with an odyssey grip and a little christmas cheer!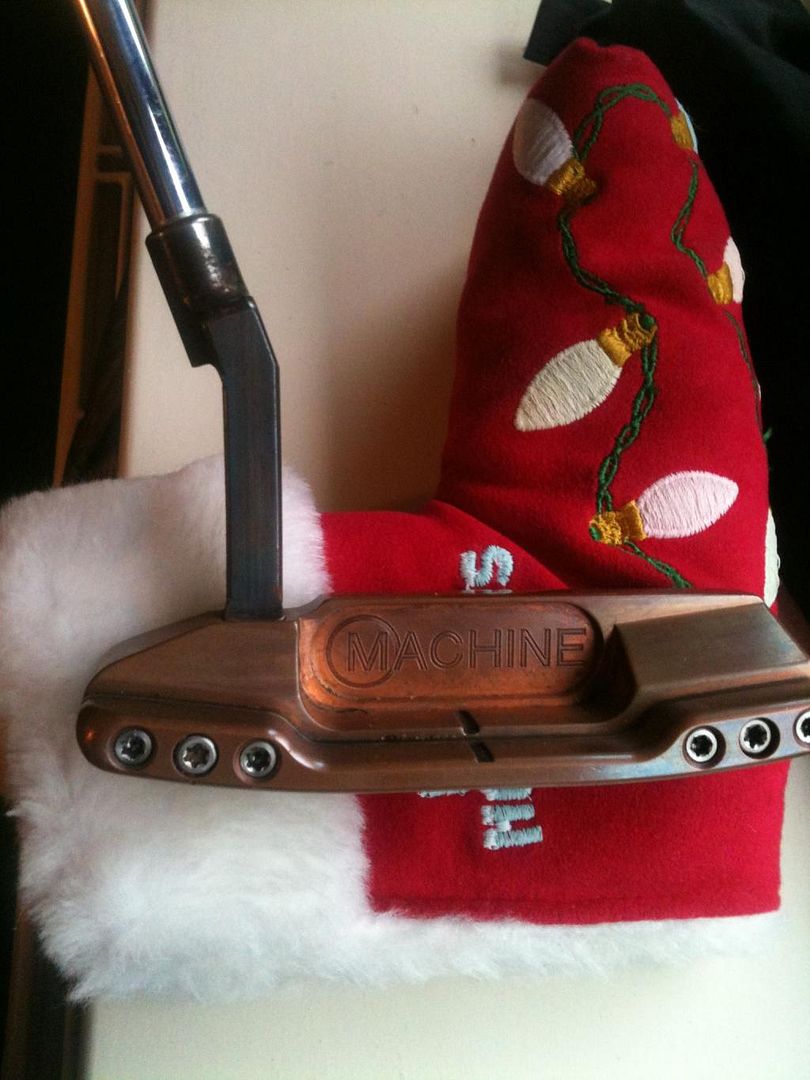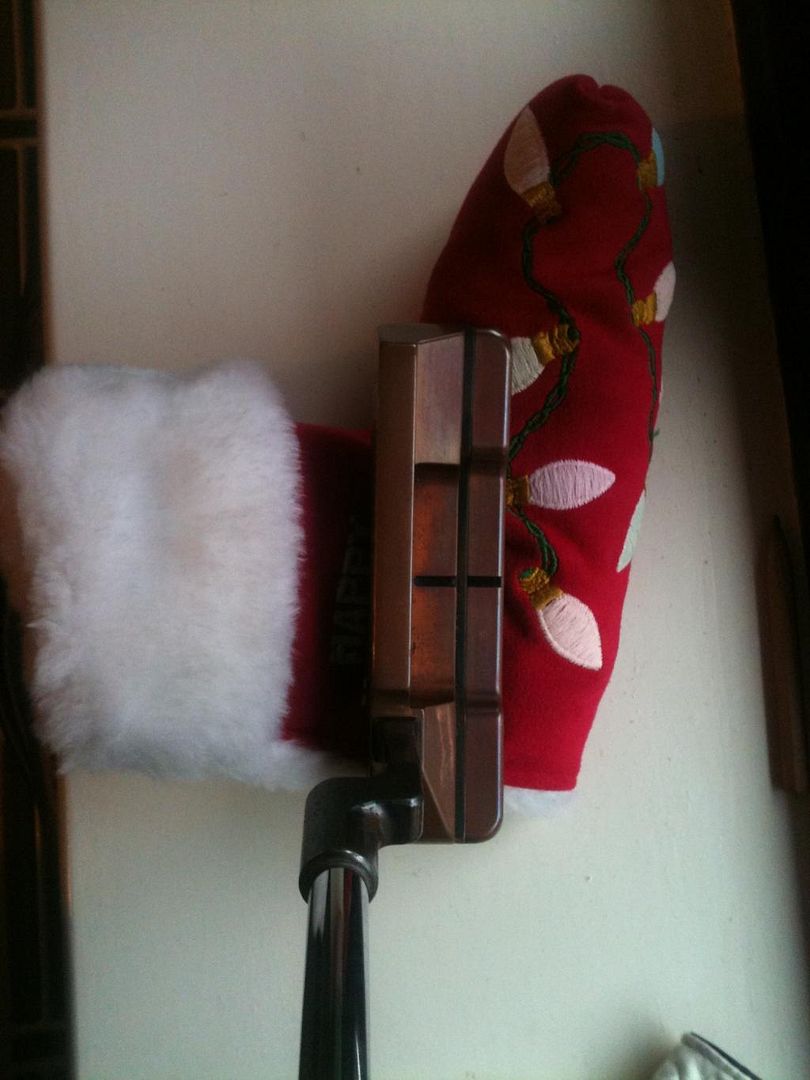 Taylormade sldr s and 3 wood.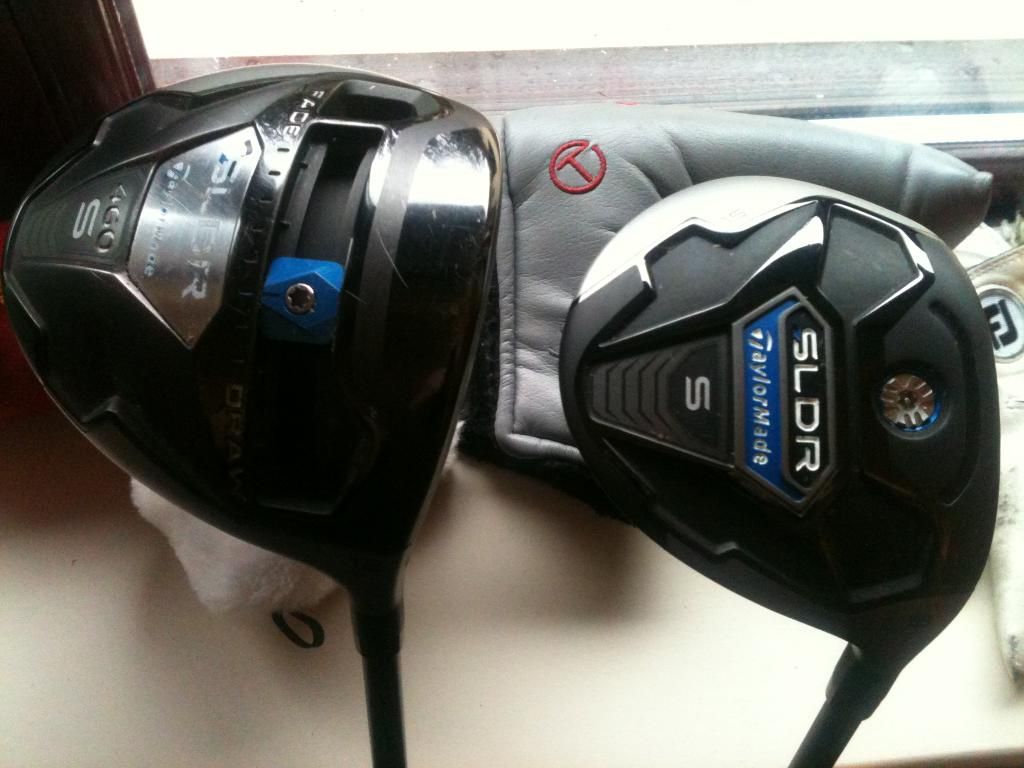 Titleist 913 d3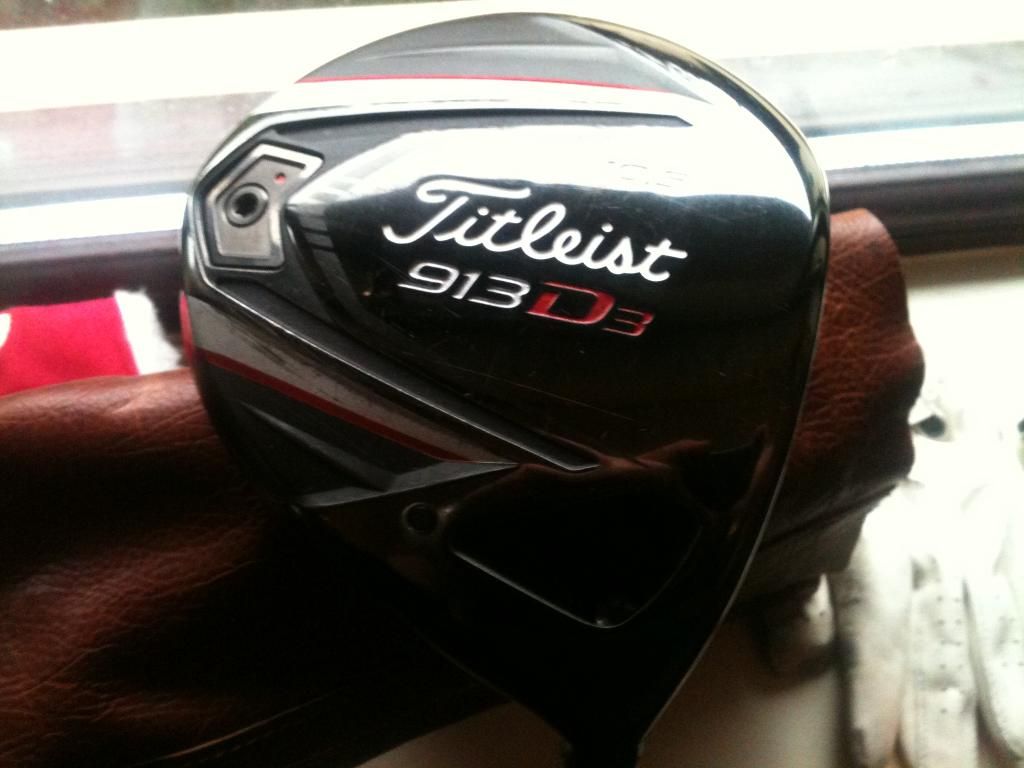 Will be putting this in the sldr as i am finding it has too much spin.opefully. This shaft should be perfect.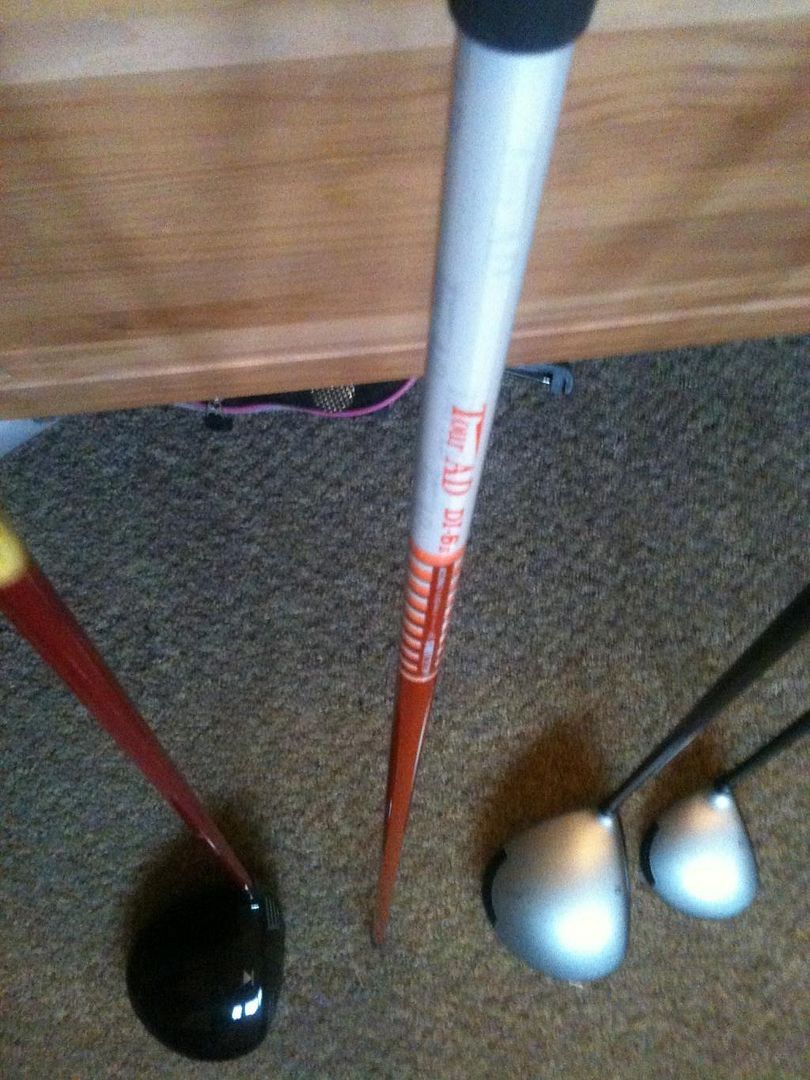 [/URL
Finally a much needed gap wedge to fill the 45-53 gap i currently have.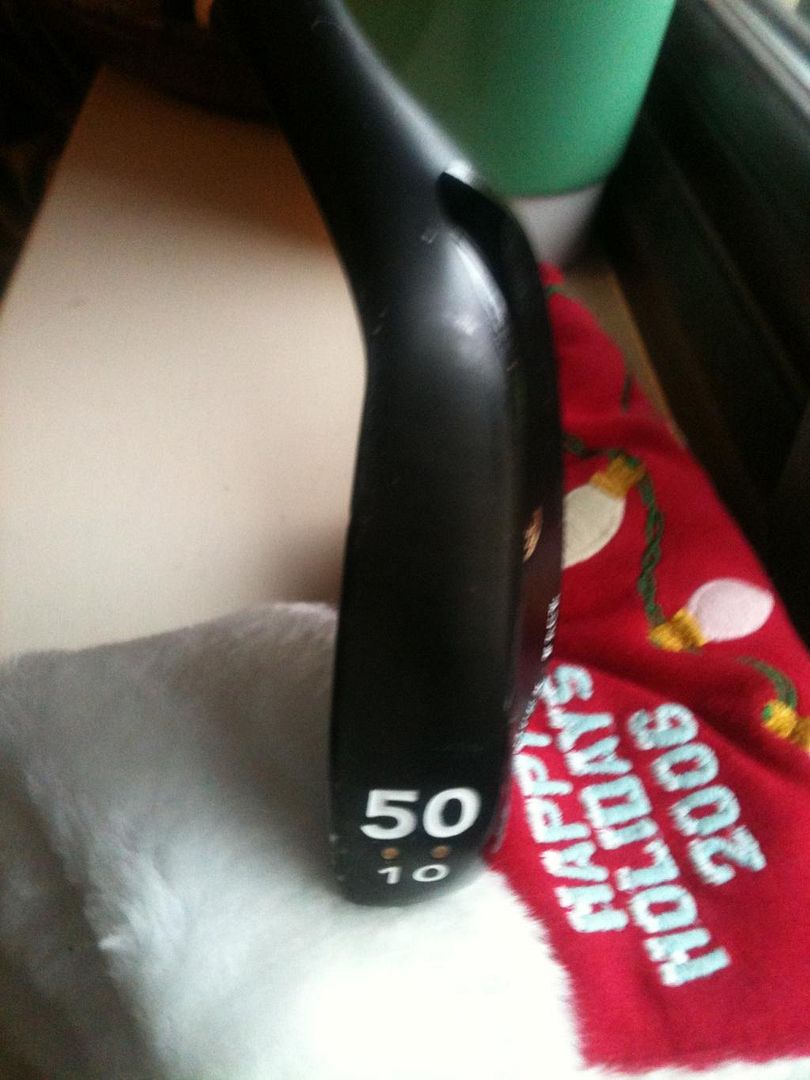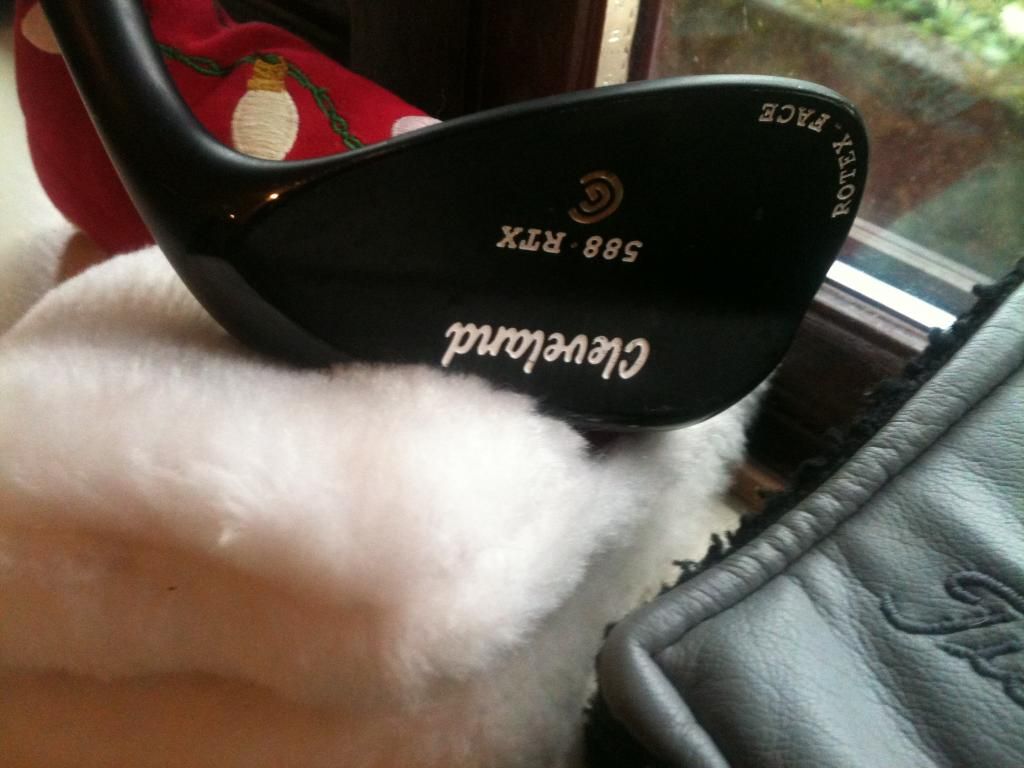 End of season october 2014 and what time is it?
YES its HICKORY time but first off the other bits.....
Quite a few changes in numerous directions and approximately 100+ years, picked up a yardage book made by carveon.com who made a certain mr mcilroys amongst others, fabulous service with my clubs logo embedded into the leather. V light but solid, cant recommend them highly enough.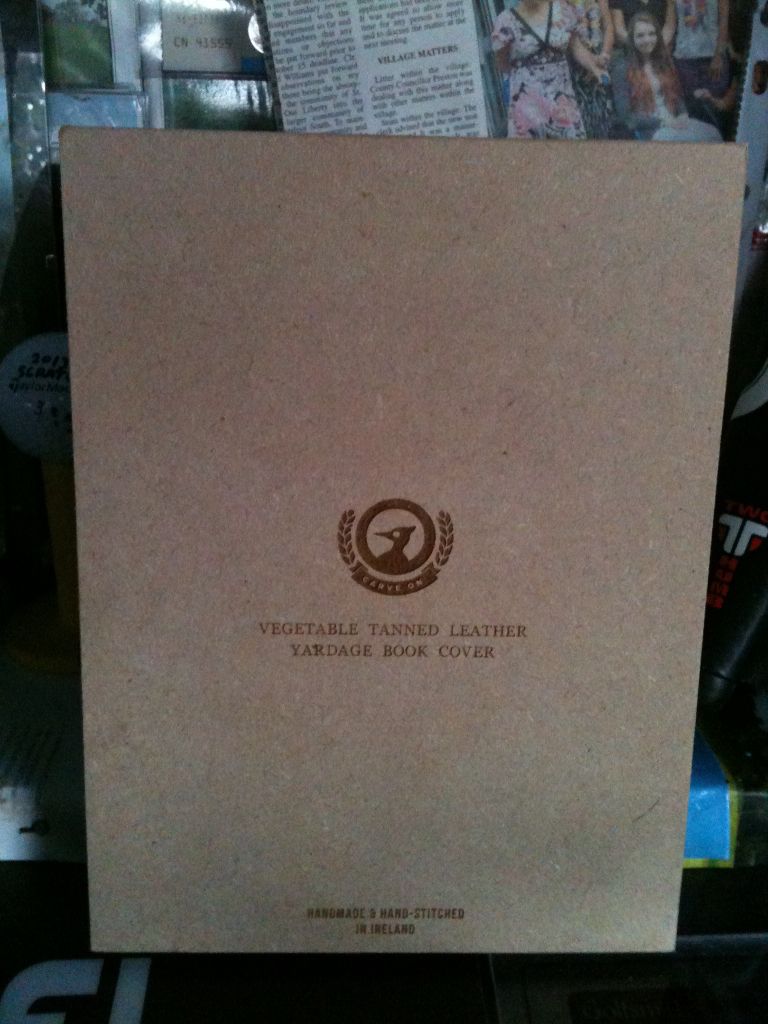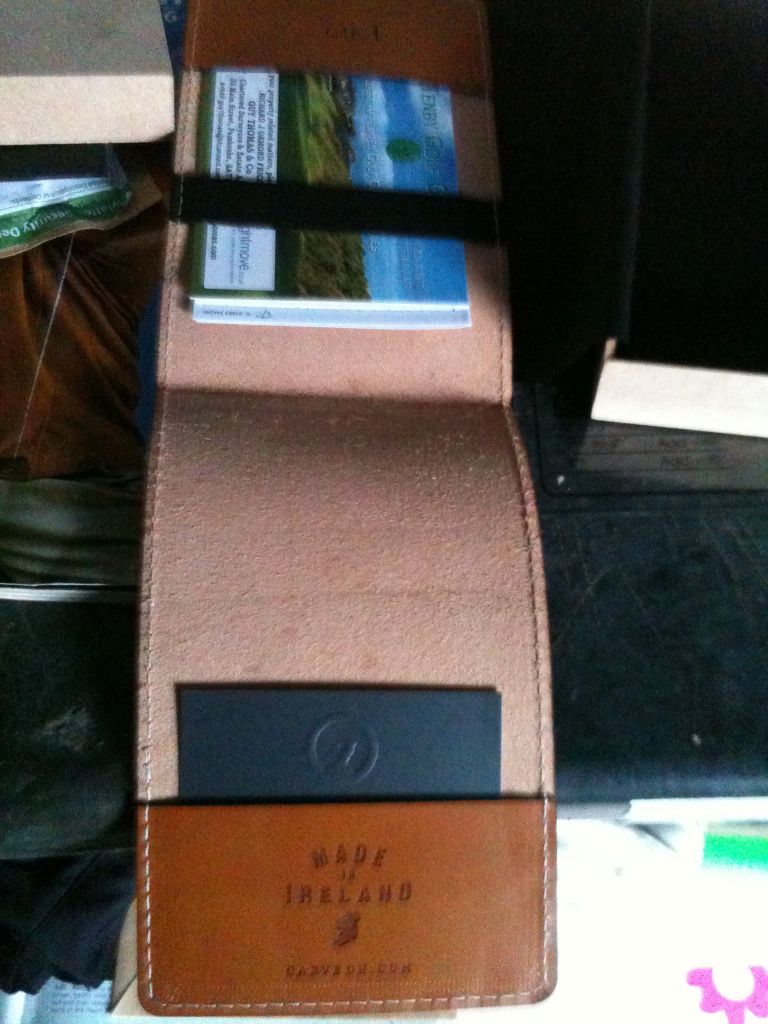 Also bought a few headcovers from seamus golf, fantastic quality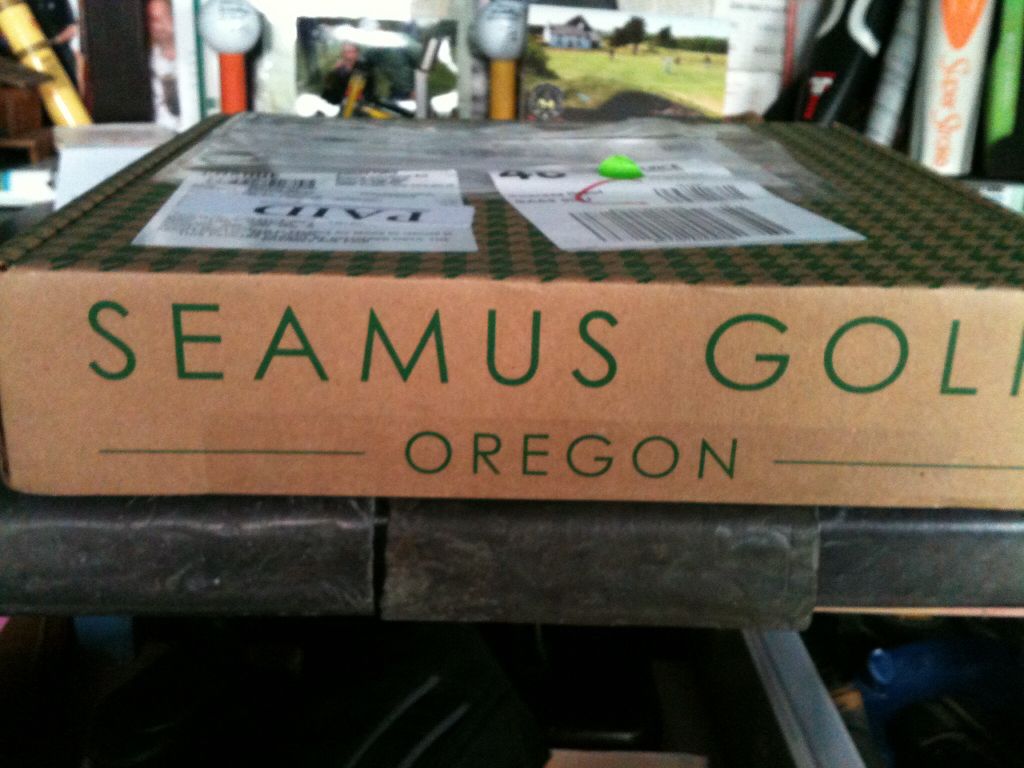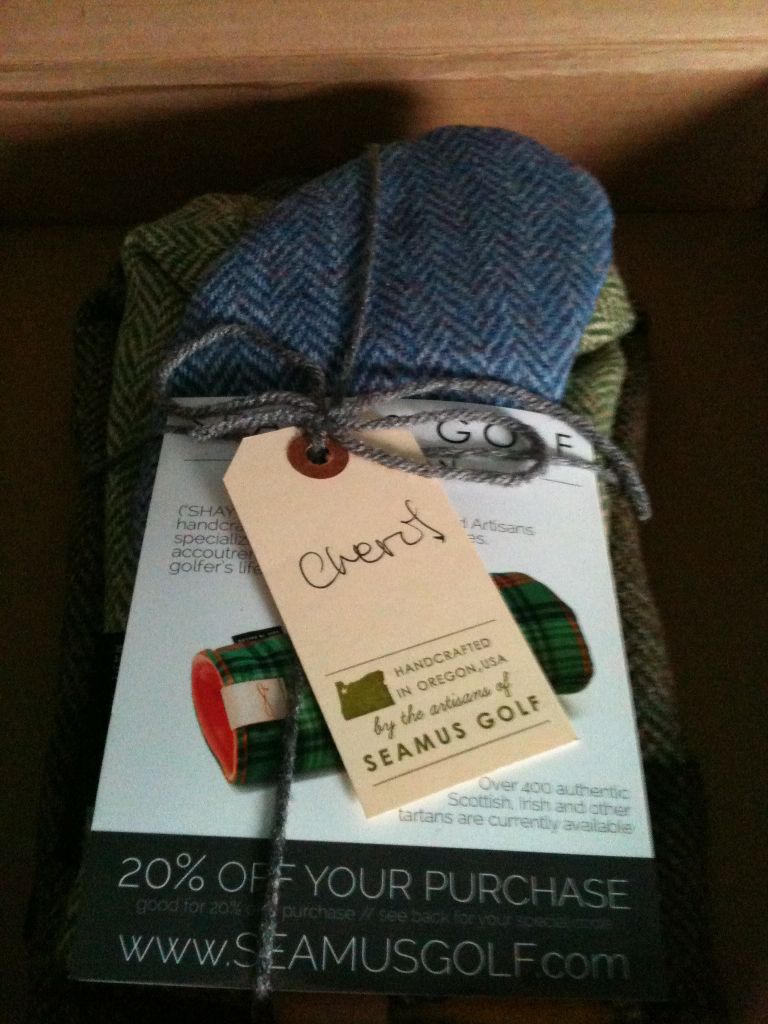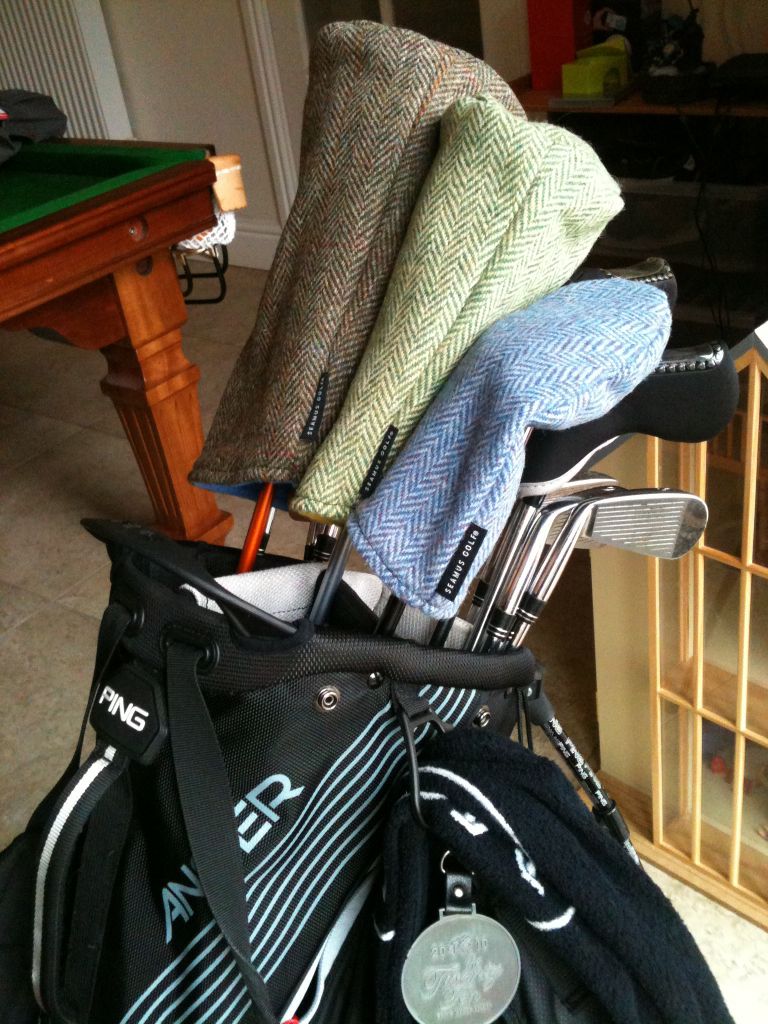 Hickory
Here is my newest latest bag o' tricks, yes am trying out the world of hickory, driver, spoon Percy Aliss, them long iron, mashie, mashie niblick, 8 iron (wedge to you or I) by Forgan, the mid irons by maxwell. Putters are a schnectady and James Braid. Put together in a new in the old style canvas bag. Ball is the wilson dx2 soft
Hickory lofts
10 - Percy Alliss driver
19 - Percy Alliss spoon
25 - Forgan maxwell iron
27 - Maxwell mid iron
32 - Maxwell iron H
35 - Forgan mashie
46 - Forgan mashie niblick
51 - Forgan 8 iron
54 - cleek mark niblick
Yes there a few gaps, but thats what hickory is all about, and all the fun!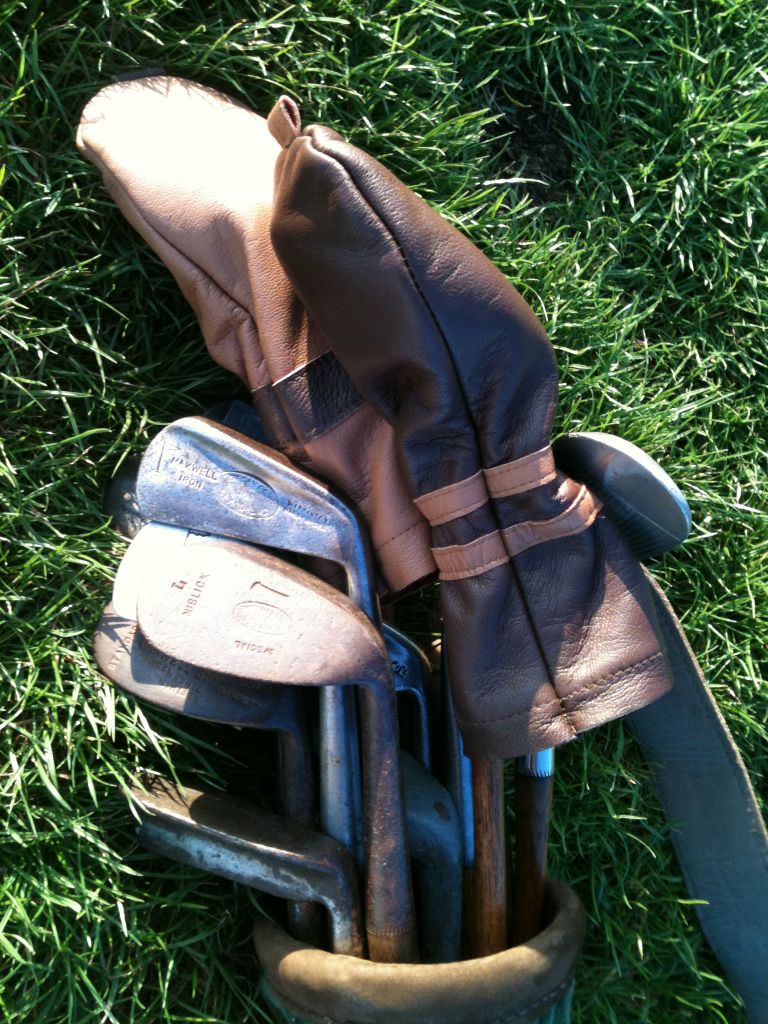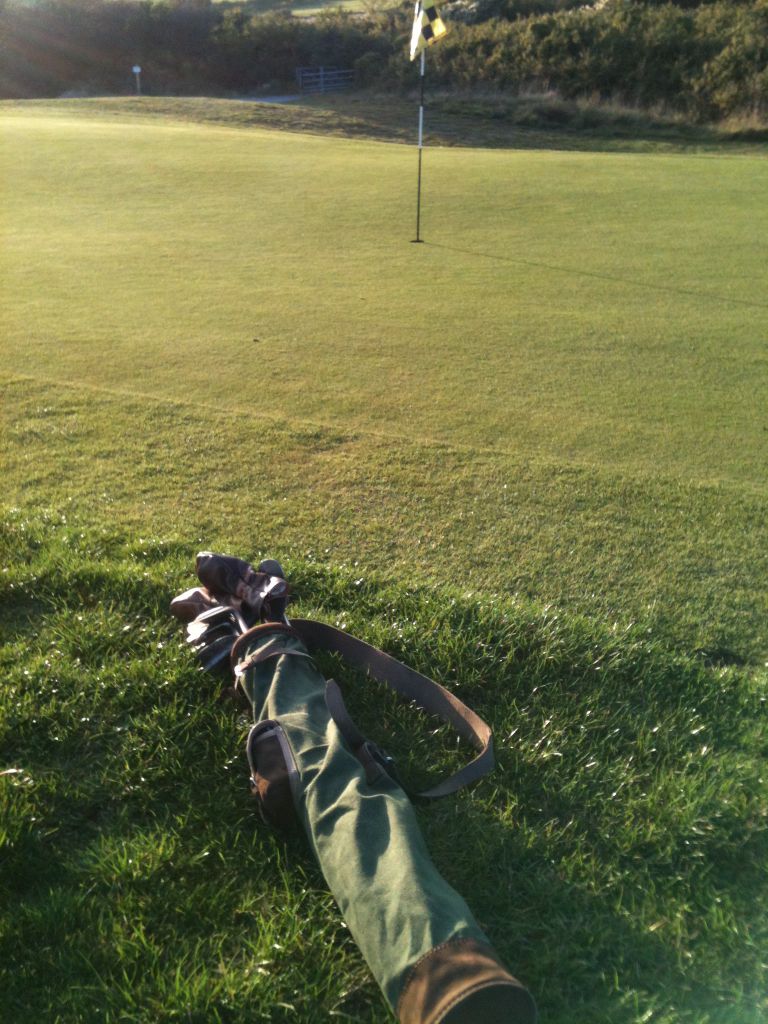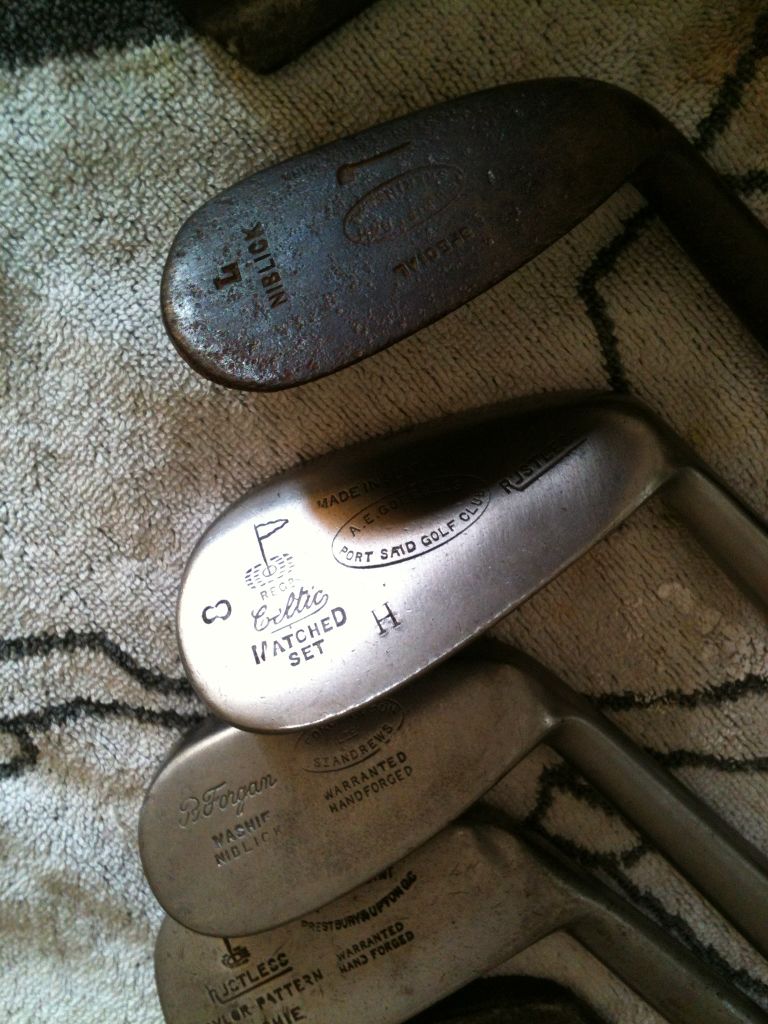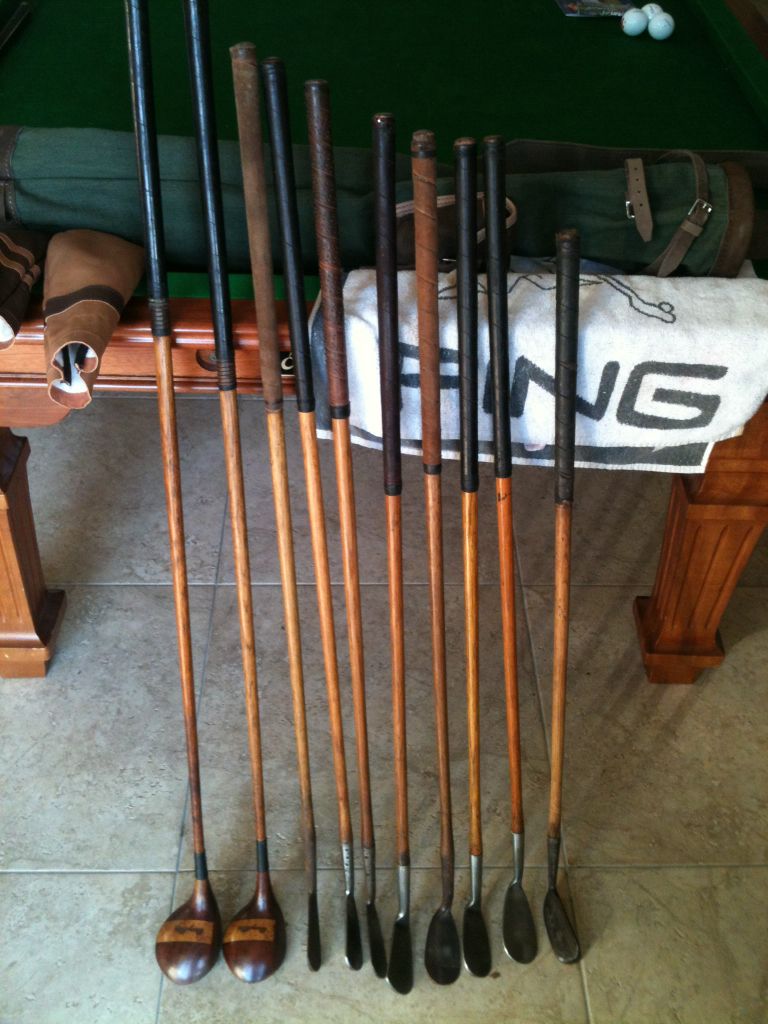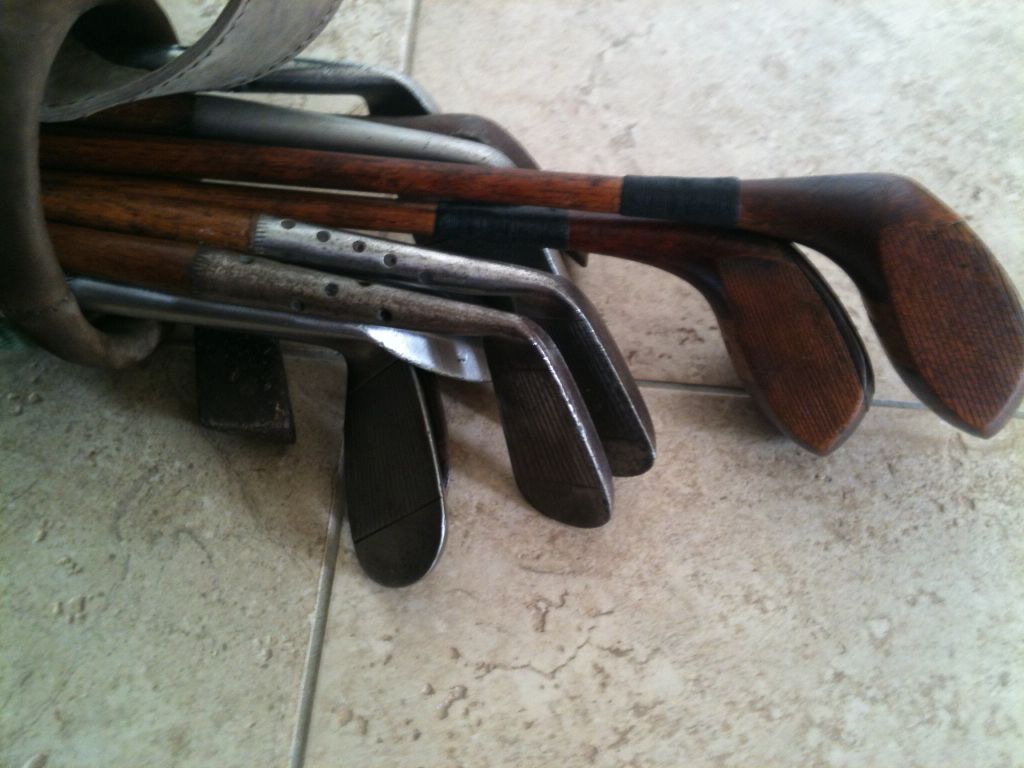 May 2014
New updated WITB May 2014
Golf season well and truely under way here in WALES! few new additions to the fold without further ado, here we go...
Titleist Vokey Wedge 52 Deg F Grind
Flag from the 2013 BMW PGA Championship at Wentworth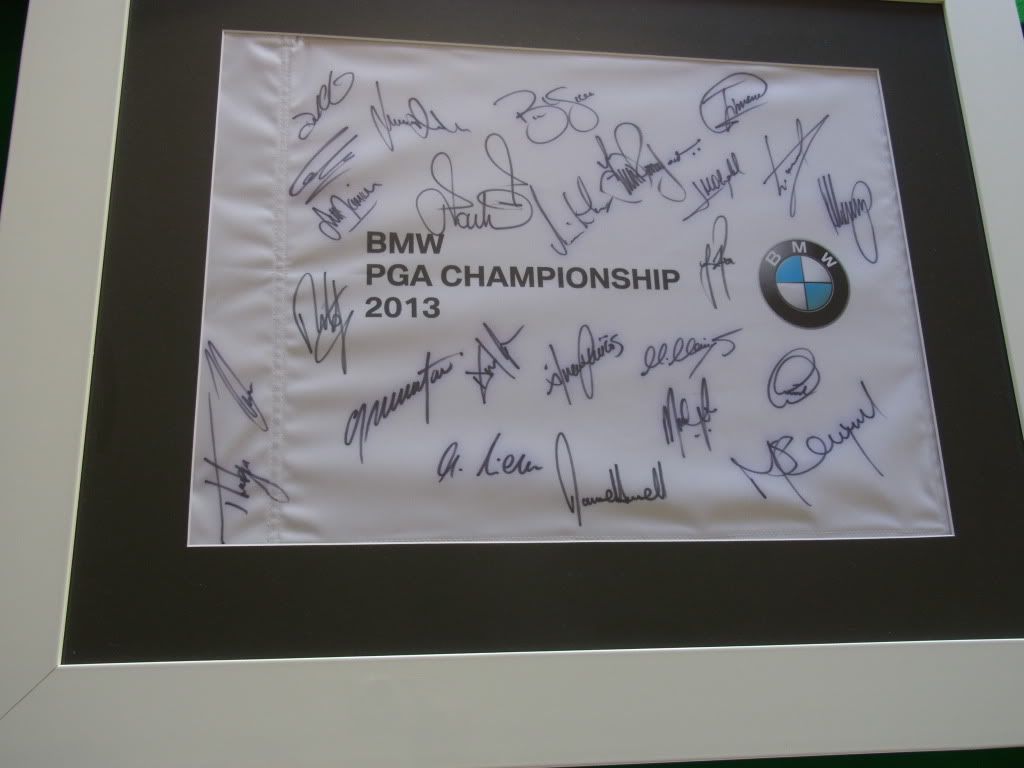 Scorecard from a certain MR Severiano Ballesteros from the French Open.
New DHY 4 iron with KBS Stiff shaft!
New Loft and Lie machine! Happy days!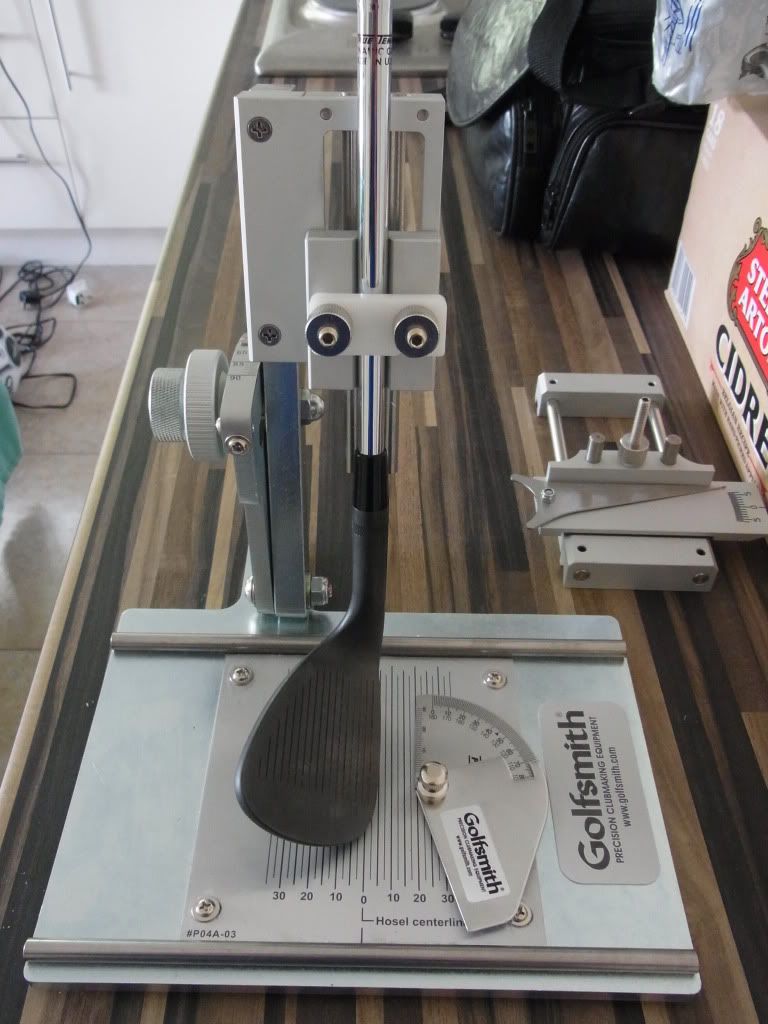 New Vokey Titleist Scorecard/Planner Wallet
January 2014
New Year and so far not a great deal to report, However, have just received from Ping's custom department the new PING rapure 2 Iron, Red dot, and standard half inch longer Ping Stiff TFC shaft. I had asked for a project PXi shaft but they replied they would'nt put the head into that shaft, as they had tested pretty much every shaft on the market and the TFC was the one that came out on top in most tests.
Interesting. So anyway went with it and picked up it up with interest.
From what I have seen of it so far, it is a great low spinning low iron and have tried up against my Titliest 712U 2 iron and feel pretty confident its a good 8 to 10 yards longer! Quite surprising. Shaft length maybe ?who knows, who cares I am a happy chappie!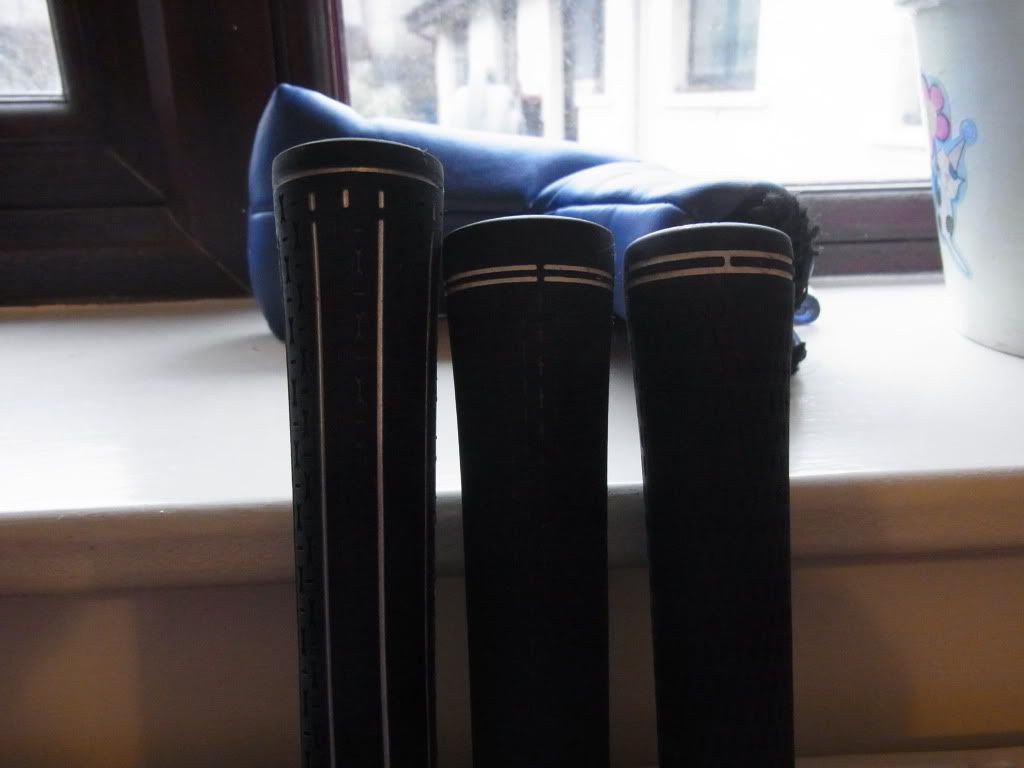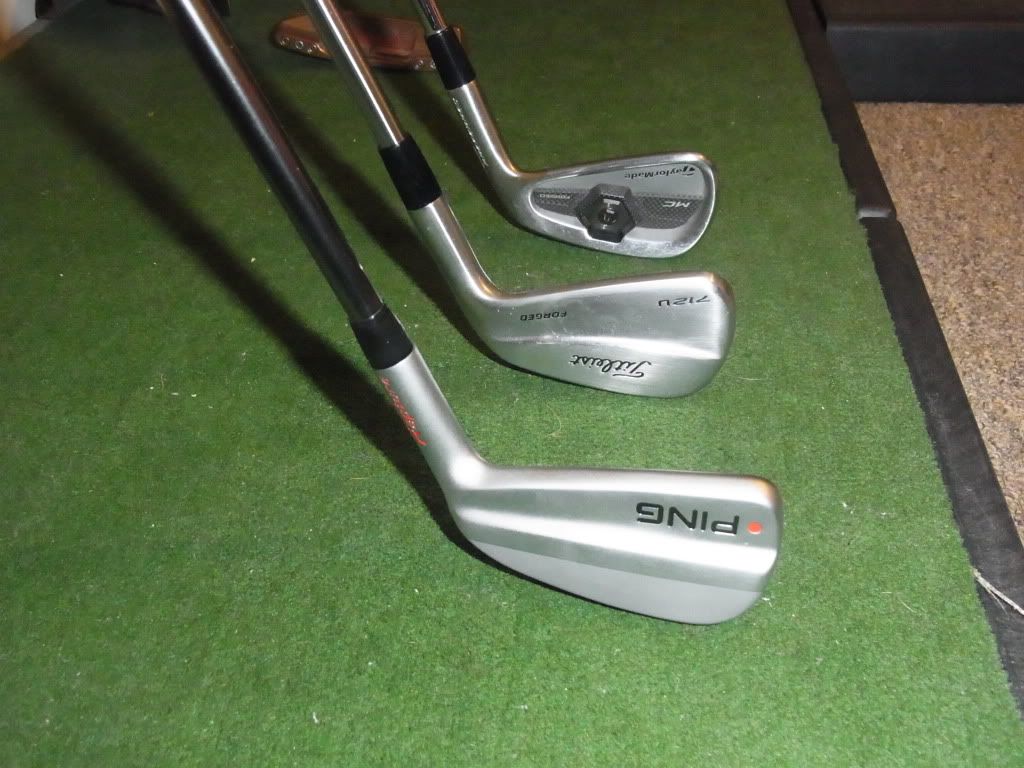 Some comparisons with the Callaway X utitliy (admitedly 3 iron)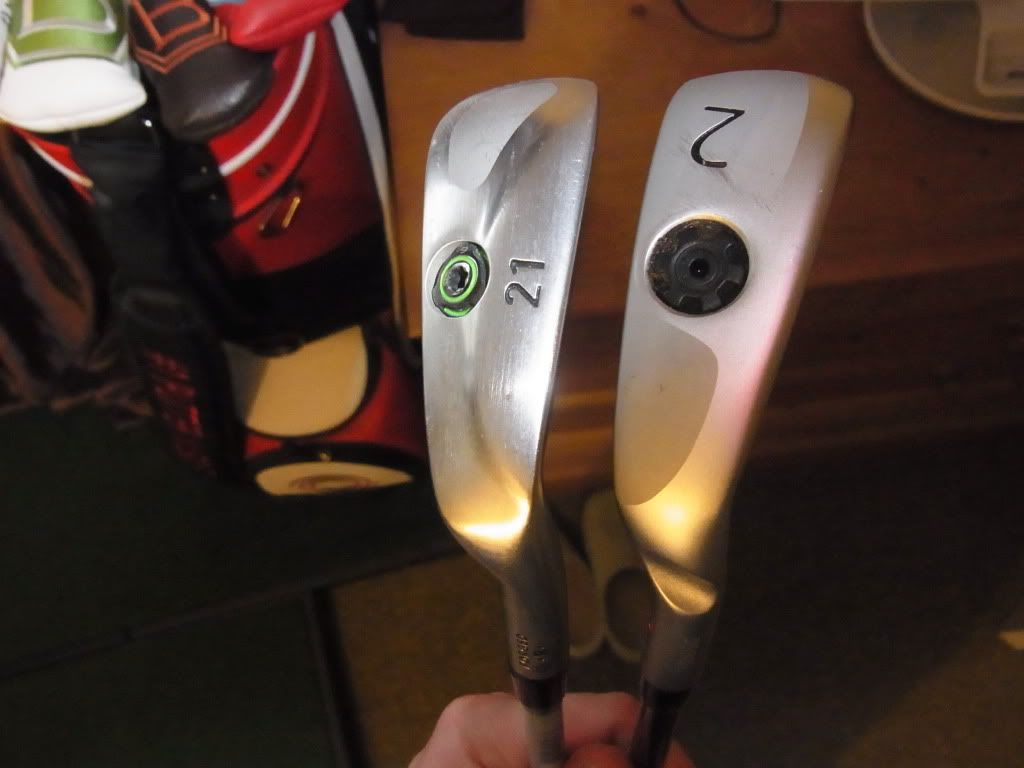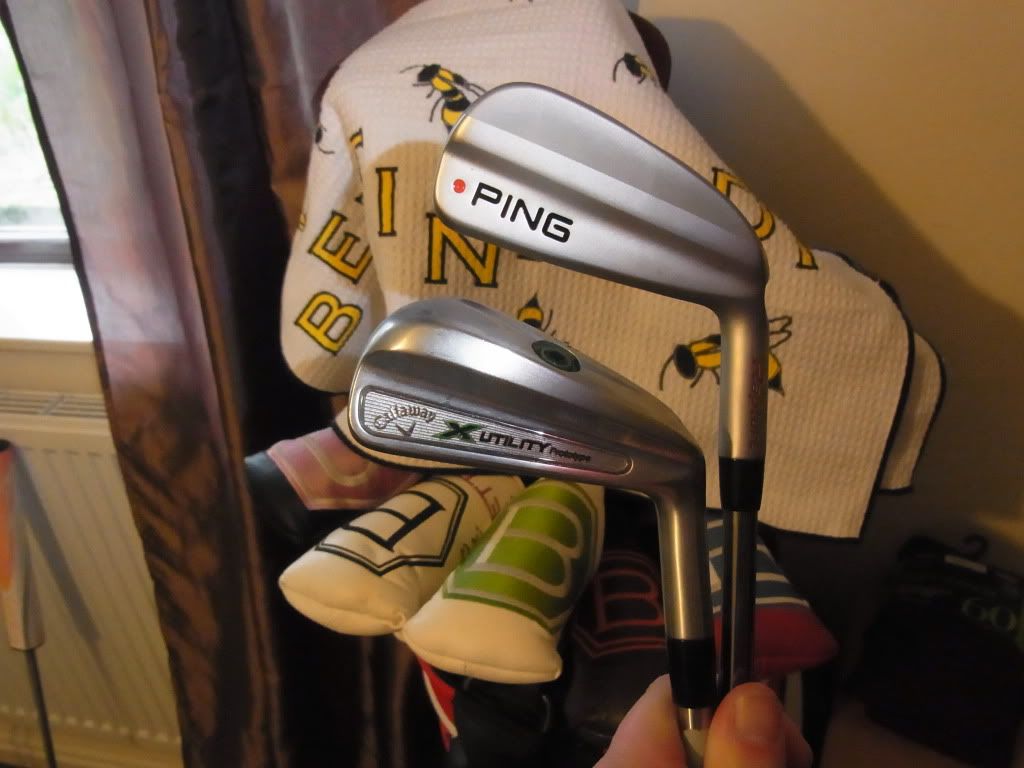 That's all for now Folks......!
October 2013
Few new additions for the winter months first a new little bit of stitch love in the betti form in a driver headcover, then added to the Titleist 4 iron by adding the 2 iron and then a callaway 21 degree 3 iron utility. Also picked up the callaway X hot 13.5 degree 3 wood in a project x 6.0 PX V shaft. Not particuarly a fan of this shaft so might look about for something different here, but love the PX I shafts in the irons, big fan
.
Finally picked up a Cleveland Beni 8802 style, had one before but moved it on had the chance to pick thi up again and couldnt resist! lovely putter
Oops one more was a couple of ballmarkers, a bettinardi enamled, a Spurs, aka Tottenham hotspur and finally a matrix marker!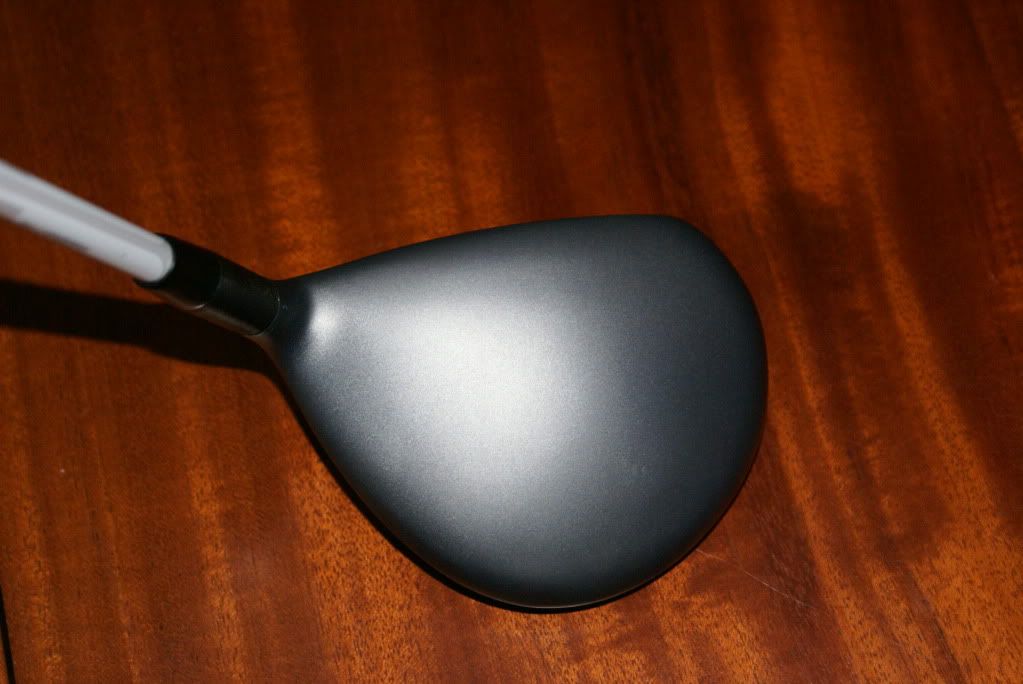 A new old bit of Beni to try out
http://www.golfwrx.c...30#entry7936951
September 2013
Mizuno's are in play and working a treat, few new additions in the Titleist 712U 4 Iron, Ping TR Senita putter Adams Prototype 16 degreee hybrid with ADDI 85 gm shaft which will come in and replace the 2 irons now that the summer has gone
Finally picked up a few new putters, Machine Copper with stainless neck and TP Mills 355G both with plumbers necks.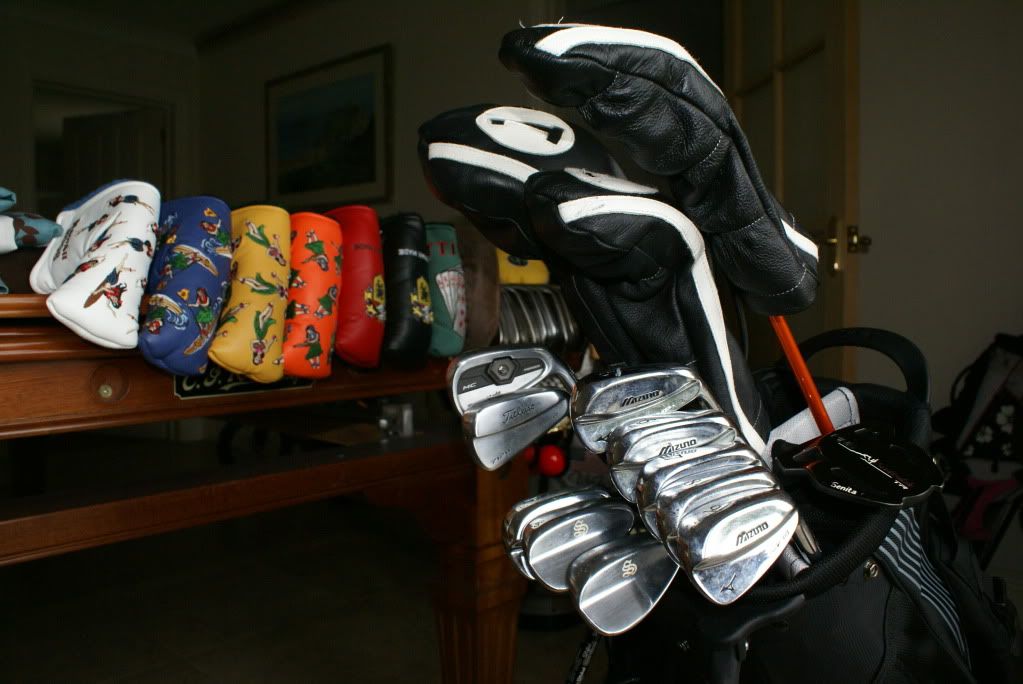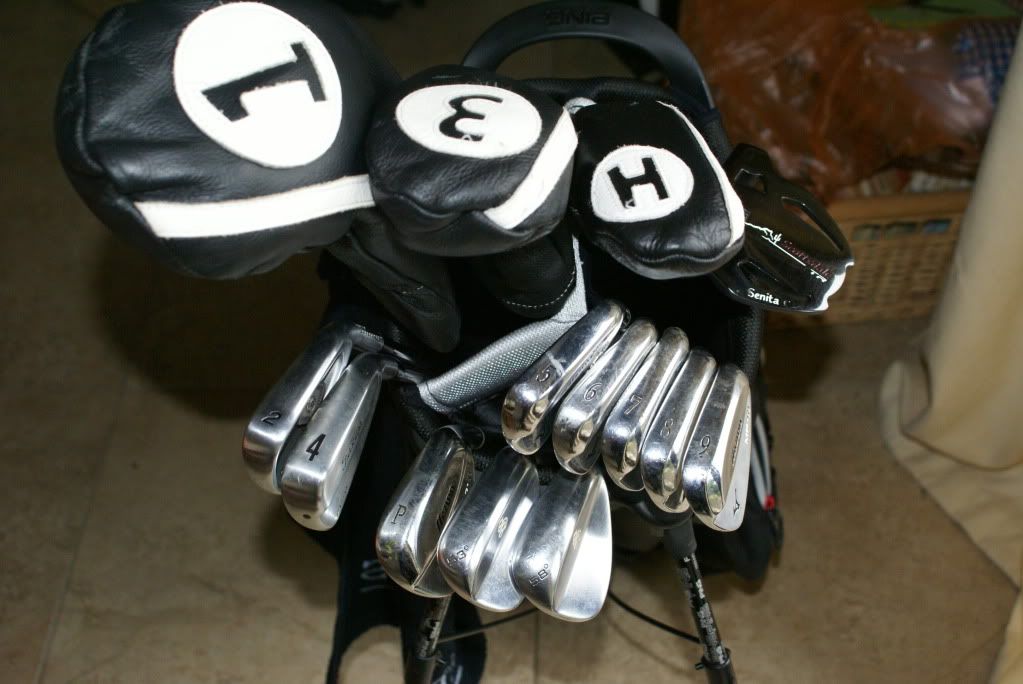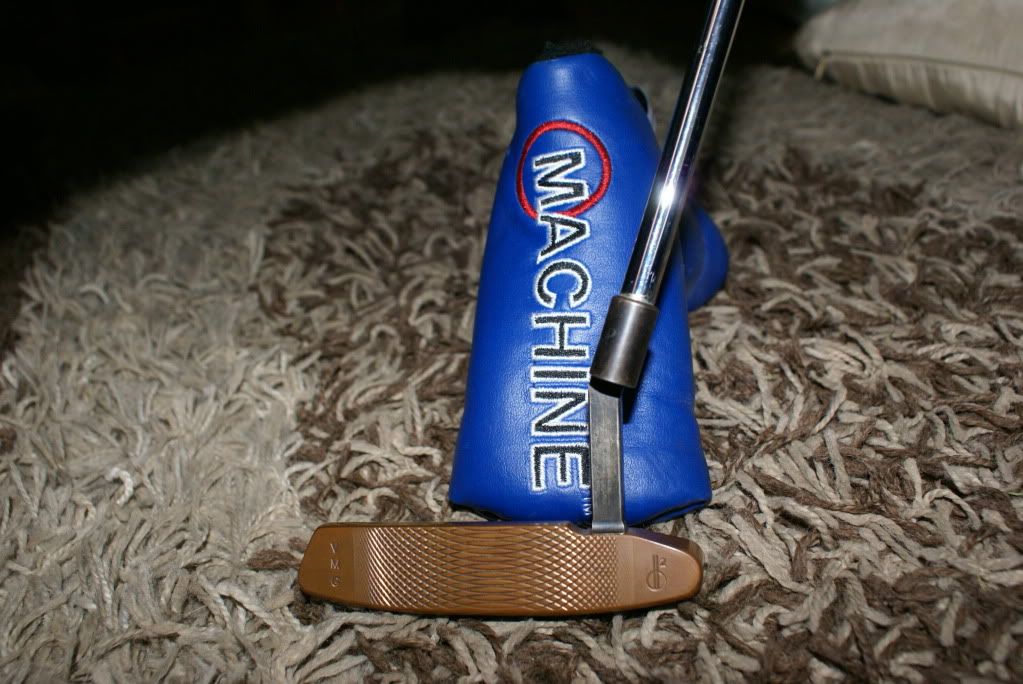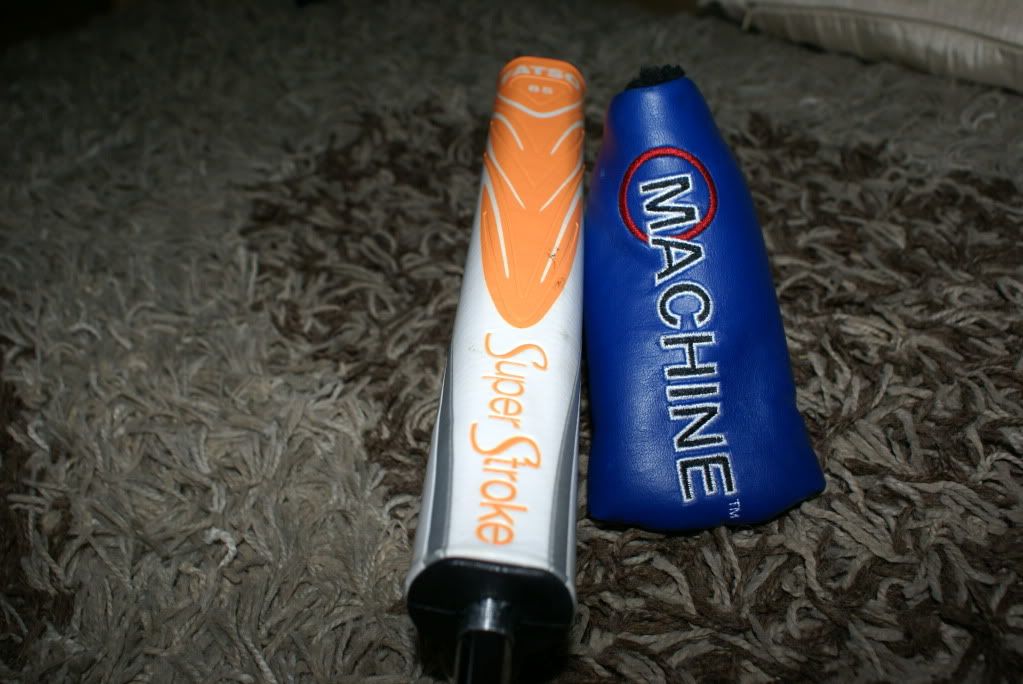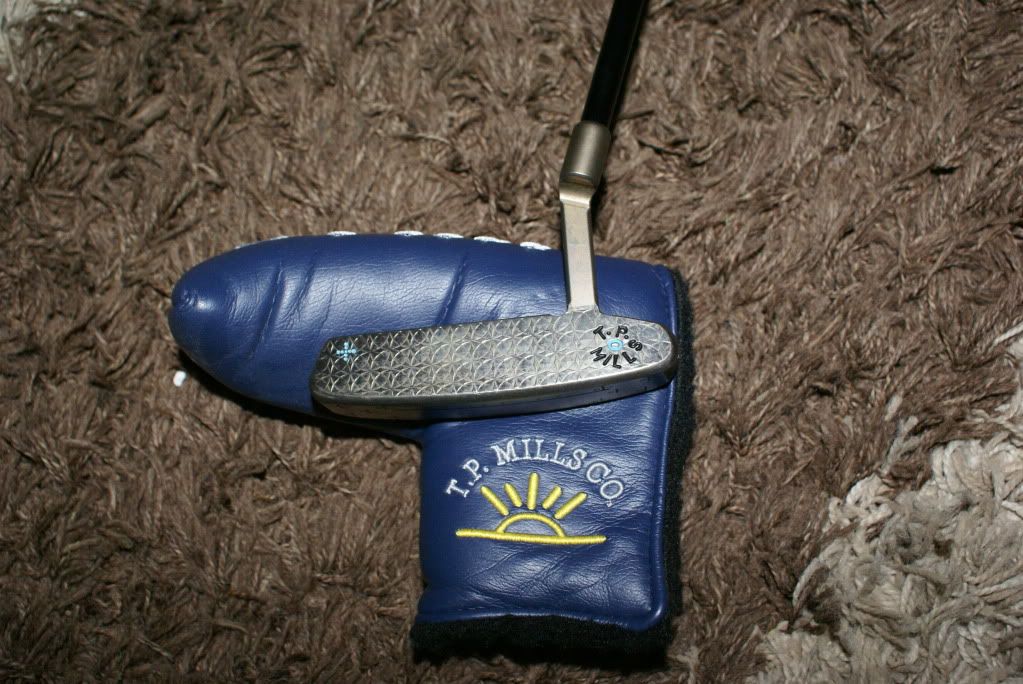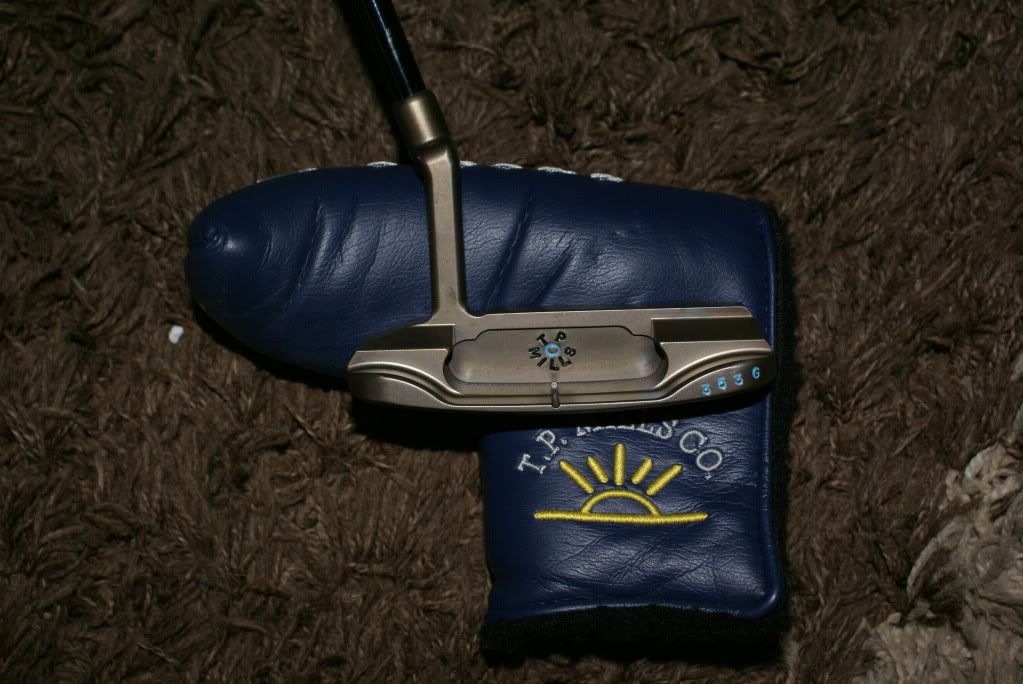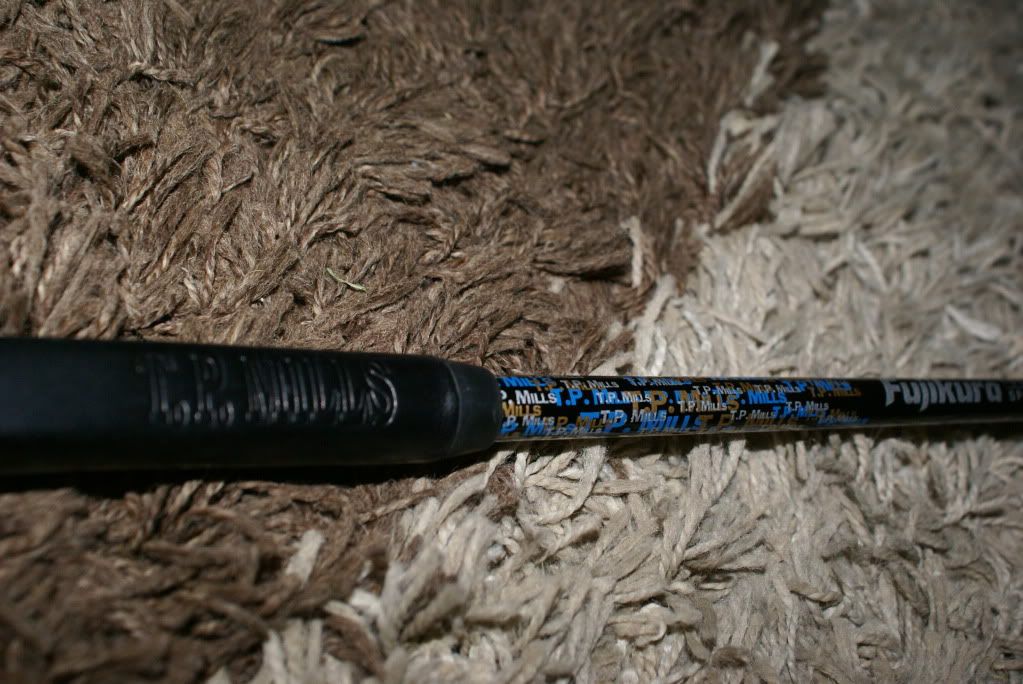 July 2013
More changes, a fitting with Mizuno told me that I was using the wrong shafts, although good for y elbows not so good for my ball flight. Mizuno told me standard MP69's fitted with KBS Stiff shafts was the mutts nuts for me! So purchased the 2 seperately and set to work.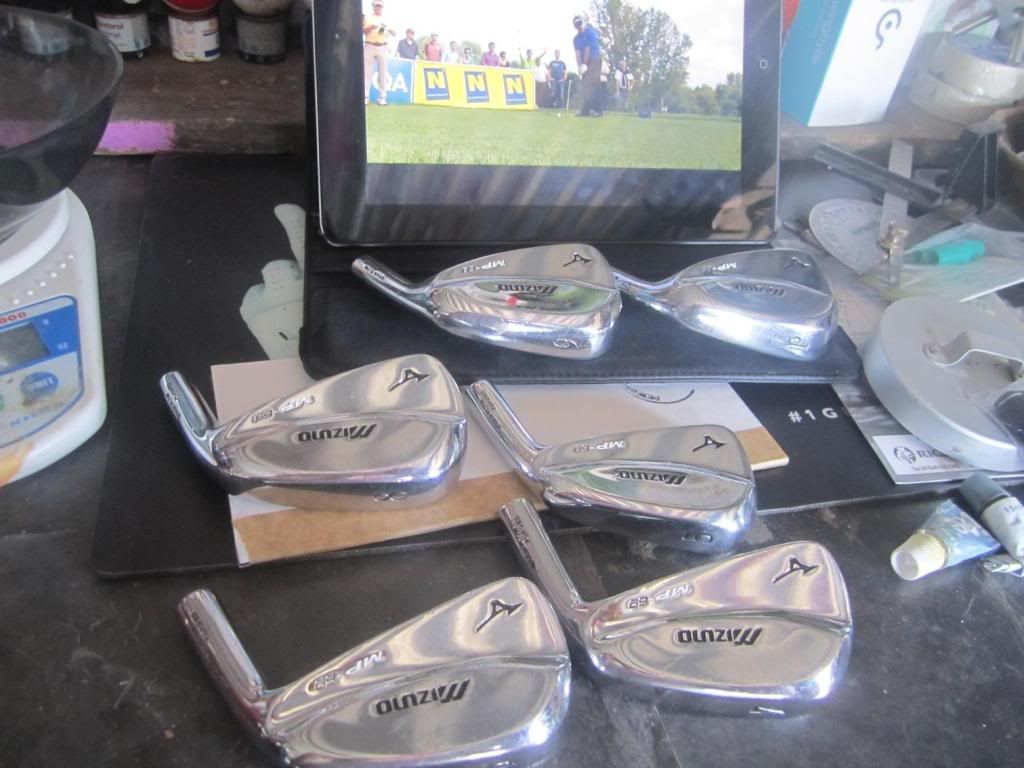 Ferrules which to choose! as it happens it was neither, I choose the double silver banded version
Bit of KBS love ready to Rock n Roll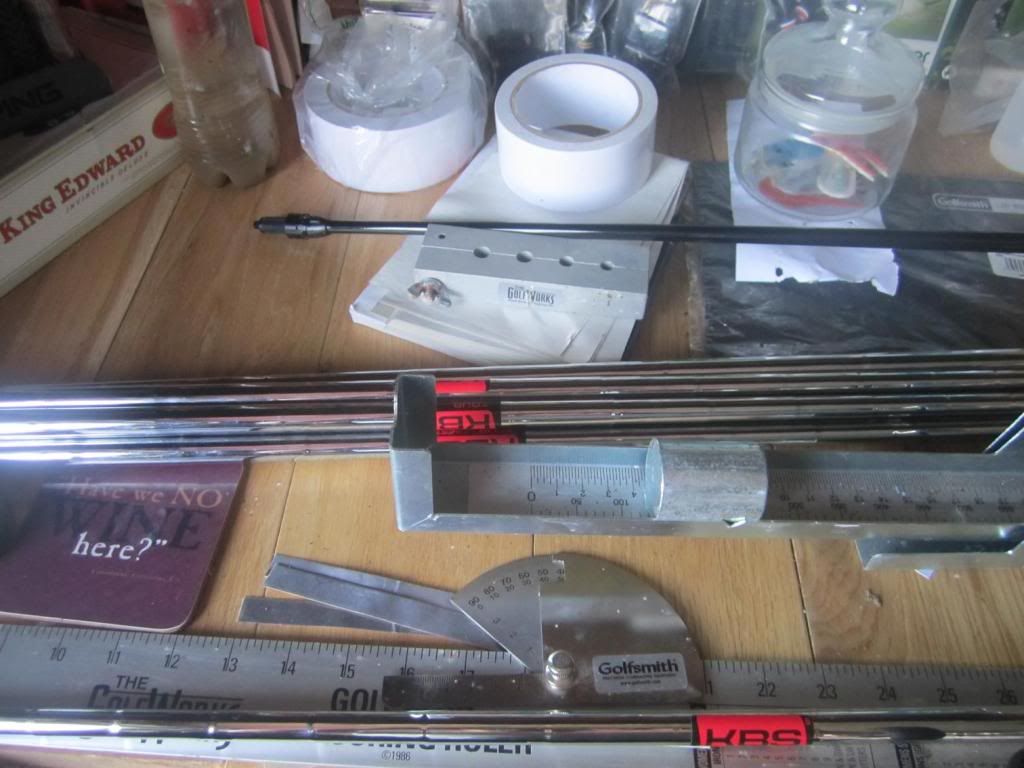 Heads and Ferrules installed! Taking shape grips next!
Golf Pride's finest next!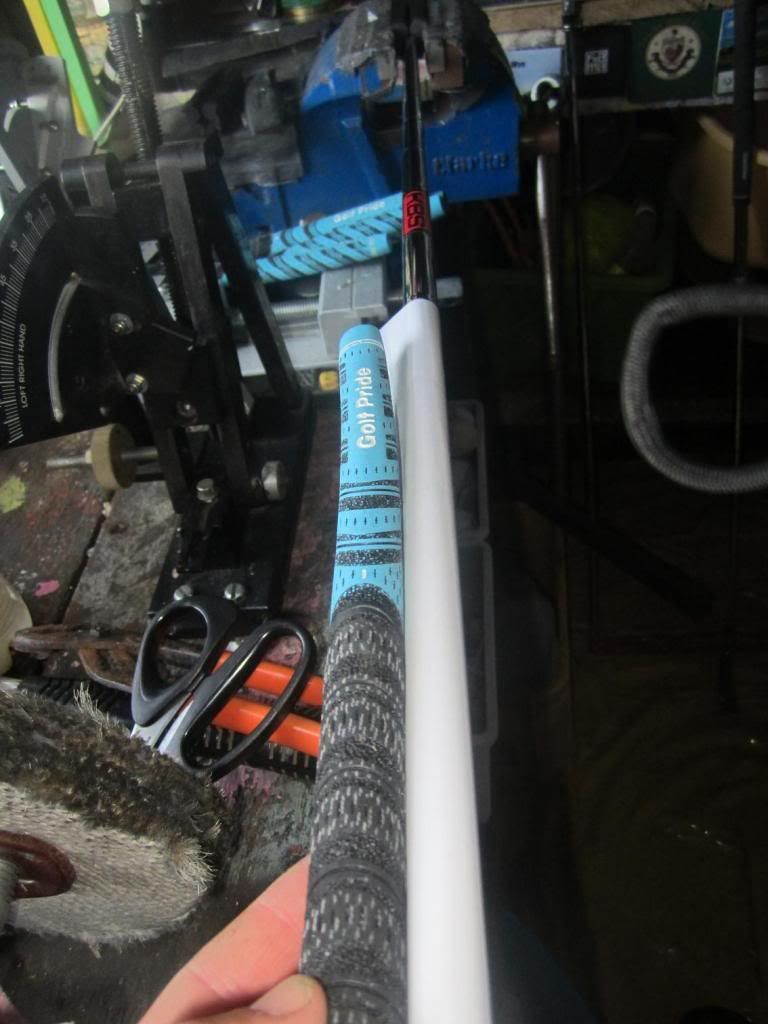 Looking good!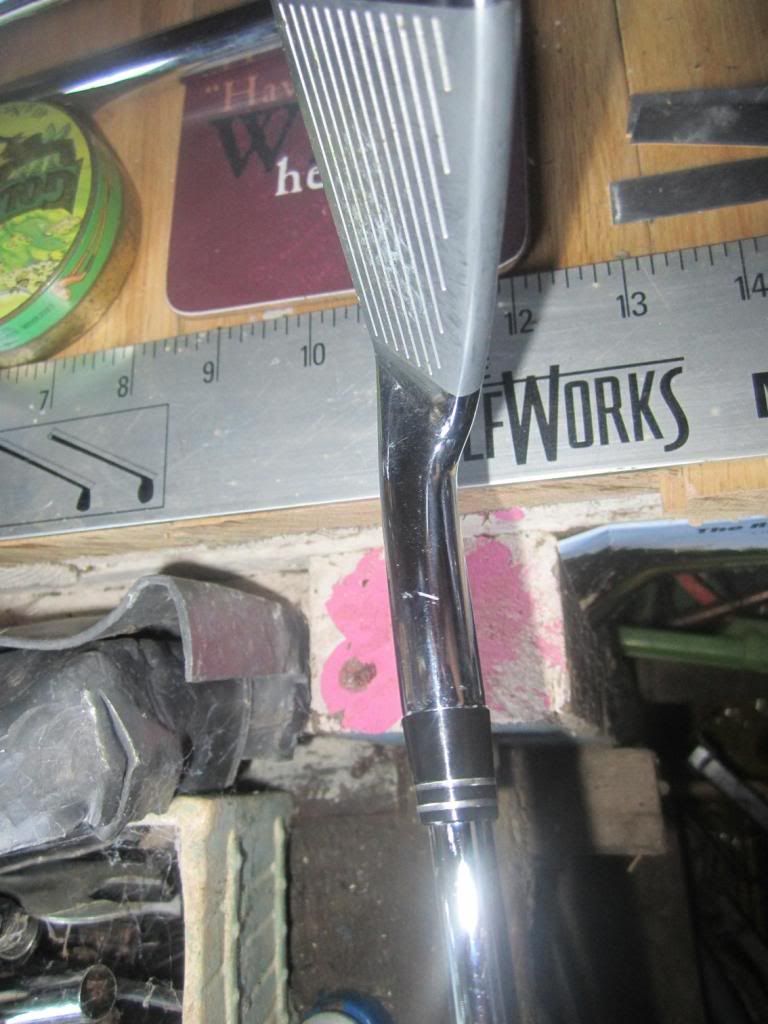 Into 2013 and the purchase of much differing equipment, starting with the limited edition Ping Anser carry bag, what a great bag, also put together a combo set of irons of TaylorMade CB irons 2,4,5,6 with Scratch SB1 7-Lob wedge. Also managed to pick up amongst other things a GC2 Launch monitor which is fantastic fun. Other bits and pieces are some stitch golf headcovers to go with the bag and a real leather card holder. Enjoy.....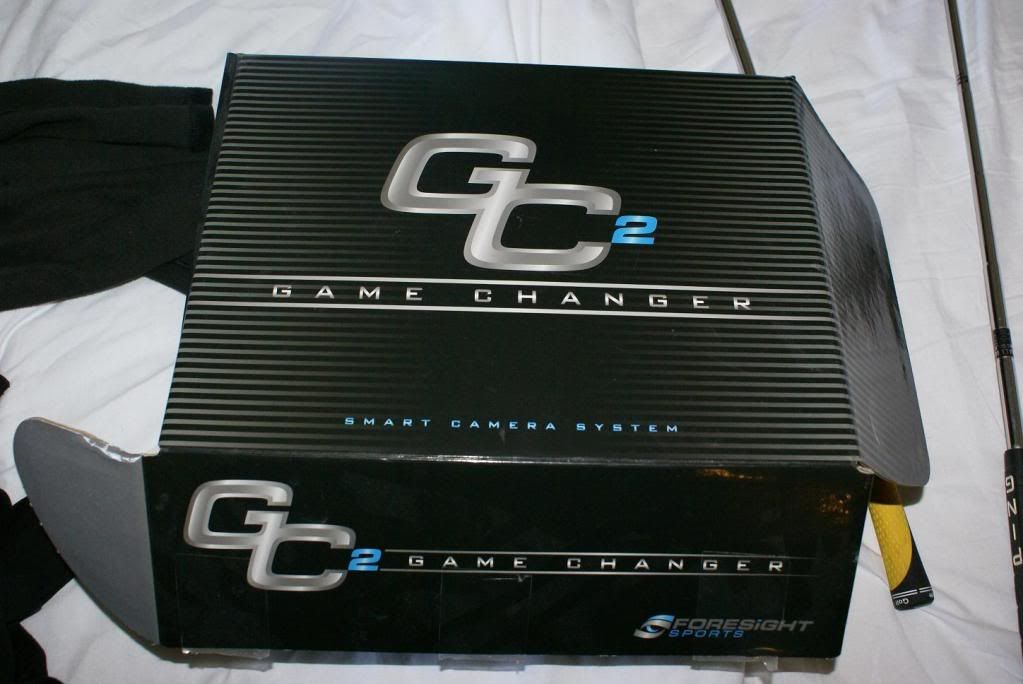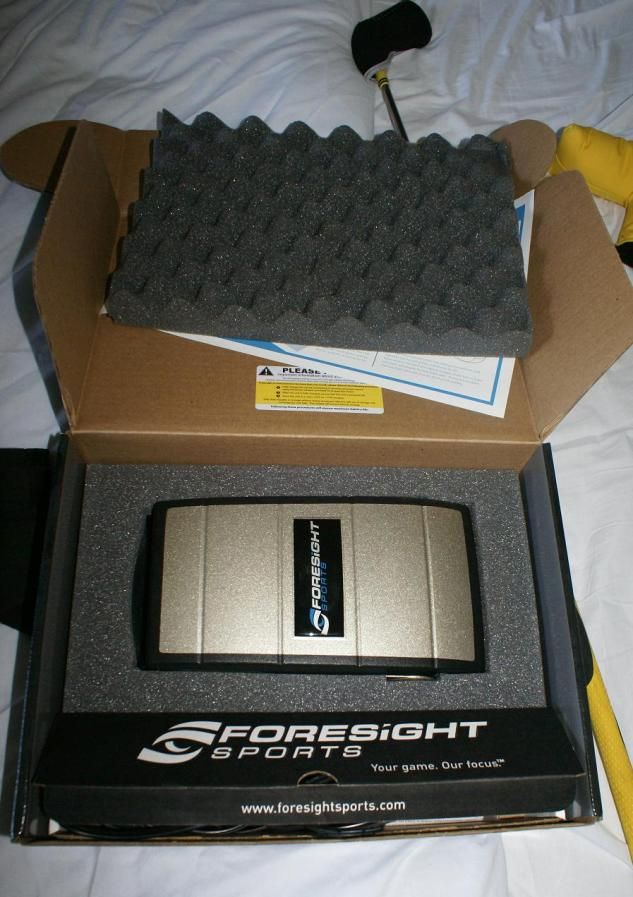 Before I purchased the GC2 I dabbled with a few others including the Vector and the swingbyte, both good in their own right but nothing in comparison to the convienience of the GC2!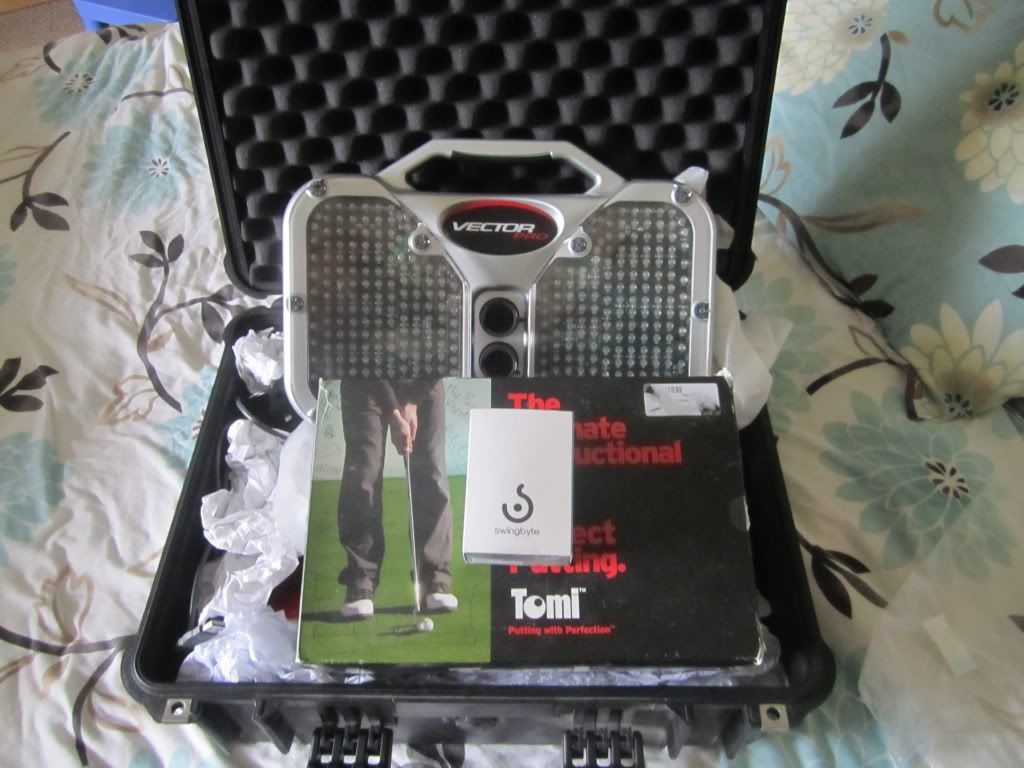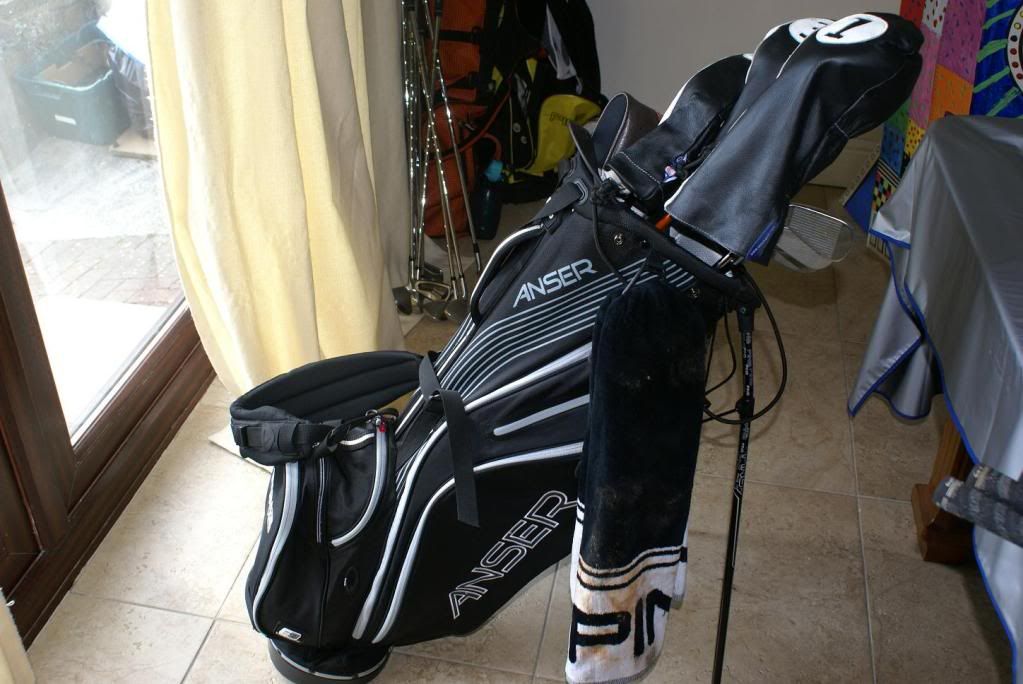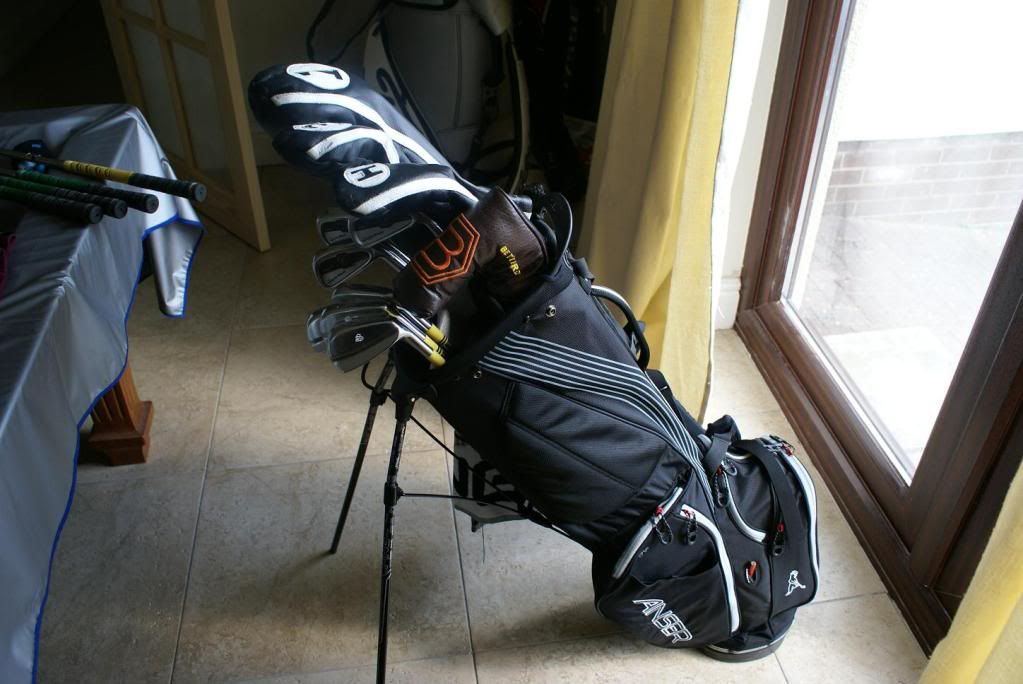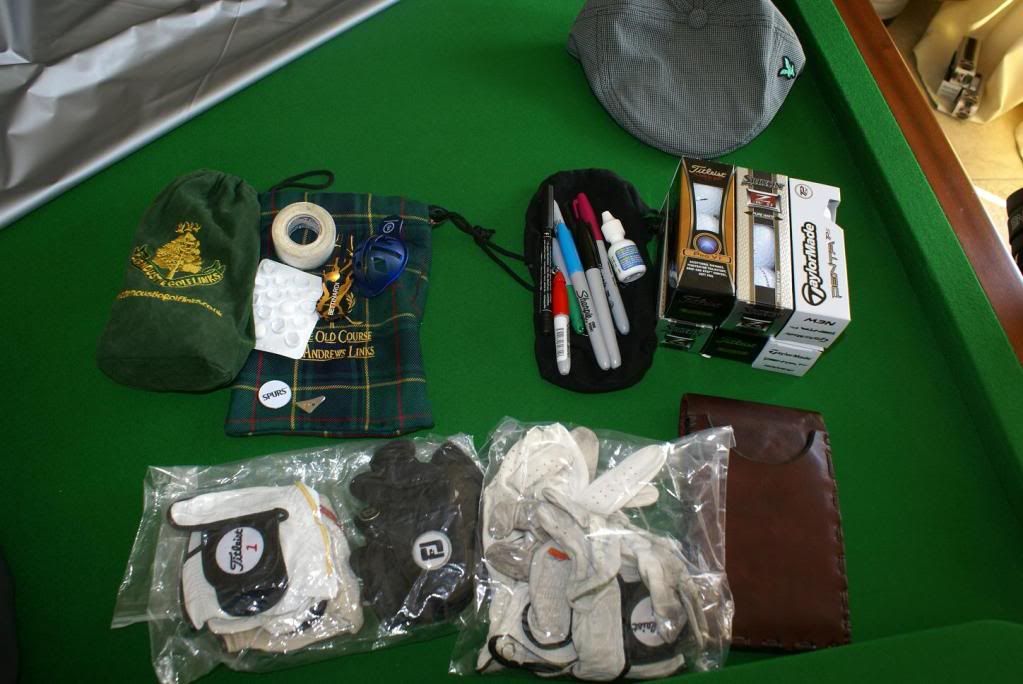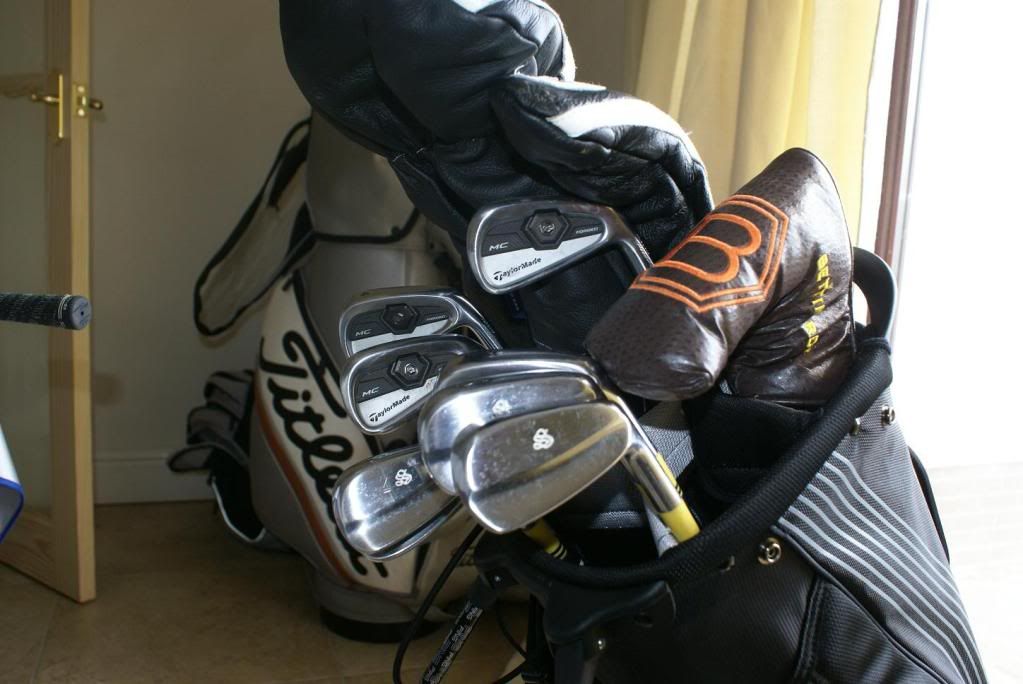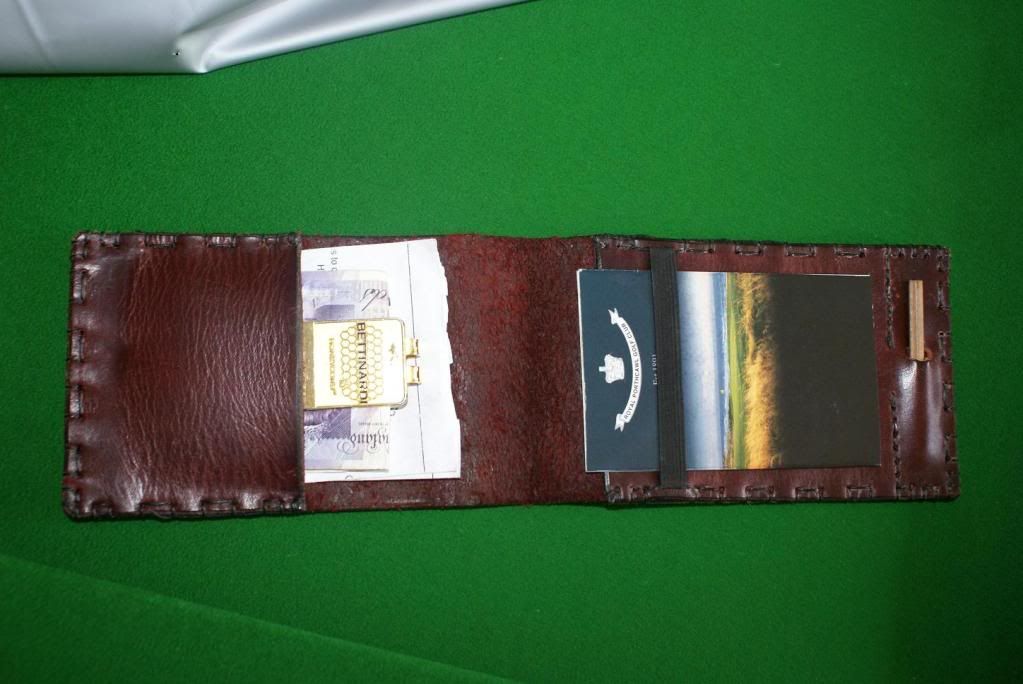 Here's the proof that sadly (or realistically) I am not one of these 200mph ball speed merchants, but a county player since I was 15 and a reasonably decent player.....!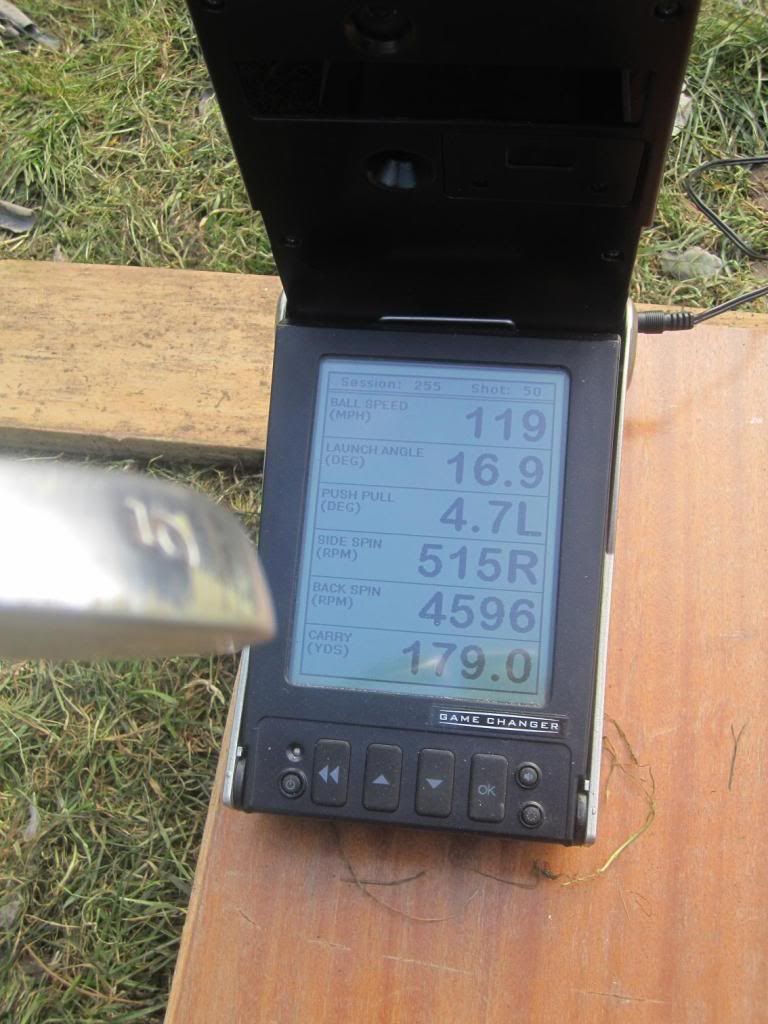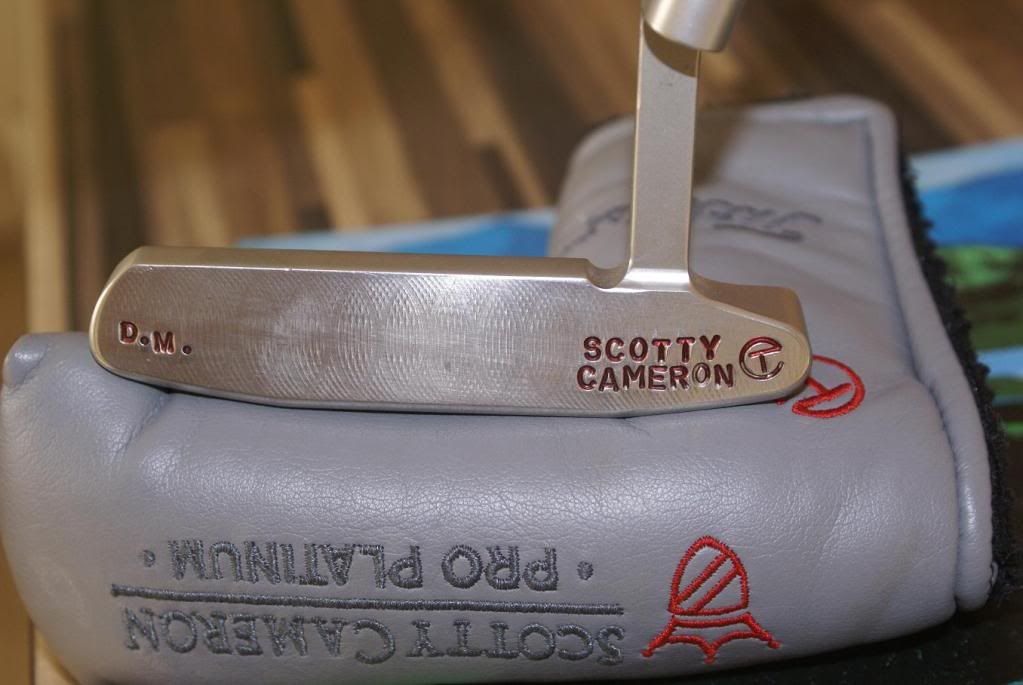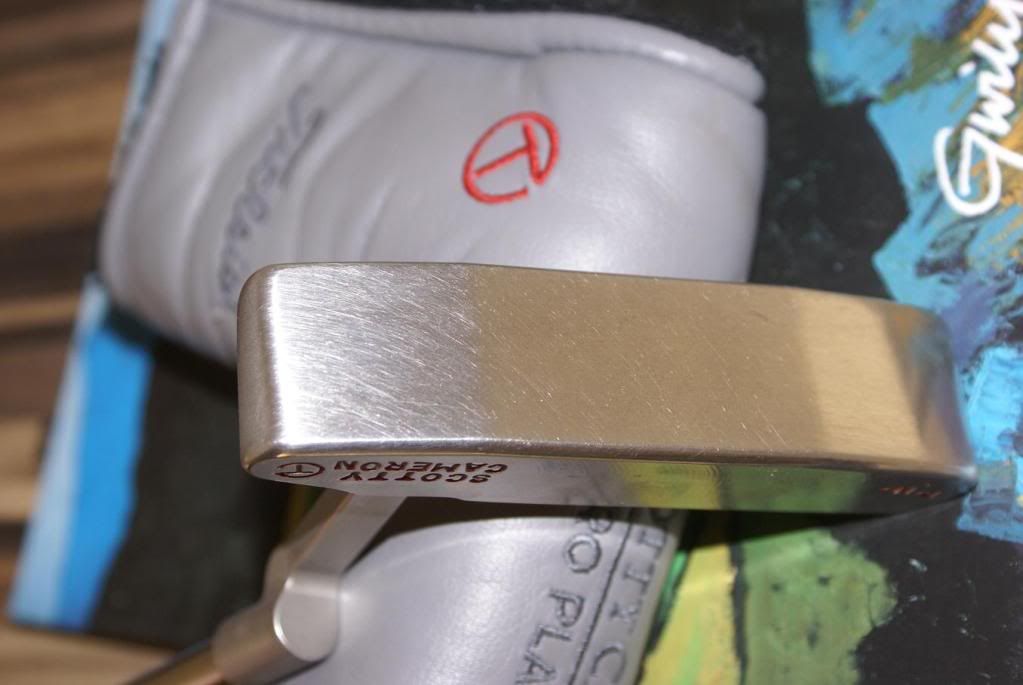 Have been for some time setting up bags for differing era's (1950's through to the very current day) and experimenting as to how much equipment has advanced during that time by playing the differing equipment. At the current time have pretty much got together the various decades apart from the 1950's which is only partially complete. So without the hullabaloo here they are in their glory!
1960s Setup
1970s Setup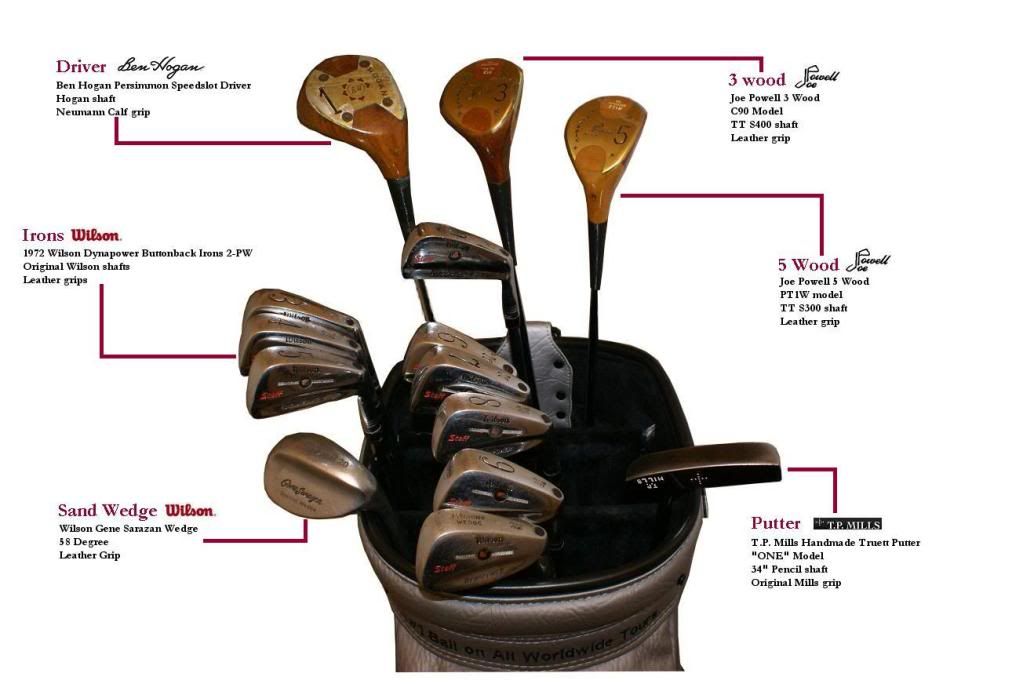 My 1980's WITB setup
My 1990's WITB Setup, this is the exact setup I used back in the mid 1990's (except for the wedges which had lost their lustre)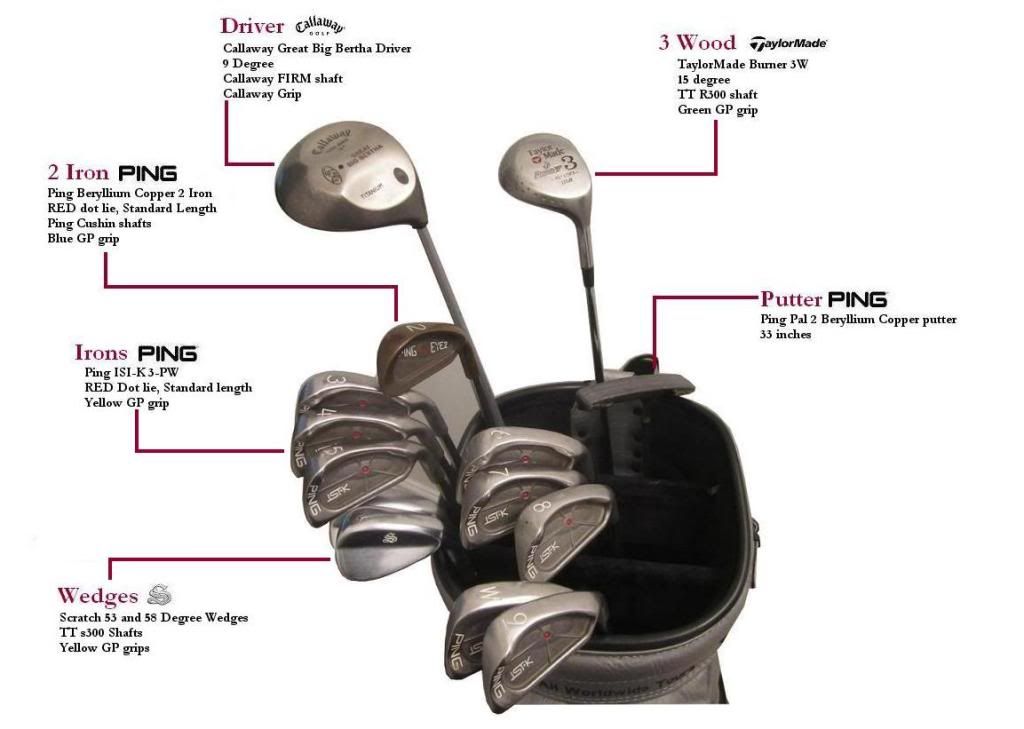 2000's Setup


WITB CURRENT Spring/Summer 2012


WITB End of 2011/2012 Season
WITB 2009 Season


PUTTERS
Bettinardi BB8 RJB2376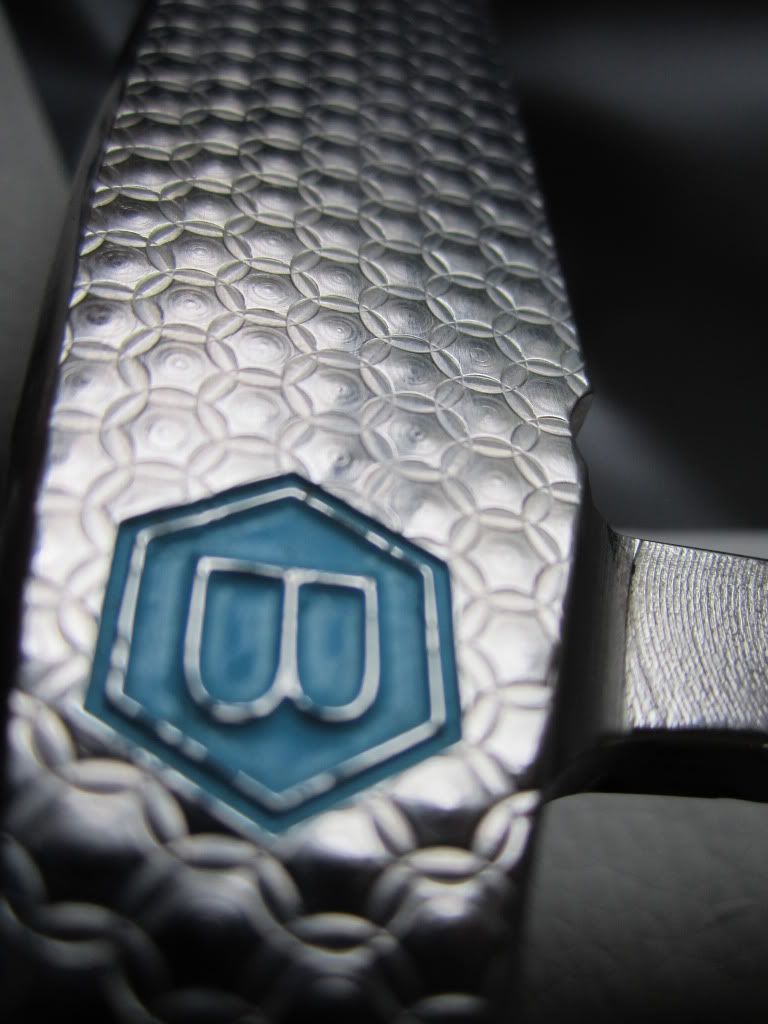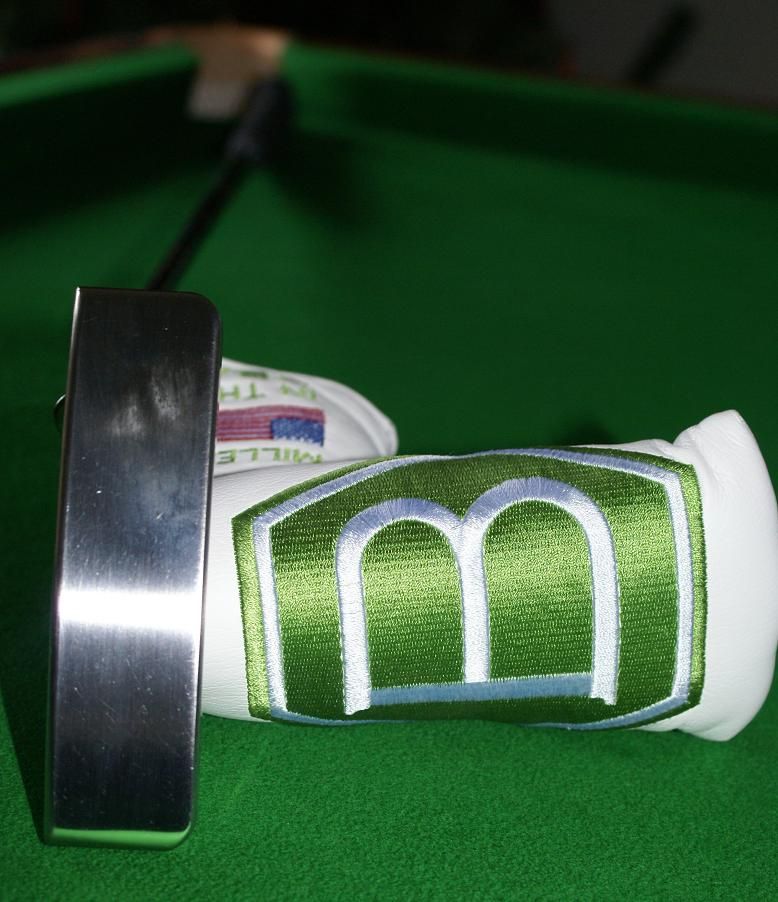 RJB2376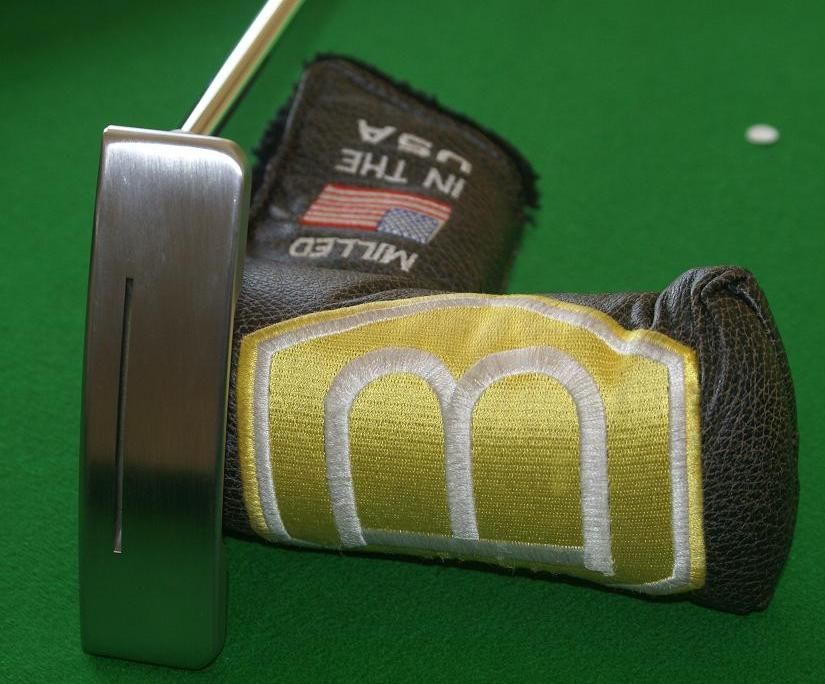 Paul Lawrie Bettinardi BB8 Magnum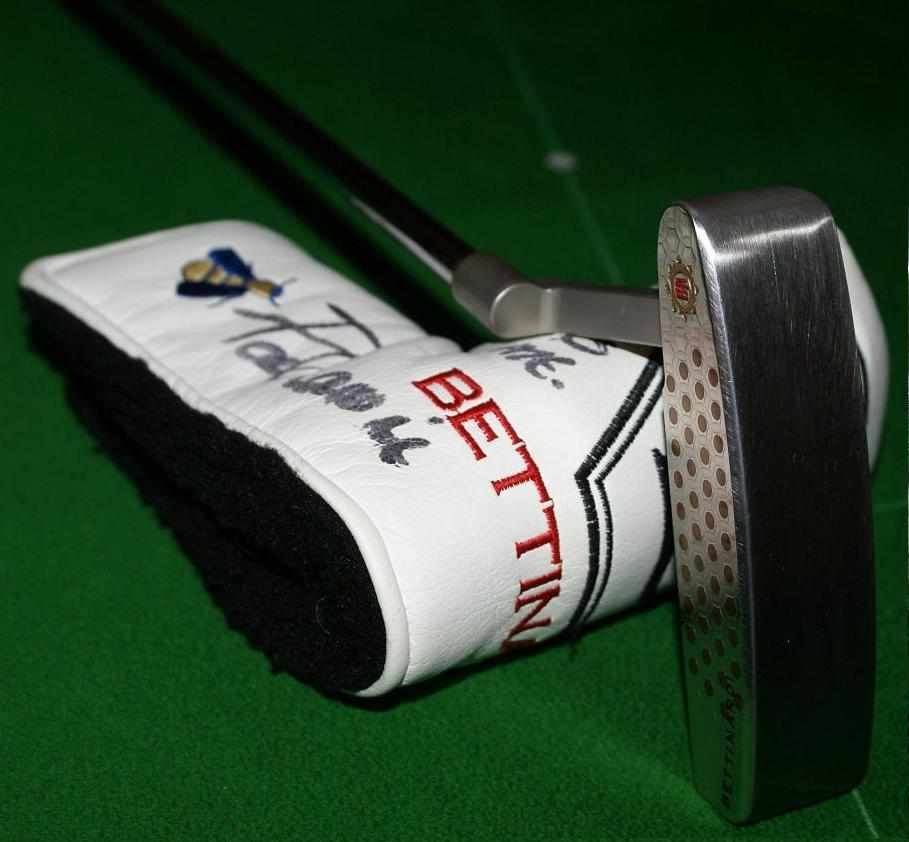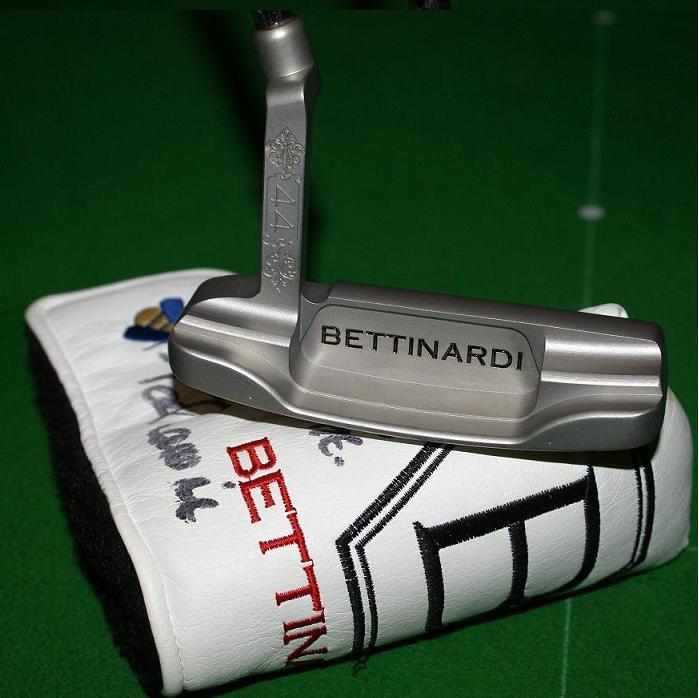 Bettinardi RJB1599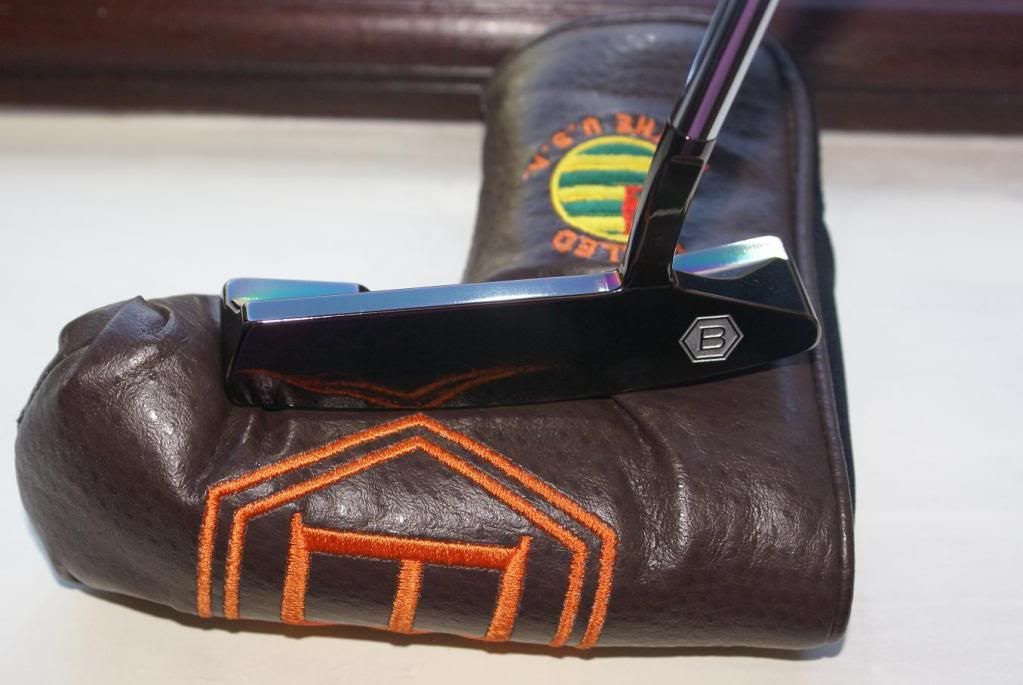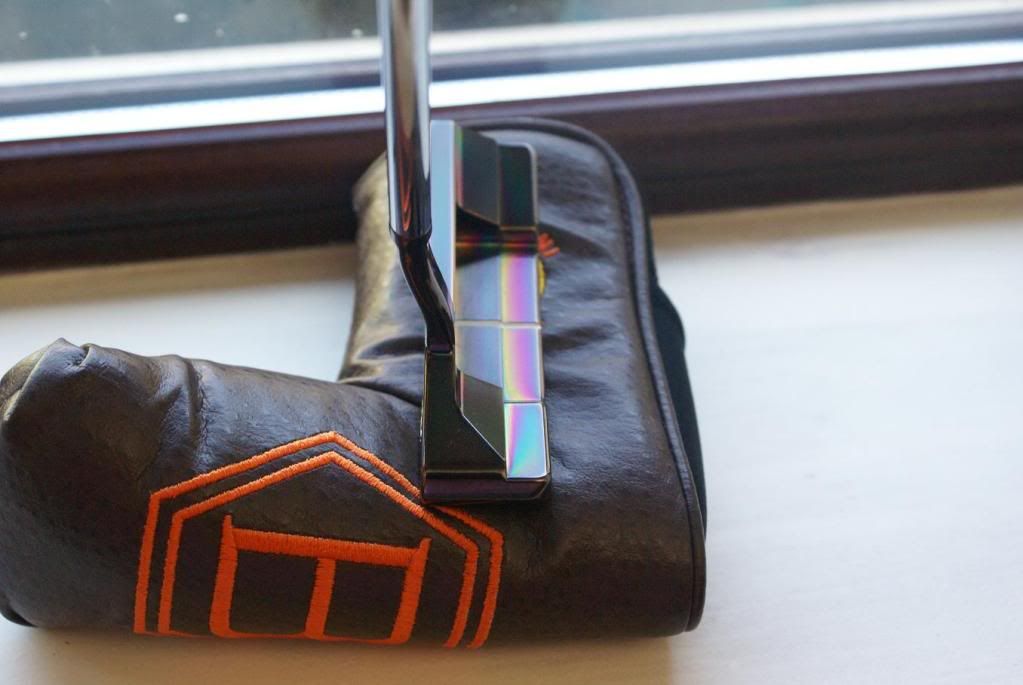 RJB1522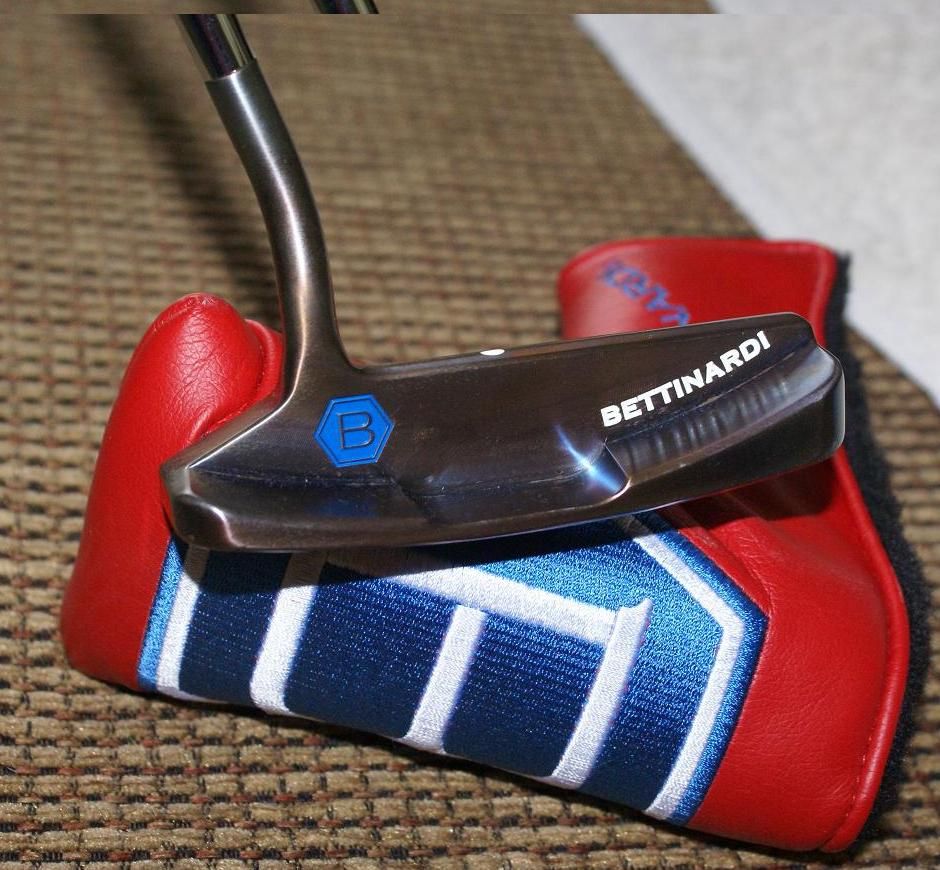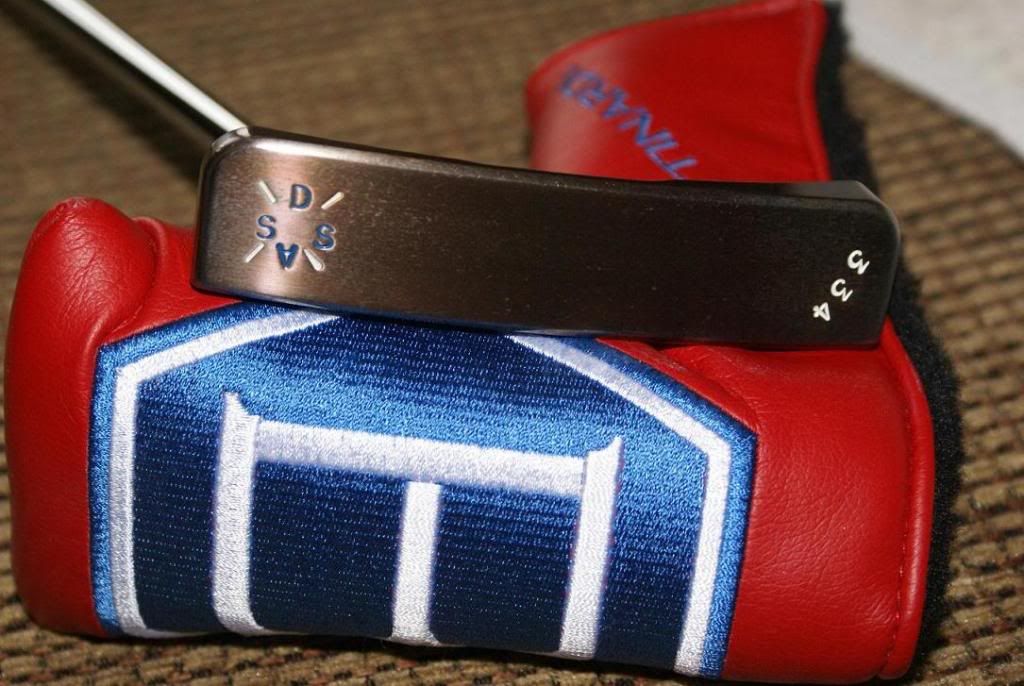 RJB2135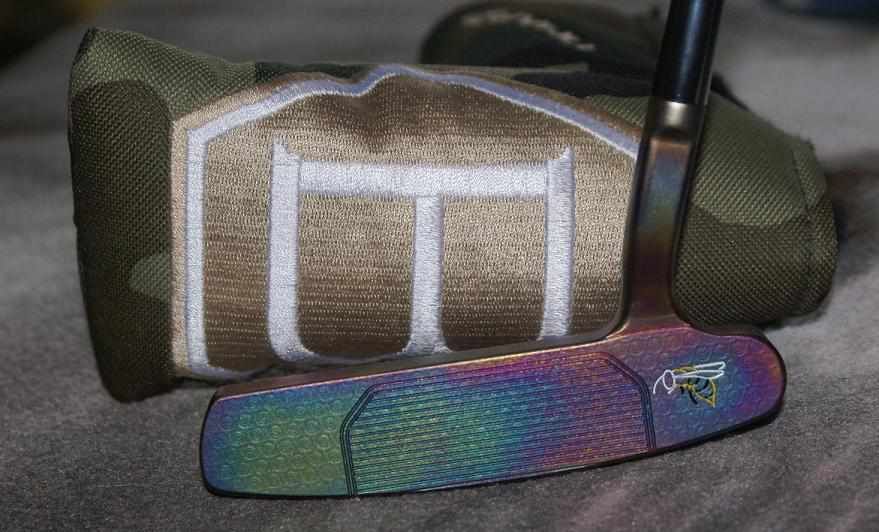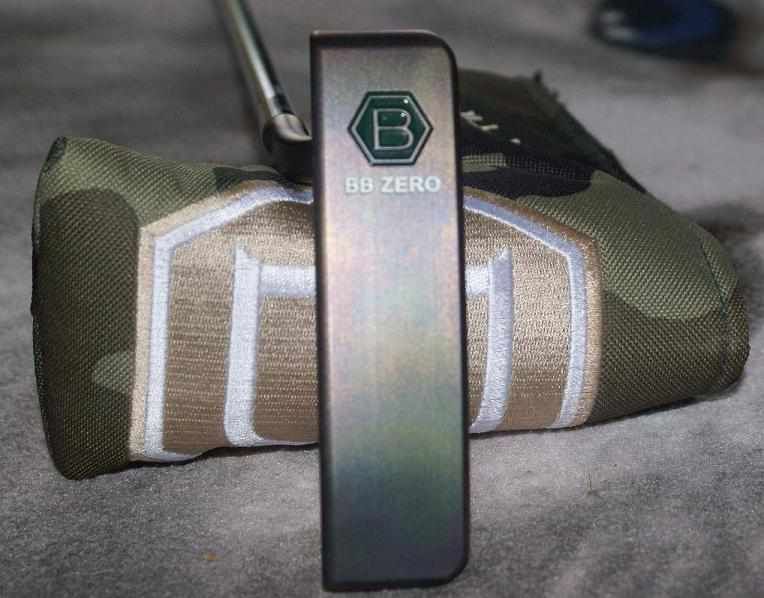 http://bettinardi.co...try/detail/2376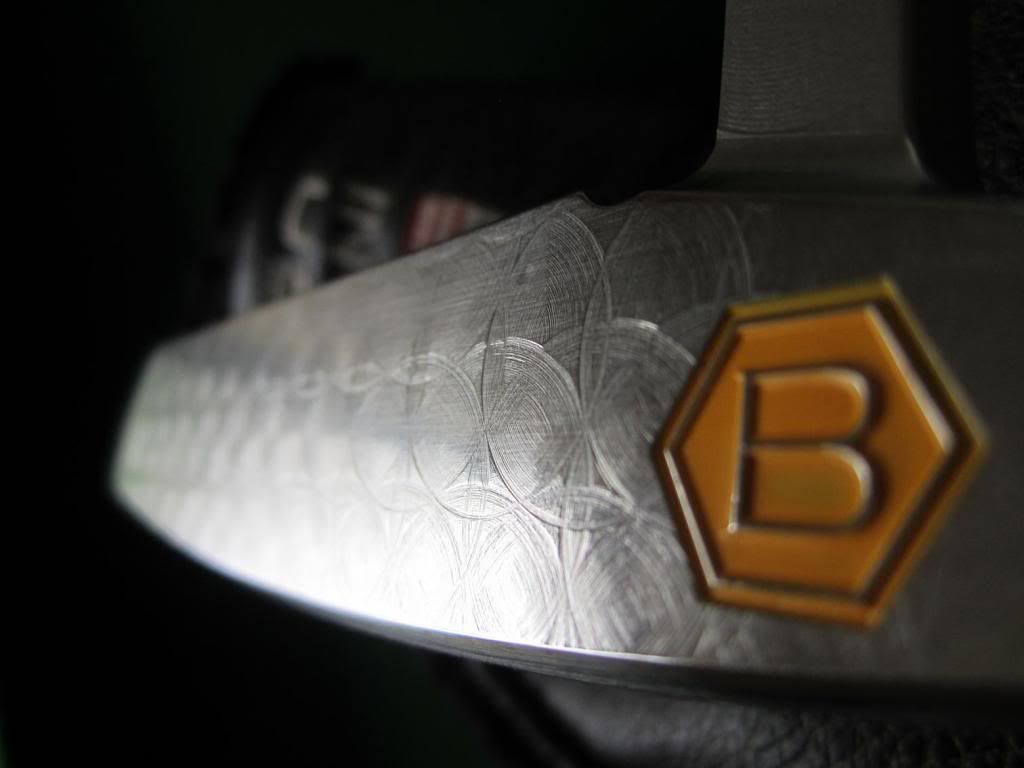 http://bettinardi.co...try/detail/2135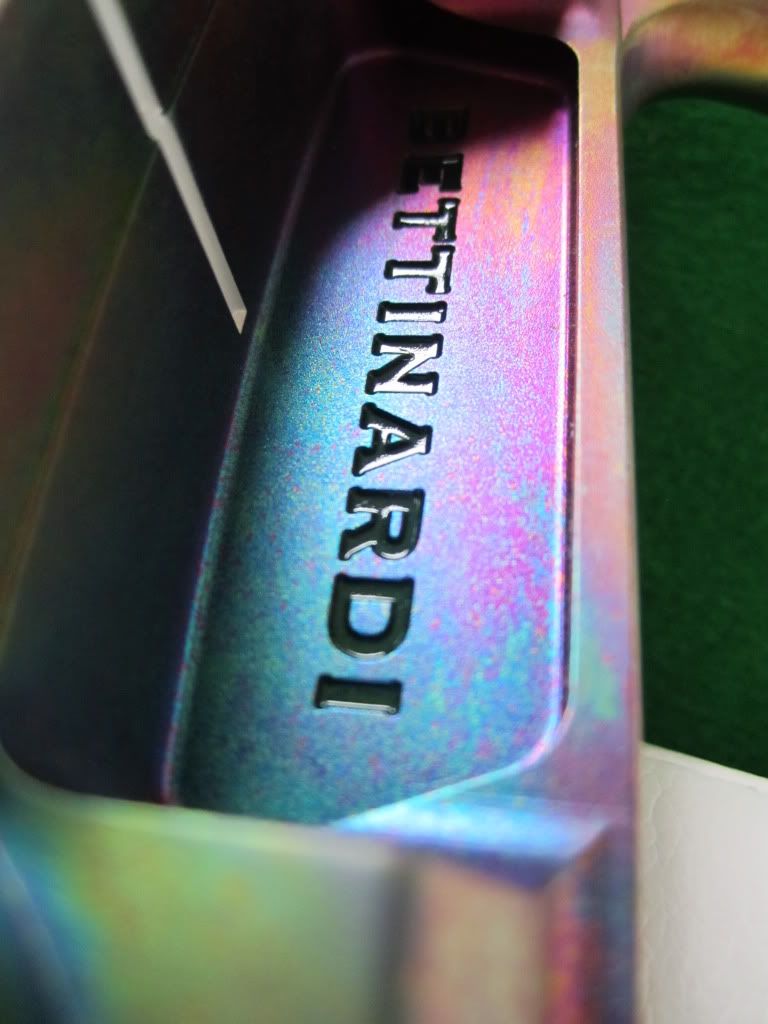 Bettinardi BB3





Byron Morgan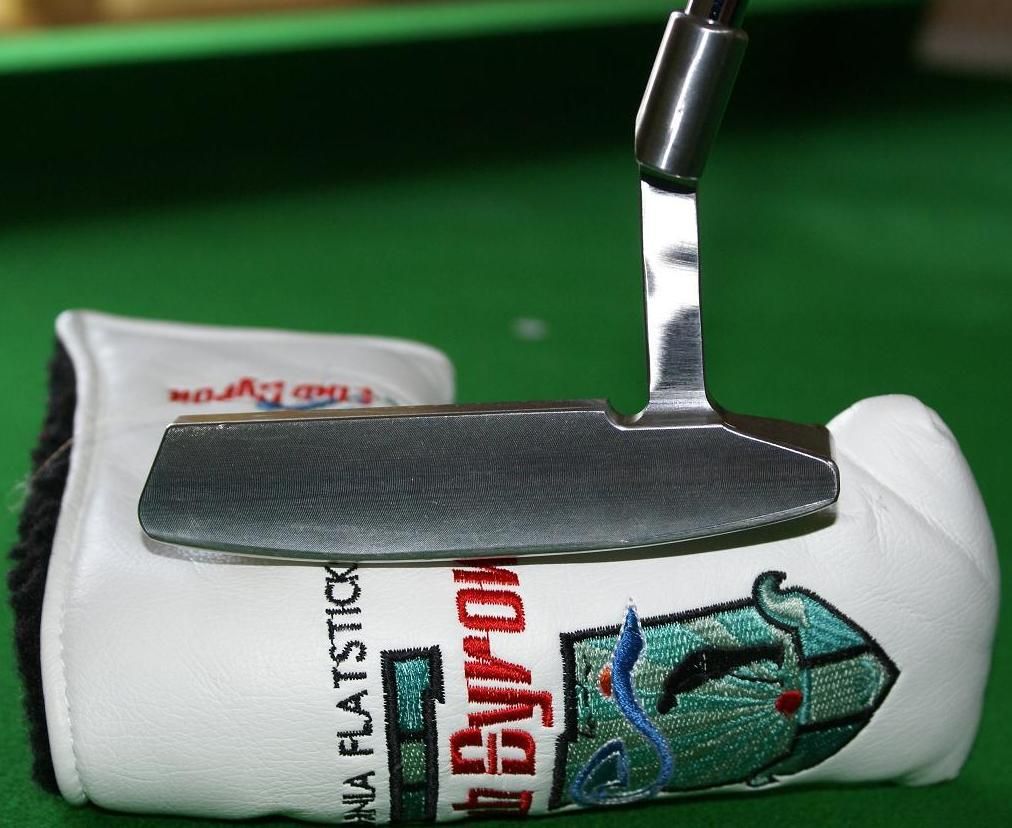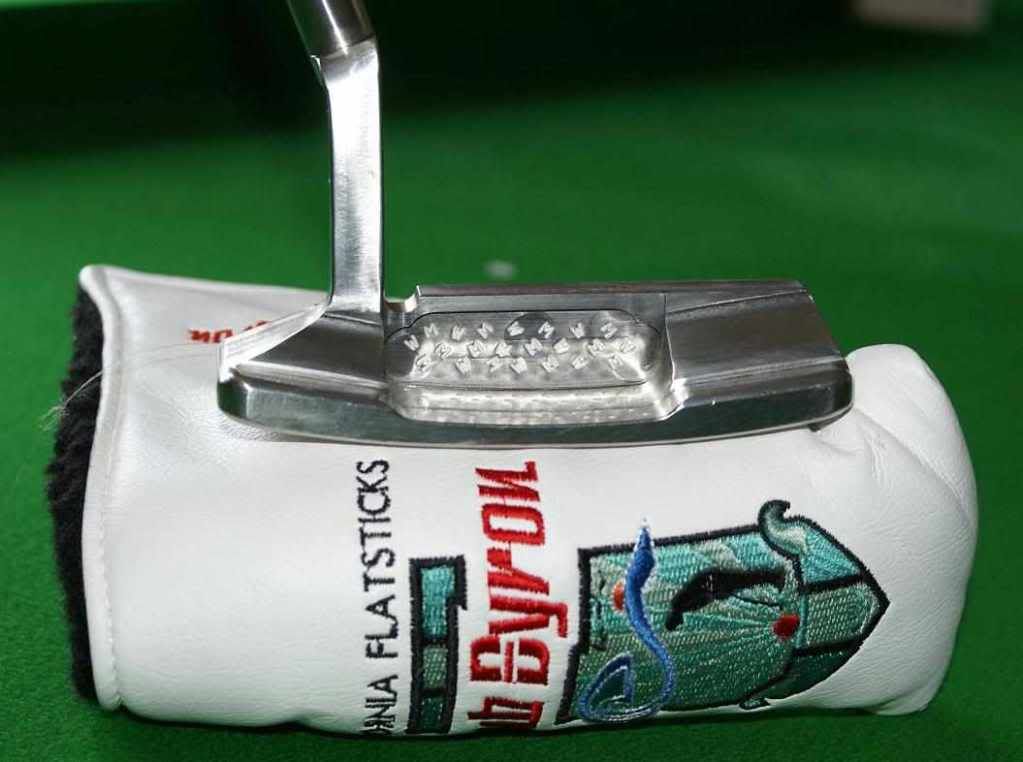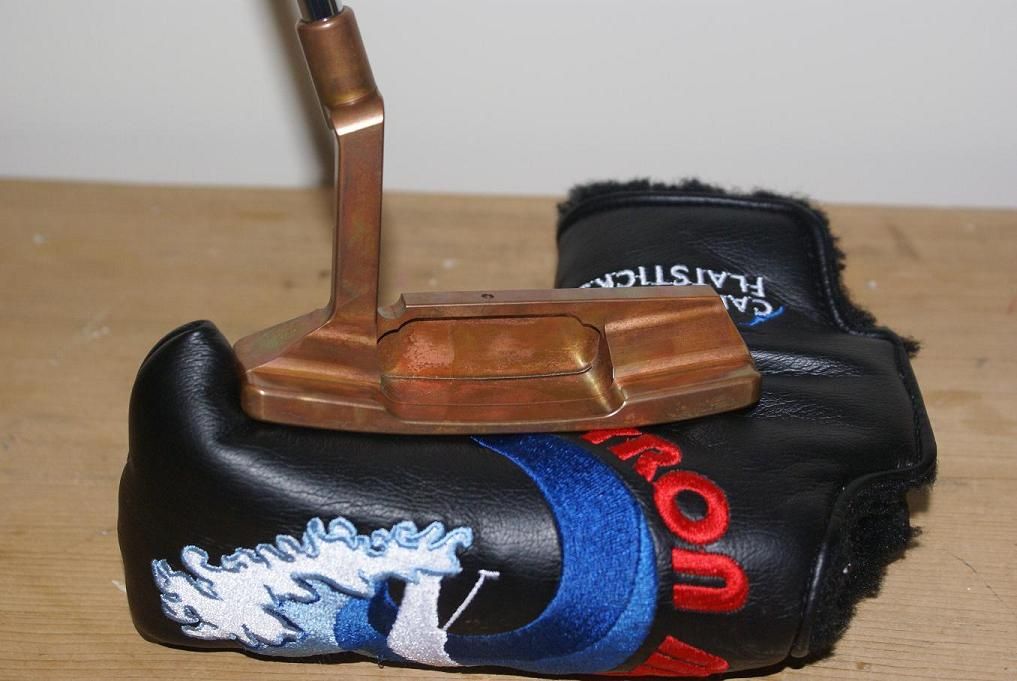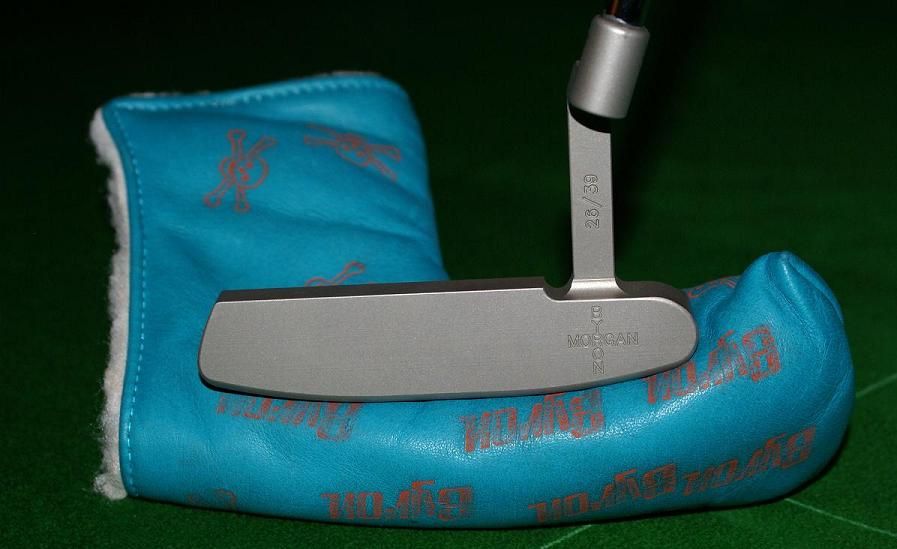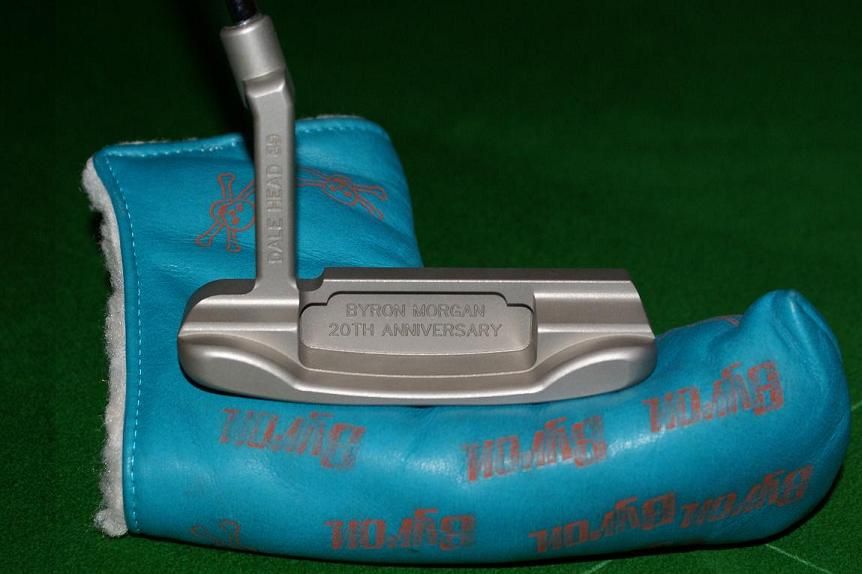 C&L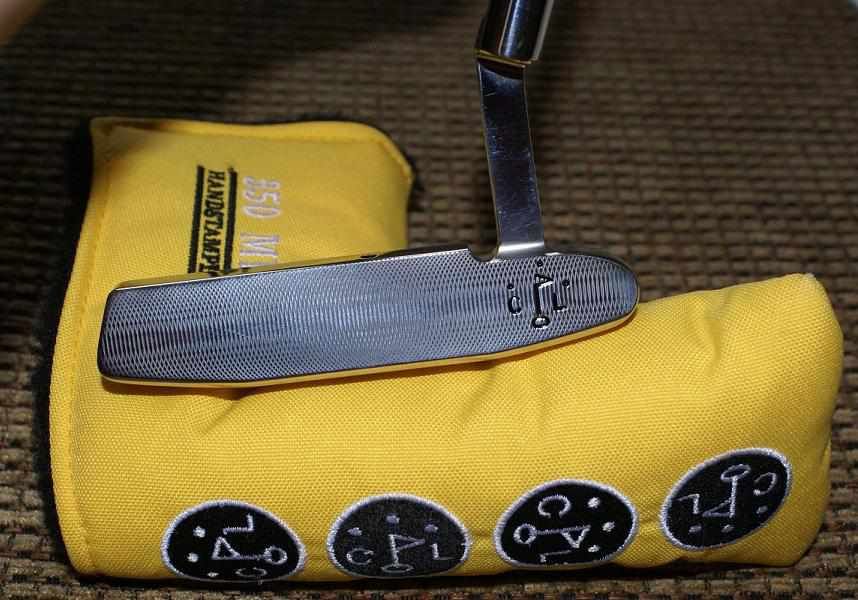 Tad Moore
October 2012 - Time for a little update - There have been quite a few more additions to the fold pretty much right the way through the bag, so without further delay, first up Bettinardi BB8 RJB2375 Flamed DASS with modified Fit face.
Next Nike Vr PRO with TOUR AD-DI6s shaft, no am not a big Tiger fan but do like this combo.
Finally an Auditor Ball and Clubhead speed checker, not in the same league as a Trackman but still a bit of fun in the garden or even down the range and gives you a reasonable idea of your numbers, if not totally accurate.

Pictures from trip to St Andrews, Carnoustie and Royal Lytham.

PUTTER PICTURES ,
-> Bettinardi - RJB2376, RJB2366 , RJB1599, RJB1522, RJB2135, RJB2375, PAUL LAWRIE MAG44
-> Byron Morgan
-> T.P. Mills
-> Scotty Cameron
-> PING
-> Lajosi
-> Tad Moore
-> C and L
-> Gene Nead
-> Wilson DBAP and Other Blades
-> Piretti
-> Seemore Payne Stewart Limited
-> The Belly
-> Serge Deschamps

Various IRON SETS
-> PING
-> Mizuno
-> Wilson
-> Hogan
-> Scratch
-> Titleist

or see below for 2012, 2011 and 2010 bag updates
including pictures of my workshop (albeit a little untidy so those with any form of OCD avoid)!

2012
2012 sees a new set of irons take pride of place, have been lusting after these for some time now, Scratch SB1's 3-PW(3 gets dropped) with a 53 and 58 degree wedges to boot.
The Copper Eye 2 still keeps her place althought does now and then get replaced for a hybrid depending on weather etc.
Driver is a TM R9 Stiff shaft at 10.5 degree which gives me a differing flight, again this get's dropped if it is windy.
Finally a New putter Bettinardi BB8 Proto with honeycomb milling pattern RJB2366
Also added a couple more putters whch have been added since, Serge Deschamps Centre shaft handmade and Uk putter maker Neil Webb.

as ever more updates to follow...




May - July 2012
Few of the latest equipment/gadgets that I have picked up of late!

Ballz to it, had to join the 17 revolution, has added some distance, admittedly not the 17 it promotes but anything is better than nothing I guess!

Changed to another 2 ball, this time with a more offset/ heel based model, SBST style was'nt for me so that has gone to pastures new.

Next the Garmin S1, what a great little piece of kit this is, have never been a watch wearer when playing but it's so light it is vertually unnoticeable! Plain and simple to read and tells me all I really need, yeah I know it does'nt give exact distances to clear trouble etc, but when I play other courses I will always pick up a yardage booklet regardless.

Last up picked up some old FALDO Rextar balls with his name and numbers!!

Ok time for my real passion (and in my opinion the best till last), the older Ping Models which were created by Karsten Solheim either in his garage in Redwood City Calif (1959-1961), or in the Scottsdale plant which he moved to later in the early to mid 1960's! First up the Redwood city models. These models are where the very first HEEL and TOE weighting concept was first invented, and brought about the putters we see today.

Few pics to get the jist, more pictures and far more of the differing models here...

March 2012 - Hybrid Heaven here! Even ventured down the Ghosted route, which I am almost ashamed about!
Taylor Made R11 18 degree 85gm Stiff
Also picked up one of the new Ping Anser Milled putter Model 1 with a sightline, first looks very impressed, the sightline for me was a winner.



Feb 2012 -
Found this little treasure, a driver I have been looking for quite some time, admittedly not your latest gretest White ghosted whatyamacallit but a driver which in my opinion was created by the greatst clubmaker of them all Harry Busson from Walton Heath, who created percy woods for a lot of the greatest players to take up this game.

Also a rather tasty Penna driver to go with it, both very nice pieces of furniture! Will sit nicely in amongst my 1960's setup below


Also a couple of slightly newer models - Titleist 909h 21 degree Voodoo Stiff shaft
Ian Woosnam Personaly made Maruman Attack wedge



Jan 2012 -
Latest up is a Set of the much talked about and fancied TITLEIST 681's 2 - PW had to try them, am hoping to get out tommorrow and give them a spin S300 shafts
Shafted a couple of Scratch Ar1 heads that I have had for some time hanging around, 3 and 4 iron with DGS300, popped on a couple of mellow yellow ferrules and bobs your uncle, fanny's your caddie! Voila!
Feb 2012 -
New additions Sonartec 3 wood
and a 17 degree Titleist 909H hybrid, after hitting this hybrid, am realising it might be time to accept age is catching up and for the Eye 2 to come out of the bag
, looking at a 21 degree version of the 909h maybe the 910, is there much difference in the 2??

Few Other Putters:-
First a pretty special one, a Bettinardi Mag44 with a Hogan face. This was once owned by Paul Lawrie who after speaking with him was given it at the US open in the early to Mid 2000's. The neck had been bent quite drastically (looked in anger) but he told me that he had it bent purposely "so the stem sat better as I like the leading edge slightly offset"!
Anyway since then it has returned to the Studio and been straightened.



Ping Karsten Co Slazenger Anser
There is a story attached to the selling of this putter and the purchasing of the Paul Lawrie Bettinardi above, will explain later (will take some believing)!



2010-2011

FULL 07/11/2011Update
"Been a little while since I last did an update so thought be easier (lazier) to carry on with my original WITB than start afresh!

This is pretty much it - After a trip to the Ping factory in Gainsborogh which gave me a good insight into shaft requirementsI now have a Ping G10 (did'nt like the I15/G15 as much) with Proforce V2 Stiff 65gm driver in 9 degree while the 3 wood is the Yonex nanospeed.

Irons - after threatening to reshaft the MP14's I bought I eventually got round to it (S300) and now they are pride of place in the bag with a couple of Scratch wedges 53 and 58.

Putter is a [url="http://www.golfwrx.com/forums/topic/216470-witb-with-moaningm/page__st__60__p__3381444#entry3381444"]C+L cut down to 33".

Would'nt say I have pulled up any trees with set up but it get's me around.
First off a quick WITB, have gone back to the TM 425 for now as the Ping was playing up just a little:-



Bag from 2009/2010

Greetings all,

Here is my set up at the moment, I do have a bit of an obsession with putters which I have about 130 or so at the moment in various bags about the house, so that is the one club that get's the least time in the bag.

This partuclar anser4 has been in for a few months now but I sense is just starting to get itchy feet!

Anser 4 was ousted with Byron 007x in, the betti and Pal2 didnt last too long either!

Hope you enjoy.....




Time for a bit of an update, adding a few of my other putters/equipment that I have gathered over the yrs ashamedly, more indepth pictures on pages 2-4!

Mills One's r-l Truett Mills handmade one, David Mills handmade one, Old School One, then the 2 Spalding One's


Few Headcovers!

Edited by MoaningM, 06 January 2019 - 10:52 AM.