My Titleist TPI Review
Hi all, I wanted to give a summary to my recent visit to TPI in Oceanside, Ca. I have read many reviews here on Golfwrx and since having planned a little 2 day trip to Aviara and a visit to the Gallery I decided to squeeze in a fitting for Woods and Wedges while in the area.
First a little background on me and my game. Just over the last year or so I went from a 3 wedge setup (46 AP2 ,52M ,58K) to a 4 wedge setup (46 AP2,52M,56K,60K). I went to the 4 wedge setup because I found myself struggling from 120yrds and in. Full shots were fine but when I need to take a little off I just never seemed to get real comfortable with ¾ to ½ shots. I pretty much self fit for grinds in the wedges and my experience has been ok. I love my 60, which is my 58 bent to 60 but never got along great with the rest of the wedges. With the release of the new SM6 wedges and the changes that I had read about, I was very excited to do this fitting.
TPI
This place is just awesome, from the drive in to checking in you are treated like a VIP. We were greeted outside by a staff member who assists you with your clubs and guides you into the facility. Since I drove down from SoCal I arrived early and another staff member came along and asked if we (I brought a buddy with me) would like a tour of the facility. Of course we said yes, so he proceeded to show us around the different areas on site. We visit Bob Vokeyís office (he wasnít on grounds this morning) and it was very unassuming, just a small office with the necessities and a few wedges laying around. They do have a small area where they can build clubs but that is reserved when they have Staff pros in getting fit or some tweaks to their gear. They have a real nice conference room with all the new offerings that meetings are held in, we actually ended up here to review the outcome of the days fittings. We were then take to the 3D office where they can hook you up with an outfit to get a 3D video made of your swing and show tendencies within your swing, during the fitting Julieta Granada was there with her Caddy/mother and they were going through the fitting process to review some things in her swing. We then toured the Physical performance area where a Club Staff Pro was going through a fitting and the fitter took some time to explain what they were doing and the type of feedback and workout routine that they provide for the Pros desired goals and body make-up.
Now its time for the fitting, we were taken back to the reception area and I was lucky enough to have Dino as my fitter. I have read many great reviews about Dino and they are pretty much all spot on!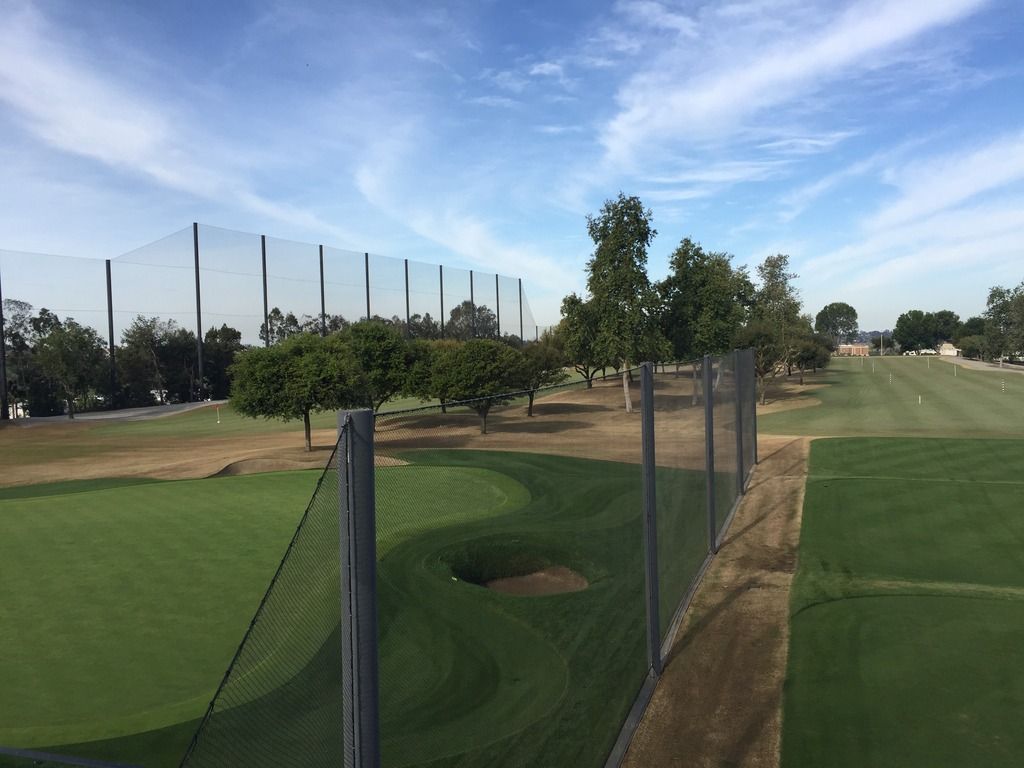 WOODS FITTING REVIEW
First started off with a little warmup while Dino setup trackman, once I was ready we first talked about my long game and tendencies and then proceed to hit some tee shots. It was a beautiful SoCal morning and I was swinging pretty good and hit about 5-10 drives with my current setup when Dino stopped me to talk about some numbers and what he saw in my swing and the monitor. He felt I was teeing the ball up a little high so we lowered it and saw immediate improvements in launch and spin. We tried a couple of different settings (A1 and D1 in my 915D3) and then a few different shafts (Fujikura Pro, Speeder 757 Evo) but non improved against my Kuro Kage. The Fuji Pro was lower spin but it just wasnít producing the overall consistency we were looking for. We tried an 8.5 but Dino said that when I hit a club or was looking down at Loft I made much better swings so we stuck with the 9.5. He asked if there was anything else I was looking to try, well yes I went through this fitting process just to see if I would fit into a 915 D4, long story short and after different lofts and shaft combos, the D4 was not for me and much better to get fit or try to get fit for one rather than an expensive experiment. For reference I was right around 112-115 tops on my SS so the D4 was just a little more than my game can handle. I did get fit for my driver and was great to know that my local fitter (ifixclubs) does a great job but that itch to tinker and try the D4 was why I did the fitting. I had originally just asked for driver only but Dino said letís just take a look at the 3 wood while we are here. We tried a few different heads and shaft compared to my gamer and in this area we found the 915F 13.5 set to A1 (I play 915F 15 set to D1) was giving me great numbers with my Elements Chrome shaft.
Here is what was recommended:
915 D3
9.5 Setting D-1 Current setup with Kuro Kage or alt shaft Fujikura Pro 73 Tour Spec X-Stiff Tour Velvet 3/64 Oversize
915 F
13.5 Setting A-1 with UST Elements Chrome X-Stiff Tour Velvet 3/64 Oversize
WEDGE FITTING REVIEW
As we walked from the long game area to the wedge area we stopped by a large storage shelve and he opened up the door and grabbed a box of new prov1x balls and handed them to me then asked what color would you like and gave me a new Titleist hat which I thought was very cool!
No on to the wedge fitting, again we spent a few minutes talking about current wedge setup, tendencies and goals for this fitting. Then Dino went over the changes from previous Vokey models TVDís and the new SM6 differences. He grabbed all 4 wedges and checked for loft and lie and away we went.
First we started with the PW. We talked about how I use it and what I would like to see improve in the club. We hit both my AP2 vs SM6 46 wedge. The feeling was really night and day between the two. It was much easier to control trajectory with the SM6 as well as much easier to take little off the club as well on ¾ shots. The tendency I have is to pull the ¾ shots but with the SM6 we didnít really see that shot surface.
Next was the 52M TVD, this is a club I use often but again my tendency with this club to pull it. After hitting a few shots we talked about the makeup of the grind and how it interacts with the turf based on my swing, Dino was able to select a couple of different 52ís to try and once again we saw with a different grind the pull shot just wasnít there on the little knockdown shots we hit and full shots were pretty dead on our target.
Next was the 56K, we discussed where I primarily use this club and told him I lose it a little right on full shots. After hitting a few shots Dino explained the grind on this club and how it interacted with the turf based on my swing, he pulled out a couple of different grinds until we settled on one that worked with swing on full shots and some shots around the green. He even had me hitting high soft 30 yard flops shots with this club which I didnít think was possible. This is going to be a very versatile club.
Last was my 60K, I love this club from the bunkers and around the greens and can hit it comfortably from pretty much any lie. After hitting a few shots around the green and the bunkers he said for sure no need to change this club or grind. This club makes bunker play stupid easy.
Throughout the fitting process, especially in the wedges, he wasnít just fitting me for my clubs but also gave some advice on some things I was doing with my wedges that I saw some immediate improvements with. He had me move my ball position a little more forward in my stance as to not be so steep on my wedge shots which helped a lot and I immediately put into play when we were down at Aviara.
Here is what was recommended (Pics Below).
SM6 Tour Chrome
46.08 F Grind True Temper Dynamic Gold X100 Golf Pride Golf Pride Titleist TV Iron w/Logo 3/64 Oversize
SM6 Jet Black
52.12 F Grind True
Temper Dynamic Gold S400 Golf Pride Golf Pride Titleist TV Iron w/Logo 3/64 Oversize
56.10 S Grind True Temper Dynamic Gold S400 Golf Pride Golf Pride Titleist TV Iron w/Logo 3/64 Oversize
60.12 K Grind True Temper Dynamic Gold S400 Golf Pride Golf Pride Titleist TV Iron w/Logo 3/64 Oversize
I was completely impressed with the entire fitting process and never once did I feel rushed or like we were on a clock, Dino was AWESOME, he has a lot of insight and we talked in the conference after about different players he has worked with, the stories were great and I appreciated his time and will definitely be going back to do the Irons and hybrids with him. The SM6's are a great feeling wedge, much different than the previous TVD models I have been playing. I really got all I wanted and more out of this fitting and would recommend to anyone who is in the market for some Titleist equipment. I will say that if you plan to play golf after you might be a little spent, I was a little tired when we went Gallery after and then we played golf at Aviara which if you havenít played you must. Hope I didnít ramble on too much but I just wanted to share my experience and give Dino some props. We did talk about Pure745 visit and like he said I would highly recommend you ask for Dino, he is aware of Golfwrx and I let him know he came well recommended and I was glad I got paired with him.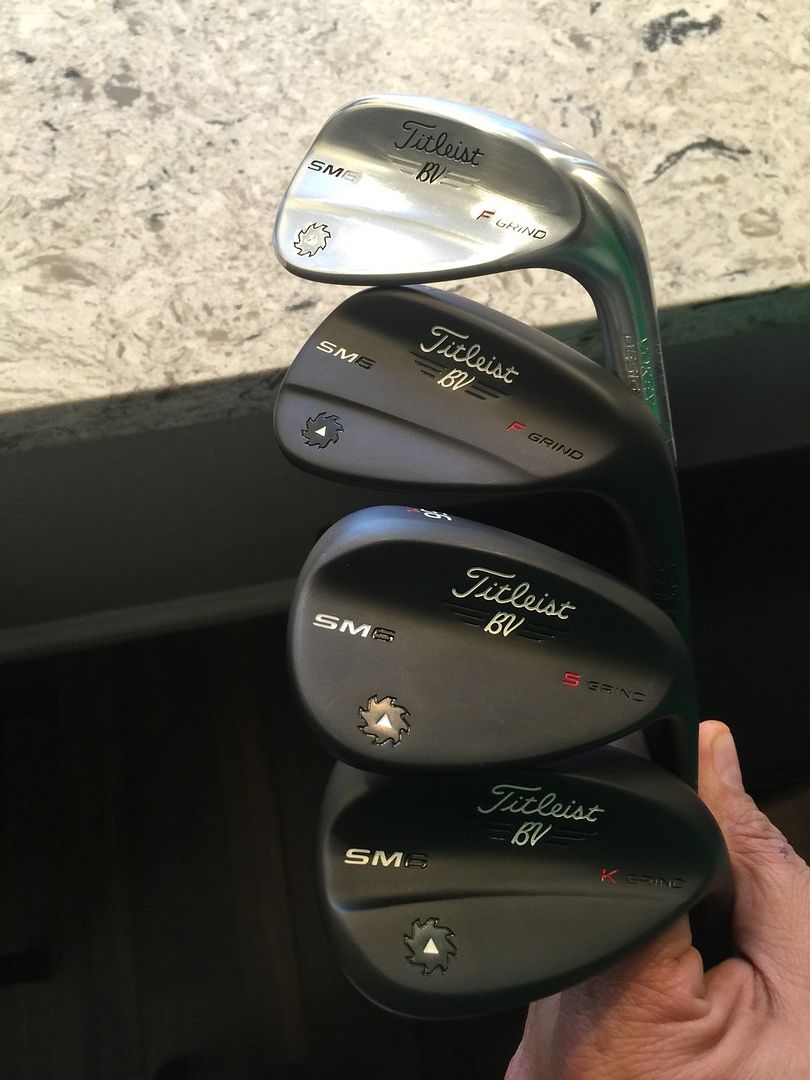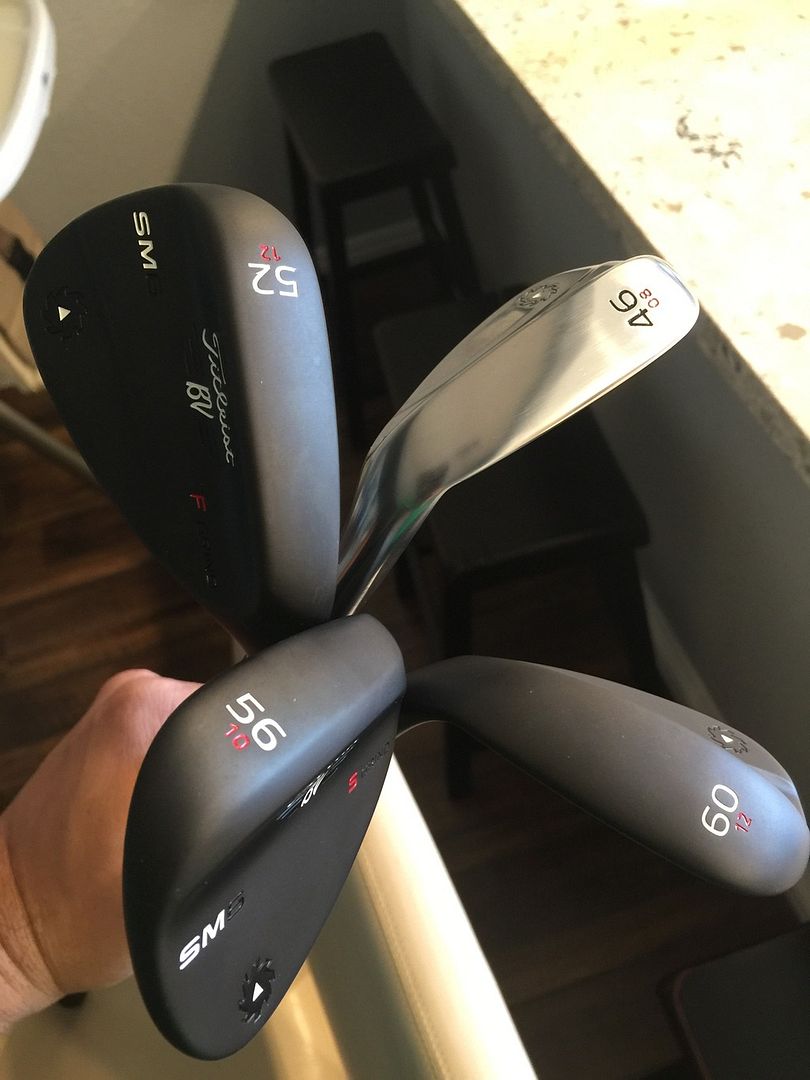 Edited by jasman29, 23 April 2016 - 02:01 AM.