At 9:25 a.m. Eastern Time Wednesday morning, golf fans will be following and enjoying probably the most exciting wire-to-wire golf event that the professional tours have to offer. The top 64 golfers in the world will be competing head-to-head in a singles match play format where anything can happen. The parallels between this event and NCAA March Madness are obvious, but where the NCAA pulls teams into their national tournament that for the most part have no chance of advancing past the first round, the WGC-Accenture Match Play Championship gives us the gift of the top-64 golfers in the world, matched up by four brackets seeded 1 through 16, where the 16-seeds have a very real chance of knocking off a No. 1, and have before.
Last year, we witnessed a fair amount of upsets early with a 16-seed Ernie Els taking down the overall No. 1 in Luke Donald, as well as 15-seed Matteo Manassero taking down 2-seed Webb Simpson, 3 and 2. It also gave us some intriguing late matchups with a Rory McIlroy vs. Lee Westwood semifinal, both 1-seeds in the tournament, and produced an amazing final match between McIlroy vs. Hunter Mahan final, which Mahan emerged victorious.
This year has the look of producing the same amount of excitement. Tiger Woods will be back in the field competing as the second-ranked player in the world, which adds another possibly great storyline to this year's event that 2012 did not have.
Since the rankings of this even are based off of the Official World Golf Rankings (OWGR), let's highlight the top-10 in the OWGR and look at some of their possible match-ups and make some projections.
1. Rory McIlroy (Jones Bracket)
Rory enters the WGC as 2012's runner-up and this year's top-seed. Rory hasn't played much this year yet, his only worldwide start being in Abu Dhabi where he failed to make the cut. Hopefully Rory has figured out his new Nike equipment and is able to make a similar run that he made in this tournament last year. He plays his first match against another Irishman and a friend in Shane Lowry, who he should take care of fairly easily. If McIlroy is able to play decent golf, there's no reason why he shouldn't be able to at least make it to the round of 16.
2. Tiger Woods (Player Bracket)
Everyone is ready for Tiger to get started this week. He takes on Charles Howell III in his first match of the tournament, who has been playing great golf so far this season. The Player Bracket sets up for Tiger to possibly be the hardest bracket to come out of in the tournament. It features a bottom part of the bracket that is loaded with talent, including last year's champion, Hunter Mahan, and a great young match play player Matteo Manassero, who has the capability of taking anyone down in this tournament. A lot of matches need to go Tiger's way to have a generally easy road to the final four, but he looks good to get there no matter what.
3. Luke Donald (Snead Bracket)
It seems like the Snead Bracket could be one of the harder brackets to come out of in this tournament with the kind of talent that sits in certain spots. Donald shouldn't have a terribly hard time winning his first two matches, but when he has players like Nick Watney, Steve Stricker, Adam Scott and Ian Poulter in his bracket, and could see two of them in back-to-back matches, it could be difficult for Donald to get out of his bracket. Don't think he can't take it all though – he won this tournament in 2011, and carries one of the best tee-to-green games in the world.
*Note: Number 4 in the OWGR Brandt Snedeker is not in the field for this tournament.
4. Louis Oosthuizen (Hogan Bracket)
Heralded as one of the sweetest swinging players in the world, Oosthuizen has been playing great golf so far this year, and has a win at the Volvo Golf Championships on the European Tour. For a No. 1 seed, it looks like Oosthuizen might have the easiest path to the final in a bracket that looks ripe for upsets early. Oosthuizen's biggest test could come in the bracket championship versus Justin Rose, but the way the top part of the bracket matches up with the bottom part of the bracket, who knows what that final match-up could be, but there's a good chance that Oosthuizen will be in it.
5. Justin Rose (Hogan Bracket)
Justin Rose has the look this year so far that he could win a major very soon. He has been striking the ball wonderfully, and has put together some phenomenal rounds of golf so far this year. The bottom of this bracket is vastly different from the top, and it looks like Rose could be upset before the bracket championship considering his matches going to the final four could be K.J. Choi, Bill Haas, Sergio Garcia, Matt Kuchar, Louis Oosthuizen. That could be one of the hardest roads for a top-seeded player to the final four in the entire tournament.
6. Adam Scott (Snead Bracket)
We haven't seen much of Adam Scott yet this year, except for his only start on the PGA Tour at the Northern Trust Open, where he finished tied-10. Adam Scott should make quick work of Tim Clark in his first round match, but in his second round match where I project he will be playing Thorbjorn Olesen, he will start having a hard time, and I believe has a good chance to lose in his second match. Scott has shown that he he can go on long runs of playing great golf, but I'm not so sure this is where he starts to show it.
7. Lee Westwood (Player Bracket)
Westwood hasn't had the greatest of starts to his season this year, and has most recently finished tied-46 at Pebble Beach just a couple weeks ago. He doesn't carry a great match play record, and the match-ups he could face could give him a lot of trouble. I wouldn't be surprised if he is a first round knockout, but he should be able to get past his first match. He would meet either Martin Kaymer or George Coetzee in the second round, which will be a very tough match for Westwood no matter who he plays in the second round. Seeing him and Tiger in the bracket championship would be a great treat for the viewer though.
*Note: Number 8 in the OWGR Phil Mickelson is not in the field.
8. Bubba Watson (Jones Bracket)
There could not be more of a wild card in this top-10 than Bubba Watson. His unpredictability could throw his opponents off tremendously, or it could throw him off as well. His road doesn't look too bad with a first round match against Chris Wood, and then facing the winner of Jim Furyk and Ryan Moore. I think his hiccup will come when he faces the 3-seed Charl Schwartzel in the third round of the tournament. We never know what Bubba is going to give us, and this week should be no different.
9. Charl Schwartzel (Jones Bracket)
Schwartzel could be the possible winner of the Jones Bracket. He has been swinging the club as good as he ever has so far this season, and hits a lot of fairways and greens. His bracket championship could end up being against Rory McIlroy, that he could have a very good chance of beating, or maybe no even have to beat at all, depending on how things work out for him. The way that Schwartzel has been striking the ball and the way he is capable of playing in this match play event by being able to put the ball in the hole from everywhere around the green could be a recipe for success.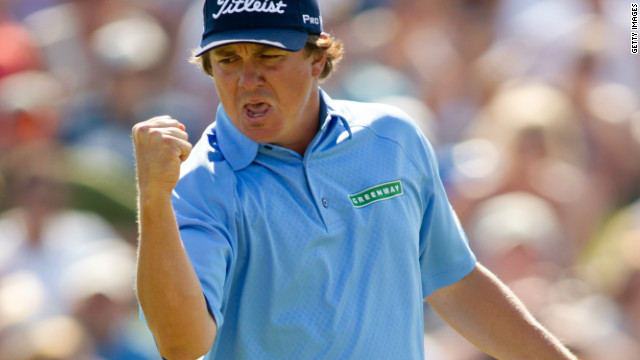 10. Jason Dufner (Player Bracket)
Jason Dufner has played pretty well this season so far with two top-10s in Europe and a missed cut at the Phoenix Open. The calm and cool Dufner sits at the bottom part of the bracket which could possibly be labeled the "Bracket of Death". He will not be able to look past Richard Sterne in his first round match, and if he gets past that, he will have a very rough match to deal with against the Hunter Mahan vs. Matteo Manassero winner. As a good ball striker and a proven winner, Dufner could make some noise in this tournament in a bracket that could see some great golfers leave early.
Your Reaction?
LIKE

0

LEGIT

0

WOW

0

LOL

0

IDHT

0

FLOP

0

OB

0

SHANK

0