The last-second club switch that cost Colin Montgomerie the 2006 U.S. Open
Phil Mickelson's final hole collapse at Winged Foot will always be the primary talking point amongst golf fans when discussing the 2006 U.S. Open. However, the reality is that there was Colin Montgomerie's own final hole collapse that year which was much more brutal and equally as heartbreaking.
The Scot arrived at Winged Foot as the best player never to have won a major, with 30 European Tour wins to his name, a dominant Ryder Cup career under his belt and having suffered plenty of major close calls in the past.
About to turn 43, time was running out for Monty to get the elusive major he had always dreamed of winning. But it looked like the stars were about to align at the 2006 U.S. Open for Monty when on the 71st hole, he holed the putt of his life from 40 feet to claim a share of the lead.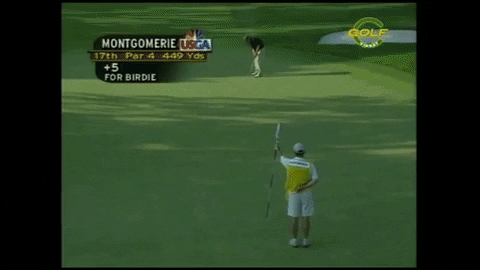 Visibly emotional, Montgomerie steadied himself and ripped a driver down the fairway on the ferociously difficult 18th hole to put himself in prime position.
Waiting to play his approach shot to the final green, Monty was made to wait nervously, as playing partner Vijay Singh found himself in trouble down the left rough. That wait to hit his approach shot lasted almost 15-minutes, and throughout that period, Monty looked poised to hit his 6-iron for his approach.
Cleared to play, Monty changed his mind at the final moment, and grabbed 7-iron from his bag. Instantly, Johnny Miller in the booth said: "I'm surprised he's just switched clubs when you've had 10 minutes to think about it."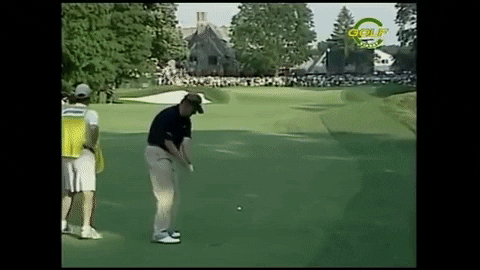 Monty took one practice swing with the 7-iron, pulled the trigger and played the worst shot of his life. Whatever the correct club was – the indecision, rushed strike and non-committal swing proved damning.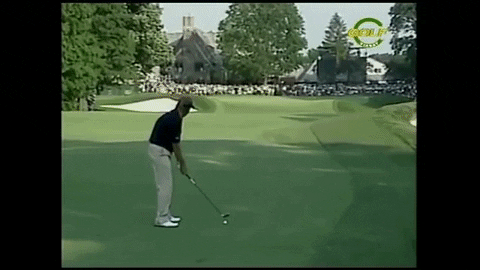 He would go on to make a sorry double bogey to miss out on a playoff by one stroke, and claimed afterwards that his last-second choice to hit 7-iron was fuelled by the belief that adrenaline would kick in.
On the most excruciating moment of his career, Monty would say years later that if Vijay Singh had hit the fairway and he had not had to wait and had so much time to overthink his approach shot he would have finally won that missing major. In his 2012 autobiography, Monty wrote about the shot saying:
"By the time it was my turn, I was beginning to second-guess myself. Was it a seven-iron? Was it not a six? Was it a big seven-iron or a little one? Did I detect a touch of wind?

Why did I hesitate on that backswing? I don't exactly know anything more beyond the fact that my mind certainly wasn't clear. I knew at the time that I had hesitated. It would have been possible to pull out of the swing since it wasn't complete and that's what I should have done. Stopped, regrouped and started all over again."
Following his double bogey on the last, Monty made his way to the press center and put in a spirited performance with the media. You would never have thought he had just blown his big chance at winning a major, as he showed off his razor-sharp wit when a reporter asked him if he allowed himself to think about winning after holing his putt on 17, responding:
"No, you don't think about winning when you're one ahead with one to play, no. Not at all, no thoughts of victory at all. I was just having a Sunday game, just a game with Vijay, just a few thousand people watching, that was all."
However, the reality of Montgomerie's true feelings were far more raw. The defeat had begun to sink in when he boarded his flight home that evening. In his autobiography, Monty laid bare how he truly felt over his failure to capitalize on the opportunity he had waited his entire career for:
"I had a very bad flight home that night. I remember sitting there in a daze, not knowing what to say or do. I wasn't crying. I had gone beyond that. I was incapable of any analysis. The same three words, 'What just happened?', kept going through my head."
Turning 43 a few days later, Monty hoped that his close call would inspire more challenges at the majors later in his career. It didn't. The 2006 U.S. Open would be the final time he would contend at a major, and it remains the ultimate heartbreak which will always haunt the Scot.
Your Reaction?
LIKE

101

LEGIT

12

WOW

21

LOL

1

IDHT

1

FLOP

0

OB

0

SHANK

3
I cant….LOLOLOLOLOLOL
Don't let me anywhere near this…….say goodbye to half of them.
One shot at a time….stay in the moment…..don't feed em after midnight….all that stuff.
That's a big Matzah ball yah got hanging out there Riggs….
What club you hitting? I don't hit a club the club hits me….it's like Chaucer said…
Deep Convo is one benefit…
DM @johnny_wunder
Your Reaction?
LIKE

2

LEGIT

0

WOW

0

LOL

0

IDHT

0

FLOP

0

OB

0

SHANK

1
The 6 best #GolfWRX photos on Instagram today (9.25.20)
In this segment, we'll be taking a look at some of the best #GolfWRX tagged photos on Instagram. In case you aren't already, there's a whole load of action going on at our page, so follow us: @golfwrx
Let's get to it then, here are six of the best #GolfWRX photos from the past 24 hours.
'The Gunchinator'.
Refinished Miura 1957 blades.
TaylorMade's P770 irons are proving to be very popular.
Slant neck flat-stick from Olson.
Customized personal wedges from Bettinardi.
Which one you taking, WRXers?
Get hashtagging your golf posts #GolfWRX for your chance to feature in our best of Instagram posts in the future!
Your Reaction?
LIKE

3

LEGIT

2

WOW

0

LOL

3

IDHT

1

FLOP

7

OB

0

SHANK

15
The DailyWRX (9/22/2020): Tiger, JT lifting the left heel?
Rory's distance is even more fascinating looking at this picture….
I love this! Bummed he's leaving the USGA but stoked to play "hell day" at a Mike Davis track. 
At least 5…15….no more than 1,000.
I've been lifting my left heel all day. It's off the ground as we speak. Typing speed went way up. Who knew?
Hi, Binny!
DM @johnny_wunder
Your Reaction?
LIKE

8

LEGIT

1

WOW

0

LOL

0

IDHT

0

FLOP

0

OB

0

SHANK

0