The day Tiger Woods and John Daly lit up TPC Harding Park
This week's 2020 PGA Championship will be one of the few occasions golf fans will get to see the top players in the world tackle TPC Harding Park. Some will remember the WGC-Match Play that took place here in 2015, while others will have memories of the 2009 Presidents Cup. 
For those lucky enough to have watched the 2005 WGC-American Express Championship, however, that is the occasion that will remain the lasting memory of the West Coast course.
On that Sunday, TPC Harding Park served up one of the most exciting final days in modern golf's history.
The Back 9
John Daly led Tiger Woods, who was playing in the group in front, by three strokes at the turn on Sunday. That would quickly change, however, as Woods made a barrage of birdies.
First on 10…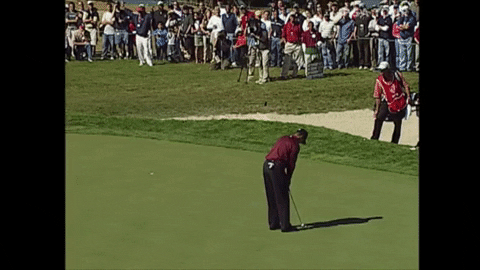 Then on 11…
Then again on 12…
It seemed like business as usual—Tiger tied for the lead on the back nine with all the momentum.
But Daly wasn't having it, and on 13, while seemingly staring bogey right between the eyes, he would produce this chip for birdie out of the thick Kentucky bluegrass.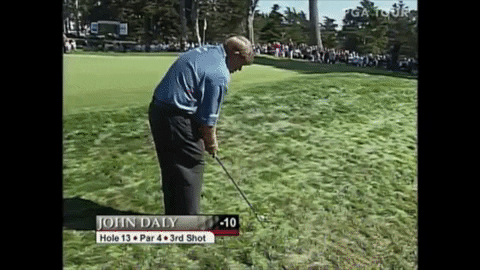 Daly would keep that advantage until the 17th hole when a costly three-putt resulted in a bogey. When both Woods and Daly parred the last, they headed into a playoff.
The Atmosphere
Sunday's final round crowd at the 2005 WGC-American Express Championship may well have been the loudest and most excited a golf crowd has ever been.
Woods took his usual swarm of fans around TPC Harding Park that day, as did Daly, as the two biggest draws in the game of golf went head to head. 
Tiger, with that typical intensely focused look in his eyes throughout, Daly staying calm refueling himself all day with a combination of diet soda and cigarettes.
Speaking on the atmosphere that day, Woods told the New York Times
"When we were taking the carts back to the tee. I couldn't hear anything. In my left ear, I'm half deaf, people whistling and screaming, and then my right ear, I'm half deaf.

"It was electric, it was loud, people were really into it. J.D. brings huge galleries everywhere he goes."
The showdown clashed with the NFL that Sunday, and following his round, Daly was in no doubt where America's eyes had been, saying
"I don't think there are a lot of people watching NFL football right now."
The atmosphere reached fever pitch on the first playoff hole. Stepping up onto the tee, Woods blistered a drive on an aggressive line 350 yards down the fairway.
"Oh, it's fantastic. Oh my goodness," said Nick Faldo.
As soon as Woods had hit his drive, Daly was ready to go. Resting his cigarette beside the tee box, the Californian then set himself, let rip, and outdrove Tiger's ball by almost 15 yards. Mike Tirico's excitement in the booth was evident, crying out: "He got him!"
Daly then calmly picked up his cigarette and headed down the fairway as the fans were losing their minds.
THAT Missed Putt
After both parred the first playoff hole, it was onto the par-4 16th hole that would provide for an unforgettable moment of drama.
Woods had 30-feet for birdie, Daly 15-feet.
Putting beautifully all day, Tiger struck a putt down the slope that looked for all the world to be heading into the cup.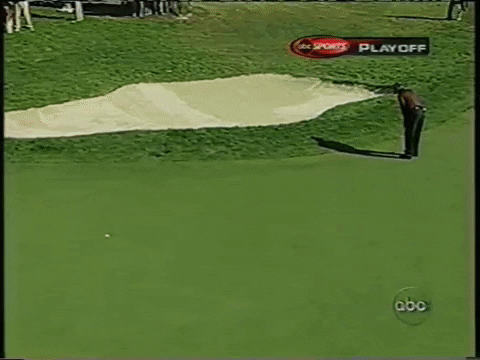 Speaking to the media afterwards, Woods described his feelings when his putt came up agonizingly short: "I felt the tournament was over…that he'd pour it right in there."
Daly stepped up but missed his birdie effort. Three feet remained for his par, and what followed was a shocking miss that even had Woods looking devastated for his competitor.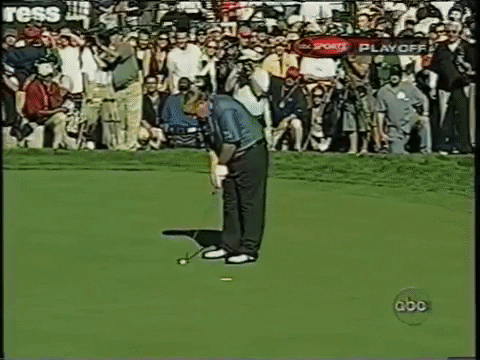 Speaking to the media after his round, Woods explained his bowed head reaction to Daly's missed three-footer:
"It just felt so bad. That's not how you're supposed to win a golf tournament. We're battling, and J.D. played beautifully all week. It shouldn't end like that. 

"We should be playing 17. I was thinking I had 160 and I'm hitting a drawing 8 iron and kind of rehearsing what I have to do, and when he missed the putt, I just felt so bad because he played so solidly the entire week."
On the infamous missed par putt, Daly would say: "It went left. I played that putt straight, and it went dead left."
The Aftermath/Daly's Gambling Spree
It was Woods' sixth win in 2005, in an incredible year that included victories at both the Masters and the Open. He would go on to win a further eight times in 2006, including two more majors.
As for Daly, the now 54-year-old revealed in his 2006 autobiography "My Life In and Out of the Rough," that directly after the event he took his runner-up check for $750,000 and drove to Las Vegas.
In Vegas, Daly sat himself down at a $5,000-per-play slot machine and lost $600,000 within half an hour. By the time he had left the casino, he was down $1.65 million. The 2004 Buick Invitational remains his last victory on the PGA Tour.
Your Reaction?
LIKE

33

LEGIT

3

WOW

7

LOL

0

IDHT

0

FLOP

0

OB

0

SHANK

3
A history of Tiger Woods' swing coaches
From remarkable highs to frustrating lows, amicable splits to bitter breakups and tell-all books to going it alone, Tiger Woods' swing coach history has been as colourful as it can get. 
Here we'll take a look at the swing coaches Tiger has worked with throughout his years as a pro, looking at the achievements the partnerships attained while also noting where Tiger was with his game during each collaboration.
Butch Harmon (1996-August 2002)
Major wins/win percentage: 8/33%
PGA Tour wins/win percentage: 34/26.8%
WGC wins/win percentage: 5/50%
The most successful period of Tiger's career was with Butch where he won over half of his major titles. What caused the split? Harmon's extroverted character combined with Tiger's opinion that the swing coach had taken his game as far as he could are believed to be the reasons behind the breakup.
Tiger Woods (September 2002-February 2004)
Major wins/win percentage: 0/0%
PGA Tour wins/win percentage: 6/26%
WGC wins/win percentage: 2/66%
A brief spell where Tiger supposedly went his 'own way' while still talking to Butch occasionally on the phone and rumour has it receiving feedback from friend Mark O'Meara. It was the first year Tiger went without a major win since 1998, but he still won plenty of times in this period – including two WGC titles.
Hank Haney (March 2004-May 2010)
Major wins/win percentage: 6/26%
PGA Tour wins/win percentage : 31/33.3%
WGC wins/win percentage: 9/27.7%
The successful partnership of Tiger and Haney (highest win % of any Tiger coach at regular tour events) came to a messy and drawn-out end following the former's infamous sex scandal at the back end of 2009. The two continued to work together into 2010 before news broke at the Players Championship of their split.
Haney would then release the controversial memoir of the years that the two worked together entitled: 'The Big Miss', further souring their relationship.
Sean Foley (August 2010-August 2014)
Major wins/win percentage: 0/0%
PGA Tour wins/win percentage: 8/14.5%
WGC wins/win percentage: 2/16.6%
Woods and Foley began working together at the 2010 PGA Championship, with Foley handed the task of rebuilding the Woods swing and getting him back to his best. Woods' first win under Foley's tutelage came in 2012 in a year he won three times. Tiger then dominated in 2013 winning five times while returning to World Number 1.
The two amicably split in 2014, with Woods, who began suffering back issues, saying at the time "I think that physically, I just wasn't able to do some of the things that we wanted to do in the golf swing."
Chris Como (September 2014-December 2017)
Major wins/win percentage: 0/0%
PGA Tour wins/win percentage: 0/0%
WGC wins/win percentage: No appearances
Biomechanics student Chris Como was unable to make much happen with what was a severely injured Tiger during their partnership. Woods played in just four major championships during this period, missing the major events in 2016 and 2017 entirely.
Following their split, Woods said: "No one's had a spinal fusion at that level and been able to hit the ball as hard as I do. No one understands that. So I have to rely on my own feels and play around with what my body can and cannot do."
Tiger Woods (January 2018-Present)
Major wins/win percentage: 1/10%
PGA Tour wins/win percentage: 3/7.9%
WGC wins/win percentage: 0/0 %
After four back surgeries, Tiger has taken full ownership of his game since 2018 finding a swing that produced arguably the greatest comeback in sport. In 2019 Woods won the Masters for his first major in 12 years, and he has won a total of three times in this period.
Your Reaction?
LIKE

17

LEGIT

5

WOW

0

LOL

0

IDHT

0

FLOP

0

OB

0

SHANK

0
Tiger Woods is in the worst form of his career in this area of his game
Tiger Woods' frustrating 2020 continued as the 15-time major champion's struggles in Chicago last week ensured that he would miss out on the Tour's finale.
Much of Woods' irritation with his game also looks to be in an area that has consistently been a massive strength throughout his career – on the greens.
Tiger has competed in 24 rounds thus far in 2020 and has racked up some unwanted records in that period.
After Woods gained +0.2 strokes on the greens at the Farmers back in January, the 44-year-old then went to the Genesis and produced his worst putting performance since Strokes Gained statistics began in 2004. Woods lost 8 strokes with the flat-stick that week, and post-lockdown, he hasn't fared much better.
In the four events since Riviera, Woods has lost strokes on the greens all four times. That five consecutive tournament run of losing strokes on the greens is also a record for Tiger, who never had before lost strokes at as many successive events where strokes gained are recorded.
Even during 2014 where a clearly injured Woods was heavily restricted in his ability to practice his putting (and his game around the greens was non-existent), he wasn't putting as poorly with the flat-stick as he has this year.
Woods will defend his Masters title in November where a field of 92 players will tee it up. Where does Woods' putting in 2020 rank him in that field on the greens? 85th.
Not even Woods' stellar iron game, where he has gained strokes at each event this year, can mask the issues that Tiger needs to solve with two major championships right around the corner.
The 82-time champion on the PGA Tour played with a new putter at the PGA Championship (his best-putting performance since January). He did so because the longer shaft on the Scotty prototype allowed him to practice more pain-free.
If an inability to practice on the greens is causing Woods' putting woes, then is it just a matter of time before Tiger retires his trusty long-time Scotty?
Your Reaction?
LIKE

20

LEGIT

6

WOW

5

LOL

5

IDHT

0

FLOP

3

OB

0

SHANK

6
Tiger Woods describes 'brutal' training regime including 'throw-up sessions' ahead of busy stretch
Since golf has resumed, Tiger Woods has played sparingly featuring at just the Memorial Tournament and last week's PGA Championship. 
Next for Woods is a condensed stretch of golf featuring the FedEx Cup playoffs as well as multiple major championships, and to prepare for the demands of this busy period, Tiger is putting himself through 'brutal' training sessions.
Speaking to Henni Koyack following his final round at the PGA Championship, Woods detailed the extent of his physical workouts which he will continue in preparation for the coming weeks – including 'throw-up sessions'.
"We've been training to get the body ready for a long stretch with a lot of play and making sure I'm strong enough and have the physical endurance to do it. 

The training sessions have been brutal. It's awful. Lot of sweating, a lot of lactate, couple of throw up sessions in there. That's just part of the training process, that's what you need to do, and all athletes understand that."
Lactate Training Threshold is a popular training method incorporated into the regimes of many Olympic endurance athletes. Per adventure.howstuffworks.com, the Lactate Threshold is described as the following:
"Your body produces lactate every time you use your muscles, and the lactate in your blood usually stays at a pretty steady level. During intense exercise, though, lactate builds up faster than it can be flushed out of your blood — this is your lactate threshold. When you cross your lactate threshold, you feel tired, and you might even feel a burn in your muscles.
Sports physiologists have learned, however, that your lactate threshold can be raised with proper training. Athletes can teach their bodies to use lactate more efficiently, so it takes longer to build up in their blood. Runners who raise their lactate threshold can pick up their pace and get to the finish line quicker."
Woods is next expected to tee it up at the first FedEx Cup playoff event: The Northern Trust. The 15-time major champ is currently 47th in the FedEx Cup standings.
Your Reaction?
LIKE

37

LEGIT

4

WOW

5

LOL

4

IDHT

1

FLOP

1

OB

1

SHANK

23