How Tiger Woods lost the 2009 PGA Championship
11 years ago, the PGA Championship produced one of the greatest upsets in sporting history.
The all-conquering Tiger Woods arrived at the 2009 PGA Championship as the prohibitive favorite, having won three of his last four events. Woods then backed up that favoritism over the opening two days, picking apart Hazeltine National with extreme precision to build a four-stroke advantage by the halfway point.
It felt like such a formality that here in Ireland, our biggest bookmaker, PaddyPower declared Tiger as the winner and decided to pay out all outright bets on the World Number One after just 36 holes.
It proved to be a big mistake.
Next week will be the 11th anniversary of the monumental upset, and here I'll take a look at the factors behind Woods' unthinkable loss that week to Y.E. Yang.
Tiger's Ultra-Conservative Saturday
On a scoring Saturday, Woods was too content to play it safe. Why not? After all, the ultimate closer had won so many majors by forging a lead, aiming for the middle of the green, two-putting for par and watching his opponents slowly falter one by one.
Only this time was different, and even Tiger with a two-shot lead going into Sunday's final round as much as admitted he was too conservative during round three, saying after his round:
"They gave us a lot of room on a lot of these pins, six and seven even from the side, so you can be fairly aggressive. I just felt that with my lead, I erred on the side of caution most of the time.

"If I did have a good look at it, a good number at it, I took aim right at it. Otherwise I was just dumping the ball on the green and 2-putting."
The incessant safety first, lag putting strategy of Saturday even transformed into a tentativeness at the beginning of Sunday's final round.
On the par-five seventh hole, with Yang in trouble, Woods had 245 yards to the pin for his second with a huge opportunity to make a statement eagle or textbook birdie. He inexplicably layed up, hit a poor wedge and once again lagged for par.
Horrific Sunday Putting
To say Tiger's trusty Scotty Cameron betrayed him during Sunday's final round would be underselling it. Putt after putt just refused to drop when he needed it most.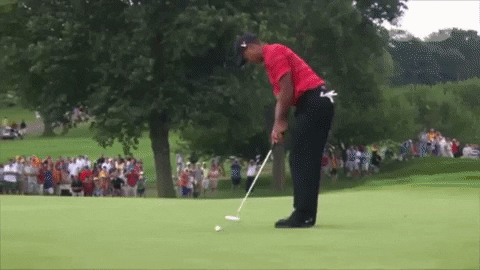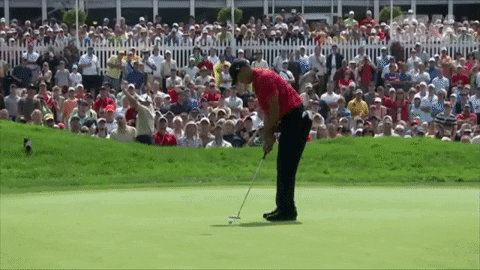 In the end, Woods' seven-foot birdie effort on the 14th hole is the only putt of any note he managed to make on the day.
Tiger played Sunday's final round in 75 strokes. Thirty-three of them were putts.
Yang Stood Up To Tiger
Critics of Woods have long claimed that in his prime, Tiger would crowd his opponents as an intimidation tactic, or rush off the green to the next tee leaving his competitors to putt out while the crowd dispersed.
Regardless, nothing was going to faze Yang that Sunday.
In fact, during the early stretch of the final round, Tiger's indecision and tentativeness led to the pairing being behind the pace of play. It forced on-course officials to remind the two that they needed to speed it up—and of course, they only stressed that Yang needed to do so.
How did the Korean respond? By pointing at Tiger and saying "Not me. Him."
The Pivotal Two-Shot Swing
Many look back on Yang's chip-in eagle to take the lead at the 14th hole on Sunday as the significant turning point of the Championship. However, Yang was always likely to make birdie on the short par-four hole, and the previous hole may well have been the tipping point for the upset.
On the par-three 13th hole, Yang found the bunker, while Woods hit a beauty to eight feet. The two-shot swing in Tiger's favor looked even more likely when Yang failed to get his bunker shot inside Woods' ball.
But when Yang buried his par effort, and Woods let yet another putt slip by, the two remained all square.
Woods' reaction following his putt was telling; his frustration poured out despite him still being in a share of the lead. It was a show of exasperation that may have given the Korean all the encouragement he needed to turn Tiger's 54 hole major lead record of 14-0 into 14-1.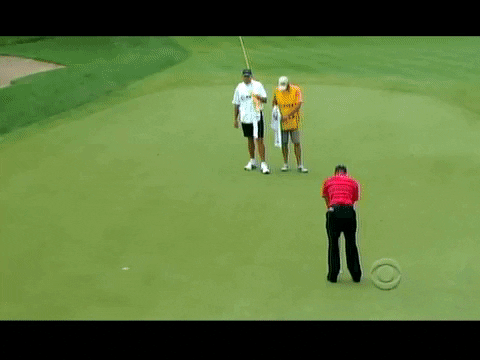 Asked following his round when he felt his control on the tournament beginning to loosen, Woods said:
"But as far as the tournament switching, 13, I stuffed it in there. He made a mistake, hit it in the left bunker. He blasted out. I missed my putt. He made his. And then he chipped in on the next hole.

"So that two-hole stretch turned — if I make my putt, he doesn't chip in, you know, he doesn't make his putt on 13."
The 2009 PGA Championship preceded a ten-year barren spell for Tiger at the majors before he claimed his fifth green jacket at the 2019 Masters. He is still yet to appear in the final twosome on a Sunday at a major since the 2009 PGA.
As for Y.E Yang, the 48-year-old now spends most of his time competing in Japan and his native Korea. He has played in all 10 PGA Championships since his remarkable victory. He has missed the cut seven times.
Your Reaction?
LIKE

25

LEGIT

9

WOW

3

LOL

3

IDHT

1

FLOP

1

OB

0

SHANK

13
So you wanna work in golf media…
I get this question all the time: "So, how does someone get a job in golf media?"
Hmm…I could give you a bunch of tips, ideas, resume suggestions, etc. I'm not going to. All I know is how I got here. It's a story of passion, initiative, blind luck, God, and desperation.
I feel like in the telling of how I got here you will see a path but not the only path.
My story—condensed into the point golf gear took over my life.
It's 1993, and I'm a sophomore in high school at John F. Kennedy Memorial in Burien, Washington. I was a baseball player my whole life, and for whatever reason that summer, I decided it wasn't for me anymore, and I wanted to go scrub clubs, pick balls and have the occasional lung dart with my buddies at the local country club. At that time, golf was something to me just shy of an afterthought. I had played the occasional short 9 as a kid, went to a camp or two, but in all honesty, it was just another game.
Fast forward to my first week working at Rainier G&CC—the second assistant was a guy named Mike Montegomery (DOG at Glendale CC now), and he took me to the range to help pick balls and hit some into the net. After about 30 mins of pounding balls, I was hooked. Hook, line, and sinker.
I'm an obsessive person by nature, so when I get into something, it becomes a bit scary—I want to know everything. That's when the equipment junkie revealed himself, and it all started with a trip to the dentist and an issue of Golf Digest.
This one…
This magazine started the whole thing. No, it wasn't the fact that Phil Mickelson graced the cover, it was the advertisements. The color codes of Ping, the black and gold of Cobra, Titleist Tour Balata, Founders Club, and on and on. Everything looked just so damn awesome. I wanted to try, see, touch and feel everything I could. And I did. From that point, until even today, golf and golf gear dominate a good chunk of my thoughts every day.
Lesson #1: To do this job well….you have to obsessed.
Now we are in 2005. I'm working in Irvine, California, for LendingTree slanging equity loans to the A paper client,s and in the search engine, I type David Duval golf clubs…
Before I go further it must be acknowledged that my good friend Nico Bollini and I used to spend HOURS on Getty images and at the local Wajamaya scouring pictures of players bags in Golf Classic magazine and any close-ups Getty would catch. Instead of going to parties and chasing girls as normal people do, we were trying to see what shaft Ray Floyd had in his Bridgestone J's driver.
Back to DD. I type in "David Duval golf clubs," and I land on this weird forum thing called BombSquad Golf. It was a site that not only talked gear in-depth like Nico and I did, but they had some dude taking pics at tour events. It was golf porn. I was in. Eventually, BSG became nothing, and Richard Audi and GolfWRX.com took over. That story is very well told, so I won't go into it.
That fueled my golf junkie for a long time. It wasn't until 2012 and the urging from my then-girlfriend that I began writing for WRX. Since I was on the site so much and had so many opinions, she jokingly said, "You should write for them," to which I replied, "I should."
This is where luck comes in. I found the contact info at the bottom of the site and ended emailing Zak, the editor at the time.
"Hi Zak,
My name is John Wunder and I am extremely excited and interested in writing for Golfwrx! I have been a member of this site for over 6 years now and I have always admired the professionalism and in-depth coverage that your site provides. I am what they would call in the golfing streets a "Junky". Tour news, college news, equipment trends, companies, in the bag info, history, etc. You name it, I know it. I'm a lifer and the only thing I have left to do to get my fix is either learn how to putt and play the mini-tours or start writing. Unfortunately, even the belly putter was of no use to me so writing it is! As writing goes my experience is limited with the exception of the occasional Facebook comment but my knowledge of the game and its culture is undeniable.  I'm dying to be apart of this thing and if I had not been scrolling to the bottom of the page I would not have noticed the link to you. Maybe it's a sign from the Golfing Gods, you never know. Any information you can give would be much appreciated.  I Look forward to hearing from you."
Lesson #2: You won't know what's possible until you ask.
Eventually, Zak gave me a shot and from 2012 to 2018 I wrote roughly 30-40 articles for WRX. For fun, for free, for the love of the game. I wrote opinion pieces, did some video articles, reviews, tournament recaps, etc. Every time they asked, I said HELL YES. Why not? Golf content is what I think about all day anyway. It requires no real study or extra work to execute. It's something I can just sit down and do, sometimes quickly.
Now we find ourselves in 2018. It's late January. My son Seve had just been born and my main source of income at the time (film/tv) was slow and unpredictable. I had two months of savings left, no consistent income coming in to speak of, and with two kids and my girl that I am supporting. Things got scary. Desperate is a better word. In that desperation, a decision was made. I wanted to finally do the thing I've always wanted to do. Work in the golf business.
I sat down and mapped out my plan…
Lesson #3: Don't be afraid of desperation. God can be found there.
But how? What can I bring to the table?
Remember obsession? Remember the power of asking?
I knew my knowledge of the tour and golf equipment was abnormal, to say the least. It still is. I knew that I had a Rolodex to choke a horse, and I had the email of someone at WRX that I could plead my case to. The editor at the time, Andrew Tursky. My email to him was very similar to my email to Zak. I plainly told what I wanted to do, why they needed me, and left it at that.
The term the squeaky wheel gets the grease is so true in my case—every job I have ever chased, there were two things I made sure were in place…
I knew my passion equaled my knowledge
I was willing to hear NO multiple times until the right YES came along.
Lesson #4: Know where you want to go (and tell people).
That email turned into a face-to-face with the GolfWRX brass, to a "yes we will hire you," to getting a job doing what I love.
The job I was hired for has mutated into something way different. Every person at GolfWRX.com does multiple jobs—there is really no definitive titles or boxes we fit in. It's a passionate, nimble crew and to a person, everyone is a golf junkie degenerate, including the owner, Rich. That was the deciding factor of going down this path. Yes, I wanted the job, but after meeting Richard Audi and discovering he was just as crazy as I am, I knew I had to work for that man.
The moral of the story is this: Golf media is not a box anymore. You don't need a degree in journalism or your doctorate in Bill Shakespeare.  It's the time of the hustler. So, if you have something to say, say it, something to show, show it, and most importantly if you want to get in, ASK. ASK. ASK. Someone will say yes eventually and when they do, what you do with that YES is up to you.
Hope this gives you a hint that like anything else, there is not one door, there are multiple. Knock, scream, kick, and do it with some fire.
Lesson #5: ANYTHING is possible if you want it bad enough
Your Reaction?
LIKE

3

LEGIT

0

WOW

0

LOL

0

IDHT

0

FLOP

0

OB

0

SHANK

0
Confessions of a hacker: Chipping yips and equipment fixes
There's a saying in golf that, paraphrasing here, it's the person holding the weapon, not the weapon. Basically, if you hit a bad shot, it's almost certain that it was your fault, not the fault of the golf club. It has a better design than your swing. And while that truism is often correct, it ain't necessarily so.
For example, if I were to try to hit one of those long drive drivers, I'd probably mis-hit it so badly that the ball might not be findable. That stick is way too long, stiff, and heavy for me. Similarly, if I were to use one of those senior flex drivers, I'd probably hit it badly, because it would be too floppy for my swing. It's clear that there are arrows that this Indian can't shoot well. Maybe a pro could adapt to whatever club you put in his hand, but there's no reason he would accept less than a perfect fit. And there's little reason why any amateur ought to accept less than a good fit.
I was never a competitive athlete, although I'm a competitive person. My path led a different direction, and as my medical career reached its mature years, I was introduced to our wonderful and frustrating game.
Being one who hates playing poorly, I immediately sought instruction. After fifteen years, multiple instructors, a wallet full of videos, and a wall full of clubs, I am finally learning how to do one particularly vexing part of the game reasonable well. I can chip! But as you may have guessed, the largest part of this journey has to do with the arrow, not the Indian.
We may immediately dismiss the golf shaft as a significant issue since chipping generally involves a low-speed movement. And as long as the grip is a reasonable fit for the hands, it's not a big deal either. The rubber meets the road at the clubhead.
Manufacturers have worked hard to get the best ball spin out of the grooves. Their shape is precisely milled, and then smaller grooves and roughness are added to the exact maximum allowed under the rules. Various weighting schemes have been tried, with some success in tailoring wedges to players. And some manufacturers market the "newest" designs to make it impossible to screw up wedge shots. And yet, nothing seemed to solve my yips.
So I went on a mission. I studied all sorts of chipping techniques. Some advocate placing the ball far back to strike a descending blow. Others place it near the center of the stance. The swing must have no wrist hinge. The swing must have a hinge that is held. It should be a short swing. It should be a long swing. The face should be square. The face should be open. There should be a "pop." There should be no power added.
If you are confused, join my club. So I went on a different mission. I started looking at sole construction. Ever since Gene Sarazen popularized a sole with bounce for use in the sand, manufacturers have been creating massive numbers of "different" sand wedges. They have one thing in common. They are generally all built to 55 or 56-degrees of loft.
The basic design feature of the sand wedge is that the sole extends down and aft from the leading edge at some angle. This generally ranges from 6 to 18-degrees. Its purpose is to allow the wedge to dig into the sand, but not too far. As the club goes down into the sand, the "bounce" pushes it back up.
One problem with having a lot of bounce on the wedge is that it can't be opened up to allow certain specialty shots or have a higher effective loft. When the player does that, the leading edge lifts, resulting in thin shots. So manufacturers do various things to make the wedge more versatile, typically by removing bounce in the heel area.
At my last count, I have eight 56-degree wedges in my collection. Each one was thought to be a solution to my yips. Yet, until I listened to an interview with Dave Edel, I had almost no real understanding of why I was laying sod over a lot of my chips. Since gardening did not reduce my scores, I had to find another solution.
My first step was to look at the effective loft of a wedge in various ball positions. (Pictures were shot with the butt of the club at the left hip, in a recommended forward lean position. Since the protractor is not exactly lined up with the face, the angles are approximate.)
I had no idea that there was so much forward lean with a simple chip. If I were to use the most extreme rearward position, I would have to have 21-degrees of bounce just to keep the leading edge from digging in at impact. If there were the slightest error in my swing, I would be auditioning for greenskeeper.
My appreciation for the pros who can chip from this position suddenly became immense. For an amateur like me, the complete lack of forgiveness in this technique suddenly removed it from my alleged repertoire.
My next step was to look at bounce. As I commented before, bounce on sand wedges ranges between 6 and 18-degrees. As the drawing above shows, that's a simple angle measurement. If I were to chip from the forward position, a 6-degree bounce sand wedge would have an effective bounce of 1-degree. That's only fractionally better than the impossible chip behind my right foot. So I went to my local PGA Superstore to look at wedges with my Maltby Triangle Gauge in hand.
As you can see from the photos, there is a wide variation in wedges. What's most curious, however, is that this variation is between two designs that are within one degree of the same nominal bounce. Could it be that "bounce is not bounce is not bounce?" Or should I say that "12-degrees is not 12-degrees is not 12-degrees?" If one looks below the name on the gauge, a curious bit of text appears. "Measuring effective bounce on wedges." Hmmm… What is "effective bounce?"
The Maltby Triangle Gauge allows you to measure three things: leading-edge height, sole tangent point, and leading-edge sharpness. The last is the most obvious. If I'm chipping at the hairy edge of an adequate bounce, a sharp leading edge will dig in more easily than a blunt one. So if I'm using that far back ball position, I'll need the 1OutPlus for safety, since its leading edge is the bluntest of the blunt. Even in that position, its 11-degree bounce keeps the leading edge an eighth of an inch up.
Wait a minute! How can that be? In the back position, the wedge is at 35-degrees effective loft, and 11-degrees of bounce ought to be 10-degrees less than we need. The difference here is found in combining all three parameters measured by the gauge, and not just the angle of the bounce.
The 1OutPlus is a very wide sole wedge. Its tangent point is a massive 1.7″ back. The leading edge rises .36″ off the ground and is very blunt. In other words, it has every possible design feature to create safety in case the chip from back in the stance isn't as perfect as it might be. Since a golf ball is 1.68″ in diameter, that's still less than halfway up to the center of the ball. But if you play the ball forward, this may not be the wedge for you.
Here are the measurements for the eight sand wedges that happen to be in my garage. All are either 56-degrees from the factory or bent to 56-degrees.
A couple of things jump out from this table. The Callaway PM Grind at 13-degrees has a lower leading edge (.26 inches) than the 11-degree Bazooka 1OutPlus (.36 inches). How can a lower bounce have a higher leading edge? Simple geometry suggests that if you want a higher leading edge, you will need a higher bounce angle. But it gets worse. The Wishon WS (wide sole) at 6-degrees (55-degree wedge bent to 56-degrees) has a leading-edge height of .28 inches, higher than the Callaway which has over twice the nominal bounce angle!
One thing is missing from this simple discussion of angles.
If I place one line at 34-degrees above the horizontal (loft is measured from the vertical), and then extend another at some angle below horizontal, the height above ground where the two join depends on how long the lower line is. This means that an 18-degree bounce with a narrow "C" grind will raise the leading edge a little bit. A 6-degree bounce on a wide sole may raise it more because the end of the bounce on the first wedge is so close to the leading edge.
Let's look at this in the picture. If the red line of the bounce is very short, it doesn't get far below the black ground line. But if it goes further, it gets lower. This is the difference between narrow and wide soles.
This diagram describes the mathematical description of these relationships.
Our first task is to realize that the angle 0 in this diagram is the complement of the 56-degree loft of the wedge, or 90 – 56 = 34-degrees since loft is measured from vertical, not horizontal. But the angle 0 in the bounce equation is just that, the bounce value. These two angles will now allow us to calculate the theoretical values of various parts of the wedge, and then compare them to our real-world examples.
My PM Grind Callaway wedge has its 3rd groove, the supposed "perfect" impact point, 0.54 inches above the leading edge. This should put it 0.8 inches back from the leading edge, roughly matching the measured 0.82 inches. So far, so good. (I'm using the gauge correctly!)
The 13-degree bounce at 1.14″ calculates out to 0.284″ of leading-edge rise. I measured 0.26″, so Callaway seems to be doing the numbers properly, until I realize that the leading edge is already .45″ back, given a real tangent of .69″. Something is out of whack. Re-doing the math suggests that the real bounce is 20-degrees, 40 min. Hmmm…
Maybe that bounce angle measurement isn't such a good number to look at. Without digging through all the different wedges (which would make you cross-eyed), we should go back to basics. What is it that we really need?
Most instructors will suggest that striking the ball on about the third groove will give the best results. It will put the ball close to the center of mass (sweet spot) of the wedge and give the best spin action. If my wedge is at an effective 45-degree angle (about my right big toe), it will strike the ball about half-way up to its equator. It will also be close to the third groove. But to make that strike with minimal risk of gardening, I have to enough protection to keep the edge out of the turf if I mis-hit the ball by a little bit. That can be determined by the leading edge height! The higher the edge, the more forgiveness there is on a mis-hit.
Now this is an incomplete answer. If the bounce is short, with a sharp back side, it will tend to dig into the turf a bit. It may not do it a lot, but it will have more resistance than a wider, smoother bounce. In the extreme case, the 1OutPlus will simply glide over the ground on anything less than a ridiculous angle.
The amount of leading-edge height you need will depend on your style. If you play the ball forward, you may not need much. But as you move the ball back, you'll need to increase it. And if you are still inconsistent, a wider sole with a smooth contour will help you avoid episodes of extreme gardening. A blunt leading edge will also help. It may slow your club in the sand, but it will protect your chips.
There is no substitute for practice, but if you're practicing chips from behind your right foot using a wedge with a sharp, low leading edge, you're asking for frustration. If you're chipping from a forward position with a blunt, wide sole wedge, you'll be blading a lot of balls. So look at your chipping style and find a leading-edge height and profile that match your technique. Forget about the "high bounce" and "low bounce" wedges. That language doesn't answer the right question.
Get a wedge that presents the club to the ball with the leading edge far enough off the ground to provide you with some forgiveness. Then knock 'em stiff!
Your Reaction?
LIKE

1

LEGIT

0

WOW

0

LOL

0

IDHT

0

FLOP

0

OB

0

SHANK

0
Gear Dive: Barracuda winner Richy Werenski, also JJ and AD from the Titleist tour truck.
On this episode of TGD brought to you by Titleist, Johnny chats with the newly minted winner on the PGA Tour Richy Werenski and also checks-in with Aaron Dill and JJ Van Wezenbeeck from Team Titleist on what's going down at the PGA Championship.
Check out the full podcast on SoundCloud below, or click here to listen on iTunes or here to listen on Spotify.
Want more GolfWRX Radio? Check out our other shows (and the full archives for this show) below. 
Your Reaction?
LIKE

0

LEGIT

0

WOW

0

LOL

0

IDHT

0

FLOP

0

OB

0

SHANK

0