Buying new irons? This is the most important fitting parameter
When golfers head into a club fitting, whether it be their first ever experience or part of a yearly tuneup, there is always one common goal—to play better golf and shoot lower scores.
But the question that often comes up is, "How do I shoot lower scores?" and "What should I be looking for in a club fitting?"
We're here to help.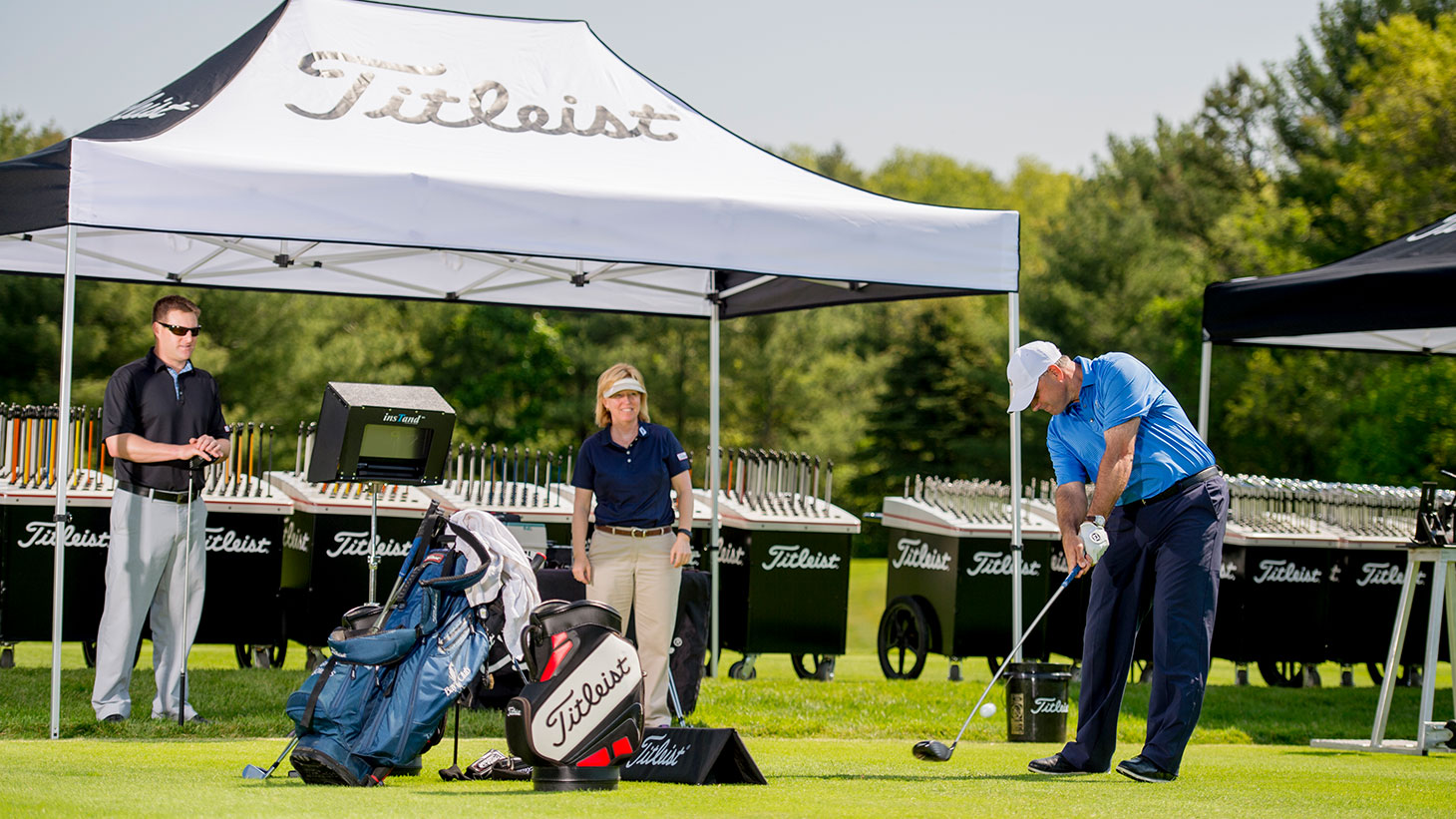 The process
Every fitting should always start with an interview, where the fitter will ask about your game, both strengths and weaknesses—be honest with yourself and the fitter! If you have a trouble club or yardage that your struggle with, speak up. This is your opportunity to work with someone to help you fix any issues with your equipment.
A great fitter will analyze your current game and clubs and will start providing solutions to potential problems you see on the course—maybe it's a shot shape you are trying to eliminate, or in some cases create a tighter dispersion with your current clubs.
For a driver fit, distance is almost always the main objective but when it comes to irons, total distance should not be the main goal—it should be proximity to target with consistent distances. One of the best ways to reduce your proximity to your target is by hitting it higher and stopping it faster. This is why descent angle is one of the most important parameters when getting fit for irons.
Descent angle
Descent angle is also known as land angle. This is the angle at which the golf ball makes contact with the ground, and the steeper it is the quick the ball will stop.
Many golfers struggle to create enough speed to increase launch and spin and the average for many players heading into a fit for the first time can be around 40 degrees while on the PGA Tour the average in 50 degrees with a 6-iron—on the LPGA Tour, it's 46 degrees—that's a big difference in stopping power.
Check out the video below featuring Titleist Master Fitter Glenn Mahler to see how, in a real-world scenario, land angle can help you hit it closer and improve your scores.
Your Reaction?
LIKE

482

LEGIT

60

WOW

20

LOL

22

IDHT

7

FLOP

27

OB

8

SHANK

61
TG2: Review of the TaylorMade P790 irons | A sneaky good driver you don't know about!
TaylorMade's P790 irons are on review and a great option for players looking for distance and forgiveness in a "players" package. The XXIO X Series driver is sneaky good and you have probably never heard of it!
Your Reaction?
LIKE

1

LEGIT

0

WOW

0

LOL

0

IDHT

0

FLOP

0

OB

0

SHANK

0
The Gear Dive: DJ, Bryson's length, and putters with TaylorMade's Bill Price and Paul Demkowski
In this episode of TGD, Johnny goes in on when Tiger might play, Bryson's bulk, and goes in deep with Bill Price and Paul Demkowski of TaylorMade on the success of Spider X and Truss.
Your Reaction?
LIKE

2

LEGIT

1

WOW

0

LOL

0

IDHT

0

FLOP

0

OB

0

SHANK

0
The Wedge Guy: Ball flight and spin rate, Part 2
This past week, I was out at our club doing some research on launch angles and spin rates. My "Iron Byron" was our first assistant golf professional Joe Mitchell, who is one of the most consistent ball strikers I've seen. Joe has a reputation for being laser straight with every club, from driver to wedges, and is one of the best putters I've watched. The only "flaw" in Joe's game, which he admits, is that he is not nearly as long as the young guns.
After we had finished up the round of research on various makes and models of short irons and wedges, Joe had a couple of drivers he wanted to test to see if he could eke a few extra yards out of his tee shots. Watching him hit golf balls is kind of boring actually, because they all look alike. As we went from driver to driver, there really wasn't much visual difference in the ball flight pattern, but then the Foresight Sports GC2 launch monitor came into play.
It's generally accepted that optimum distance with a driver is going to be at a launch angle of 13-16 degrees with spin rates in the 2,000-2,200 range. Very few golfers outside the tour elite can match these numbers, so most golfers do not get the maximum distance out of their clubhead speed.
Joe hit a number of drives with both drivers, and then a few with mine, and all were about perfect in launch angle – 13-15 degrees. But we kept seeing spin rates of 3,500-3,900 RPMs, which is way more than you'd like for a driver. He tweaked his takeaway and worked to keep the head moving flatter through the impact zone, but we really didn't see much change in the numbers. Then I suggested that he back off about 10 in his applied swing speed and see what happened…
His spin number dropped from 35-3900 to 26-2800 rpms, launch angles did not change, ball speed off the clubhead did not change more than one mph or so, but distance improved by almost ten yards! So, the mere act of backing off a bit from "full power" actually improved his driving distance, and there's no question that even Joe is going to hit the driver straighter if he'd not trying to "max out" on every swing.
We duplicated the test a number of times, Joe hitting drives at full power then backing off a bit. And the results were the same every time–the "controlled" swing produced about 1,000 RPMs less spin and greater distance than did the full out swings.
So, while you may not have a GC2 launch monitor available, you can do your own version of this test. Take a dozen or so balls that you play, mark half of them, and go out on the course when it's not busy. Hit six drives with your "full power" swing, and then six more with a swing that feels like 85-90 percent of that. Then walk or drive down and see what the two patterns look like.
And then chime back in here with your results. Let's see if we can't build a body of real golfer test material right here, OK?
Your Reaction?
LIKE

39

LEGIT

4

WOW

2

LOL

2

IDHT

0

FLOP

1

OB

0

SHANK

0