Is 2020 golf's big chance?
At the present moment, when discussing the game of golf, I use the word "opportunity" with great caution and understanding that golf is the least of many people's worries in 2020. With that in mind, just like other industries around the world, there are millions of people both directly and indirectly who make their living working around golf, along with countless more that enjoy playing it for any number of reasons.
Outside of the four major championships, golf is generally a fringe sport that takes a viewership backseat to other team sports like basketball, football, and baseball. But as the only game in town, this past weekend golf brought in a lot of casual fans who don't normally watch it. The TaylorMade Driving Relief charity skins game to benefit COVID-19 frontline workers featured some of the world's top-ranked golfers, including World No. 1 Rory McIlroy, carrying their own clubs, getting their own yardages and playing in shorts—exactly how the majority of golfers enjoy the game.
It made the golf look and feel so much more approachable to the casual fans that normally tune in to see professionals debate over yardage with a caddy dressed in a white jumpsuit while patrons quietly murmur amongst themselves (in the case of the Masters).
If "watercooler" sports talk is the way we measure the success of a sporting event, then the skins game was a triumph.
The news sports landscape
Golf is in a unique position since it is one of the few sports that can currently be played with modified physical distancing measures in place. Golf is played outside, in small groups, and allows for players of all abilities to enjoy the game, and this is where the opportunity lies.
People want to be outside, get exercise, and spend time with their friends, and golf is the one game that offers all three of those—along with the ability to fill a competitive void left from the current absence of recreational team sports.
The proof that more people have already made this conclusion can be felt around the industry
Pushcart sales have been so unprecedented, many companies have been sold out for weeks.
As golf has been regulated to open within the United States, Canada, and the UK tee sheets have been loaded from dawn to dusk. Having spoken with operators of both private and public golf facilities, they have witnessed a huge influx of eager golfers including many who are much more infrequent players. In one case, a public course that I spoke to has seen membership triple from the previous year.
When you think about how many people enjoy sports as a way to be around friends and friendly competition, golf has the opportunity to provide a gateway for many who have never considered playing the game. Within the industry, there have been many well-thought-out-but-failed attempts to counteract declining participation numbers over the years, and one of the best ways to introduce anyone to a new hobby or activity is to do it with friends.
Here's an example: a regular golfer has three friends they normally play a rec league sport with, with that league not operating, and those friends wanting to enjoy time outside in the company of one another, that one golfer becomes the catalyst to bring three new golfers into game. I realize it sounds simple, but it's already happening, and this is golf's opportunity to grow participation more organically than any 30-second commercial.
As a lover of golf and someone who has witnessed the declining participation over the last decade, this is our opportunity as a sport and as individuals to welcome people in with open arms, be supportive, and helpful. We have the chance to permanently change the perception of golf to the masses, and it all started last weekend with the top-ranked golfer in the world carrying his own bag.
Your Reaction?
LIKE

10

LEGIT

0

WOW

0

LOL

0

IDHT

1

FLOP

1

OB

0

SHANK

2
How Tiger Woods lost the 2009 PGA Championship
11 years ago, the PGA Championship produced one of the greatest upsets in sporting history.
The all-conquering Tiger Woods arrived at the 2009 PGA Championship as the prohibitive favorite, having won three of his last four events. Woods then backed up that favoritism over the opening two days, picking apart Hazeltine National with extreme precision to build a four-stroke advantage by the halfway point.
It felt like such a formality that here in Ireland, our biggest bookmaker, PaddyPower declared Tiger as the winner and decided to pay out all outright bets on the World Number One after just 36 holes.
It proved to be a big mistake.
Next week will be the 11th anniversary of the monumental upset, and here I'll take a look at the factors behind Woods' unthinkable loss that week to Y.E. Yang.
Tiger's Ultra-Conservative Saturday
On a scoring Saturday, Woods was too content to play it safe. Why not? After all, the ultimate closer had won so many majors by forging a lead, aiming for the middle of the green, two-putting for par and watching his opponents slowly falter one by one.
Only this time was different, and even Tiger with a two-shot lead going into Sunday's final round as much as admitted he was too conservative during round three, saying after his round:
"They gave us a lot of room on a lot of these pins, six and seven even from the side, so you can be fairly aggressive. I just felt that with my lead, I erred on the side of caution most of the time.

"If I did have a good look at it, a good number at it, I took aim right at it. Otherwise I was just dumping the ball on the green and 2-putting."
The incessant safety first, lag putting strategy of Saturday even transformed into a tentativeness at the beginning of Sunday's final round.
On the par-five seventh hole, with Yang in trouble, Woods had 245 yards to the pin for his second with a huge opportunity to make a statement eagle or textbook birdie. He inexplicably layed up, hit a poor wedge and once again lagged for par.
Horrific Sunday Putting
To say Tiger's trusty Scotty Cameron betrayed him during Sunday's final round would be underselling it. Putt after putt just refused to drop when he needed it most.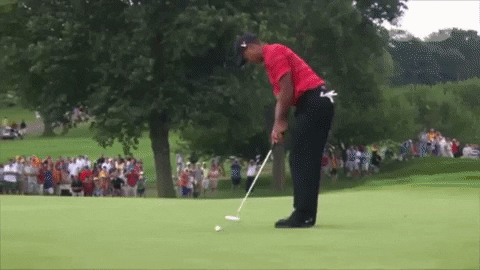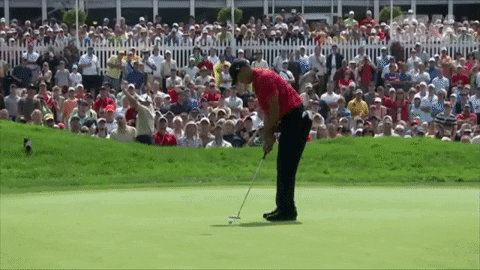 In the end, Woods' seven-foot birdie effort on the 14th hole is the only putt of any note he managed to make on the day.
Tiger played Sunday's final round in 75 strokes. Thirty-three of them were putts.
Yang Stood Up To Tiger
Critics of Woods have long claimed that in his prime, Tiger would crowd his opponents as an intimidation tactic, or rush off the green to the next tee leaving his competitors to putt out while the crowd dispersed.
Regardless, nothing was going to faze Yang that Sunday.
In fact, during the early stretch of the final round, Tiger's indecision and tentativeness led to the pairing being behind the pace of play. It forced on-course officials to remind the two that they needed to speed it up—and of course, they only stressed that Yang needed to do so.
How did the Korean respond? By pointing at Tiger and saying "Not me. Him."
The Pivotal Two-Shot Swing
Many look back on Yang's chip-in eagle to take the lead at the 14th hole on Sunday as the significant turning point of the Championship. However, Yang was always likely to make birdie on the short par-four hole, and the previous hole may well have been the tipping point for the upset.
On the par-three 13th hole, Yang found the bunker, while Woods hit a beauty to eight feet. The two-shot swing in Tiger's favor looked even more likely when Yang failed to get his bunker shot inside Woods' ball.
But when Yang buried his par effort, and Woods let yet another putt slip by, the two remained all square.
Woods' reaction following his putt was telling; his frustration poured out despite him still being in a share of the lead. It was a show of exasperation that may have given the Korean all the encouragement he needed to turn Tiger's 54 hole major lead record of 14-0 into 14-1.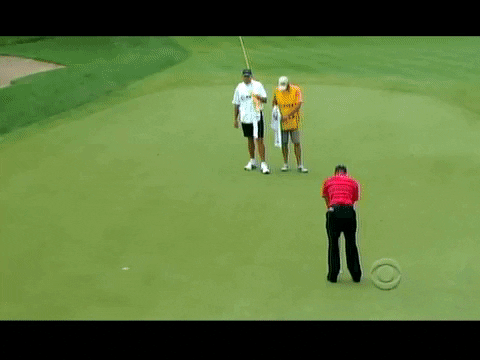 Asked following his round when he felt his control on the tournament beginning to loosen, Woods said:
"But as far as the tournament switching, 13, I stuffed it in there. He made a mistake, hit it in the left bunker. He blasted out. I missed my putt. He made his. And then he chipped in on the next hole.

"So that two-hole stretch turned — if I make my putt, he doesn't chip in, you know, he doesn't make his putt on 13."
The 2009 PGA Championship preceded a ten-year barren spell for Tiger at the majors before he claimed his fifth green jacket at the 2019 Masters. He is still yet to appear in the final twosome on a Sunday at a major since the 2009 PGA.
As for Y.E Yang, the 48-year-old now spends most of his time competing in Japan and his native Korea. He has played in all 10 PGA Championships since his remarkable victory. He has missed the cut seven times.
Your Reaction?
LIKE

23

LEGIT

9

WOW

3

LOL

3

IDHT

1

FLOP

1

OB

0

SHANK

12
The Gear Dive: Brandel Chamblee is back!
In this episode of TGD brought to you by Titleist, Johnny goes in on the distance debate with a friend of the podcast, Brandel Chamblee. Also picks for the WGC, filling a hole in the bag and why the LPGA is the best place to learn how to play.
Check out the full podcast on SoundCloud below, or click here to listen on iTunes or here to listen on Spotify.
Want more GolfWRX Radio? Check out our other shows (and the full archives for this show) below. 
Your Reaction?
LIKE

4

LEGIT

0

WOW

0

LOL

0

IDHT

0

FLOP

0

OB

0

SHANK

7
How to warm up like a PGA Tour pro
One of the keys to playing a great round of golf stems from how you prepare for your round. When you go to the range, you'll often see amateur golfers hitting shots quickly and sporadically without much rhyme or reason. On the other hand, when you take a look at players on the PGA Tour, each of them has a well structured and methodical approach to how they warm-up.
From watching the pros, there are a few key takeaways that you can implement in your game to improve the quality of your warm-ups.
Arrive Early
Give yourself enough time to warm up before your round. Showing up 10 minutes before you're due to tee off is a recipe for disaster and a double bogey waiting to happen on the first hole. Allowing yourself 30 minutes to an hour should be plenty of time to get through an awesome warm-up, leaving you confident when you step onto the first tee box.
Spend More Time Putting
Whether you watch Tiger Woods, Justin Thomas or any other pro, one thing is consistent: they all spend a lot of their warm-up practicing putting, accounting for well over half their practice strokes. And why wouldn't they? If you 2 putt every hole, you'll be hitting 36 shots, literally half of all your strokes during the course of your round.
Practicing both long and short putts will give you more confidence standing over your first birdie putt of the day.
Loosen Up
A little bit of stretching before you start hitting shots on the range can go a long way. Stretching before you start will activate your muscles for the day ahead. Spend some time doing bending toe touches, shoulder stretches, lateral twists, and a standing forward bend stretch to maximize your range session.
Work Your Way Up The Bag
When you watch a pro like Jason Day warm-up, you'll notice when he gets to the range that he'll start out by hitting shots with a wedge, working up the bag. This is how most pros structure their warm-up for the most part, and they do so to establish rhythm and tempo as they move into their longer irons and woods.
Try this out yourself by hitting some wedges, and then move up your bag using all even or all odd irons. Place emphasis on your short game as you move through your bag; the shots you hit inside 100 yards will lead you to the most scoring opportunities.
Hit Fewer Drives on the Range
It's fun to hit the driver, but it's one of the most taxing swings you can make. Plenty of amateur golfers spend way too much time hitting their driver on the range, and wearing themselves out before they get to the first tee. By doing so, not only do you tire yourself out, but you risk throwing off the swing tempo that you've worked so hard on during your warm-up.
Definitely still practice hitting drives, but make them count. Try only hitting 5-10 drives, but treating them as if they were on the course.
Hit Practice Shots With Purpose
It's really easy to get onto the range and start hitting shot after shot in quick succession, trying to get the right swing out as quickly as possible. Not only does this use up a lot of your energy, but it's not too realistic compared to how you'll approach your shots on the course.
Instead, take the methodical approach and try to make each shot count. Take the time to set up correctly, paying attention to alignment and ball positioning. Hitting more shots with real intention on the range sets you up for success when you hit the course.
Wrap Up
Implementing some of this structure into your pre-round routine will put you into a position to score. Practicing more putts and placing emphasis on your short game will help you save strokes where they count. These tips will help you take a better approach to golf.
Your Reaction?
LIKE

108

LEGIT

12

WOW

0

LOL

1

IDHT

0

FLOP

0

OB

1

SHANK

3