Tiger at the Masters: The 3 that got away
This time last year, Tiger Woods earned his fifth green jacket at the 2019 Masters, breaking a 14-year drought at Augusta National and completing a storybook career comeback (see Tiger Woods' 2019 Masters WITB here).
Between his 2005 and 2019 victories, Woods gave himself several chances to reclaim the green jacket, but for one reason or another, the championship continuously eluded the 15-time major winner.
Looking back on that drought, three years in particular stick out in my mind where Woods (being the ruthless closer that he is) could, and maybe should, have capitalized on massive opportunities.
2007 Masters
A unique tournament broke out at the 2007 Masters with chilly and windy conditions meaning we would see an over-par score winning the event for the first time in a generation.
Unusually however was the fact that Tiger Woods had got himself into a fantastic position heading into the final day's play—one stroke back of the lead and in the final group.
By the first hole on Sunday, Woods had a share of the lead. A couple of holes later, and he was the sole leader. But instead of the game's greatest ever closer doing what he does best, we saw the first small chink in Tiger's major armor.
Unable to keep up with the improved scoring on Sunday, Woods finished the championship two strokes behind Zach Johnson. It was the first time Woods lost a major in which he held the lead at some point in the final round.
Summing up after the round why things hadn't turned out the way the entire golf world expected, Woods said
"Looking back over the week I basically blew this tournament with two rounds where I had bogey, bogey finishes. That's 4-over in two holes. The last two holes, you just can't afford to do that and win major championships."
2011 Masters
In one of the most exciting final rounds in Masters history, an electric front-nine charge from Woods coupled with a Rory McIlroy collapse saw the then 35-year-old tied for the lead heading into the back nine.
After back-to-back pars on the challenging 10th and 11th holes, Woods found the green on the 12th before it all slipped away. A disastrous three-putt was followed by a deflating five on the par-5 13th and an agonizing near-miss for birdie on 14.
In typical defiant fashion, Woods then flushed a long iron on the par-5 15th to give him five feet for eagle and what would have been the outright lead. But he couldn't find the cup.
Directly following his round, a visibly miffed Woods said
"I should have shot an easy 3- or 4-under on the back nine and I only posted even. But I'm right there in the thick of it and a bunch of guys have a chance. We'll see what happens."
What happened was eventual champion Charl Schwartzel did what Woods said he should have done—shooting 4 under on the back to win his first major.
2013 Masters
Luck, or lack of, is a contentious topic when it comes to sports fans, but at the 2013 Masters, Woods' shocking fate played out as if those on Mount Olympus were orchestrating the tournament.
Woods entered the 2013 Masters as the World Number One, brimming with confidence having won three out of his first five tournaments to start the year.
By Friday afternoon, Woods had cruised into a share of the lead, before crisply striking a wedge on the par-5 15th as he hunted for another birdie.
In a cruel twist of fate, Woods' ball struck the pin and ricocheted back into the water. "Royally cheated!" shouted on-course announcer David Feherty. Nobody could argue otherwise.
A subsequent "bad drop" turned a probable birdie into a triple-bogey placing Woods behind the proverbial 8-ball for the rest of the tournament. The game's ultimate closer should have been in the lead with two rounds to play on a front-runner's paradise of a course; instead, he was in chase-mode. (From 1991-2012, 19 of the 22 winners came from the final group).
Woods tried to rally over the weekend, but if he didn't think the 2013 Masters was ill-fated for himself by Friday evening, then he would have been excused to do so on the eighth hole on Saturday.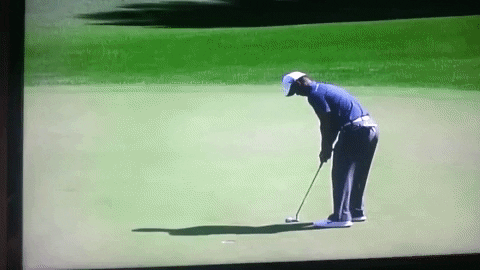 Had Woods' golf ball missed the pin at 15 on that hot and humid Spring afternoon in 2013, then he not only wins, but he likely wins going away.
Your Reaction?
LIKE

41

LEGIT

2

WOW

2

LOL

0

IDHT

0

FLOP

1

OB

0

SHANK

2
Bladed Wedge (Ep 4): Top 100 teacher Kevin Sprecher and more
Other Bladed Wedge links
Your Reaction?
LIKE

0

LEGIT

0

WOW

0

LOL

0

IDHT

0

FLOP

0

OB

0

SHANK

0
GolfWRX Classifieds Spotlight (05/29/20): Ping, Byron Morgan, Mizuno Copper!
At GolfWRX, we love golf equipment plain and simple
We are a community of like-minded individuals that all experience and express our enjoyment for the game in many ways. It's that sense of community that drives day-to-day interactions in the forums on topics that range from best driver to what marker you use to mark your ball, it even allows us to share another thing – the equipment itself.
One of the best ways to enjoy equipment is to experiment and whether you are looking to buy-sell-or trade (as the name suggests) you can find almost anything in the GolfWRX BST Forum. From one-off custom Scotty Cameron Circle T putters, to iron sets, wedges, and barely hit drivers, you can find it all in our constantly updated marketplace.
These are some of the latest cool finds from the GolfWRX BST, and if you are curious about the rules to participate in the BST Forum you can check them out here: GolfWRX BST Rules
They might look like blades all the way through the bag, but this is not your average combo set. Ping i500s are some of the hottest hollow irons on the market and the iBlades are way more forgiving than they appear. This is like a sneaky speedster family sedan with 500HP under the hood.
To see the full listing and additional pictures check out the link here: Ping Combo Set
Most people know the big names when it comes to milled putters, and although Byron Morgan hasn't yet broken into the mainstream doesn't mean he doesn't make an awesome putter! This is a milled Anser shape with clean lines and no alignment aid on top – they don't get cleaner than this.
To see the full listing and additional pictures check out the link here: Byron Morgan Putter
This is one of 500 sets released worldwide and safely being stored in their original box. The asking price might seem high but when you consider the rarity of these irons ( and how freakin' cool they look ) can you really put a price on them?
To see the full listing and additional pictures check out the link here: Copper Mizuno Irons
Remember that you can always browse the GolfWRX Classifieds any time here in our forums: GolfWRX Classifieds 
Your Reaction?
LIKE

2

LEGIT

2

WOW

1

LOL

1

IDHT

0

FLOP

2

OB

1

SHANK

4
The DailyWRX 5/29/2020: My friend is an incredible golfer, Barkley the HoFer, Molinari's landscaping
We are just two short weeks from live PGA Tour action…just let that sink in and inspire.
That is all, let's see what happened on IG and the Tweeter.
This is personal…
My best friend just ripped Santa Ana CC in half…
He wasn't the best last Sunday…
But Chuck did perform like a Hall of Famer.
This can't be ignored…
Great swing pro, but wait…..that's your backyard?! Where did I go wrong? SMH. I'm chipping whiffle balls into a kids' sand bucket.
Jacklin coming in HOT….
I mean yes it's shocking he only won one major…..but he's Sergio, he's still a legend.
The Steve Stricker Invitational is canceled…
I watched this tourney for one reason….to watch Steve Stricker (Top 10 all-time faves) take a victory lap. YouTube highlights here I come.
DM @johnny_wunder
Your Reaction?
LIKE

4

LEGIT

0

WOW

1

LOL

0

IDHT

0

FLOP

0

OB

0

SHANK

0