A 2015 conversation with Dean Snell
In 2015, Dean Snell answered nine questions for our Ronald Montesano, for publication on his site, BuffaloGolfer.Com. As we all know, Snell Golf is still around and succeeding.
Have a bit of time travel with us, as we go back five years and read what Dean Snell had to say.
Dean Snell lists positions with Titleist and TaylorMade golf ball divisions over his 25 years of involvement with the development of golf balls. In 2015, Snell founded Snell Golf, selling golf balls directly to the consumer. He agreed to answer our interview questions, so have a read.
1. Give us an idea of how Dean Snell found golf and how it became the focal point of his professional life.
I actually did not like golf at all growing up.. I was a hockey player my whole life. My first golf experience was when i was playing hockey out in Hershey PA, my dad came out to see me play, and we had a day off, so he wanted to play golf. I rented clubs.. he was a very good player. The first hole I shot my ball so far right, never found it.. he made par.. Second hole I was again way right, in the woods.. when I heard a huge commotion in the fairway.. my dad was also a big boy, and took no crap from anyone… well these two guys were in his face, so I ran across fairway, clothes-lined one guy and we beat the crap out of these two guys on the second fairway. needless to say they threw us off the course.
I asked my dad what happened on the ride home… evidently he was waiting for me in the woods, and the guys behind us hit their ball and it rolled into him.. so he grabbed a 3 wood and fired it back at them… then they came down and it was GAME ON… so i thought maybe golf can be a fun thing after all.. haha..
I was actually working at BF Goodrich Aerospace and Defense in 1990 designing composite parts for F16 and blackwhawk helicopters when I answered an ad for a quality engineer at Titleist… which happened to be in my hometown of Acushnet MA… they sent my resume over to R&D because of the engineering degree and background I had… two weeks later they offered me a job and I started my career in golf.. i didn't even have a set of clubs…So I got some clubs, started playing and have been hooked on golf since… which makes it easier cause my hockey days are not over…I started working on designing the engineering process to make cast urethane golf balls, and introduced the first cast urethane ball in Titleist Professional in 1994/95.
2. What were the most important lessons you learned while at Acushnet and TaylorMade?
I love both companies… Both extremely professional and very technical… While at Acushnet, I truly had to learn the game of golf.. engineering, performance, what was important, testing, EVERYTHING…. then i began to work with the tour players and developing a good understanding of what they would look for in a design. At TaylorMade it was a complete business start up… They had one ball patent, and didn't even have a scale to weigh a ball.. so very interesting in building factories, processes, designs, development and complete business practices.. Again, worked very close with tour players and continued to understand what they need and how to make products they eventually would play and win at the highest level. Today, a lot of these players are still good friends and I keep in touch with.
3. Snell has two golf ball lines, the "My Tour Ball" and the "Get Sum." What are the most important features of each ball?
MY TOUR BALL is a 3-pc CAST URETHANE covered ball..this cover technology has been around since 1994 and I believe nothing will ever replace it.. it is outstanding… allows very soft covers for soft feel, extremely durable urethane and we cast it very thin to allow outstanding short game spin and control…The core is very low compression and FAST in ball speed, which equates to lower driver spin rates and faster ball speeds, both of which make the ball very long off the tee… the mantle layer is designed to control the iron spin… it works with the core on longer irons to keep spin down and prevent ballooning, and then works with the soft urethane cover to create high short game spin and control…LONG, SOFT, ,DURABLE, and spin control… great combo.
GET SUM is made to have low compression, low spin core and thin soft ionomer cover to give very soft feel. This ball is lower in spin, launches a bit higher with all clubs.. great ball for higher handicaps, as the lower spin helps reduce hooks and slices and helps the ball fly straighter… also easier to get up in the air, which is sometimes a challenge…
4. How does a start-up golf ball company hope to compete with established companies, boasting decades of success at all levels of the game?
In all honesty I do not think we plan to compete with the big companies. This is an on line direct to consumer based business where we reduce a lot of expenses and pass the savings on to the consumers… The larger companies will still have the big stores, on course and off course retailers, and even they sell some on line… I am trying to bring the best technologies and processes and performance at a lower price to consumers to help them play more, and want to play more..The way we sell will not be measured in any market share numbers reported by the larger companies.
5. Snell golf has a members forum on its site, for supporters to ask questions, contribute comments and offer opinions. What is the value in dedicating a portion of the site to your customers?
I love education and think that golf is very tough and technical.. I have some good experience and stories over the last 25 years, and if I can find a place to share this info to consumers, I love to do that. anyone can log on and submit any technical questions they may have about golf balls and technology, and I will do my best to give my technical opinion and help them out…
6. Currently, Snell golf balls are available only through the company website. Why is this and will it continue into the future?
We are a small start up… the niche today is selling direct to consumers.. so no big marketing expenses, no big tour contracts, no sales reps, no mark ups… so the balls cost the same to make as other balls, but all the expenses we can save is passed on to the consumers…I have a lot of pro shops call and want to carry… will it ever been seen in pro shops, I am sure it will… but today we have a niche and are not set up to support this type of system. If any pro shop wanted to call and place an order for their club or members, we would certainly take the order and ship out the next day…I have a crawl, walk run philosophy in business… i think if you try to do too many things too fast, you fail. we have a had a lot of requests to have distributors overseas… great ideas, but just not ready to do this yet… LET IT DEVELOP is my favorite saying.
7. How will you measure success for Snell golf balls?
Our plans are realistic and we plan to start small and let it develop… learn and try to do things right. We have target goals to meet in a 3 year plan, and will work hard every day to meet these goals…
8. What aspects of golf ball development and production are most unknown/confusing to the consumer, and deserve clarification?
I think I have two…compression.. people think they have to play a low compression ball to "compress" the ball..not true at all every golfer compresses the ball.. compression is a designers tool that helps us understand spin rates and has a small factor in the overall feel of the ball.. so dont worry about compression.. most balls today have not ratings for a reason.. they are not important… Second is swing speed… in my opinion players should not choose a ball based on swing speed.. if a player picks a lower compression ball based on swing speed, that means he or she is playing a ball that has a lower spin rate… so think about it… you are picking a ball that "may" increase your ball speed by 0.5 mph with a driver.. lets say that did happen.. that means now your 230 yard drive just went 231 yards… so now you are a whopping one yard longer (maybe) and you have to play the rest of the hole with a ball that is made to have no spin or low spin… and where do you need spin the most? around the green…you should play a ball that fits your game around the green.. test several models from inside 70 yards.. chips,… putts, etc.. then dont worry about driver.. they all go about the same distance today… but you score around the green… choose the ball that fits your game where you play the most… not off the tee…
9. What questions haven't we asked, that you wish we had? Ask them and answer them, please.
Is this a cheap tour ball?
No, I never use the word cheap.. people believe that if the tour ball is cheaper then it is not as good.. i only ask that you try it… I used the same technologies and materials that have been used in tour balls for over 20 years… proven on tour… the performance is there.. the cost is a savings for you to hope you play more…
Will there be any tour players in the ball?
At this point, we have had a few players contact us to play the ball.. unfortunately, as a small start up, we are not paying large tour contracts at this time, and are passing this savings on to you the consumers… I have designed or co designed golf balls for the best players in the world over the last 25 years at both Titliest and TaylorMade, and have a good understanding of golf ball performance, and what it takes to create this type for performance. Golf is my passion today, but hockey is still my favorite sport… even if I have never been successful to tie the two sports together like I had in my first golf experience with my dad.. haha..
Your Reaction?
LIKE

5

LEGIT

2

WOW

2

LOL

1

IDHT

0

FLOP

0

OB

0

SHANK

0
On Spec: Talking Kirkland wedge, LPGA Tour, and teased irons from TaylorMade & Mizuno
In this episode of On Spec, host Ryan talks about the recently discovered Kirkland Signature wedges on the USGA Conforming list, as well as what recently spotted TaylorMade and Mizuno irons may have in store
Also with the LPGA Tour back in action, Ryan also discussed why it is a good idea to check out how LPGA players gap their bags compared to players on the PGA Tour.
Check out the full podcast on SoundCloud below, or click here to listen on iTunes or here to listen on Spotify.
Want more GolfWRX Radio? Check out our other shows (and the full archives for this show) below. 
Your Reaction?
LIKE

1

LEGIT

0

WOW

0

LOL

0

IDHT

0

FLOP

0

OB

0

SHANK

1
How Tiger Woods lost the 2009 PGA Championship
11 years ago, the PGA Championship produced one of the greatest upsets in sporting history.
The all-conquering Tiger Woods arrived at the 2009 PGA Championship as the prohibitive favorite, having won three of his last four events. Woods then backed up that favoritism over the opening two days, picking apart Hazeltine National with extreme precision to build a four-stroke advantage by the halfway point.
It felt like such a formality that here in Ireland, our biggest bookmaker, PaddyPower declared Tiger as the winner and decided to pay out all outright bets on the World Number One after just 36 holes.
It proved to be a big mistake.
Next week will be the 11th anniversary of the monumental upset, and here I'll take a look at the factors behind Woods' unthinkable loss that week to Y.E. Yang.
Tiger's Ultra-Conservative Saturday
On a scoring Saturday, Woods was too content to play it safe. Why not? After all, the ultimate closer had won so many majors by forging a lead, aiming for the middle of the green, two-putting for par and watching his opponents slowly falter one by one.
Only this time was different, and even Tiger with a two-shot lead going into Sunday's final round as much as admitted he was too conservative during round three, saying after his round:
"They gave us a lot of room on a lot of these pins, six and seven even from the side, so you can be fairly aggressive. I just felt that with my lead, I erred on the side of caution most of the time.

"If I did have a good look at it, a good number at it, I took aim right at it. Otherwise I was just dumping the ball on the green and 2-putting."
The incessant safety first, lag putting strategy of Saturday even transformed into a tentativeness at the beginning of Sunday's final round.
On the par-five seventh hole, with Yang in trouble, Woods had 245 yards to the pin for his second with a huge opportunity to make a statement eagle or textbook birdie. He inexplicably layed up, hit a poor wedge and once again lagged for par.
Horrific Sunday Putting
To say Tiger's trusty Scotty Cameron betrayed him during Sunday's final round would be underselling it. Putt after putt just refused to drop when he needed it most.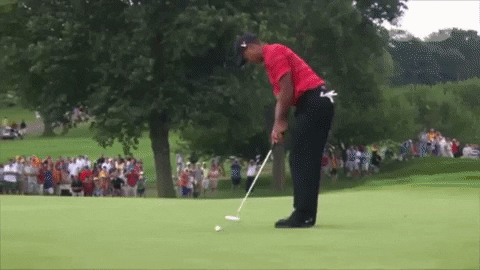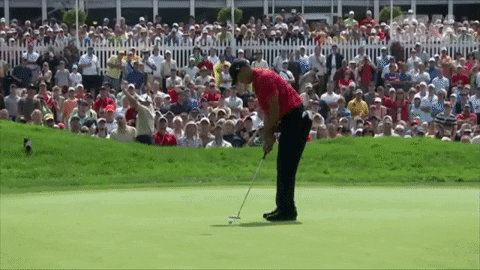 In the end, Woods' seven-foot birdie effort on the 14th hole is the only putt of any note he managed to make on the day.
Tiger played Sunday's final round in 75 strokes. Thirty-three of them were putts.
Yang Stood Up To Tiger
Critics of Woods have long claimed that in his prime, Tiger would crowd his opponents as an intimidation tactic, or rush off the green to the next tee leaving his competitors to putt out while the crowd dispersed.
Regardless, nothing was going to faze Yang that Sunday.
In fact, during the early stretch of the final round, Tiger's indecision and tentativeness led to the pairing being behind the pace of play. It forced on-course officials to remind the two that they needed to speed it up—and of course, they only stressed that Yang needed to do so.
How did the Korean respond? By pointing at Tiger and saying "Not me. Him."
The Pivotal Two-Shot Swing
Many look back on Yang's chip-in eagle to take the lead at the 14th hole on Sunday as the significant turning point of the Championship. However, Yang was always likely to make birdie on the short par-four hole, and the previous hole may well have been the tipping point for the upset.
On the par-three 13th hole, Yang found the bunker, while Woods hit a beauty to eight feet. The two-shot swing in Tiger's favor looked even more likely when Yang failed to get his bunker shot inside Woods' ball.
But when Yang buried his par effort, and Woods let yet another putt slip by, the two remained all square.
Woods' reaction following his putt was telling; his frustration poured out despite him still being in a share of the lead. It was a show of exasperation that may have given the Korean all the encouragement he needed to turn Tiger's 54 hole major lead record of 14-0 into 14-1.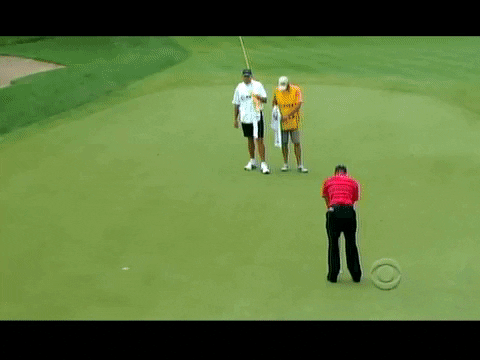 Asked following his round when he felt his control on the tournament beginning to loosen, Woods said:
"But as far as the tournament switching, 13, I stuffed it in there. He made a mistake, hit it in the left bunker. He blasted out. I missed my putt. He made his. And then he chipped in on the next hole.

"So that two-hole stretch turned — if I make my putt, he doesn't chip in, you know, he doesn't make his putt on 13."
The 2009 PGA Championship preceded a ten-year barren spell for Tiger at the majors before he claimed his fifth green jacket at the 2019 Masters. He is still yet to appear in the final twosome on a Sunday at a major since the 2009 PGA.
As for Y.E Yang, the 48-year-old now spends most of his time competing in Japan and his native Korea. He has played in all 10 PGA Championships since his remarkable victory. He has missed the cut seven times.
Your Reaction?
LIKE

24

LEGIT

9

WOW

3

LOL

3

IDHT

1

FLOP

1

OB

0

SHANK

13
The Gear Dive: Brandel Chamblee is back!
In this episode of TGD brought to you by Titleist, Johnny goes in on the distance debate with a friend of the podcast, Brandel Chamblee. Also picks for the WGC, filling a hole in the bag and why the LPGA is the best place to learn how to play.
Check out the full podcast on SoundCloud below, or click here to listen on iTunes or here to listen on Spotify.
Want more GolfWRX Radio? Check out our other shows (and the full archives for this show) below. 
Your Reaction?
LIKE

4

LEGIT

0

WOW

0

LOL

0

IDHT

0

FLOP

0

OB

0

SHANK

7