David Ortiz shares his side of the story from his Mayakoba controversy with Matt Kuchar
Matt Kuchar returns to the site of his 2018 Mayakoba victory this week—a week which proved extremely damaging to the 41-year-old's public persona.
The result of last year's win was overshadowed after Kuchar paid his stand-in caddie, David Ortiz, $5,000 for helping him to his eighth PGA Tour win and the $1.3 million prize at Mayakoba. After a messy, publicised back and forth, Kuchar eventually paid Ortiz $50,000, and over the weekend the Mexican caddie revealed his side of the story.
Speaking to the New York Post, Ortiz revealed that he carries no animosity towards Kuchar following the incident, stating
"Kuchar is a good person. I'm not angry. Everything is good. Not paying was not good. But I have no anger."
Per the report, before the event, Kuchar's deal with Ortiz was that he would pay the stand-in caddie $1,000 for the Tuesday practice round, $1,000 for the Wednesday pro-am and $3,000 for the tournament rounds (cut made, or no cut made).
However, Ortiz then requested 10 percent should Kuchar go on to win, to which the 41-year-old responded "Of course," though Ortiz claims, "it felt like he was just looking at me like I'm this little guy.''
Kuchar's payment of $5,000 did not equal one percent of his winnings and led to plenty of vocal critics amongst golf fans and pundits alike.
It was then director of golf at El Camaleon, David Lopez, who got involved on Ortiz' behalf. Lopez contacted Kuchar's agent, Mark Steinberg, who curtly blew off Lopez' request that Ortiz' payment be increased, responding to his email saying "No. What we paid you is fair."
Following Kuchar's comments that, "For a guy who makes $200 a day, a $5,000 week is a really big week", Lopez once again emailed Steinberg stating that the issue had now become a racial one, and per the report, two days later, Ortiz had been sent an extra $45,000.
All's well that ends well for Ortiz, who explained to the Post how important the $50,000 is to him.
"Fifty thousand dollars, for me, is big. It's everything to me and not much to (Kuchar). The $50,000 I needed for my business and to fix my kitchen and bathroom at home and to buy a new cell phone."
Your Reaction?
LIKE

128

LEGIT

8

WOW

4

LOL

5

IDHT

0

FLOP

2

OB

8

SHANK

57
The 5 most crushing lip-outs of the 21st century
Lip-outs have crushed the dreams of many golfers down the years, but what have been the harshest and most brutal of recent times? We thought we'd take a look back at some of the most significant lip-outs this century, and how each player reacted to the cruel twist of fate.
Tiger Woods – 2007 PGA Championship
Tiger Woods blitzed Southern Hills CC during the second round of the 2007 PGA Championship firing birdie after birdie to take charge of the event.
Woods faced a 15-foot putt on the final hole for the first-ever 62 at a major championship. But it wasn't to be, as to Tiger's disbelief, the ball caught a chunk of the hole and spat the ball out, leaving a stunned Woods a tap-in for 63.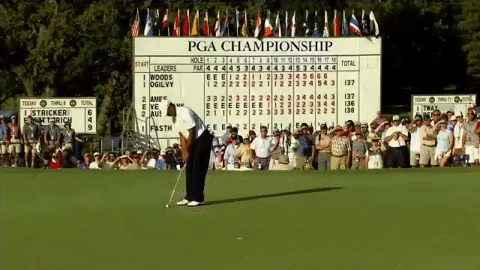 "As far as that last putt, I was trying to make it. And I hit it a little bit firm and I thought I made it, because it was breaking at the end. I knew it broke a lot more at the end than at the beginning. Started diving. Evidently didn't want to go in."
Regardless, Woods would go on to win his 13th major championship after firing two subsequent rounds of 69.
Brandt Snedeker – 2009 BMW Championship
At Cog Hill in 2009, Brandt Snedeker looked almost assured of securing his place in the Tour Championship. A bogey would have done it on the final hole, and the Nashville native was sitting pretty facing a 15-foot putt on the final green for a par.
However, after knocking that putt three feet past the hole, everything unravelled…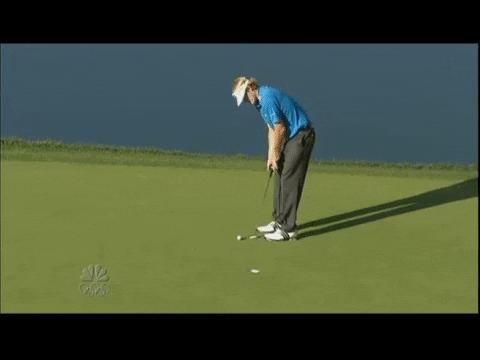 Snedeker's nightmare triple-bogey finish would put an end to his season.
"I just started thinking about the wrong things. I didn't concentrate over the bogey putt. I was thinking about all the things THE TOUR Championship comes with and I did everything you're not supposed to do…I can't believe I did this. I just made a mess of it."
In-Kyung Kim – 2012 Kraft Nabisco Championship
A par on the final hole would have given Kim her first major championship back in 2012 at the Kraft Nabisco Championship, and it looked all but secure with the Korean facing just outside of a foot for her par on the par 5 18th. However, the golf god's had other ideas.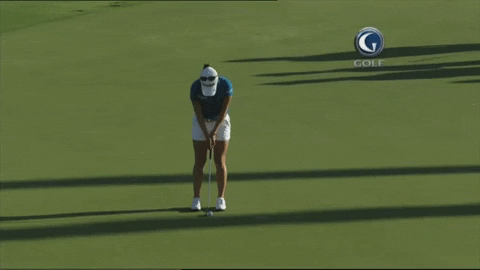 Following the miss, Kim would go on to lose in a playoff. 
Speaking a year later on the miss, Kim said:
"It was tough to handle at first. But I learned from it, and I can be an example to show young kids that it's not always going to be glorious in victory out here.

Some people think it's really difficult what happened. It doesn't matter what happened. What matters is what happens after that. Sometimes you have to pick yourself up. You either live happy or unhappy. I live to be happy."
She would find redemption when winning the 2017 Women's British Open.
Phil Mickelson – 2013 Waste Management Phoenix Open
Lefty brought TPC Scottsdale to its knees during round one of the 2013 WMPO and gave himself an outside shot at his first-ever 59 on tour.
Facing a long birdie putt on his final hole, Mickelson stroked a beautiful putt that seemed destined to find the back of the cup, before taking a stunning detour at the last moment and spinning out.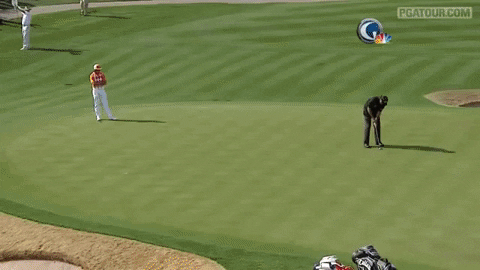 Mickelson was in disbelief, and his caddie Bones was on the floor. It was to be a cruel 60.
"To have that putt on line, I am kind of mortified that it didn't go in…. I am walking after it and somehow it moves at the end low and caught the lip. And even at that pace, I think it's going to lip in.

That one's tough to take because you don't get those chances very often, but I'm ecstatic with 60."
Mickelson would go on to win the title in Phoenix.
Phil Mickelson – 2016 Open Championship
Mickelson was looking for another milestone in 2016, this time at Royal Troon where he had designs on being the first player in history to shoot 62 in a major.
Lefty gave himself a wonderful opportunity at the last, and needing a birdie for the record-setting number, Mickelson felt the ghosts of the 2013 WMPO return.
At perfect pace, the ball looked good all the way before catching a large portion of the hole and staying out.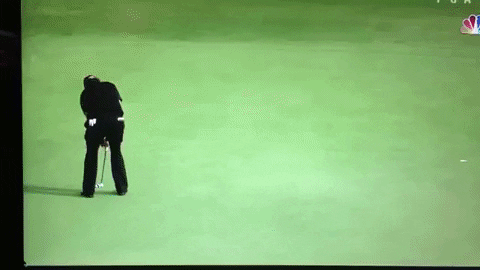 Understandably, Mickelson felt crushed.
"I want to shed a tear right now. That putt on 18 was an opportunity to do something historical. I knew it, and with a foot to go I thought I had done it. I saw that ball rolling right in the centre.

I went to go get it, I had that surge of adrenaline that I had just shot 62, and then I had the heartbreak that I didn't and watched that ball lip out. It was, wow, that stings."
Lefty would go on to finish runner-up to Henrik Stenson at the 2016 Open Championship.
Your Reaction?
LIKE

0

LEGIT

0

WOW

0

LOL

0

IDHT

0

FLOP

0

OB

0

SHANK

0
Facts…
Freddy IGs never get old…
What a steal…
If you gonna argue with BC, you better have facts ready…
Tell us what you really think, pro….
Still love the guy, but DAMN.
DM @johnny_wunder
Your Reaction?
LIKE

0

LEGIT

0

WOW

0

LOL

0

IDHT

0

FLOP

0

OB

0

SHANK

0
The DailyWRX (9/28/2020): If 2020 were an approach shot…
John Catlin low key trying to sneak into Augusta…
Almost as heartbreaking as Russ Wilson NOT HANDING IT OFF on the last play of Super Bowl XLIX. Caps means I'm yelling.
If 2020 were an approach shot…
Can't win em all, pro….
LOLOLOLOLOL!!!!
DM @johnny_wunder
Your Reaction?
LIKE

1

LEGIT

0

WOW

0

LOL

0

IDHT

0

FLOP

0

OB

0

SHANK

1