WRX Q&A: NewClub's Matt Considine
A friend of a friend pointed me to NewClub's website. Having never heard anything about the effort previously, my first impression of NewClub was a product of its homepage, which looks something like (OK, exactly like) this.
"Sounds great," I thought. "But what the heck does all of this mean practically?"
To get the answer to that question, I got in touch with founder and CEO Matt Considine, who was kind enough to answer a few questions about the venture.
GolfWRX: Let's start with a little bit about your background in golf…
Matt Considine: As Lebron likes to say "I'm just a kid from Akron" and like many Midwestern kids, I've loved playing games with my friends, especially the game of golf. I grew up working and playing at area clubs, munis, and driving ranges. I always had a club in my hands — my mom will attest to all the divots in her carpet and repaired windows in our house. My first internship in college was with IMG Sports in Cleveland and that was my first formal introduction to the golf industry.
WRX: How did arrive at the concept for NewClub?
MC: Golf societies have been around since 1744, so I'm not sure I can take credit for conceiving anything. We took an old idea and made it new again, something that would mesh with the life of a modern golfer.
The first time I was introduced to a golf society was in 2005, and I haven't been able to shake the concept since. Like many people I've talked to, I was burnt out and frustrated with golf, so I quit my college team and shipped off that summer to study at University College Cork in Ireland for 9 months.
I left to get away from golf but it was my experiences in Ireland that introduced me to a whole new way of enjoying the game. After getting laughed off Cork's Hurling team (Ireland's native sport) they found out I could play a little bit of golf and offered me a spot on the club team (league rules permitted one American per squad). My dad shipped my clubs over and I was back in business. Because their University teams operated on a lean budget, we would play matches against local societies and clubs in between the college matches to keep the competition sharp. It was those matches and people I met that taught me a whole new way to look at, appreciate, and enjoy the game of golf. It was a miraculous blessing looking back on it now.
Fast forward 10 years, I was living in Chicago working in business development for a technology company. I kept meeting people who were self-proclaimed "golfers," but not playing much golf. So a small group of friends took a trip over to Scotland where we had an especially enlightening experience playing the Old Course and hanging out at The New Golf Club of St. Andrews after our match.
It was our experience there that was the final spark that NewClub needed. We enjoyed our lunch while The New Golf Club members file through the entrance, four golfers at a time to reminisce about their game on one of the seven links courses available to them through the St. Andrews Links Trust and their golf society membership.
We met teachers, bankers, architects, grocers, police officers, accountants, and fishermen. We heard stories about legendary members like Tom Morris and Sandy Herd. The New Golf Club of St. Andrews is a magical place where any golfer in their community, anyone in good standing with a passion for the game could make their golfing home.
When I returned to Chicago from that second pilgrimage in May of 2015, I decided it was time to start enjoying golf again. Just like the way I used to as a kid, the way those clubs and societies did in Ireland, and the way those members did at The New Golf Club of St. Andrews. That summer I started a standing game every Saturday at any compelling course I could find and my golf society was born. Then in 2017, we made NewClub official with 50 founding members and 5 clubs in Chicago willing to host the society.
WRX: What's happened since launch and where you are now?
MC: The society has grown to over 300 members and we have relationships with over 50 private clubs and golf courses that we find fun and compelling places to play the game. We have standing tee times every Wednesday to Sunday throughout the golf season and host five tournaments and three trips every year. Next Spring, we have our first NewClub trip scheduled to back to Scotland.
We've also introduced an ambassador program for people from all around the country. It's been amazing how many people we've met who are eager for something like this in their own community, a golf society that they can genuinely be proud of.
WRX: Anything more about what members are saying and what the feedback is been like?
MC: In a lot of ways, we've set up this really unique society golf experiment, so we're not afraid to try new things and see how people respond. Our members have been incredibly helpful with feedback. We've been listening a lot, watching how they use the mobile app, how they play their golf, learning about things they need, things they don't. It all has helped us get to where we are now.
Overall, we've found that people have enjoyed the access and discovery of new and exciting courses, but the more pleasant surprise has been how much our members enjoy meeting new people and playing with each other. Nobody ever thinks (or admits) that they need golf buddies. But what we've found is that people are far more likely to play a round if they know they'll be playing with someone they actually want to play with.
We've also learned that match play is very unappreciated in our country. Members love the matches, and match play is one of our core principles at NewClub.
WRX: What's next for NewClub?
MC: We have plans for our second market launch in 2020 and will continue to grow our ambassador program to show us the road ahead. People are starting to stand up and say "this is how I want to experience golf," so we know there is a serious need out there and we want to make sure we are meeting the demand by growing in the right way.
WRX: What do prospective members need to know?
MC: We have a really straightforward and proprietary application process on our website. Every prospective member needs to complete the application before being considered for membership. We look for applicants who possess a high quality of character, passion, and respect for the game of golf, and always leave the course in better shape than they found it.
Your Reaction?
LIKE

27

LEGIT

4

WOW

0

LOL

1

IDHT

0

FLOP

0

OB

0

SHANK

2
The Gear Dive: TrackMan's Lance Vinson Part 2
In this episode of the Gear Dive, Johnny goes even deeper into the TrackMan data with Tour Rep Lance Vinson. It's a ridiculous nerd out covering what the future holds, who is the most efficient player on tour, who hits it the best and a million other things.
Check out the full podcast on SoundCloud below, or click here to listen on iTunes or here to listen on Spotify.
Want more GolfWRX Radio? Check out our other shows (and the full archives for this show) below. 
Your Reaction?
LIKE

0

LEGIT

0

WOW

0

LOL

0

IDHT

2

FLOP

0

OB

0

SHANK

0
Mondays Off: How is the new PGA schedule looking? Gross golf bag cleaning story!
The new PGA schedule is out and how will so much major golf look in the fall. What golf gear would you buy with your stimulus check if you could blow it all on golf? Knudson has a gross story about cleaning out a golf bag.
Check out the full podcast on SoundCloud below, or click here to listen on iTunes or here to listen on Spotify.
Want more GolfWRX Radio? Check out our other shows (and the full archives for this show) below. 
Your Reaction?
LIKE

1

LEGIT

0

WOW

0

LOL

0

IDHT

0

FLOP

0

OB

0

SHANK

1
Tiger at the Masters: The 3 that got away
This time last year, Tiger Woods earned his fifth green jacket at the 2019 Masters, breaking a 14-year drought at Augusta National and completing a storybook career comeback (see Tiger Woods' 2019 Masters WITB here).
Between his 2005 and 2019 victories, Woods gave himself several chances to reclaim the green jacket, but for one reason or another, the championship continuously eluded the 15-time major winner.
Looking back on that drought, three years in particular stick out in my mind where Woods (being the ruthless closer that he is) could, and maybe should, have capitalized on massive opportunities.
2007 Masters
A unique tournament broke out at the 2007 Masters with chilly and windy conditions meaning we would see an over-par score winning the event for the first time in a generation.
Unusually however was the fact that Tiger Woods had got himself into a fantastic position heading into the final day's play—one stroke back of the lead and in the final group.
By the first hole on Sunday, Woods had a share of the lead. A couple of holes later, and he was the sole leader. But instead of the game's greatest ever closer doing what he does best, we saw the first small chink in Tiger's major armor.
Unable to keep up with the improved scoring on Sunday, Woods finished the championship two strokes behind Zach Johnson. It was the first time Woods lost a major in which he held the lead at some point in the final round.
Summing up after the round why things hadn't turned out the way the entire golf world expected, Woods said
"Looking back over the week I basically blew this tournament with two rounds where I had bogey, bogey finishes. That's 4-over in two holes. The last two holes, you just can't afford to do that and win major championships."
2011 Masters
In one of the most exciting final rounds in Masters history, an electric front-nine charge from Woods coupled with a Rory McIlroy collapse saw the then 35-year-old tied for the lead heading into the back nine.
After back-to-back pars on the challenging 10th and 11th holes, Woods found the green on the 12th before it all slipped away. A disastrous three-putt was followed by a deflating five on the par-5 13th and an agonizing near-miss for birdie on 14.
In typical defiant fashion, Woods then flushed a long iron on the par-5 15th to give him five feet for eagle and what would have been the outright lead. But he couldn't find the cup.
Directly following his round, a visibly miffed Woods said
"I should have shot an easy 3- or 4-under on the back nine and I only posted even. But I'm right there in the thick of it and a bunch of guys have a chance. We'll see what happens."
What happened was eventual champion Charl Schwartzel did what Woods said he should have done—shooting 4 under on the back to win his first major.
2013 Masters
Luck, or lack of, is a contentious topic when it comes to sports fans, but at the 2013 Masters, Woods' shocking fate played out as if those on Mount Olympus were orchestrating the tournament.
Woods entered the 2013 Masters as the World Number One, brimming with confidence having won three out of his first five tournaments to start the year.
By Friday afternoon, Woods had cruised into a share of the lead, before crisply striking a wedge on the par-5 15th as he hunted for another birdie.
In a cruel twist of fate, Woods' ball struck the pin and ricocheted back into the water. "Royally cheated!" shouted on-course announcer David Feherty. Nobody could argue otherwise.
A subsequent "bad drop" turned a probable birdie into a triple-bogey placing Woods behind the proverbial 8-ball for the rest of the tournament. The game's ultimate closer should have been in the lead with two rounds to play on a front-runner's paradise of a course; instead, he was in chase-mode. (From 1991-2012, 19 of the 22 winners came from the final group).
Woods tried to rally over the weekend, but if he didn't think the 2013 Masters was ill-fated for himself by Friday evening, then he would have been excused to do so on the eighth hole on Saturday.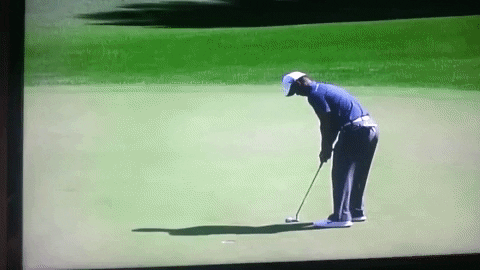 Had Woods' golf ball missed the pin at 15 on that hot and humid Spring afternoon in 2013, then he not only wins, but he likely wins going away.
Your Reaction?
LIKE

35

LEGIT

2

WOW

2

LOL

0

IDHT

0

FLOP

1

OB

0

SHANK

1