Bitter dispute erupts over Bryson DeChambeau's slow play at The Northern Trust, resulting in personal insults, apologies and a review of the current pace-of-play policy
The heated dispute concerning slow play over the weekend at The Northern Trust spilled over into Monday in what has been arguably the fiercest and most bitter debate on the subject that the sport has yet seen.
In case you missed it, on Friday at Liberty National, Bryson DeChambeau was caught on camera taking over three minutes to pace out and play a seemingly straight forward approach shot, and then taking over two minutes to hit a putt from inside 10-feet on the eight green – two incidents which sparked the furore which was to follow.
Embedded below is footage of DeChambeau on the eight green on Friday.
Both incidents went viral, with DeChambeau taking well over the 40 second time limit which the PGA Tour is said to allow players for each shot, and adding fuel to the fire, fellow professional Eddie Pepperrel took to social media to describe DeChambeau as a "single-minded twit." A comment which the Englishman apologized for on Monday.
Pepperell wasn't the only player to comment publicly on DeChambeau's deliberate play, with fellow Brit, Tommy Fleetwood stating that "If we were on the clock he wouldn't have taken that amount of time", while Justin Thomas simply described DeChambeau as "a slow player".
Following his round on Friday, and fully aware of the controversy brewing, DeChambeau launched an impassioned defense of the length of time he takes over shots on the course, bringing up the subject before a member of the press even had the chance to ask the 25-year-old a question.
Arguing that he strides quickly to his ball and as he usually outdrives his opponents, he can't set up his shot until it is his turn, DeChambeau took aim at his critics, stating
"When people start talking to me about slow play and how I'm killing the game, I'm doing this and that to that game… that is complete and utter you-know what. That's not fair."
DeChambeau argued that although sometimes he takes over the allotted 40 seconds, those occasions are few and far between, before continuing his self-defence saying
"If it's not an easy shot, I'm going to take a little bit longer because that's my job. I'm trying to do my absolute best. I'm trying to provide entertainment, and I hope that people can realise that it takes more than just me playing a shot in 30 seconds or 40 seconds for us to call it slow play."
When asked whether any player has confronted him to air any grievances they might have, DeChambeau explained that no player had ever approached him to discuss his pace of play, and urged his critics to "say it to my face" if they have a problem.
If you thought that might be the end of the matter, then you were sorely mistaken.
Over the weekend at Liberty National, DeChambeau approached Brooks Koepka's caddie, and was then seen in deep conversation with the four-time major champion on the range.
Following that conversation, which DeChambeau described as "awesome" and "fantastic", Koepka was quick to tell members of the press at Liberty National that the 25-year-old isn't the only culprit and that DeChambeau feels that he is being unfairly singled out.
"It's not just him. I know he feels singled out, especially when I'm speaking about it. But it's like I told him, it's not — I've mentioned his name once, and that's it. There's so many guys out here where it's become an issue, and obviously him being probably the best player that's relatively slow right now, he's going to be on TV a lot more, so you're going to catch a lot more of those type of instances. I mentioned his (DeChambeau's) name once. So I don't think I've come at him. I just talked about slow play, and obviously he feels I'm talking about him every time."
During the chaos in New Jersey, there was also criticism of the PGA Tour for not taking a harder stance on slow play in the game, with Sky Sports' Rich Beem being one of those to slam the authorities, saying that he was "outraged" that the Tour tolerate the pace of play displayed by DeChambeau at the weekend.
The controversy at The Northern Trust seems to have awoken the PGA Tour from their slumber on the subject of slow play in the game, with the Tour releasing a lengthy statement on Sunday which mentioned that the organization would be reviewing it's current pace-of-play policy.
"The TOUR's current pace-of-play policy only addresses players whose groups have fallen out of position. The TOUR is now exploring whether to expand its policy to also address players whose groups are in position, but who take an excessive amount of time to hit a shot."
As the bitter dispute began to defuse on Monday following Pepperell's apology on social media, DeChambeau then took to his own social media account to issue an apology of his own, where he vowed to improve his pace of play in the future, putting an end to this particularly heated chapter on the sport's current most controversial subject.
"Slow play affects the quality of the game for both players and our fans and I've always had the utmost respect for my playing partners, including JT and Tommy. I'm constantly trying to improve and I will do my very best to improve my pace. Golf is my passion and livelihood. It's my responsibility to help improve the game to be more enjoyable for all. Pace of play has been an issue for golf at all levels for a long time, and I'm committed to being a part of the solution, not the problem. I want to be a good representative of the game and the @PGATour and I looking forward to working with the TOUR and fellow players to find a solution to slow play."
Your Reaction?
LIKE

29

LEGIT

5

WOW

2

LOL

13

IDHT

3

FLOP

7

OB

3

SHANK

55
Well…that was cool.
OK, damn it…Can we please make night golf a thing?
And Tiger is still the hottest thing goin…that'll never change.
Bubba's caddie can hit it!
Getting better! This thing is brilliant.
Your Reaction?
LIKE

1

LEGIT

0

WOW

1

LOL

0

IDHT

0

FLOP

0

OB

0

SHANK

0
Boxing great Tyson 'DeChambeau' Fury shows off his powerful golf swing
Tyson Fury has dominated in the ring over the past decade, and it seems like the English boxer's sporting ability extends to golf also.
The two-time heavyweight world champion showed off his driving skills this week with his TaylorMade clubs, crushing a drive 306 yards on a 330-yard par 4 hole. What's more, Fury was able to achieve that distance without even taking a full swing. As the caption says: 'More like Tyson DeChambeau'.
Check out the drive below.
At 6′ 9″, Fury also displayed his deft touch around the greens on his Instagram this month, while also experiencing the bad breaks that come with the game!
According to the man himself: "The Gypsy King golf tour coming soon". Watch this space!
Your Reaction?
LIKE

9

LEGIT

1

WOW

1

LOL

1

IDHT

0

FLOP

1

OB

0

SHANK

8
The 5 most crushing lip-outs of the 21st century
Lip-outs have crushed the dreams of many golfers down the years, but what have been the harshest and most brutal of recent times? We thought we'd take a look back at some of the most significant lip-outs this century, and how each player reacted to the cruel twist of fate.
Tiger Woods – 2007 PGA Championship
Tiger Woods blitzed Southern Hills CC during the second round of the 2007 PGA Championship firing birdie after birdie to take charge of the event.
Woods faced a 15-foot putt on the final hole for the first-ever 62 at a major championship. But it wasn't to be, as to Tiger's disbelief, the ball caught a chunk of the hole and spat the ball out, leaving a stunned Woods a tap-in for 63.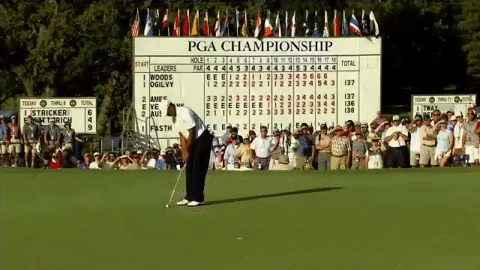 "As far as that last putt, I was trying to make it. And I hit it a little bit firm and I thought I made it, because it was breaking at the end. I knew it broke a lot more at the end than at the beginning. Started diving. Evidently didn't want to go in."
Regardless, Woods would go on to win his 13th major championship after firing two subsequent rounds of 69.
Brandt Snedeker – 2009 BMW Championship
At Cog Hill in 2009, Brandt Snedeker looked almost assured of securing his place in the Tour Championship. A bogey would have done it on the final hole, and the Nashville native was sitting pretty facing a 15-foot putt on the final green for a par.
However, after knocking that putt three feet past the hole, everything unravelled…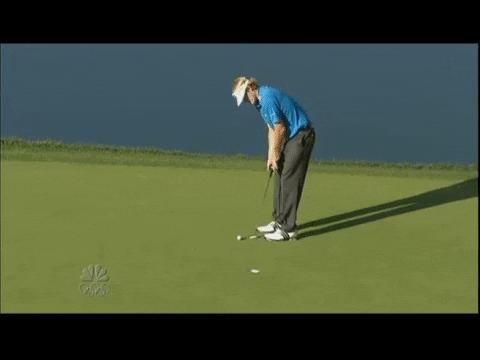 Snedeker's nightmare triple-bogey finish would put an end to his season.
"I just started thinking about the wrong things. I didn't concentrate over the bogey putt. I was thinking about all the things THE TOUR Championship comes with and I did everything you're not supposed to do…I can't believe I did this. I just made a mess of it."
In-Kyung Kim – 2012 Kraft Nabisco Championship
A par on the final hole would have given Kim her first major championship back in 2012 at the Kraft Nabisco Championship, and it looked all but secure with the Korean facing just outside of a foot for her par on the par 5 18th. However, the golf god's had other ideas.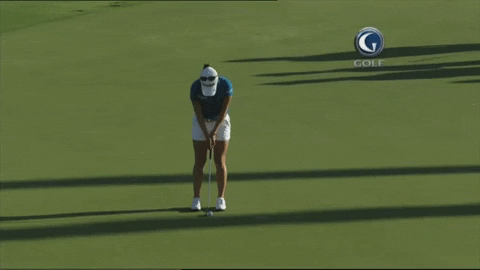 Following the miss, Kim would go on to lose in a playoff. 
Speaking a year later on the miss, Kim said:
"It was tough to handle at first. But I learned from it, and I can be an example to show young kids that it's not always going to be glorious in victory out here.

Some people think it's really difficult what happened. It doesn't matter what happened. What matters is what happens after that. Sometimes you have to pick yourself up. You either live happy or unhappy. I live to be happy."
She would find redemption when winning the 2017 Women's British Open.
Phil Mickelson – 2013 Waste Management Phoenix Open
Lefty brought TPC Scottsdale to its knees during round one of the 2013 WMPO and gave himself an outside shot at his first-ever 59 on tour.
Facing a long birdie putt on his final hole, Mickelson stroked a beautiful putt that seemed destined to find the back of the cup, before taking a stunning detour at the last moment and spinning out.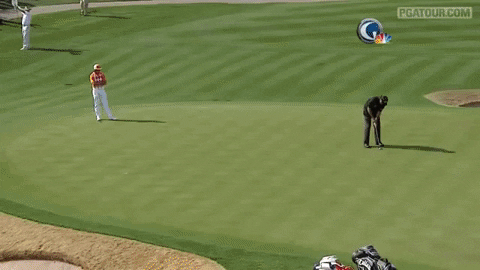 Mickelson was in disbelief, and his caddie Bones was on the floor. It was to be a cruel 60.
"To have that putt on line, I am kind of mortified that it didn't go in…. I am walking after it and somehow it moves at the end low and caught the lip. And even at that pace, I think it's going to lip in.

That one's tough to take because you don't get those chances very often, but I'm ecstatic with 60."
Mickelson would go on to win the title in Phoenix.
Phil Mickelson – 2016 Open Championship
Mickelson was looking for another milestone in 2016, this time at Royal Troon where he had designs on being the first player in history to shoot 62 in a major.
Lefty gave himself a wonderful opportunity at the last, and needing a birdie for the record-setting number, Mickelson felt the ghosts of the 2013 WMPO return.
At perfect pace, the ball looked good all the way before catching a large portion of the hole and staying out.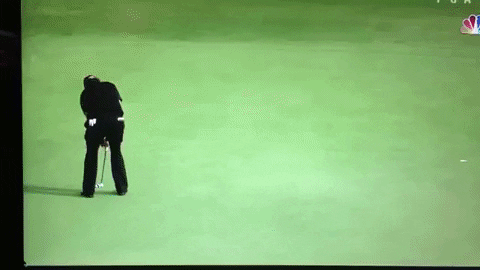 Understandably, Mickelson felt crushed.
"I want to shed a tear right now. That putt on 18 was an opportunity to do something historical. I knew it, and with a foot to go I thought I had done it. I saw that ball rolling right in the centre.

I went to go get it, I had that surge of adrenaline that I had just shot 62, and then I had the heartbreak that I didn't and watched that ball lip out. It was, wow, that stings."
Lefty would go on to finish runner-up to Henrik Stenson at the 2016 Open Championship.
Your Reaction?
LIKE

16

LEGIT

3

WOW

0

LOL

1

IDHT

0

FLOP

0

OB

0

SHANK

0