Dear Tiger,
Earlier today, I heard the news you withdrew from the Northern Trust with a muscle strain. I hope that as you head home, you get some rest and feel better soon. I can imagine you're probably disappointed in having to leave the tournament, but at the end of the day, feeling your best is way more important than trying to prove something that doesn't need to be proven.
Speaking of proving things, don't listen to the armchair doctors (unless your actual doctor is sitting in an armchair). Don't worry about how the golf talking heads of the world will react. Don't feel pressured to return early because of the Playoffs or the Presidents Cup. Do what you have to do on your timeline, to get to 100 percent—or as close as someone with as many back surgeries can be to 100 percent.
Growing up, I never missed watching a tournament you played in, and as an adult, my habits haven't changed much. As much as I and others want to see you play every week, I realize that it's just not possible. The travel, the walking, and workouts, the range time, they all take a toll that we, as regular golfers, will never truly understand.  I still remember only a few short years ago when you said you might never play again, and I was heartbroken. Not because I selfishly wanted to see you play, but because I hoped that current 10-year-old kids would have the chance to watch you in competition. Obviously, that wasn't how the story ended, and I'm grateful as a golf fan for that.
When you drained the winning putt, walked off the 18th green at the Masters this year, and hugged your kids—just as your father hugged you—the golf world stood still. Golf fans once again appreciated what they had witnessed—a Tiger Woods major victory. Although not quite the same experience, it was pretty cool to be able to sit there with my wife and our child, just like my parents did with me in 1997.
As a 43-year-old guy with two kids, you have a lot of gas left in your tank – not for golf, maybe, but for actual life. Regardless of if we don't see you make a swing for another month—or ever again in front of a camera—I just hope you get healthy. You have done so much for golf, professional golf, and even more for others thanks to your TGR Foundation—you have nothing left to prove to anyone.
Golf will go on and people will live their lives. My hope is the same as it was back in 2017 when it looked like you might never tee it up in competition again: you and your family you get to enjoy a healthy life.
Your Reaction?
LIKE

892

LEGIT

60

WOW

44

LOL

17

IDHT

10

FLOP

19

OB

10

SHANK

199
Tiger at the Masters: The 3 that got away
This time last year, Tiger Woods earned his fifth green jacket at the 2019 Masters, breaking a 14-year drought at Augusta National and completing a storybook career comeback (see Tiger Woods' 2019 Masters WITB here).
Between his 2005 and 2019 victories, Woods gave himself several chances to reclaim the green jacket, but for one reason or another, the championship continuously eluded the 15-time major winner.
Looking back on that drought, three years in particular stick out in my mind where Woods (being the ruthless closer that he is) could, and maybe should, have capitalized on massive opportunities.
2007 Masters
A unique tournament broke out at the 2007 Masters with chilly and windy conditions meaning we would see an over-par score winning the event for the first time in a generation.
Unusually however was the fact that Tiger Woods had got himself into a fantastic position heading into the final day's play—one stroke back of the lead and in the final group.
By the first hole on Sunday, Woods had a share of the lead. A couple of holes later, and he was the sole leader. But instead of the game's greatest ever closer doing what he does best, we saw the first small chink in Tiger's major armor.
Unable to keep up with the improved scoring on Sunday, Woods finished the championship two strokes behind Zach Johnson. It was the first time Woods lost a major in which he held the lead at some point in the final round.
Summing up after the round why things hadn't turned out the way the entire golf world expected, Woods said
"Looking back over the week I basically blew this tournament with two rounds where I had bogey, bogey finishes. That's 4-over in two holes. The last two holes, you just can't afford to do that and win major championships."
2011 Masters
In one of the most exciting final rounds in Masters history, an electric front-nine charge from Woods coupled with a Rory McIlroy collapse saw the then 35-year-old tied for the lead heading into the back nine.
After back-to-back pars on the challenging 10th and 11th holes, Woods found the green on the 12th before it all slipped away. A disastrous three-putt was followed by a deflating five on the par-5 13th and an agonizing near-miss for birdie on 14.
In typical defiant fashion, Woods then flushed a long iron on the par-5 15th to give him five feet for eagle and what would have been the outright lead. But he couldn't find the cup.
Directly following his round, a visibly miffed Woods said
"I should have shot an easy 3- or 4-under on the back nine and I only posted even. But I'm right there in the thick of it and a bunch of guys have a chance. We'll see what happens."
What happened was eventual champion Charl Schwartzel did what Woods said he should have done—shooting 4 under on the back to win his first major.
2013 Masters
Luck, or lack of, is a contentious topic when it comes to sports fans, but at the 2013 Masters, Woods' shocking fate played out as if those on Mount Olympus were orchestrating the tournament.
Woods entered the 2013 Masters as the World Number One, brimming with confidence having won three out of his first five tournaments to start the year.
By Friday afternoon, Woods had cruised into a share of the lead, before crisply striking a wedge on the par-5 15th as he hunted for another birdie.
In a cruel twist of fate, Woods' ball struck the pin and ricocheted back into the water. "Royally cheated!" shouted on-course announcer David Feherty. Nobody could argue otherwise.
A subsequent "bad drop" turned a probable birdie into a triple-bogey placing Woods behind the proverbial 8-ball for the rest of the tournament. The game's ultimate closer should have been in the lead with two rounds to play on a front-runner's paradise of a course; instead, he was in chase-mode. (From 1991-2012, 19 of the 22 winners came from the final group).
Woods tried to rally over the weekend, but if he didn't think the 2013 Masters was ill-fated for himself by Friday evening, then he would have been excused to do so on the eighth hole on Saturday.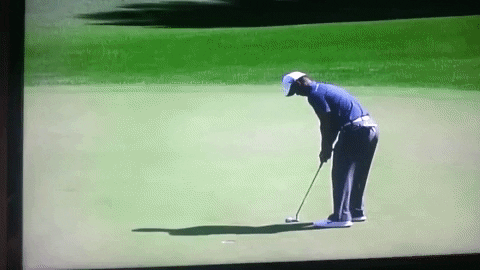 Had Woods' golf ball missed the pin at 15 on that hot and humid Spring afternoon in 2013, then he not only wins, but he likely wins going away.
Your Reaction?
LIKE

14

LEGIT

1

WOW

1

LOL

0

IDHT

0

FLOP

1

OB

0

SHANK

1
The Wedge Guy: Power Leak No. 1: Your grip
One of the things I like the best is when a friend or stranger asks me to take a look at their swing to see if I can help them. I never get into the "lesson" business, because that is the domain of our golf staff at the club. But I have spent a lifetime in this game, and have studied the golf swing pretty relentlessly. I also have been blessed with a pretty good eye.
So, the other day, I was out hitting some balls in the afternoon, and a good friend from the club asked if I'd take a look at where he is losing power. Darrell is a big guy and a good player, but not nearly as long as you would think he'd be. He plays with the "big dog" money game, which has a few really big hitters that can be quite intimidating.
I've played with Darrell enough to know exactly where his power leaks were, so when he came out to the range, I watched him hit a few and dropped the first one on him.
"It's your grip!"
He, like so many amateur golfers, was holding the club too far out on the end, and much too high in his palms — not low in the fingers like you should. I've always been of the opinion that the grip is the most important fundamental in the entire golf swing. Without a solid and fundamentally sound hold on the golf club, the rest of the swing cannot function at its best. Hogan thought it was so important, he dedicated a whole chapter of "Five Lessons" to the subject.
You'll see the occasional pretty good scorer at the club with a funky grip, but you never see a bad grip on tour. The golfer who has mastered a great grip is the most teachable there is.
In my opinion, the grip is only 'personal' to a small degree. Whether you like to overlap, interlock or use the full finger grip (not baseball)…whether you like to rotate your hands a little stronger or weaker . . . the fundamentals are the same, and they aren't negotiable.
The club has to be in your fingers to allow the "lag" that builds power, and to allow or even force the optimum release of the club through impact. The last three fingers of the left hand have to control the club so that it can be pulled through the impact zone. The right hand hold is limited to the curling of the two middle fingers around the grip, and neither set of forefingers and thumbs should be engaged much at all. One of the best drills for any golfer is to hit balls with the right forefinger and thumb totally disengaged from the grip. Google "Hogan grip photos" and study them!!!!!!
So, with the changes in the grip I had Darrell make, he immediately began ripping drivers 15-20 yards further downrange than he had. The ball flight and even sound of the ball off the driver was more impressive. So we went out to play a few holes to see what happened.
Historically, Darrell is only 5-10 yards longer than me at best, and sometimes I outdrive him. But not anymore!! On those five holes we played late that afternoon, he consistently flew it out there 20-25 yards past my best drives.
And that made us both really happy!
Next Tuesday, I'll talk about the second in this series on Power Leaks.
Your Reaction?
LIKE

20

LEGIT

3

WOW

0

LOL

0

IDHT

0

FLOP

0

OB

0

SHANK

0
On Spec: Dr. Paul Wood, Ping Golf's VP of Engineering
Host Ryan Barath talks all things design and innovation with VP of Engineering at Ping Golf, Dr. Paul Wood.
Check out the full podcast on SoundCloud below, or click here to listen on iTunes or here to listen on Spotify.
Want more GolfWRX Radio? Check out our other shows (and the full archives for this show) below. 
Your Reaction?
LIKE

3

LEGIT

2

WOW

0

LOL

0

IDHT

0

FLOP

0

OB

0

SHANK

2