The Wedge Guy: Scoring Series Part 6: Trouble shots
So here we are with the last part of this series on scoring range performance. I hope most of you have enjoyed this adventure into the part of the game that makes or breaks your rounds, most of the time. That is always my goal with this blog–to leave most of you with at least one tidbit of help that you can immediately incorporate into your game right away.
This last piece of the series is probably the hardest one to write about, as we can get presented with a practically endless variety of shots that fall outside the norm of "routine" irons shots, wedge shots, pitches, chips, and putts. That's what makes this crazy game so baffling, frustrating, and alluring all at the same time.
So, it is an inevitable matter of fact that we are going to face shots every round that don't fall into those normal situations. The good news is that I believe each one of those will require some variation on the basics of chipping, pitching or putting that we work on during every round. So, let's dive into some of those situations.
Bunkers. I'm not going to try to explore bunker techniques here, as that is a subject to itself, on which thousands of words have been written and hours of video have been produced. I believe it is a good routine (if you have the opportunity) to hit a few bunker shots before you go to the golf course for each round, as bunker shots can help set the pace and tempo routine of your swing for the entire round. I will also offer that becoming proficient from the bunkers requires a combination of the right bounce in your wedges for the sand you face, and a technique that you trust, so that you can make confident swings. And practice—lots of practice—is just unavoidable if you want to become a proficient bunker player.
Odd lies. We are going to face uphill, downhill and a variety of sidehill lies around the greens—that's just a fact. To me, the first challenge of these shots is to not let the lie distort your alignment and ball position, which it will most certainly do. So, when you are faced with one of these shots, spend a bit more attention and focus on your set up alignment and posture and the ball position that is being "forced" on you by the lie. In general terms, an uphill lie will cause you to put the ball a bit further forward, and a downhill lie will place it further back. The key is to have the ball in the right relation to your body core, not your feet, as that will determine the bottom of the swing arc. Generally speaking, your downhill foot will be further from the ball than with a level shot, the body's way of achieving balance. Likewise, sidehill lies will generally distort your aim right if the ball is above your feet and left if it is below. Again, these are generalities, but pretty common distortions.
Low runners. When you find yourself unable to hit a lofted pitch, you have to resort to the low running shot, one that we probably do not practice much, if at all. Because of that, I believe the best solution is to let the club do the work of keeping the ball low and running, and do not try to "invent" some technique that you have not practiced. It is amazing how simple it is to put a 5-iron in your hand instead of a wedge and then just execute a basic pitch or chip swing with the ball a bit further back to keep the ball low and running.
High lob shots. There are times when you simply have to get the ball up quickly and hopefully have it stop equally quickly. Again, I am always in favor of simplicity to hit the out-of-the-ordinary shots, and the simple way to get the ball up quicker and stopping shorter is to take a club with more loft than you would choose otherwise, and execute your familiar confident technique. And you can always add even more loft by opening the face a bit, but be sure to aim further left (for right-handed players) when you do this.
Practice these shots. I know that is a boring idea, but you cannot expect to be able to execute shots you have not practiced. You probably go to the range to hit a few balls to warm up before a round, even if you are not a "range rat" that loves to practice. If so, I promote ending each pre-round session with a dozen or so chips and pitches to work on your tempo and execution. If you can, even give yourself some tougher shots to practice.
A very wise teaching pro once told me that if you end your warm-up session with some chips or pitches, then the first one you face in the round will allow you to draw on very recent "muscle memory." It also helps to slow down your tempo from the drivers you probably were just smashing in anticipation of the opening tee shot. I've followed that advice since I heard that from him.
So, that concludes my high-level dive into scoring range performance. I hope you all got at least a few things out of these past six weeks that will help you improve your enjoyment and scoring on the course. If you have ideas or questions about things related to scoring or the tools we choose to play this crazy game, please drop me an email at Terry@TheWedgeGuy.com.
Your Reaction?
LIKE

20

LEGIT

0

WOW

0

LOL

0

IDHT

3

FLOP

0

OB

0

SHANK

1
The Gear Dive: TrackMan's Lance Vinson Part 2
In this episode of the Gear Dive, Johnny goes even deeper into the TrackMan data with Tour Rep Lance Vinson. It's a ridiculous nerd out covering what the future holds, who is the most efficient player on tour, who hits it the best and a million other things.
Check out the full podcast on SoundCloud below, or click here to listen on iTunes or here to listen on Spotify.
Want more GolfWRX Radio? Check out our other shows (and the full archives for this show) below. 
Your Reaction?
LIKE

0

LEGIT

0

WOW

0

LOL

0

IDHT

2

FLOP

0

OB

0

SHANK

0
Mondays Off: How is the new PGA schedule looking? Gross golf bag cleaning story!
The new PGA schedule is out and how will so much major golf look in the fall. What golf gear would you buy with your stimulus check if you could blow it all on golf? Knudson has a gross story about cleaning out a golf bag.
Check out the full podcast on SoundCloud below, or click here to listen on iTunes or here to listen on Spotify.
Want more GolfWRX Radio? Check out our other shows (and the full archives for this show) below. 
Your Reaction?
LIKE

1

LEGIT

0

WOW

0

LOL

0

IDHT

0

FLOP

0

OB

0

SHANK

1
Tiger at the Masters: The 3 that got away
This time last year, Tiger Woods earned his fifth green jacket at the 2019 Masters, breaking a 14-year drought at Augusta National and completing a storybook career comeback (see Tiger Woods' 2019 Masters WITB here).
Between his 2005 and 2019 victories, Woods gave himself several chances to reclaim the green jacket, but for one reason or another, the championship continuously eluded the 15-time major winner.
Looking back on that drought, three years in particular stick out in my mind where Woods (being the ruthless closer that he is) could, and maybe should, have capitalized on massive opportunities.
2007 Masters
A unique tournament broke out at the 2007 Masters with chilly and windy conditions meaning we would see an over-par score winning the event for the first time in a generation.
Unusually however was the fact that Tiger Woods had got himself into a fantastic position heading into the final day's play—one stroke back of the lead and in the final group.
By the first hole on Sunday, Woods had a share of the lead. A couple of holes later, and he was the sole leader. But instead of the game's greatest ever closer doing what he does best, we saw the first small chink in Tiger's major armor.
Unable to keep up with the improved scoring on Sunday, Woods finished the championship two strokes behind Zach Johnson. It was the first time Woods lost a major in which he held the lead at some point in the final round.
Summing up after the round why things hadn't turned out the way the entire golf world expected, Woods said
"Looking back over the week I basically blew this tournament with two rounds where I had bogey, bogey finishes. That's 4-over in two holes. The last two holes, you just can't afford to do that and win major championships."
2011 Masters
In one of the most exciting final rounds in Masters history, an electric front-nine charge from Woods coupled with a Rory McIlroy collapse saw the then 35-year-old tied for the lead heading into the back nine.
After back-to-back pars on the challenging 10th and 11th holes, Woods found the green on the 12th before it all slipped away. A disastrous three-putt was followed by a deflating five on the par-5 13th and an agonizing near-miss for birdie on 14.
In typical defiant fashion, Woods then flushed a long iron on the par-5 15th to give him five feet for eagle and what would have been the outright lead. But he couldn't find the cup.
Directly following his round, a visibly miffed Woods said
"I should have shot an easy 3- or 4-under on the back nine and I only posted even. But I'm right there in the thick of it and a bunch of guys have a chance. We'll see what happens."
What happened was eventual champion Charl Schwartzel did what Woods said he should have done—shooting 4 under on the back to win his first major.
2013 Masters
Luck, or lack of, is a contentious topic when it comes to sports fans, but at the 2013 Masters, Woods' shocking fate played out as if those on Mount Olympus were orchestrating the tournament.
Woods entered the 2013 Masters as the World Number One, brimming with confidence having won three out of his first five tournaments to start the year.
By Friday afternoon, Woods had cruised into a share of the lead, before crisply striking a wedge on the par-5 15th as he hunted for another birdie.
In a cruel twist of fate, Woods' ball struck the pin and ricocheted back into the water. "Royally cheated!" shouted on-course announcer David Feherty. Nobody could argue otherwise.
A subsequent "bad drop" turned a probable birdie into a triple-bogey placing Woods behind the proverbial 8-ball for the rest of the tournament. The game's ultimate closer should have been in the lead with two rounds to play on a front-runner's paradise of a course; instead, he was in chase-mode. (From 1991-2012, 19 of the 22 winners came from the final group).
Woods tried to rally over the weekend, but if he didn't think the 2013 Masters was ill-fated for himself by Friday evening, then he would have been excused to do so on the eighth hole on Saturday.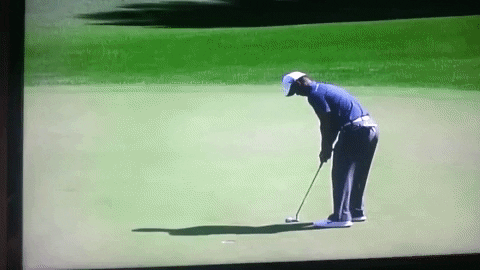 Had Woods' golf ball missed the pin at 15 on that hot and humid Spring afternoon in 2013, then he not only wins, but he likely wins going away.
Your Reaction?
LIKE

35

LEGIT

2

WOW

2

LOL

0

IDHT

0

FLOP

1

OB

0

SHANK

1