What's on the line at the final event of the PGA Tour regular season
Today marks the last day of the PGA Tour Regular Season, and for some players, it's make or break time, for others, fate has already been sealed.
The top 125 point-getters will be headed to the FedEx Cup Playoffs, and those not already exempt will also get their cards locked up for the 2019-2020 season. But not everyone can be so lucky: let's break down who could be the big winners and point out some players not quite as fortunate.
WINNERS
Viktor Hovland –  Being part of the 2019 rookie class has made Viktor a hot commodity, especially since he is the last of the "Big 3" (ever hear that one before?) who hasn't gotten a win yet. Let's be frank, winning on the PGA Tour is VERY HARD, and getting everything to go right for 72 holes is not easy. Since he is not currently a member he needs to rack up some big points or a win to be able to actually gain full status for next year. Only three shots off the lead means he has a serious chance going into the final round.
Harris English – I realize the name might not jump off the page but Harris has been a consistent performer on tour for years. Although unlikely to get full status right now, today is a big deal because the next cutoff after the 125 is 150 which still would get Harris conditional status. Right now leading into the final round he's holding onto the 150 spot and came into the week at 151. That one spot is going to mean a LOT.
Shawn Stefani – The current bubble boy. Thanks to a good week so far, Shawn has moved from 134 to 125 and with a solid final round, get himself into both the playoffs, and lock up the oh so precious PGA Tour card. Remember that EVERY player that makes The Playoffs also gets some nice bonus cash as part of the pool regardless. Hopefully, that's not in the back of his mind while headed down the last few holes.
Not so Lucky
Pat Perez – So this is actually a long shot, but it's important to point out why wins are so important. Pat went from 122 to 127 after missing the cut this week BUT thanks to a big win last year he will still have full playing privileges. This is impressive – for a guy who wasn't sure he was ever going to play again after coming back from shoulder surgery last season. Being in the top 125 would have meant some bonus cash and helped with some additional starts, but with over 25 million dollars in career earnings, I don't think Perez is that worried.
Beau Hossler – From Walker Cupper in 2015, to teenage U.S. Open leader, Beau is a household name for those that follow golf on the regular. He had a great rookie year in 2018 after gaining status thanks to money list on the Web Tour, but 2019 has not been so kind. Best finish all year was a T15 at the Genesis Open, and with a stat line like that it's unlikely to have you sticking around. As a young player Hossler has a BUNCH of upside, so look for him to do well again next year on the Korn Ferry Tour.
Martin Kaymer – One of golf's biggest enigmas, Kaymer's career is like a roller coaster with only HUGE ups and downs. The quiet German with two majors under his belt can still go grocery shopping at Whole Foods without being recognized, all the while vaporizing a U.S. Open field at Pinehurst. He has alway shied away from the spotlight, even when he was into top 10 in the world. He was Brooks before Brooks—a big game hunter with his three victories being a PGA Championship, Players, and U.S. Open. As a non-qualifying member, he's going to have to rely on sponsors exemptions to play in events, but if his career path has proven anything, he's going to make those starts count.
Your Reaction?
LIKE

19

LEGIT

0

WOW

1

LOL

0

IDHT

0

FLOP

0

OB

1

SHANK

2
The Gear Dive: TrackMan's Lance Vinson Part 2
In this episode of the Gear Dive, Johnny goes even deeper into the TrackMan data with Tour Rep Lance Vinson. It's a ridiculous nerd out covering what the future holds, who is the most efficient player on tour, who hits it the best and a million other things.
Check out the full podcast on SoundCloud below, or click here to listen on iTunes or here to listen on Spotify.
Want more GolfWRX Radio? Check out our other shows (and the full archives for this show) below. 
Your Reaction?
LIKE

0

LEGIT

0

WOW

0

LOL

0

IDHT

2

FLOP

0

OB

0

SHANK

0
Mondays Off: How is the new PGA schedule looking? Gross golf bag cleaning story!
The new PGA schedule is out and how will so much major golf look in the fall. What golf gear would you buy with your stimulus check if you could blow it all on golf? Knudson has a gross story about cleaning out a golf bag.
Check out the full podcast on SoundCloud below, or click here to listen on iTunes or here to listen on Spotify.
Want more GolfWRX Radio? Check out our other shows (and the full archives for this show) below. 
Your Reaction?
LIKE

1

LEGIT

0

WOW

0

LOL

0

IDHT

0

FLOP

0

OB

0

SHANK

1
Tiger at the Masters: The 3 that got away
This time last year, Tiger Woods earned his fifth green jacket at the 2019 Masters, breaking a 14-year drought at Augusta National and completing a storybook career comeback (see Tiger Woods' 2019 Masters WITB here).
Between his 2005 and 2019 victories, Woods gave himself several chances to reclaim the green jacket, but for one reason or another, the championship continuously eluded the 15-time major winner.
Looking back on that drought, three years in particular stick out in my mind where Woods (being the ruthless closer that he is) could, and maybe should, have capitalized on massive opportunities.
2007 Masters
A unique tournament broke out at the 2007 Masters with chilly and windy conditions meaning we would see an over-par score winning the event for the first time in a generation.
Unusually however was the fact that Tiger Woods had got himself into a fantastic position heading into the final day's play—one stroke back of the lead and in the final group.
By the first hole on Sunday, Woods had a share of the lead. A couple of holes later, and he was the sole leader. But instead of the game's greatest ever closer doing what he does best, we saw the first small chink in Tiger's major armor.
Unable to keep up with the improved scoring on Sunday, Woods finished the championship two strokes behind Zach Johnson. It was the first time Woods lost a major in which he held the lead at some point in the final round.
Summing up after the round why things hadn't turned out the way the entire golf world expected, Woods said
"Looking back over the week I basically blew this tournament with two rounds where I had bogey, bogey finishes. That's 4-over in two holes. The last two holes, you just can't afford to do that and win major championships."
2011 Masters
In one of the most exciting final rounds in Masters history, an electric front-nine charge from Woods coupled with a Rory McIlroy collapse saw the then 35-year-old tied for the lead heading into the back nine.
After back-to-back pars on the challenging 10th and 11th holes, Woods found the green on the 12th before it all slipped away. A disastrous three-putt was followed by a deflating five on the par-5 13th and an agonizing near-miss for birdie on 14.
In typical defiant fashion, Woods then flushed a long iron on the par-5 15th to give him five feet for eagle and what would have been the outright lead. But he couldn't find the cup.
Directly following his round, a visibly miffed Woods said
"I should have shot an easy 3- or 4-under on the back nine and I only posted even. But I'm right there in the thick of it and a bunch of guys have a chance. We'll see what happens."
What happened was eventual champion Charl Schwartzel did what Woods said he should have done—shooting 4 under on the back to win his first major.
2013 Masters
Luck, or lack of, is a contentious topic when it comes to sports fans, but at the 2013 Masters, Woods' shocking fate played out as if those on Mount Olympus were orchestrating the tournament.
Woods entered the 2013 Masters as the World Number One, brimming with confidence having won three out of his first five tournaments to start the year.
By Friday afternoon, Woods had cruised into a share of the lead, before crisply striking a wedge on the par-5 15th as he hunted for another birdie.
In a cruel twist of fate, Woods' ball struck the pin and ricocheted back into the water. "Royally cheated!" shouted on-course announcer David Feherty. Nobody could argue otherwise.
A subsequent "bad drop" turned a probable birdie into a triple-bogey placing Woods behind the proverbial 8-ball for the rest of the tournament. The game's ultimate closer should have been in the lead with two rounds to play on a front-runner's paradise of a course; instead, he was in chase-mode. (From 1991-2012, 19 of the 22 winners came from the final group).
Woods tried to rally over the weekend, but if he didn't think the 2013 Masters was ill-fated for himself by Friday evening, then he would have been excused to do so on the eighth hole on Saturday.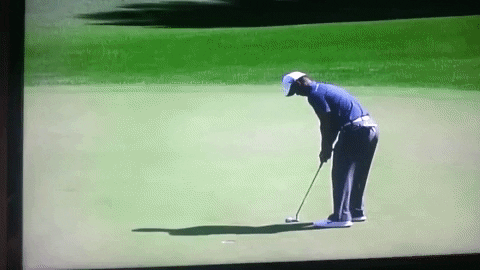 Had Woods' golf ball missed the pin at 15 on that hot and humid Spring afternoon in 2013, then he not only wins, but he likely wins going away.
Your Reaction?
LIKE

35

LEGIT

2

WOW

2

LOL

0

IDHT

0

FLOP

1

OB

0

SHANK

1