Why Adam Scott looks ready to mount a serious challenge at next week's Masters
It was six years ago when Adam Scott held his arms aloft in the rain after defeating Angel Cabrera in a gripping playoff on a rainy evening in Georgia, finally completing his lifelong dream of claiming a major championship.
Since then, Scott's star has been on the wane, and he's seen a new breed of youngsters come along and shake the game up, leaving the Australian to lurk in their shadows.
Scott currently sits 29th in the Official World Golf Ranking, a far cry from his position of third following his moment of glory at Augusta, and then his subsequent rise to the summit of the game in 2014.
However, his current position of 29th is up 12 places from where he found himself at the end of 2018, and a rise of 31 spots from where he stood this time 12 months ago. Scott's stock is on the rise once again.
Speaking to the Augusta Chronicle last month, Scott spoke both confidently and optimistically about where his game is right now ahead of the year's opening major, saying
"I feel I'm on top of my game, just at that point for me to go out and execute it. I've done the work, and I will do work before I get there, I'll be ready. I've got a good plan. I'm very confident that I'll be ready to play there."
The 38-year-old heads to Augusta National under the radar, with talk of Rory McIlroy's Grand Slam destiny, Tiger Woods' quest for number 15, and Rickie Fowler's fresh assault at major glory all dominating the narrative ahead of next week. But Scott's confidence concerning his chances of becoming a multiple Masters champion is anything but bravado.
Scott has featured in the final group twice in his last five events he has played this year on Tour, and all departments of his game look sharp. In fact, over the previous 12 rounds of every player in next week's field, Scott is just one of two men who rank inside the top-25 in every significant strokes gained category. Rory McIlroy is the other.
Even putting, you ask? Yes, even putting, which has been a nemesis for the Australian throughout his career.
The improvement in Scott's putting has been drastic, and one of the primary reasons for this improvement is due to the option players now have of leaving the flagstick in the hole while on the putting surface this year. Scott has previously stated how the new regulation has changed the entire dynamic and art of putting and speaking in the same interview with the Augusta Chronicle; the 2013 Masters Champion had this to say on the current strength of his putting.
"I feel like on shorter putts when the pin is in I have a nice reference point of the exact middle of the hole and something to aim against. I'm not trying to hit putts harder and smash it into the pin, and it's just more of a reference of aim, but I have putted better, and I think if I were to hit one too hard, I doubt I would hit one so hard that it bounces out from short range."
So just how much improvement has Scott made on the greens since the USGA's rule 13.2a(2) change? Well, the Australian has gained strokes over the field on the greens in every event he has played in so far this year. It's a run of six successive positive weeks with the flat-stick for Scott, a feat he has never before achieved in his career.
The 38-year-old stands T17 for strokes gained: putting this season. To put that improvement into perspective, Scott has failed to finish a year inside the top-100 in this area since 2014, and last year, the 13-time winner on the PGA Tour finished T165 for strokes gained putting.
Scott's current confidence with the flat-stick in hand has even led him to possess three different options on the greens, all of which he appears hugely comfortable with, as he explained just a couple of weeks ago
"What I feel like is I have three incredibly good ways to putt with three incredibly good putters. I can either kind of float the broomstick or I can arm lock or I can do some kind of claw short putter with a very stable putter head."
The Australian won the 2013 Masters while anchoring the putter, a component of the game which at the time had not yet been outlawed, and it appears as if the new flagstick regulation has benefited Scott more so than any other player in next week's field.
The man who is often described as having one of the best swings in golf has unsurprisingly finished inside the top-20 for strokes gained tee to green in eight of the last nine years on the PGA Tour. What's more, Scott has recently proved to himself that he still has it in him to compete for the biggest prizes in the game, going toe to toe with Brooks Koepka on Sunday at the 2018 PGA Championship.
There are arguably, just a dozen players who will honestly believe they can slip on the green jacket on Sunday, April 14, with experience, skill level and knowledge of the course having more of an impact at Augusta National than any other course players will compete at all year.
Crucially, Scott has done it all before, and with a new regulation stirring life into a man who looked destined to end his major career tally on one, Adam Scott is once again within that select group of players who know that they possess the ability to triumph on the hallowed grounds of Augusta National.
Your Reaction?
LIKE

32

LEGIT

3

WOW

0

LOL

0

IDHT

0

FLOP

0

OB

0

SHANK

0
The Gear Dive: TrackMan's Lance Vinson Part 2
In this episode of the Gear Dive, Johnny goes even deeper into the TrackMan data with Tour Rep Lance Vinson. It's a ridiculous nerd out covering what the future holds, who is the most efficient player on tour, who hits it the best and a million other things.
Check out the full podcast on SoundCloud below, or click here to listen on iTunes or here to listen on Spotify.
Want more GolfWRX Radio? Check out our other shows (and the full archives for this show) below. 
Your Reaction?
LIKE

0

LEGIT

0

WOW

0

LOL

0

IDHT

2

FLOP

0

OB

0

SHANK

0
Mondays Off: How is the new PGA schedule looking? Gross golf bag cleaning story!
The new PGA schedule is out and how will so much major golf look in the fall. What golf gear would you buy with your stimulus check if you could blow it all on golf? Knudson has a gross story about cleaning out a golf bag.
Check out the full podcast on SoundCloud below, or click here to listen on iTunes or here to listen on Spotify.
Want more GolfWRX Radio? Check out our other shows (and the full archives for this show) below. 
Your Reaction?
LIKE

1

LEGIT

0

WOW

0

LOL

0

IDHT

0

FLOP

0

OB

0

SHANK

1
Tiger at the Masters: The 3 that got away
This time last year, Tiger Woods earned his fifth green jacket at the 2019 Masters, breaking a 14-year drought at Augusta National and completing a storybook career comeback (see Tiger Woods' 2019 Masters WITB here).
Between his 2005 and 2019 victories, Woods gave himself several chances to reclaim the green jacket, but for one reason or another, the championship continuously eluded the 15-time major winner.
Looking back on that drought, three years in particular stick out in my mind where Woods (being the ruthless closer that he is) could, and maybe should, have capitalized on massive opportunities.
2007 Masters
A unique tournament broke out at the 2007 Masters with chilly and windy conditions meaning we would see an over-par score winning the event for the first time in a generation.
Unusually however was the fact that Tiger Woods had got himself into a fantastic position heading into the final day's play—one stroke back of the lead and in the final group.
By the first hole on Sunday, Woods had a share of the lead. A couple of holes later, and he was the sole leader. But instead of the game's greatest ever closer doing what he does best, we saw the first small chink in Tiger's major armor.
Unable to keep up with the improved scoring on Sunday, Woods finished the championship two strokes behind Zach Johnson. It was the first time Woods lost a major in which he held the lead at some point in the final round.
Summing up after the round why things hadn't turned out the way the entire golf world expected, Woods said
"Looking back over the week I basically blew this tournament with two rounds where I had bogey, bogey finishes. That's 4-over in two holes. The last two holes, you just can't afford to do that and win major championships."
2011 Masters
In one of the most exciting final rounds in Masters history, an electric front-nine charge from Woods coupled with a Rory McIlroy collapse saw the then 35-year-old tied for the lead heading into the back nine.
After back-to-back pars on the challenging 10th and 11th holes, Woods found the green on the 12th before it all slipped away. A disastrous three-putt was followed by a deflating five on the par-5 13th and an agonizing near-miss for birdie on 14.
In typical defiant fashion, Woods then flushed a long iron on the par-5 15th to give him five feet for eagle and what would have been the outright lead. But he couldn't find the cup.
Directly following his round, a visibly miffed Woods said
"I should have shot an easy 3- or 4-under on the back nine and I only posted even. But I'm right there in the thick of it and a bunch of guys have a chance. We'll see what happens."
What happened was eventual champion Charl Schwartzel did what Woods said he should have done—shooting 4 under on the back to win his first major.
2013 Masters
Luck, or lack of, is a contentious topic when it comes to sports fans, but at the 2013 Masters, Woods' shocking fate played out as if those on Mount Olympus were orchestrating the tournament.
Woods entered the 2013 Masters as the World Number One, brimming with confidence having won three out of his first five tournaments to start the year.
By Friday afternoon, Woods had cruised into a share of the lead, before crisply striking a wedge on the par-5 15th as he hunted for another birdie.
In a cruel twist of fate, Woods' ball struck the pin and ricocheted back into the water. "Royally cheated!" shouted on-course announcer David Feherty. Nobody could argue otherwise.
A subsequent "bad drop" turned a probable birdie into a triple-bogey placing Woods behind the proverbial 8-ball for the rest of the tournament. The game's ultimate closer should have been in the lead with two rounds to play on a front-runner's paradise of a course; instead, he was in chase-mode. (From 1991-2012, 19 of the 22 winners came from the final group).
Woods tried to rally over the weekend, but if he didn't think the 2013 Masters was ill-fated for himself by Friday evening, then he would have been excused to do so on the eighth hole on Saturday.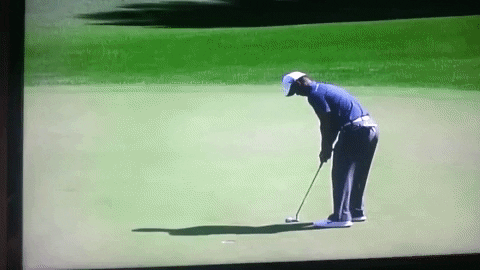 Had Woods' golf ball missed the pin at 15 on that hot and humid Spring afternoon in 2013, then he not only wins, but he likely wins going away.
Your Reaction?
LIKE

35

LEGIT

2

WOW

2

LOL

0

IDHT

0

FLOP

1

OB

0

SHANK

1